Firstly, Sanur Beach Bali is one of the most famous white sand beaches on Bali island. Every day this beach is crowded with tourists visits, both international tourists and Indonesian sightseers. On this page, you will discover holiday guides to Sanur beach, such as attractions/beauty, entrance tickets, parking fees, and traveler transportation guides.
Bahasa Indonesia: "Pantai Sanur Bali – Daya Tarik, Aktivitas Liburan Seru" >>>
Then how about you, are you interested in having a holiday to Sanur Beach Bali? If you responded yes, please continue reading this page. Because on this page, you will learn about a holiday guide to Sanur beach Bali. Vacation guides on Sanur beach that you will discover such as;
History of Sanur Bali as a tourist attraction.
Beach point of interest as a tourist attraction.
List of best things to do in Sanur beach Bali.
List of beaches in Sanur, Bali.
The beach location with a map.
Distance & Travel Time.
How to get to the location.
Admission fee price.
Opening Hours & Best Time to Visit.
Tourism support facilities.
Beautiful Island To Visit While On Holiday In Bali.
Frequently Asked Questions By Tourists Before Going To Sanur Beach.
History Of Sanur Bali As A Tourist Attraction
Furthermore, the history of Sanur as a vacation spot in Bali was introduced in 1937 by a Belgian artist, A.J. Le Mayeur. Also, the Belgian artist has a Balinese wife named Ni Polok.
Furthermore, A.J. Le Mayeur introduces the beauty of Sanur beach worldwide by making paintings about the white sand beach and doing art exhibitions worldwide. Therefore, people start to know about the existence of Sanur beach Bali. Sanur Bali can be said as the pioneer of tourism in Bali and made Bali famous as a tourist destination until now.
Read More, Best Area To Stay In Bali With Kids.
Sanur Beach Point Of Interest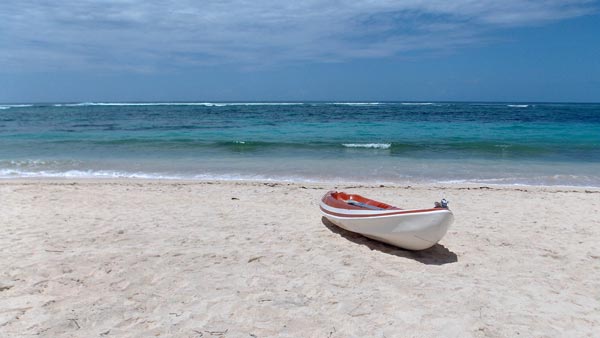 What is the attraction and beauty of Sanur Beach?
If you have never vacationed at Sanur beach in Bali and are interested in visiting, it will be great to know the main attraction of Sanur beach Bali. Here are the main attractions of Sanur beach, so it is worth visiting.
Sanur beach is a white sand beach with many hotels near the coastline. Therefore, the cleanliness of the beach is always maintained by residents and the hotel staff. However, during the wet seasons, debris from the ocean will reach the shore, and this event will take some time to clean up.
The Sanur coastline is very long, around 8 kilometers. In some areas along the shore, there are pathways. Visitors usually employ this path to walk and ride their bicycles.
Calm sea waves and shallow water make Sanur beach ideal for children to swim.
There are many choices of Bali water sports activities suitable for beginners. If you are a beginner in Bali water sports games, you can snorkel, ride a jet ski, ride a banana boat, or try a seawalker/marine walk activity.
Sanur beach's coastline faces the east; therefore is one of the best locations to see the beautiful view of the sunrise.
Opposite the Kuta beach of Bali, which offers sunset views, Sanur beach provides a picture of the dawn. Therefore Sanur beach has another name, which is Pantai Matahari Terbit, aka a sunrise beach.
Visitors can see traditional boats lining the beach shore area.
Well known as a fast boat port to Nusa Lembongan and Nusa Penida Island from Bali. Therefore, if you want to visit Nusa Penida island or Nusa Lembongan island, the best place to get a fast boat is at Pantai Matahari Terbit Sanur.
Read Here: "Best Place For Water Sports In Bali Base On Your Requirements & Budget" >>>
Sanur Beach Bali Things To Do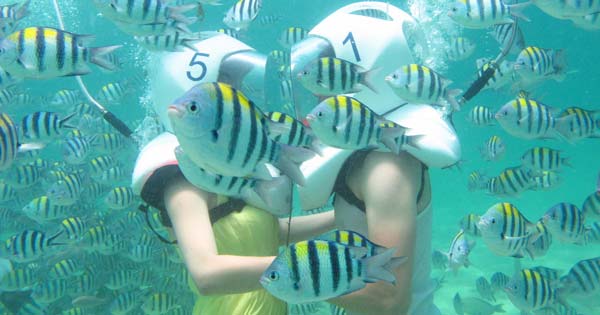 Sanur beach is famous because the area is more tranquil and appropriate for family vacations with kids. In addition, in the area of Sanur, travelers will discover many exciting vacation activities that can fit the diverse tastes of visitors.
To clarify, tourist visits to Sanur Beach Bali are dominated by local tourists, and the beach area is not crowded with tourist visits. In contrast to Echo Beach Bali, Kuta beach, or Petitenget Beach Seminyak, which is always filled with international tourists.
Suppose you plan a vacation trip to Bali and are interested in visiting Sanur Beach. You will find lots of exciting holiday activities. Here is a selection of exciting vacation activities that you can do at Sanur beach Bali.
Read More, "Best Things To Do In Sanur Bali For Children & Family Vacation" >>>
1. Swim With Children
Sanur beach waves are very calm, and the waters are shallow, only as deep as an adult's knee. Therefore, Sanur Beach is very suitable for swimming with your kids. If you are looking for a deep-sea, big wave for surfing, Sanur beach is not ideal. Therefore, you should visit the beach in the Uluwatu and Pecatu areas, such as Suluban Beach, Padang-Padang beach, or Nyang-Nyang beach.
If you vacation to Bali with children, I highly recommend visiting Sanur beach. Sanur beach in Bali is a perfect place for your children's vacations. Your children can swim in the calm and deep-sea currents. Besides that, your kids can play ball on the beach shoreline.
Find Here the 10 Best Beaches In Bali For Families & Children.
2. Sanur Beach Water Sports
In addition to swimming activities, Sanur also provides marine water sports, similar to maritime tourism activities on Tanjung Benoa beach, better known as Tanjung Benoa water sports.
You can introduce your children to underwater marine tourism by trying an ocean walker in Sanur. Below are the maritime water sports choices at Sanur, Bali, complete with the game's price.
Find Out More: "8 Best Water Sports Games In Bali For Fun & Memorable Family Vacation" >>>
3. Jogging & Cycling
If you like jogging and biking, Sanur also provides a bike trail on the beach shoreline that runs from north to south.
Furthermore, finding a bicycle rental around Sanur Beach is very easy. When you arrive at the beach shoreline, you ask the local people nearby about the location of the bicycle rental on Sanur beach. The price of renting a bicycle on Sanur beach is Rp. 25.000 / hour.
See Here, "10 Things Earn Sanur Bali An Attractive Kids Vacation Destination" >>>
4. Watching the Sunrise Sanur Beach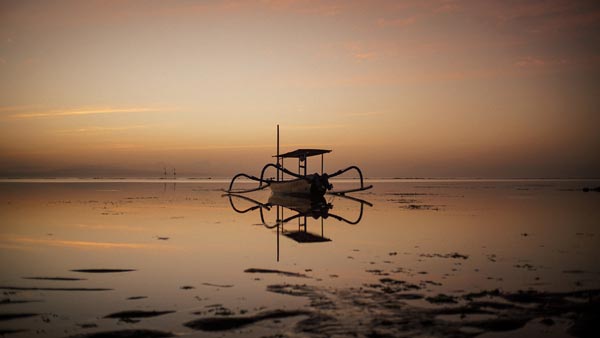 Sanur Beach is one of the best beaches on Bali to catch the sunrise because the Sanur beach shoreline faces the east side.
So, if you are currently staying in Sanur Bali, witnessing the sunrise from the coast is one of the most suitable things to do in Sanur Bali with your family. In the morning, you can take your child to sit in a beachside gazebo while waiting for the sun to rise. Along the shore is a perfect spot for viewing the sunrise.
Then what time is sunrise in Bali? To answer what time the dawn is in Bali, please click the below link!
Find Out: "Sunrise Time In Denpasar Bali" >>>.
The sunset view becomes your choice for those who do not want to get up early in the morning to see the sunrise scenery at Sanur Beach, Bali. One beach in Bali with beautiful sunset views is Dreamland Beach.
Read More: "10 Best Beach To Watch Sunset In Bali, Fun & Unique" >>>
5. Sanur Festival
In particular months, in the Sanur area, a festival will draw a lot of tourist interest. In addition, all festivals in the Sanur Bali area are accessible to visitors. When you are on vacation in Sanur Bali, and the Sanur festival is taking place, visiting the Sanur festival is one of the holiday activities in Bali that you shouldn't miss.
Here are some festivals usually carried out annually in the Sanur areas of Bali.
Sanur Village Festival
Furthermore, the Sanur Village Festival usually occurs in August. This year it will be held from 17-21 August 2022. As for 2023, I am still waiting to acquire the schedule.
Initially, the Sanur Village Festival was held in 2006 and took place at Inna Grand Bali Beach Sanur. In 2022, the Sanur Village Festival will take place on Pantai Matahari Terbit Sanur.
Then what can visitors see during the Sanur Village Festival? Visitors can witness kite festivals, food festivals, surfing contests, traditional boat displays, and many other events when the Sanur Village Festival is held.
You can click the link for more details about the annual Sanur Village Festival event.
Bali Arts Festival
The Bali Arts Festival is one of my favorite annual events in Bali. Furthermore, the people of Bali are more familiar with the Balinese art festival under PKB. The PKB schedule is usually held in June – July for one month.
The epicenter of the Bali art festival is the Bali Art Center Denpasar. Then at the opening of the Bali art festival, there will be a grand parade featuring art and culture from each region on the island of Bali.
You can oversee many art performances at the Bali Art Center Denpasar, especially Balinese dance. Also, there is no entry fee to watch the Balinese dance show at the Bali art center Denpasar. Therefore, it makes the Denpasar Art Center crowded with visitors during the Bali art festival. Furthermore, heading to the Bali Art Center area from Sanur tourist attractions only takes 20 minutes of travel.
Kite Festival
Furthermore, in July or August, a kite festival will be held in the Padang Galak beach area. You will see that most of the kite's sizes are substantial, and there are a lot of them.
The kite festival in Sanur Bali is highly dependent on wind, wind direction, and strength. Currently, I don't retain the info or schedule for the 2023 kite festival.
List of Beaches in Sanur, Bali
I'm sure most of you think there is only one beach in the Sanur area. If viewed from the coastline, indeed is only one beach. However, the name of the beach varies. Each part of the shoreline in the Sanur tourist attraction has a different name, with seven shore line names.
Sanur Beach Bali has an 8 kilometers stretch of coastline, stretching from north to south. The northernmost Sanur beach border Padang Galak beach. As for the south, the limit reaches the Mangrove forest. You must be curious about the seven beach names in Sanur at this time!
Seven Shoreline Names In Sanur
Below is a list of seven shoreline names in Sanur, Bali. Also, I sort the beach's location from the most southern area to the north.
Merta Sari Beach Sanur.
Semawang Beach Sanur.
Batu Jimbar Beach Sanur.
Karang Beach Sanur.
Segara Ayu Beach Sanur.
Sindhu Beach.
Matahari Terbit Beach Sanur.
Because the seven beaches above are within the Sanur tourist area, most visitors are more familiar with the name of Sanur beach. Of all seven beaches in Sanur Bali, Matahari Terbit Beach and Karang beach are the most famous among locals.
Matahari Terbit, in the Indonesian language, means sunrise. This beach is the best place to see the beautiful sunrise scenery in Sanur Bali. Every morning starting at 05:30 am, many visitors arrive and wait to see the beauty of the sunrise.
Find Out More On: "Nusa Dua VS Sanur – Which One To Choose As A Place To Stay In Bali" >>>
Matahari Terbit Beach Location
Then where is the location of Sanur beach? The Sanur area is located on the southeastern island of Bali. Please click the link below to make it easier for you to locate Pantai Matahari Sanur Beach.
See Here, "Matahari Terbit Beach Sanur Location On Google Map" >>>
Distance & Travel Time
The site of Matahari Terbit Beach Sanur is in the eastern part of Denpasar. The mileage from Ngurah Rai airport is about 17 kilometers via the toll route. The estimated travel time is approximately 35 minutes, depending on traffic flow.
The distance from Kuta Beach Bali is about 17 kilometers through Jalan By Pass Ngurah Rai. The estimated travel time is approximately 35 minutes, depending on traffic flow.
If you depart from the Uluwatu Temple, Bali, to the Matahari Terbit beach, it will cover a distance of 35 kilometers, with a travel time of 1 hour and 10 minutes.
Let's say you depart Bali Safari Marine Park and go to Sanur; it will take a distance of 18 kilometers and take about 25 minutes. Please click the link below if you need directions to get to Sunrise beach!
Let's say you depart from Pandawa beach Bali, heading to Matahari Terbit beach in Sanur Bali will take a 1-hour drive and the travel distance is around 31 kilometers.
If you leave Jimbaran beach heading to Matahari Terbit Beach in Sanur, you will need a 45-minute drive with a 21-kilometer travel distance.
However, if you leave Melasti beach in Ungasan, heading to Matahari Terbit beach in Sanur will require a 1 hour 10-minute ride with a 33 kilometers travel distance.
How To Get To The Location
There is a meter taxi, Grabs, and Gojek (motorcycle taxi) for public transportation to Sanur. Besides public transport, you can also use private vehicles, whether motorbikes or cars. The question now is, what is the best transportation for a vacation to Sanur Bali?
1. Taxi Meter, Grab & Gojek
Your hotel's location is in the southern area of Bali, and after your holiday at Sanur beach, you want to return to your hotel. If you have this plan, it will be great to get transportation like Grab car or Gojek (motorcycle taxi).
Southern Bali tourist areas close to Sanur areas such as Jimbaran, Nusa Dua, Tanjung Benoa beach, Seminyak, Canggu, Legian beach, Kerobokan, and Kuta.
2. Private Vehicles
If you want to use private vehicles such as a motorcycle or car, it's also effortless to find in Bali. Many motorcycle and car rental service providers are available on the island of Bali. You need an international driving license to ride a scooter and a car in Bali. Also, a helmet is required if you want to ride a motorbike, both driver and passenger.
Using a private vehicle, going to Sanur beach will significantly benefit you in terms of budget if you need full-day transportation. For example, your hotel in the Canggu area, then you want a vacation to Sanur. After a holiday in Sanur, you want to visit Ubud, then return to your hotel.
Motorcycle Rental
Motorcycle rental prices also vary, depending on the type of motorcycle. The average motorbike rental price in Bali is IDR 100.000 / 24 hours. If you want to ride a larger scooter, the rental rate is around IDR 250.000 / 24 hours. The best way to get a scooter rental in Bali is by utilizing Google. All you need to do is type the keyword scooter rental in Bali near me.
Self-Drive Car Hire
For car rental, prices also depend on the car type. For example, the rental price of a Toyota Avanza in Bali is IDR 300.000 / 24 hours. Finding a self-drive car rental in Bali is quite tricky; you can utilize Google to get a company for self-drive car rental around your hotel.
Car Rental With a Driver
You can also book a car rental with a driver in Bali if you don't want to drive your car. A car rental price with the driver in Bali will cost around IDR 600.000/10 hours, including fuel. Getting a car rental with a driver is the safest way if you are unfamiliar with driving in Bali.
Find Here, What Is The Best Way To Get Around Bali?
Entrance Fee for Sanur Beach
So, the next question is, is there an entrance fee for Sanur Beach? There is no entry fee for visitors to get into the beach area. Visitors are only charged for a vehicle parking fee of IDR 2.000 for one motorcycle and a car parking fee of IDR 5.000 / one car.
Read More, List Of Bali Attraction Entrance Fee.
Opening Hours & Best Time to Visit Sanur Beach
Furthermore, Sanur beach does not have opening hours, meaning they are open 24 hours. So whenever you want to visit the beach, that's okay.
The best time to visit depends on your goal for a vacation to the beach.
If you want to notice the sunrise on Sanur beach, the best time to visit is around 05:30, before dawn.
If you want to ride a canoe with children, then swim on the beach, the best time is in the morning. Around 07:00 – 09:00. In the afternoon, around 16:00 – 18:00.
Read More, Best Month Travel To Bali.
Tourism Support Facilities
There is plenty of accommodation available at Sanur Bali, whether in the form of hotels, resorts, villas, and bungalows. Therefore, you will not have difficulty getting accommodation in Sanur Bali.
Also, in the Sanur area, many art shops, money changers, mini markets, bars, cafes, and restaurants support tourism facilities. The favorite place to eat in Sanur Bali, the local, is Nasi Campur Men Weti Sanur.
Items You Must Bring
While on vacation to Sanur beach, there are several essential items that you should carry with you. Of course, you can get small things if it's just a vacation to the beach.
Bring an Umbrella. This umbrella is useful when it rains and can protect you from the hot sun.
Then bring mineral water.
Vacation at the beach, it's a good idea always to remember to wear Sunblock.
Hand Sanitizer & Masks is a good idea to minimize the chances of infection with Covid-19.
Remember to bring the best camera you have and enough cash.
Read More, Is Nusa Penida Worth a Visit?
Sanur Beach Nearby Attractions
Knowing Bali's tourist attractions, which are close to each other, will make it more manageable for you to plan a Bali holiday itinerary. In addition, your holiday will be practical because you can minimize travel time.
Bali Festival Park, Padang Galak.
Plaza Renon Shopping Mall.
Serangan Pier.
Bali Wake Park.
Cultural Village Kertalangu.
Big Garden Corner.
Beautiful Island To Visit While On Holiday In Bali
When you are on holiday in Bali for a week or more, visiting other beautiful islands near Bali island is excellent. Such as Nusa Lembongan island, Nusa Penida Island, and Gili Trawangan island. The island of Gili Trawangan, Nusa Penida, and Nusa Lembongan is a favorite destination for international tourists in Bali.
How to get to Gili Trawangan island, Nusa Lembongan island, and Nusa Penida island? The best way to get to the three islands is by a fast boat that is convenient, cheap, and safe.
The fast boat locations to Gili Trawangan, Nusa Penida, or Nusa Lembongan are different.
For Gili Trawangan island from Bali, you must go to Padang Bai harbor or Serangan port to get a fast boat. While to Nusa Penida or Nusa Lembongan, you need to go to Sanur port to get a quick ship.
Fast Boat From Bali To Gili Trawangan Island
Eka Jaya Fast Boat at the port of Padang Bai, Eka Jaya Fast Boat Company, is one of the best-selling fast boat providers, and the ticket prices are low. So it has become a favorite fast boat for tourists to have a holiday to the Gili islands of Lombok.
Bluewater Express Fast Boat at the Port of Serangan. Travelers who want comfort will choose the Bluewater Express fast boat to cross to Gili Trawangan.
See Here, "The Best Way to Gili Trawangan from the Island of Bali" >>>
Fast Boat From Bali To Nusa Penida and Nusa Lembongan
It would be best if you went to Sanur port near the Pantai Matahari Terbit to visit Nusa Penida or Nusa Lembongan island. You can choose from many fast boat companies at Sanur port, with a wide selection of departure times.
Read More, "A Guide On How To Get To Nusa Penida From Sanur Bali" >>>
Frequently Asked Questions By Tourists Before Going To Sanur Beach
In providing Telaga Waja rafting tour activities and Tanjung Benoa water sports packages for travelers, we often get the following questions about Sanur beach;
How long will it take to ride a bicycle on Sanur beach?
The path on the Sanur beach has a length of approximately 5 kilometers. Riding a bicycle only takes 20 minutes, and you have to get off the bike in several places because there are road barriers.
Does anyone rent a sundeck by the beach?
I see a lot of sundeck providers on the beach, especially in the Karang beach Sanur area. Sundeck rental price IDR 50,000 for two decks.
Is the horse riding activity on Sanur beach?
There is no horse riding activity on Sanur beach Bali. If you want to try horse riding on the beach, you can go to Saba beach Gianyar or Echo Beach Canggu.

If you want to ride a camel, you can visit Kelan beach and Bali camel safari on Sawangan beach, Nusa Dua.
Is there a fast boat from Sanur to the Gili Trawangan island with a direct route?
Scoot Fast Boat provides the fast boat route from Sanur to Gili Trawangan. However, a fast boat from Sanur by Scoot Fast Boat will transit in Nusa Lembongan, Lombok island, and Gili Trawangan. If you want a fast ship with a direct route to Gili Trawangan from Bali, the choice is Padang Bai port or Serangan port.
Read More, Complete List of Hidden & Secluded Beach In Nusa Penida Island.