Garuda Wisnu Kencana Cultural Park is one of Bali's most iconic and well-known tourist destinations. You have undoubtedly heard about Bali Cultural Park, so you found this page. Whatever the reason that makes you see this page. This article is about a Garuda Wisnu Kencana Cultural Park visitor guide, commonly called GWK Bali. So before your visit, you will get a brief overview of GWK Bali culture park. The Bali holiday guide includes history, promo ticket prices for the GWK park entrance, main attractions, visitor facilities, event schedules, and opening hours.
Are you looking for information about Garuda Wisnu Kencana culture park in Bali? Discover everything you need to know about this iconic attraction, including its location, history, main attractions, daily performances, venue details, and entrance fees. Gain a comprehensive understanding of GWK Bali to plan your visit with confidence.
Exciting Highlights at Garuda Wisnu Kencana Cultural Park in Bali
Garuda Wisnu Kencana Cultural Park is one of the popular tourist attractions in Bali. Here are some exciting things about GWK Bali that tourists can see while visiting:
I. Garuda Wisnu Kencana Statue
This statue is one of the tallest in the world and depicts the God Vishnu riding the mythical bird Garuda. Then the GWK statue is 121 meters high and made of copper and brass.
II. Cultural Performances
Garuda Wisnu Kencana Park offers daily cultural performances featuring traditional Balinese music, dance, and other performing arts. Visitors can enjoy Balinese music and dances like Kecak, Legong, and Barong.
III. Exhibition
Garuda Wisnu Kencana Park has an exhibition area featuring Balinese cultural heritage, including paintings, woodcarvings, and traditional textiles.
IV. Culinary Experience
Several restaurants and food stalls in the Garuda Wisnu Kencana Park serve local and international cuisine. Visitors can enjoy traditional Balinese cuisine as well as international cuisine.
V. Sunset Views
Garuda Wisnu Kencana Park offers sunset views, making it an excellent place to rest and unwind at the end of the daytime.
Overall, Garuda Wisnu Kencana Cultural Park in Bali is an excellent tourist destination for tourists looking for entertainment, photography, and learning about Balinese culture. With its impressive statues, cultural performances, and interactive activities, GWK is a must-visit destination for those who like local culture, arts, and traditions when travelling to Bali.
Introduction to Garuda Wisnu Kencana Cultural Park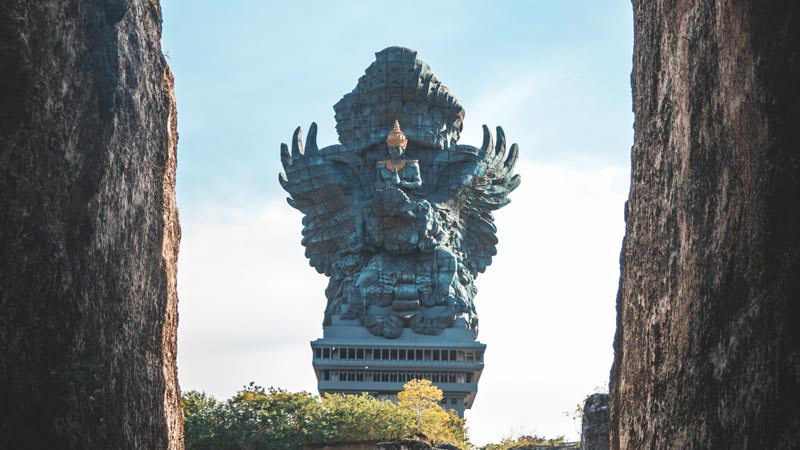 Garuda Wisnu Kencana Cultural Park, or GWK, is one of southern Bali's most famous cultural tourism destinations. Therefore almost every day, GWK Bali is crowded with tourist visits.
If you are visiting Bali for the first time, it is recommended that you add GWK Bali to the list of must-see attractions in Bali.
This cultural park is around 60 hectares, and the main attraction icon is the Garuda Wisnu Kencana statue which is very tall, comprehensive, and large.
A. Why Is It called GWK?
What does the GWK Bali name mean, and why is it called GWK?
Furthermore, GWK is an abbreviation of Garuda Wisnu Kencana. Below I will briefly explain the meaning of the name Garuda Wisnu Kencana so that it can answer why this attraction is called the GWK Bali.
Garuda comes from Sanskrit, meaning a bird shaped like a human. The head and legs resemble birds, and on the back are wings; however, the body is like a human. Of course, the Garuda bird is a mythological bird.
Vishnu/Wisnu is one of the deities in Hinduism who has a role in preserving and protecting all of God's creations.
Whereas Kencana means Gold.
Inside the GWK Cultural Park is a statue of Lord Vishnu, who wears a golden crown and is riding a large Garuda bird. Therefore the culture park is named Garuda Wisnu Kencana.
The park attracts numerous domestic and international travellers due to its unique cultural attractions and impressive iconic statue. Also, the cultural park has become synonymous with Bali's tourism landmark.
B. The History and Evolution of Garuda Wisnu Kencana Cultural Park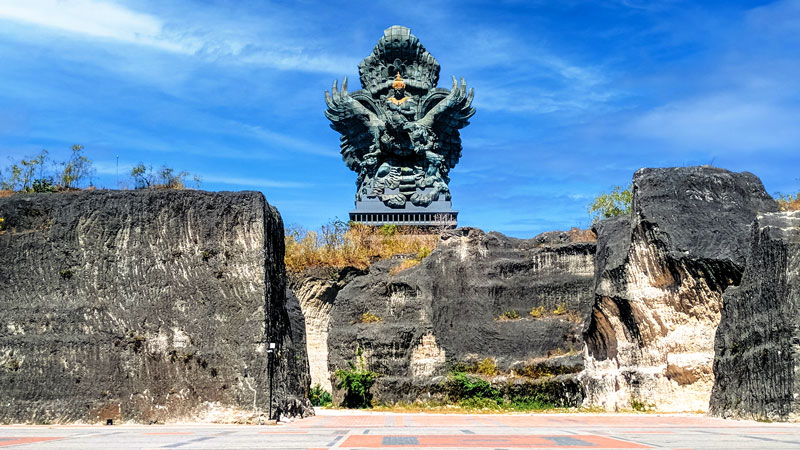 Mr I Nyoman Nuarta founded the Garuda Wisnu Kencana Foundation and started GWK Bali's development in 1992. The aim of building this cultural park was to create the most iconic landmark in Bali, displaying the unique cultural heritage of the island of the gods.
After finalizing the initial draft ideas, it took the Foundation two years to determine the ideal location for the cultural park.
Then the location chosen for the cultural park has a height of 146 meters above ground level and 263 meters above sea level. Previously the location chosen was a limestone mining location in the Ungasan Hill area, which is adjacent to the Jimbaran Beach location.
For your information, Pak Nyoman Nuarta is one of the leading modern sculptors in Indonesia. As the project's leading architect and sculptor, Mr Nuarta played an essential role in shaping the vision of the GWK cultural park.
In 2013, PT. Alam Sutera Realty Tbk, a leading property developer in Indonesia, then took over the ownership and management of GWK Bali. With new ownership, the development of cultural parks can be achieved. The cultural park took over 28 years to build, with the grand opening in September 2018.
Over the years, GWK has developed into a centre for cultural exhibitions, events, and entertainment attractions such as music concerts and fashion shows. In addition, the park now serves as a place of information and communication for local, national, regional, and international cultures.
This may be what you are looking for, Taman Nusa Cultural Park and the price of admission for another enjoyable cultural experience in Bali.
The colossal Garuda Wisnu Kencana statue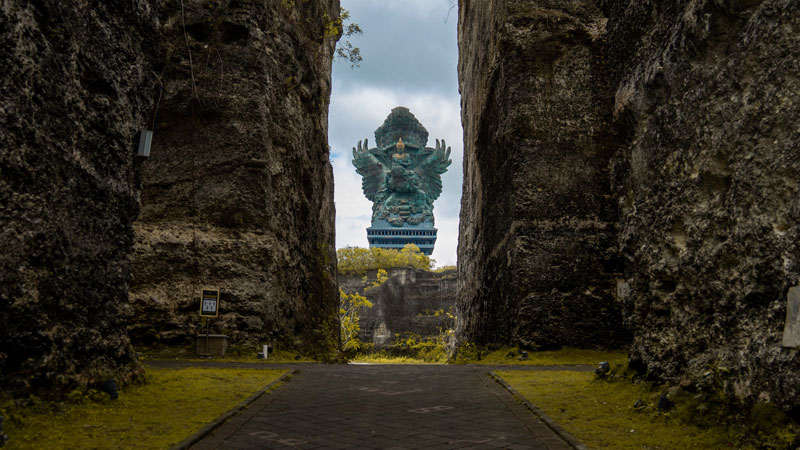 The main attraction of the GWK culture park lies in the Garuda Wisnu Kencana statue. The famous Balinese sculptor, Mr I Nyoman Nuarta, built and carved it. The GWK statue is made from copper and brass and weighs around 4,000 tons. Furthermore, the icon's name represents the God Wisnu riding on the back of the mythical bird Garuda.
Creating the Garuda Wisnu Kencana statue takes USD 100 million, with 25 years in the making. The icon has an initial plan to be built at 126 meters in height and 60 meters in width. However, the finished construction of the statue of Garuda Wisnu Kencana became 121 meters high and 65 meters in width.
The statue's height, constructed now, is 75 meters. If combined with the pedestal height, it becomes 121 meters. If you compare the iconic Liberty statue in the USA, from the bottom of the copper Liberty statue to the torch is 46 meters tall, and from ground level to the torch is 93 meters tall. Therefore, there is a significant margin of 28 meters of the GWK statue compared to the Liberty statue.
Now the Garuda Wisnu Kencana statue has become an icon of Bali island. Which offers one of the most significant sculpture works and the most complicated jobs with artwork that reflects the value of local Balinese culture.
Also, at the GWK culture park, visitors can enjoy the sunset view. Not only beautiful scenery, but the GWK culture park also offers a wide range of entertainment from the morning until evening.
Exploring GWK Cultural Park's Monuments and Statues
Tourists vacationing in the Garuda Wisnu Kencana Cultural Park will explore the monument area and take pictures in the GWK Statues zone. For your information, in the area within the cultural park, there are many statues, so it's not just one statue.
A. Enter the GWK Statue Monument Area
The area inside the GWK statue monument is extensive, thus allowing visitors to enter the space inside the monument. In addition, an elevator is available to bring guests to the highest spot, and visitors can see the surrounding panorama at the top.
B. Plenty Statues
Apart from the giant statues, there are also many smaller statues in the cultural park area. These statues represent various aspects of Balinese mythology, history, and traditions so visitors can glimpse the island's rich cultural heritage.
The Various Attractions within GWK Cultural Park
The cultural park now offers a wide range of ideal and adequate facilities for various types of public and private events, either on a small scale or a large scale. There is an attraction that you will see when visiting GWK culture park Bali, such as;
A. Wisnu Plaza
Wisnu Plaza is an area with the highest land in GWK culture park. On a particular day, at Wisnu Plaza area performed a traditional Balinese dance. The main point of interest makes visitors love visiting the Wisnu Plaza area due to the Wisnu Plaza location on higher ground. Therefore, make the visitor able to see the scenery.
B. Street Theater
The visitor's starting point and endpoint when visiting GWK culture park is at Street Theater. Plenty of shops offer souvenirs, GWK merchandise, and restaurants on the Street Theater. There will be a Balinese dance performance at the specified time during the day, such as a Barong dance and a parade.
C. Lotus Pond
The lotus pond is the most extensive outdoor area in the GWK culture park. As a result, the lotus pond is customarily used to hold large-scale outdoor events. When you arrive at the Lotus Pond area, you will see a sizeable, unique site.
Also, you will see solid limestone walls on each side of the lotus pond pathway. Over the years, Lotus Pond at GWK culture park has been trusted to hold large-scale international events, such as music concerts, fashion shows, Gala Dinner, and international meetings.
D. Indraloka Garden
The garden is named Indraloka, which is the garden of God Indra. From the Indraloka Garden, visitors can see the panoramic scenery of southern Bali. Also, the Indraloka garden typically uses a wedding ceremony.
E. Amphitheater
The open-air GWK Amphitheater is a popular venue for Balinese dance performances. While the Kecak Dance used to take place every evening there, it has since been relocated to the Lotus Pond, with shows starting at 6:00 pm and ending at 6:45 pm.
It's worth noting that the Kecak Dance at GWK Lotus Pond is free, unlike other places in Bali where you need to purchase a dance performance ticket to watch the Balinese Kecak dance.
Experiencing Traditional Balinese Culture at GWK Bali
Furthermore, one place that delivers Balinese dance and culture performances daily in Bali is Garuda Wisnu Kencana Bali.
A. Daily Show and Dance Schedule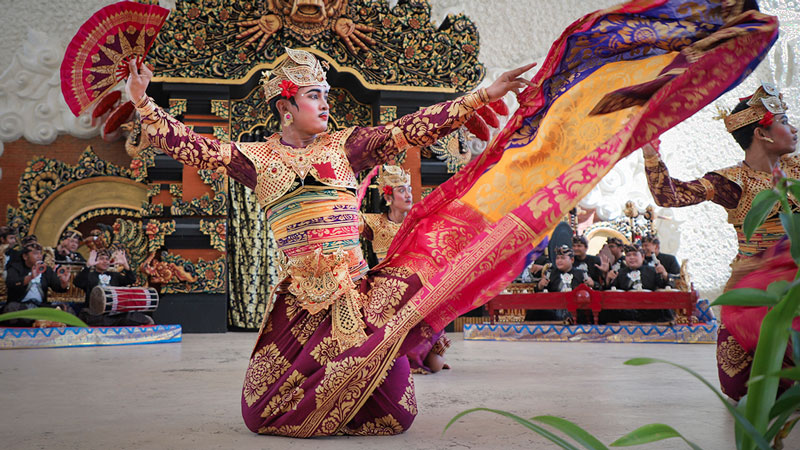 Garuda Wisnu Kencana Cultural Park offers visitors the opportunity to experience traditional Balinese culture through art performances that are available daily.
GWK Cultural Park organizes performances of various Balinese dances and musical performances.
Performance schedules are usually available at the entrance to the cultural park, so visitors can plan a visit schedule according to the arts and cultural performances that tourists like.
To make it easier to find a schedule of arts and cultural performances at Garuda Wisnu Kencana, you can see in the table below!
| Time | Performances | Location |
| --- | --- | --- |
| 11:00 | Sekar Jepun Dance, Kebyar Duduk Dance, Topeng Kenyum Manis Dance | Amphitheater |
| 12:00 | Jauk Keras Dance, Oleg Tamulilingan Dance, Kebyar Duduk dance | Amphitheater |
| 13:00 | Sekar Jepun Dance, Jauk Manis Dance | Amphitheater |
| 14:00 | Topeng Monyer Dance, Jauk Manis Dance | Amphitheater |
| 15:00 | Barong Dance, Oleg Tamulilingan Dance | Amphitheater |
| 16:00 | Joged Bumbung Dance | Amphitheater |
| 17.00 | Balinese Cultural Parade | Lotus Pond |
| 18:00 | Garuda Wisnu's Kecak Dance Performance | Lotus Pond |
Note:
The schedule for the Balinese Cultural Parade is subject to change depending on the weather conditions.
The ticket price for GWK Bali includes all the performances mentioned above.
B. Kecak Dance at Garuda Wisnu Kencana Cultural Park
Furthermore, there are many traditional dances on the island of Bali, and the most famous Balinese dance is the Balinese Kecak dance.
Many locations perform the Kecak dance on the island of Bali. Such as the Kecak dance at Uluwatu temple, the Kecak dance at Tanah Lot temple, the Kecak dance at GWK Bali, and the Kecak dance at Batubulan Gianyar Bali.
One place that provides Kecak dance performances in Bali every day is the GWK culture park Bali.
Meanwhile, the Garuda Wisnu Kencana Kecak dance performance schedule starts at 18:00 – 18:45.
Also, watching the Kecak dance at GWK is free; you only need to pay for the Garuda Wisnu Kencana entrance ticket.
Find Here, Kecak Uluwatu Ticket Price.
Practical Information for Visiting Garuda Wisnu Kencana Park
A. GWK Bali Location
Furthermore, GWK Bali cultural park construction project began in 1992 on 240 hectares of land. The location of GWK Bali is on Jalan Raya Uluwatu, Ungasan Village, South Kuta, Badung Regency 80364.
To make it easier to find the place of GWK Bali, please use Google Maps by clicking the link below!
See Here, "Garuda Wisnu Kencana Cultural Park On Google Map" >>>
B. Opening Hour
Garuda Wisnu Kencana Bali is open from 09:00 – 21:00 and has been open every day.
The opening hours and days of Garuda Wisnu Kencana can change at any time. Also, please contact Garuda Wisnu Kencana for the opening days and hours.
Garuda Wisnu Kencana Cultural Park Entrance Fee
Also, each visitor is required to pay an entrance fee to be able to enter the GWK culture park. Then how much does the GWK entrance ticket cost?
| Category | Ticket Price | Regular Online Prices |
| --- | --- | --- |
| Visitors 100 cm and above | IDR 125,000. | IDR 110.000 |
| Enter the GWK statue inner area. Last tour at 20:00. | IDR 250,000. | - |
Garuda Wisnu Kencana Entrance Fee Description
The GWK Monument entrance ticket promotion will remain valid until March 31, 2024.
Children's heights under 100 cm are free of charge.
Entrance fees may change at any time. To confirm the price of admission to the Garuda Wisnu Kencana Cultural Park, please contact GWK Bali directly at +62 (361) 700 808.
By paying for the entrance ticket to GWK Monument, you can tour the GWK Bali area.
There will be an extra admission fee for visitors who want to enter the GWK Bali statue's inner area. The ticket price for accessing the site inside the figure excludes the GWK Bali entrance ticket.
We provide booking services for the GWK cultural park entrance ticket. You can buy Bali GWK entrance tickets through our Wira Tour Bali. Please contact our booking service at +62 813 3956 3400 (EN) and +62 822 4714 8222 (ID) (WhatsApp Ready).
GWK Monument, the entrance ticket price is the price for one person.
The Garuda Wisnu Kencana Cultural Park entry fee contains watching regular performances (based on schedule).
Bus shuttle service is available from the vehicle parking area near the ticketing zone.
Free entry to the Asana Artseum GWK Bali area.
While for Indonesian citizens, please click the link to find the "Harga Tiket Masuk Garuda Wisnu Kencana".
Booking Garuda Wisnu Kencana Entrance Tickets
We deliver booking assistance for the Garuda Wisnu Kencana cultural park admission ticket. You can purchase Bali GWK entry tickets through us, Wira Tour Bali.
Don't hesitate to contact our booking service at +62 813 3956 3400 and +62 822 4714 8222 (WhatsApp Ready).
You can also click the WhatsApp button below to connect with Wira Tour customer service via WhatsApp directly. Or you can fill out the booking form below.
Booking Form
How to Redeem the Wira Tour Voucher
You must display your Wira Tour voucher via your cellphone at the GWK Bali ticket counter.
After your voucher is obtained by the ticket counter officer at GWK Bali, you will get a bracelet tied to your wrist. Then the number of bracelets you will acquire is according to the number of entrance tickets you book with Wira Tour.
To get the GWK Bali entrance tickets, only use a voucher from Wira Tour Bali, not proof of payment for the voucher you received from the bank.
The voucher redemption counter for the GWK cultural park entrance ticket is open from 09:00 to 19:00 Bali time.
The location for voucher redemption to get a bracelet is at the Plaza Bhagawan GWK Bali.
Before you visit the Garuda Wisnu Kencana cultural park on the same day as the date on the voucher, don't hesitate to contact us at Wira Tour or visit the GWK Bali website regarding opening hours and show schedules.
See GWK Cultural Park Bali Website.
Garuda Wisnu Kencana Entrance Ticket Terms & Conditions
Garuda Wisnu Kencana culture park can prohibit visitors with an online voucher from accessing the inner area if visitors cannot show a valid identity card. If tourists still want to visit GWK Bali attractions without a valid Id card, travellers will pay the published price instead the online price.
Every GWK Monument visitor is expected to be in good health.
Every cultural park visitor must follow the health protocol standards GWK Bali applies when in the GWK area.
Rescheduling of the visit schedule on the ticket that has been booked is not available.
Transportation Options to Garuda Wisnu Kencana Cultural Park
Visitors can choose from various transportation possibilities to visit GWK Bali from your hotels in southern Bali, such as Kuta, Legian, Seminyak, Jimbaran, Ungasan, Tanjung Benoa, or Nusa Dua. Here are the most convenient Bali transportation alternatives:
1. Rent a Scooter
Many scooter rentals in Bali offer affordable rates, ranging from IDR 100,000 to IDR 300,000 for 24 hours. For your information, the Nusa Penida Island scooter rental price is lower than in Bali.
Remember to wear a helmet and have an international driving license.
Only select this option if you are confident in your capability to navigate Bali's roads on a scooter.
Take a Taxi
Taxis, including metered taxis like Bali Blue Bird Taxi and online taxis, are widely available in southern Bali.
Online taxis in Bali offer both motorcycle and car services.
Rent a Car with a Driver
Book a Bali Tour Package
Choose a package that includes a visit to the GWK Cultural Park.
Recommended Transportation Choices
Rent a scooter if you are comfortable driving in Bali with a motorcycle, as it is budget-friendly.
Get a rental car with a driver for a convenient experience, particularly if you intend to visit numerous attractions in one day.
Travel Times and Distances from Popular Bali Attractions
VI. Enjoying the Complete GWK Bali Tourism Experience
A. time needed to explore the Cultural park
The time visitors spend exploring the Garuda Wisnu Kencana Cultural Park may vary depending on your interests and chosen activities.
Typically, 1.5 hours is acceptable to walk around the park, enjoy the sceneries, see the statues, and visit the cultural exhibits.
However, you may want to watch a traditional Balinese performance, such as the Kecak dance, eat at a restaurant, and shop for souvenirs; it will take around 3 hours.
B. Dining and shopping options
Garuda Wisnu Kencana Cultural Park offers several dining options. You will find various restaurants and cafes serving local and international cuisine.
Some popular places to eat include Jendela Bali Resto, The Berandas, and Food Court. This dining option provides a comfortable and relaxed atmosphere for those who want to enjoy food while enjoying garden views.
For those who like shopping activities, GWK Cultural Park has a gift shop and boutique where you can find various unique items, such as handicrafts, artwork, clothing, and accessories.
C. Additional destinations and activities in Bali
While the Garuda Wisnu Kencana Cultural Park is one of the destinations visitors must visit, Bali has many exciting destinations and other holiday activities. Some popular destinations include:
Uluwatu Temple is on a high cliff with views of the Indian Ocean and the Kecak dance performance at sunset.
Ubud is the cultural centre of Bali and is known for its art galleries, traditional markets, and Tegalalang terraced rice fields.
Kuta Beach is a popular destination with vibrant nightlife, shopping, and water sports activities.
Seminyak: A fashionable area with upscale boutiques, fine dining restaurants, and trendy beach clubs.
To make the most of your journey, consider booking a Bali tour package or making customized Bali itineraries, including visiting the Garuda Wisnu Kencana Cultural Park and other must-see attractions and activities on the island. This will ensure you have a complete and memorable GWK Bali holiday experience.
Garuda Wisnu Kencana FAQ
We often get customers ' questions when providing tour packages to GWK or Bali water sports packages with a shuttle. When tourists want a vacation to the Garuda Wisnu Kencana cultural park, the following inquiries are frequently asked.
Does the culture park entrance fee include access to the inner side of the Garuda Wisnu Kencana statue?
Furthermore, there are two types of entrance tickets for Bali GWK.

There is an entrance ticket to the GWK cultural park. There is an entrance ticket to the GWK Iconic Statue. The above table details the GWK Monument entrance fee.
Is this park suitable for family vacations and children?
Garuda Wisnu Kencana Cultural Park is a tourist spot for family vacations. The park offers a variety of activities, shows, and exhibitions suitable for visitors of all ages.
What is the dress code for visiting the GWK cultural park?
There are no requirements or dress codes for visiting this cultural park. However, it is advised to dress modestly and comfortably, as you will explore an outdoor area with various art and cultural exhibitions.
Can I take photos and videos in the culture park area?
Visitors are permitted to take pictures and videos inside the park.