Imagine the wind in your hair, the soft sound of waves lapping at the shore, and the gentle sway of a majestic camel beneath you as you embark on an unforgettable journey along the stunning coastline of Bali's Kelan Beach. It's not just an ordinary beach activity; it's a unique adventure that encapsulates the fascinating charm of Bali. From the first-time explorer to the seasoned traveller, a camel ride on Kelan Beach promises an experience infused with cultural richness and family-friendly fun. This comprehensive guide offers everything from the thrill of the ride to the essential practicalities of booking and what to expect. Whether you're aching to try something new or looking for the perfect addition to your Bali adventure, our Kelan Beach guide covers you. Dive into the world of Bali beach activities and let the adventure begin!
Anda dapat menemukan versi bahasa Indonesia dari artikel ini di sini untuk pembaca berbahasa Indonesia kami.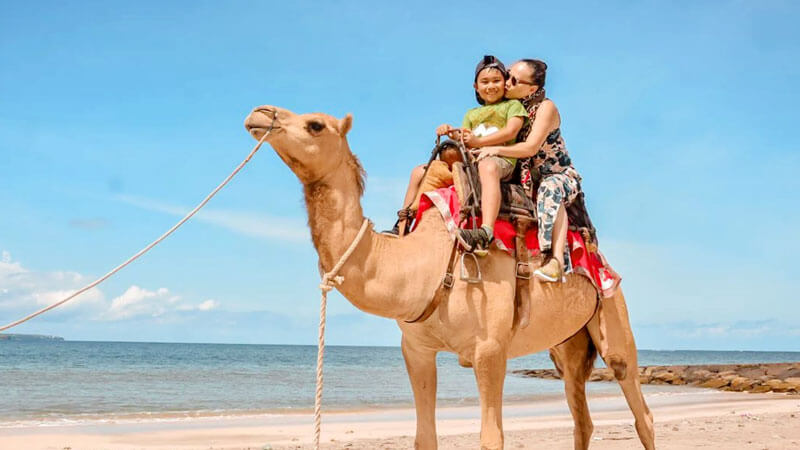 Why a Camel Ride on Kelan Beach is Unmissable
Stunning Beach Views
Imagine riding a camel along the shoreline, with waves crashing the shore and a gentle breeze on your face. The breathtaking ocean views offer a picturesque backdrop, making this ride a photographer's dream. Capture the sunset for a magical memory.
A Unique Cultural Experience
Camels have a unique place in the local culture around Kelan Beach. By engaging with your guides and handlers, you can learn about the region's history and the significance of camels. Don't just ride; immerse yourself in a cultural journey that's both enlightening and entertaining.
Camel Ride on Kelan Beach Is a Family-Friendly Fun
Whether it's young children or grandparents, the camel ride at Kelan Beach is suitable for all ages. It's a safe and enjoyable activity that the entire family can participate in. There are options for shorter and longer rides, allowing you to choose the one that fits your family's comfort level.
Interested in exploring camel rides at different beaches in Bali? Don't miss our detailed guide on Bali Camel Ride At Sawangan Beach, another fantastic family experience.
Flexible Booking Options
Planning a camel ride on Kelan Beach, Bali, with flexible booking options, is a breeze. From budget-friendly options to luxurious packages, there's something for everyone. Whether you're looking for a brief excursion or a full-day adventure, you can find a package that suits your preference and budget.
Many travel agencies offer online booking, making it convenient to plan. Booking in advance is recommended because of limited slot availability. Whether you prefer online or face-to-face interaction, you can benefit from online prices, which are more cost-effective than published rates.
Safety Measures
Your safety is paramount. The operator adheres to strict safety guidelines, ensuring the camels and riders are well cared for. Every precaution is taken to ensure a smooth ride, from providing safety briefings to ensuring the camels are well-trained and cared for.
From the mesmerizing beach views to the rich cultural insights and options catering to families and individuals alike, a camel ride on Kelan Beach is an essential part of your Bali adventure. It's not just a ride; it's an unforgettable adventure, promising recollections that will last a lifetime.
What to Expect from a Camel Ride on Kelan Beach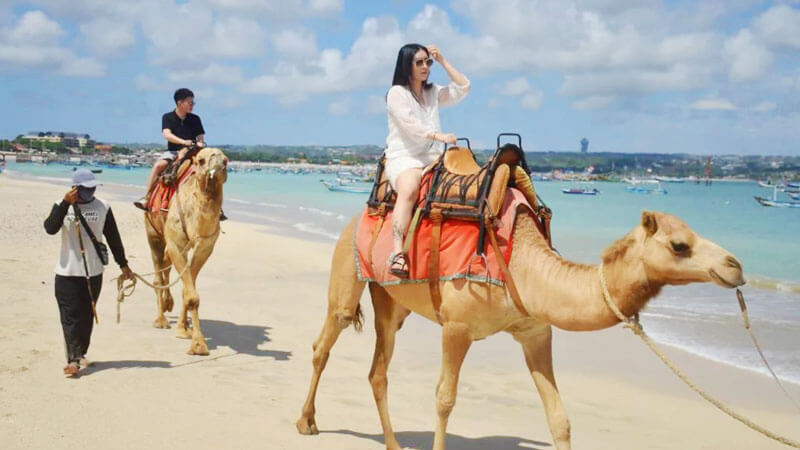 The Experience
Embark on a memorable journey atop a majestic camel as you explore the pristine beauty of Kelan Beach. This one-of-a-kind experience combines stunning beach views, a unique cultural twist, and family-friendly fun, making it unmissable for anyone visiting Bali.
Safety Measures
Safety is paramount, and reputable tour operators ensure riders are well-instructed and provided with safety gear. The camels are well-trained, and expert guides accompany the tours to ensure an enjoyable and secure ride.
Best Time to Go For Camel Ride on Kelan Beach
While camel rides are available throughout the year, the dry season between April and October offers the most pleasant weather. Early mornings or late afternoons provide cooler temperatures, perfect for a relaxing ride.
Ride Schedules
Opening hours regular ride: 09.00 – 16.00.
Sunset tour ride: 17.45 – 18.15.
Camel Ride on Kelan Beach Location Details
Directions Heading To Kelan Beach Camel Safari
Kelan Beach is accessible via Jl. By Pass Ngurah Rai, close to Ngurah Rai International Airport. Follow signs to the camel rides at the northern end of the beach.
Camel Adventure on Kelan Beach Google Map
Here's a map for straightforward navigation.
Nearby Attractions
A Kelan Beach camel ride offers more than an unforgettable experience along the coastline. The location is also surrounded by some of Bali's most popular attractions that can complement your day's adventure. Here's a closer look at what's nearby:
Looking for more exciting family adventures by the beach? Check out our complete guide to Saba Beach Horse Riding for fun-filled experiences that complement your camel ride.
Combining these nearby attractions with your camel ride on Kelan Beach, you can create an enriching and diverse Bali adventure. Whether you prefer cultural exploration, culinary delights, shopping, or outdoor fun, these surroundings offer something for every traveller. Don't miss out on the chance to make the most of your visit to this beautiful coastal area!
How to Book a Camel Ride in Bali
Booking Options For Kelan Beach Camel Expedition
Planning a camel ride on Kelan Beach, Bali, with flexible booking options, is a breeze. Whether you prefer online or face-to-face interaction, you can benefit from online prices, which are more cost-effective than published rates.
Online Booking: Secure online platforms allow quick access to packages at attractive prices, providing real-time availability and convenience for tech-savvy travellers.
Authorize Local Travel Agencies: Personalized assistance from local agencies offers the same attractive prices and the added benefit of customizing packages, including other exciting Bali beach activities like Tanjung Benoa Water Sports.
Packages with Other Bali Beach Activities: Enhance your adventure by bundling camel rides with thrilling beach activities, enjoying the best of Bali's beaches for the family at discounted rates.
Flexible Options: Tailor your camel ride experience with options ranging from short rides to sunset experiences, including dinner. Suitable for individuals, families, or large groups, your Kelan Beach camel ride can be precisely what you envision.
Camel Ride on Kelan Beach Prices and Packages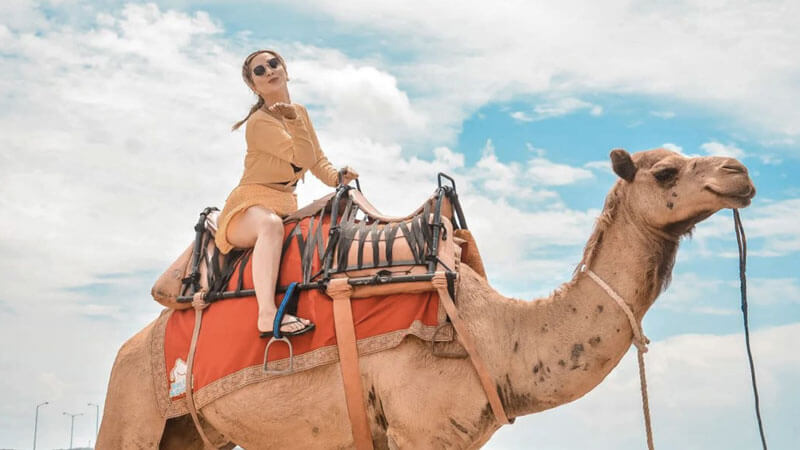 Choosing a camel ride on Kelan Beach in Bali is simple and suits all budgets and tastes. Here's what's on offer:
| Activities | Adult | Children |
| --- | --- | --- |
| 15-minute camel ride: | IDR 370,000 | IDR 290,000 |
| 30-minute camel ride | IDR 525,000 | IDR 390,000 |
| 30-minute sunset ride: | IDR 770,000 | IDR 590,000 |
| 30-minute sunset ride with dinner: | IDR 970,000 | IDR 790,000 |
The price listed above is for our online camel ride at Kelan Beach, available through booking with us. If you go directly to Kelan Beach without a voucher from us, you'll have to pay the published price higher than our online offer. This particular online price is valid until March 31, 2024.
Sample Itinerary
Begin with breakfast at a local café or hotel, enjoy your camel ride, and explore nearby attractions for an enriching adventure in Bali.
Accessibility and Restrictions
Who Can Join the Adventure?
Camel rides at Kelan Beach are a fun-filled activity open to most visitors. Here's a quick look at who can and can't join:
For Adults and Kids: Whether you're a child aged 2-11 or an adult up to the age of 70, camel rides are an exciting experience waiting for you.
Weight Restrictions: Planning to ride with a partner? No problem! Just keep in mind that the maximum weight for a camel is 200 kg, accommodating up to 2 people.
A Friendly Note for Special Cases: If you're pregnant or have specific physical disabilities, it might be best to skip this activity for your safety.
The camel rides on Kelan Beach offer something exciting for most travellers but always consider these approaches to provide a safe and pleasant experience. Feel free to contact us with any specific questions or concerns.
Additional Services and Amenities
Facilities On Camel Adventure on Kelan Beach, Bali
Restrooms: Available for your comfort.
Refreshments: Grab a snack or drink on-site.
Parking: Easy parking for a hassle-free visit.
Locker: Available on-site for your convenience.
Photography Services
Capture the Moment: Professional photographers are unavailable but will be available soon.
Customer Reviews and Testimonials
One of the customers wrote a Review on Tripadvisor. "It was an unforgettable experience. The camels were not only friendly but also seemed content with their roles. We were so impressed that we plan to bring our daughter back soon to share this unique experience with her."
Travel Tips and Recommendations
What to Wear/Bring During Bali Camel Riding Experience on Kelan Beach
Wear light, comfortable clothing and closed-toe shoes. Pack essentials like sunscreen, a hat, water, insect repellent, and a camera. Local currency for on-site purchases can be handy.
Cultural Insights
Respect Bali's rich cultural heritage by dressing modestly near religious sites and engaging with the community. Learning basic local phrases and interacting with guides and locals can enhance the experience.
Health Considerations
Consult a travel doctor for region-specific health precautions or vaccinations. Consider carrying motion sickness medication if needed.
Local Etiquettes and Tips
Tipping is appreciated but not obligatory. Be mindful of the environment, dispose of trash properly, and respect the natural habitat.
Contact Information:
For more details or to get in touch, you can:
Feel free to reach out with any questions or to book your camel ride adventure on Kelan Beach!
Booking Form
Weather Considerations
Weather Tips For Kelan Beach Camel Safari
Planning a camel ride on Kelan Beach? Aim for April to October. During these months, the skies are clear, and the temperatures are comfortable, creating ideal conditions for your beach adventure. Read our guide about Weather Tips and Best Times to Visit Bali for further details.
Legal and Ethical Considerations
Animal Welfare
When choosing a camel ride operator at Kelan Beach, it's good to know that many prioritize the well-being of their camels. They are committed to providing proper care, regular veterinary checks, and adequate training. Before booking, don't hesitate to ask about their animal welfare practices to ensure you're supporting responsible tourism.
Cancellation Policies
Understanding the cancellation policies is crucial to avoid any unexpected charges. Here's what you need to know:
On the Day of Reservation: A cancellation fee of 100% of the total payment will apply.
No Show: If you don't show up on the day, you'll be charged a cancellation fee of 100% of the total payment.
1 Day Before the Activity (before 18:00 Bali Time): You'll be charged a cancellation fee of 50% of the total payment.
1 Day Before the Activity (after 18:00 Bali Time): A cancellation fee of 100% of the total payment will apply.
Conclusion: An Adventure Awaits at Kelan Beach, Bali
The camel rides at Kelan Beach are far from ordinary; they invite you to explore Bali's stunning shoreline and immerse yourself in a truly unique cultural experience. Combining breathtaking views with the thrill of a camel ride, it's an adventure that promises fun for the entire family. Whether it's the allure of capturing the perfect sunset photo, bonding with your loved ones, or learning about the cultural significance of camels in the region, the camel ride at Kelan Beach is a must-do on any Bali itinerary.
With flexible booking options that cater to all budgets, safety measures that ensure a carefree ride, and comfortable access to other famous attractions, the camel ride is designed to create memories that will last a lifetime. Furthermore, the ethical considerations for animal welfare and the range of available services and amenities add value to this enriching adventure.
Ready to embark on an unforgettable journey? Don't miss out on this incredible experience; the camels at Kelan Beach are waiting for you. Whether you're an adventurous solo traveller or planning a fun-filled family vacation, the camel ride offers a unique perspective of Bali's coastal beauty that will leave a lasting impression. Book now, and let the adventure begin!