Are the traveler destinations that tourists usually visit while on holiday in Bali beginning to become less appealing to you? If you responded yes, maybe it's time to experience adrenaline-pumping adventure activities on the island of the gods through the Bali Adventure Tour activity. As an official provider of outdoor and water sports activities in Bali, we guarantee you the best experience while on holiday at a more economical price than ordering directly at the activity location.
Bahasa Indonesia, 20 Aktivitas Wisata Bali Adventure Terbaik Untuk Liburan Petualangan.
Bali Adventure Activities Introduction
A. Are You Set for a Bali Adventure?
As a travel destination, the island of Bali is recognized for its stunning natural sight and unique art and culture. Besides that, Bali holds other attractive characteristics that tourists often overlook.
Beyond traveler destinations that tourists usually see, adventure holiday activities are also available in Bali for those who dare to explore. Furthermore, the guide on this page will help you discover the exciting side of Bali, which offers experiences of outdoor activities and water sports adventure, which are fun and exciting to try.
B. Uncover Bali's Uncharted Adventure Territory
Bali retains much more to offer visitors than its arts and culture; The Island of the Gods is an excellent location for various adventure tour activities. For those who frequently visit Bali, we encourage you to try new experiences and partake in a holiday full of challenges. Whether pushing the excitement of river rafting activities or exploring the beauty of the underwater world, the island of Bali will always provide adventure activities that can meet many people's preferences.
C. Enjoy the Excitement of Bali Adventure Outdoor Activities & Water Sports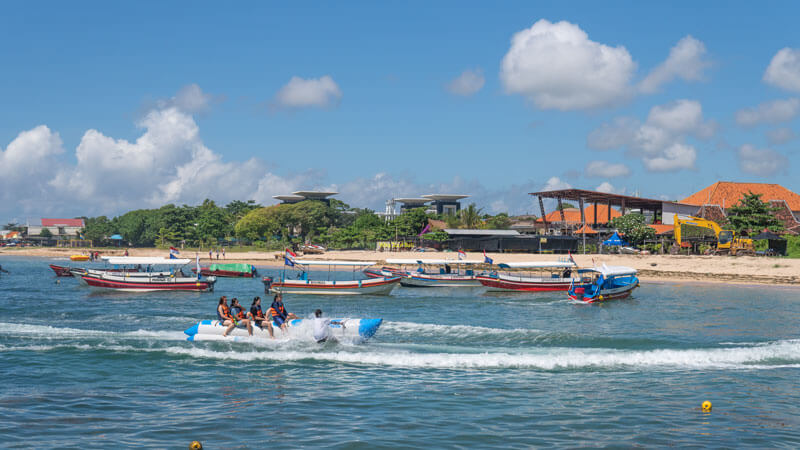 Trying Bali Adventure activities will add new fun to your holiday, especially when traveling with family or friends.
You will not only sense the kick of adrenaline but also have the chance to see the natural beauty of Bali from various angles. The pleasures of participating in outdoor activities in Bali are limitless and exciting. Starting from water sports at Tanjung Benoa Beach to ATV riding tours through rural areas in the tourist area of Ubud.
20 Popular Adventure Activities in Bali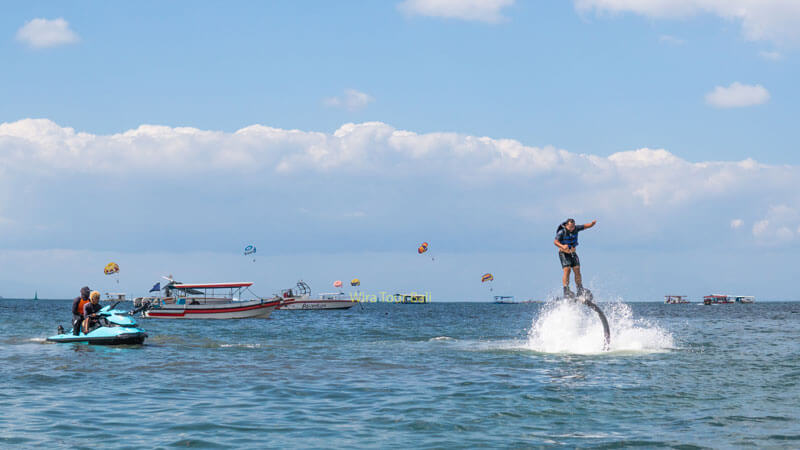 You will ask! What are the popular adventure tourism activities available on the island of Bali? Here are some examples of adventure tourism activities that International tourists like.
1. Experience the Thrill of Bali Adventure Rafting activities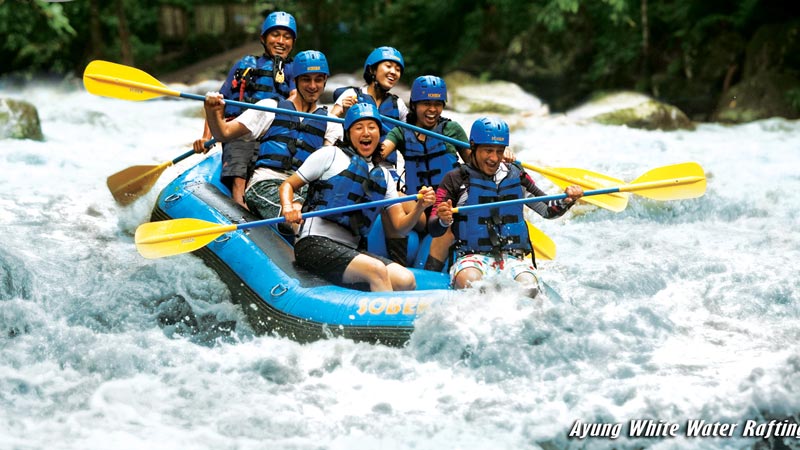 Above all, among the crowd favorites for Bali adventure tours are white water river rafting and marine sports activities. Also, Bali has three primary rivers perfect for white water rafting for beginners:
Furthermore, the Ayung River in Ubud offers a tranquil rafting adventure amidst awe-inspiring river sceneries. In contrast, the Telaga Waja River in Karangasem caters to thrill-seekers with its heart-pounding rafting experience. Before you embark on this adventure, check out our 10 Bali White Water Rafting Safety Tips That Can Lead To Fun Adventure for a safe and fun experience.
2. Marine Sports at Tanjung Benoa Bali
That is to say, Tanjung Benoa Beach, one of the best places for water sports in Bali, offers a variety of thrilling activities. Also, you can join in many water sports activities in Tanjung Benoa, from exhilarating Jet Ski rides and Parasailing Adventures to the unique Sea Walking experience.
On the other hand, not to miss are the thrilling Fly Boarding and Banana Boat rides, which offer excitement in the waters of Tanjung Benoa Beach.
3. Discover the Beauty of the Underwater Panorama in Sanur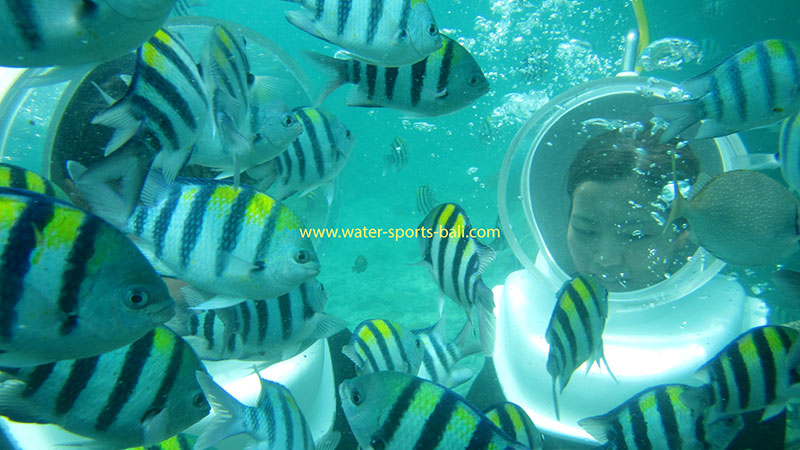 Meanwhile, the Bali Ocean Walker at Tanjung Benoa Beach and Sanur Beach is a fantastic choice for those who want to feel and see the beauty of underwater scenery. Also, this Seawalker activity in Sanur allows you to explore marine life without needing scuba diving experience and expertise.
4. Embark on an Odyssey Submarine Cruise at Amuk Bay Karangasem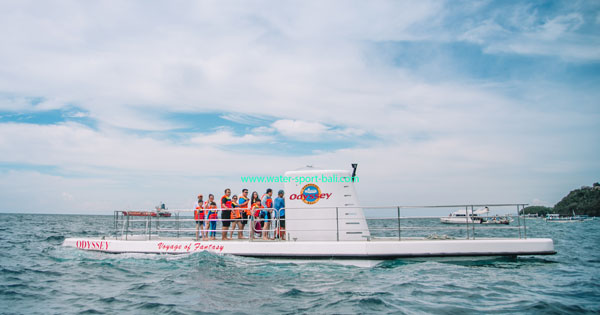 If you prefer a more relaxed adventure suitable for families with children, the Odyssey Submarine cruise in Teluk Amuk, Karangasem, offers a unique and educational view of the underwater world.
5. Cycle Through Bali's Countryside with Sobek Ubud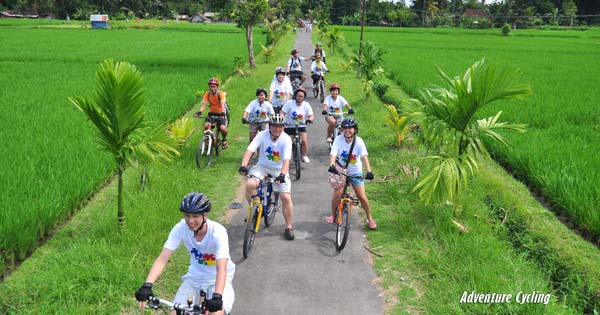 Above all, consider joining Sobek Ubud's adventure cycling tours for a fresh take on Ubud. You can enjoy a leisurely bike ride through Ubud's spectacular rice terraces and observe the day-to-day life of the local community.
6. Surfing on Bali Beach
For those of you who enjoy water sports, surfing on the beaches of Bali can be an exciting choice of holiday activities. Many beaches in Bali have excellent waves for surfing, such as Kuta Beach, Legian, Seminyak, to Canggu's Batu Bolong Beach. Also, no need to worry if you are a beginner surfer because many surf schools offer courses for newbies.
Make your Bali holiday an unforgettable experience with these Bali Adventures. We invite you to share your unique experiences and check out other articles on our website for more Bali adventure inspiration. Dive into the thrill of your Bali Adventure holiday!
Additional Bali Adventures Worth Exploring
7. ATV Quad Biking in Ubud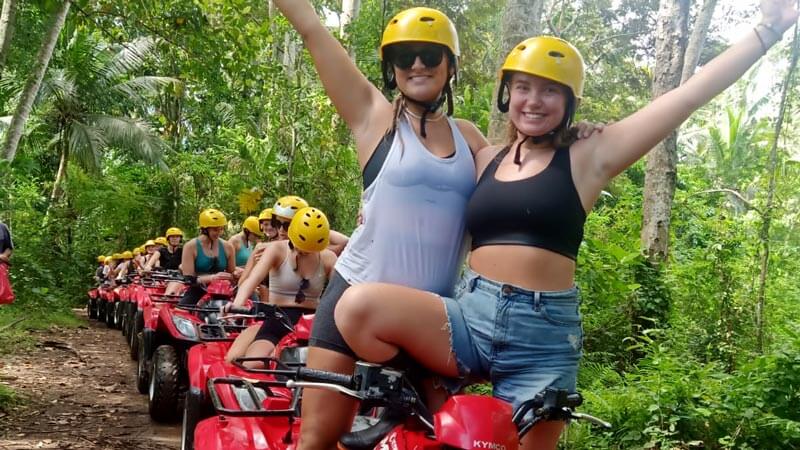 ATV Quad Biking in Ubud is the perfect choice for outdoor adventure enthusiasts using motorized vehicles. You will pass through rice fields and challenging terrain and see the beautiful scenery of Bali while feeling the adrenaline of handling an ATV.
8. Adventure kayaking activities in Ubud Bali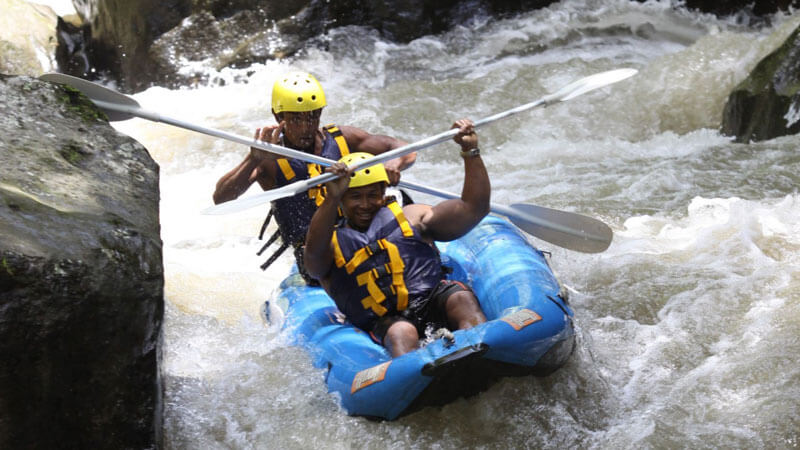 Another adventure possibility that you can try is kayaking in Ubud with the operator Mason Adventure. By boarding a kayak, you will be invited to explore the Ayung River and see the beauty of Ubud from a different perspective. The fun and challenges this activity offers are no less than Ayung river rafting, with the same natural scenery.
9. Trekking and Hiking: Exploring Bali's Landscape
You can explore Bali's natural attractiveness outside its beaches and water sports. Trekking and hiking are the best approaches to studying the island's topography. Ascend Mount Batur for a breathtaking sunrise view, or trek through Bali's dense forests to discover hidden waterfalls and wildlife. Check out these sites if you're interested in Bali's natural and cultural heritage.
10. Bali Bird Park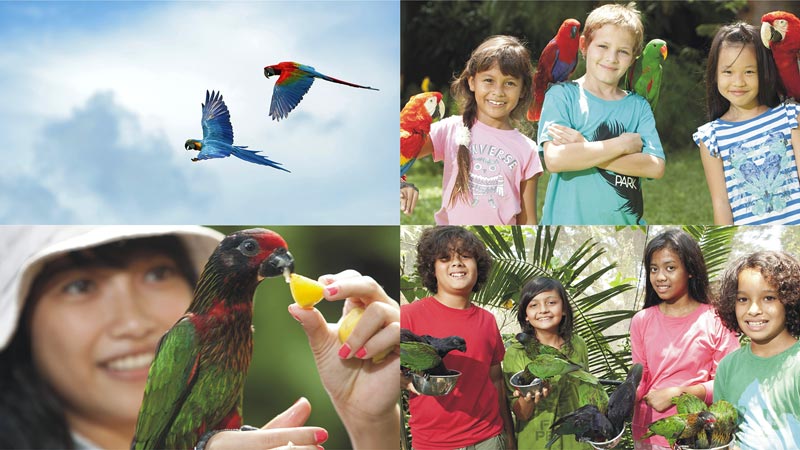 Animal lovers will then find an exciting visit to Bali Bird Park. It is home to a variety of colorful bird species. In addition, the Bali Bird Park provides an educational experience for visitors of all ages. You can learn about Bali Bird Park Entrance Ticket Prices on this page.
11. Visit Bali Safari and Marine Park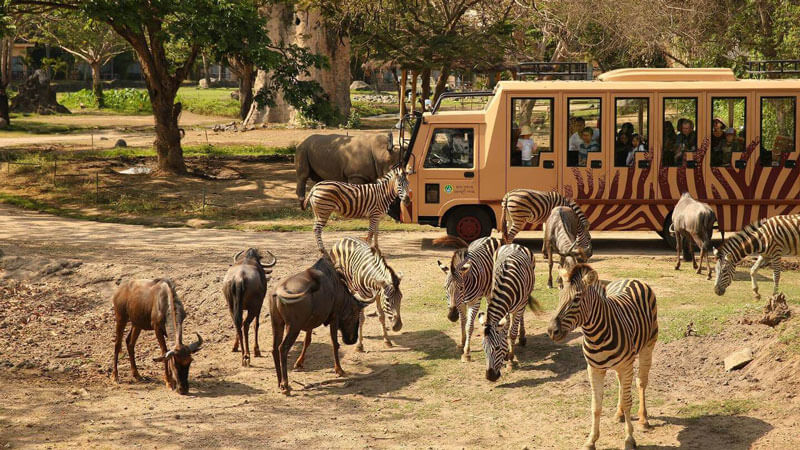 Bali Safari and Marine Park is the right choice for those who want to experience an educational and exciting holiday with their children and family. Here, you will see more than 100 species of animals in their natural habitat and understand better about animal life. Please click on the link for more affordable Bali Safari entrance ticket prices!
12. Visit Bali Zoo
Holidays in Bali are not concluded perfectly without visiting the Bali Zoo. In this zoo park, you can interact instantly with various animals, from birds, monkeys to reptiles. Meanwhile, one of the primary appeals of visiting Bali Zoo is having breakfast in the middle of the orangutan habitat. If you want to see this zoo, you can order inexpensive Bali Zoo entrance tickets online by clicking the link!
13. The Bali Swing in Ubud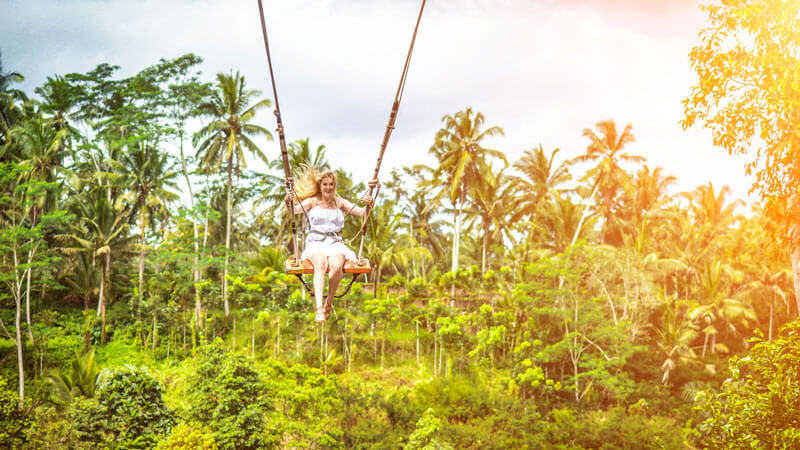 Thrill-seekers have made the Bali Swing in Ubud a must-visit attraction. You'll have a breathtaking view of the Bali landscape as you swing high above the dense jungles. This exhilarating activity provides a unique experience and an extraordinary backdrop for memorable vacation pictures.
14. Bali's Dazzling Marine Life – A Snorkeling and Scuba Diving Paradise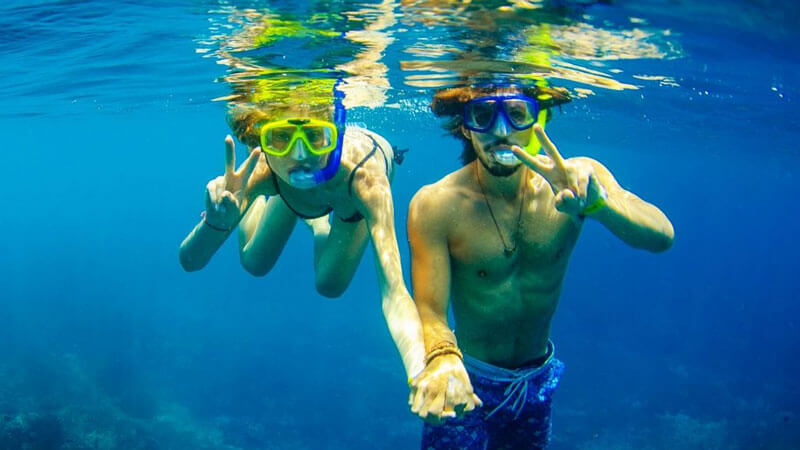 Acknowledged for its vibrant marine biodiversity and clear waters, Bali is among the best spots for snorkeling and scuba diving enthusiasts. Dive into Bali's underwater realm, teeming with colorful corals and various marine species.
I'm sure you will be fascinated by the underwater attractiveness of Bal, whether you're a skilled scuba diver or a beginner in diving. If you've never dived, it's a good idea to participate in an intro scuba activity at Tanjung Benoa, which is more suitable for beginners.
New Adventures to Try in Bali
15. Camel Riding Nusa Dua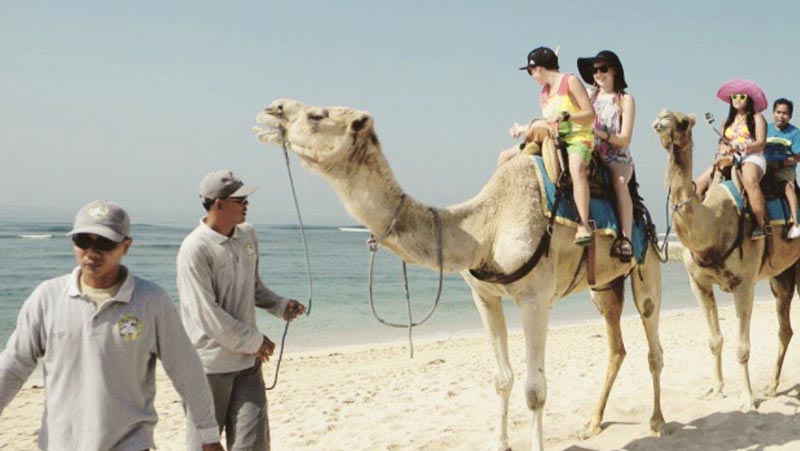 You can also experience a desert-like adventure by trying a Camel Ride in Nusa Dua. From the camel's back, you will see the beauty of Sawangan Beach in Nusa Dua; this activity will surely be an unforgettable memory. Find out the prices for camel rides on Sawangan Beach, Nusa Dua.
16. Paragliding Riug Bali Adventure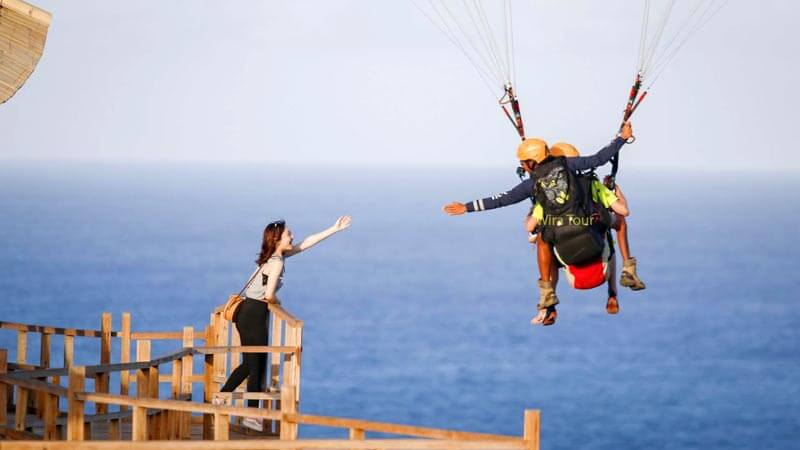 Soar high in the sky with a paragliding adventure in Riug Bali. Enjoy the exciting sensation of flying while taking in the spectacular scenic sights of Bali's landscapes. You also can try Paragliding at Timbis to witness the fantastic scenery of Pandawa Beach.
17. Elephant Ride at Taro Ubud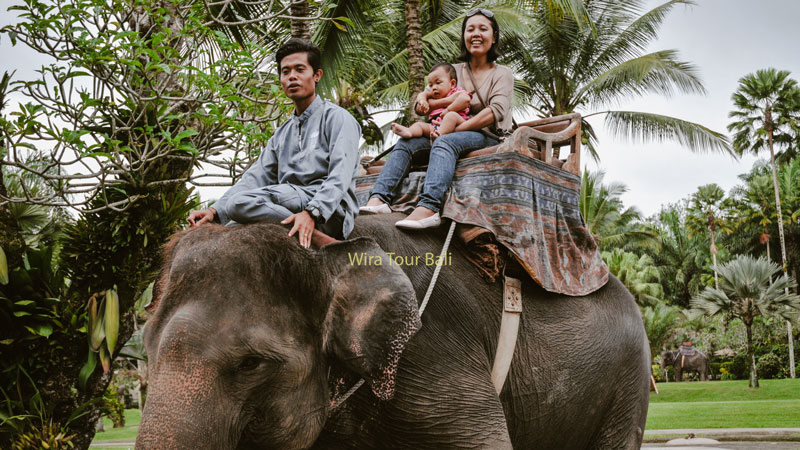 Another unique experience you can try is the elephant ride at Taro Ubud. Here, you will be invited to go around on the back of an elephant while enjoying views of Bali's rice fields and natural forests. Apart from riding elephants, you can also learn more about elephants and interact directly with these animals.
18. Lembongan Reef Cruise – 1 Day Bali Hai Cruise Ship Tour Package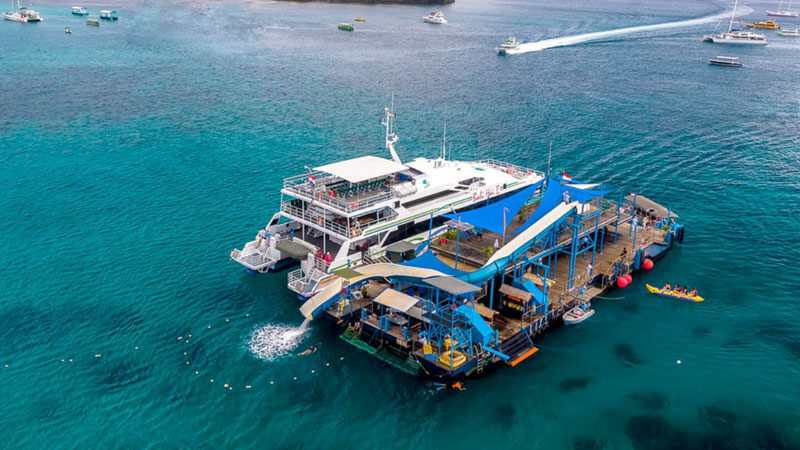 You can also explore the beauty of the sea with Lembongan Reef Cruise. In addition, this 1-day Bali Hai cruise tour package takes you to the colorful underwater life and coral reefs of Nusa Lembongan Island.
19. Quicksilver Cruise Bali – 1 Day Tour Package To Nusa Penida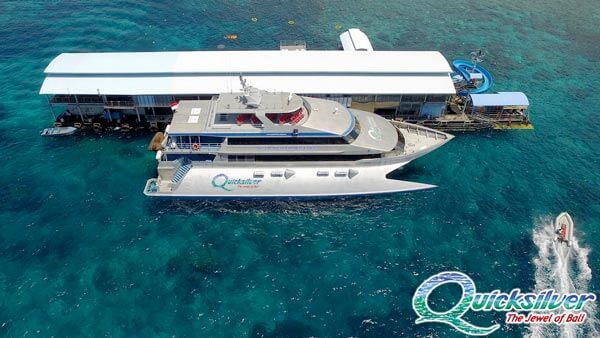 Furthermore, you can experience the beauty of Nusa Penida with Quicksilver Cruise Bali. In addition, this one-day tour package offers a mix of adventure and relaxation, with activities such as snorkeling, banana boat rides, and visiting iconic landmarks on the island of Nusa Penida, such as the tourist attractions of Crystal Bay, Broken Beach, and Kelingking Beach. Order here, Quicksilver Cruise Bali – 1 Day Tour Package to Nusa Penida Cheap Price.
20. Horse Riding Activities Saba Beach Gianyar Bali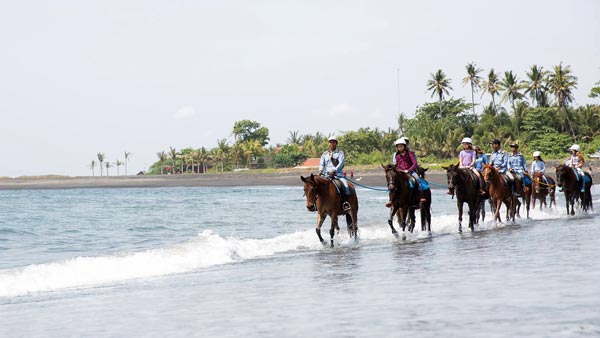 Moreover, Horseback Riding Experience Enjoy a unique Bali adventure with Horse Riding at Saba Beach, Gianyar. Ride along the serene black sand beach, immersing yourself in the beautiful scenery and experiencing Bali's nature differently.
Conclusion: Closing Your Bali Adventure on a High Note
Bali presents something for everyone, whether you're an adrenaline junkie or a nature enthusiast. These varied adventure activities provide a thrilling alternative to traditional sightseeing, letting you uniquely experience Bali.
In conclusion, we hope you enjoy these adventurous pursuits and create unforgettable memories on your Bali Adventure holiday. Also, we invite you to share your favorite activity and experiences. Embark on your adventure and enjoy your Bali Adventure holidays!