One outdoor activity travelers enjoy while on vacation to Bali island is paragliding activity. Furthermore, flying paragliders in Bali is an adventurous holiday activity that offers players exciting and thrilling sensations. In addition, flying paraglider participants will also get a different perspective from the natural scenery of Bali island when viewed from above; hence, if you are interested in trying paraglider activities while on vacation in Bali. On this page, there is a guide for Bali paraglider's activities. In addition, you will get information about location, safety, reasons travelers like it, participant's weight limit, the best month to join, and prices for Paragliding in Bali.
Bahasa Indonesia, Bali Paralayang Aktivitas Petualangan Populer Untuk Liburan.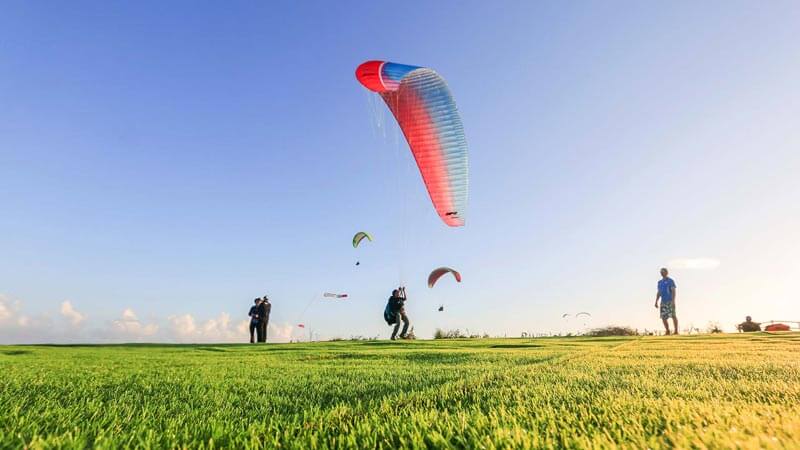 Bali's weather circumstances, which only have two seasons, are supported by experienced paragliding instructors with beautiful views of the southern sea. It makes Bali's paragliding activities very attractive for tourists, even though sightseers do not retain any experience in paragliding activities. In addition, travelers who like to perceive the adrenaline rush will most likely try paraglider while on vacation in Bali.
The following is a table of contents regarding Bali Paragliding activities. You can skip and find the necessary information using the table below without reading the whole page.
What Are Popular Adventure Activities In Bali For Holidays?
As people know, Bali is an art and cultural tourism destination. Bali is also famous for adventure holidays. Meanwhile, Bali island offers numerous exciting and adventure tourism activities suitable for beginners.
Here are some of the most popular adventure tourism activities for travelers while on vacation in Bali:
Bali River Rafting: Bali has many rivers, but three are appropriate for Bali rafting trips. So visitors who are not experts in river rafting can participate in Bali river rafting activities with high security. Furthermore, rivers for rafting in Bali include the Ayung river Ubud, Telaga Waja river, and Melangit river.
Surfing: As you know, the most famous tourist destinations in Bali are beach resorts. One of the beach activities that visitors prefer is surfing. Furthermore, many surfing spots in Bali offer world-class surfing locations, thus attracting many surfers from many countries.
Marine water sports: Trying aquatic tourism activities has always been a priority for tourists who vacation in Bali and love adventure activities. There are many locations for maritime tourism activities, but the one that is well-known and suitable for novice participants is Tanjung Benoa beach. Furthermore, there are many Tanjung Benoa water sports choices, such as banana boats, jet skis, parasailing adventures, flying fish, sea walkers, etc.
Trekking for waterfalls: In central Bali, east Bali, and north Bali, there are still many areas of lush forest, rice fields, and mountainous terrain that offer views of waterfalls.
Paragliding: Beautiful views of the cliffs and the Indian Ocean, as well as weather conditions in Bali, where there are only two seasons and predictable winds, make paragliding activities very suitable to do on the island of Bali.
See, Exciting And Popular Adventure Activities in Bali.
What is Paragliding?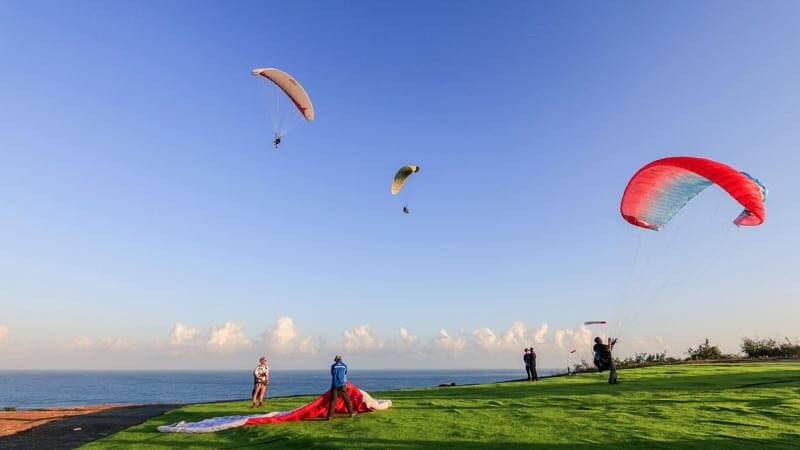 For those who require to become more knowledgeable about paragliding activities, I will describe them as briefly as possible regarding paragliding activities.
Furthermore, players who take part in paragliding activities have two distinct goals. Some are for recreation, and some are for competition. During paragliding, players will operate parachutes and the parachutes tied to the participants' bodies.
Before flying, the paragliding pilot will run to the edge of a high cliff while pulling the parachute rudder. Furthermore, the wind-blowing parachutes will make the players or pilots fly and float in the air.
When flying, the pilot will control the rudder on the parachute to handle the direction of flight and maintain flight altitude. Meanwhile, advanced pilots can perform acrobatic maneuvers while flying paragliding.
See 5 Things You Need To Know About Bali River Rafting Adventure.
Why Are Tourists Engaged in Trying Bali Paragliding?
Several reasons make travelers interested in trying paragliders activities while on vacation in Bali:
1. Can see the beauty of natural scenery from different angles
The scenic beauty of white sand beaches, high cliffs, and views of the Indian Ocean attracts sightseers to see it from a different angle.
2. Bali's weather is very supportive
The warm air temperature, low wind direction, and the climate in Bali, where there are only two seasons, make Bali one of the best locations to try paragliding activities.
Find Out Lembongan Island Reef Cruise Price.
3. Availability of experienced paragliding instructors
Travelers are highly interested in joining paraglider while on vacation in Bali. Therefore, it makes the availability of professional paragliders instructors on the island of Bali abundant. Participants get accompanied by a professional paragliding instructor; the player will feel comfortable and safe during paragliding activities.
In addition, visitors will be given training by professional paragliding instructors, guidance, and assistance during flight activities. So that professional paragliding instructors will ensure all safety, security protocols, and procedures are maintained.
Furthermore, Bali paragliding activities require professional paragliding instructors during flights with parties. Professional paragliding instructors will receive rigorous training, skills, experience, knowledge of equipment, and safety standards to ensure the safety of participants.
Find Out Bali Horseback Riding Experience Saba Beach Price.
4. Exciting and unique holiday experiences
All paragliding participants will get an adrenaline hit which is undoubtedly very thrilling, especially for players attempting it for the first time. In addition, sightseers can see the natural scenery of Bali from a different angle so that the view that usually looks normal will look unique from a height. Therefore, travelers who like sensations tend to try Bali flying paragliders activities.
See 10 Favorite Tourist Activities in Nusa Dua Bali.
Does the Bali Paragliding Activity Have a High Risk?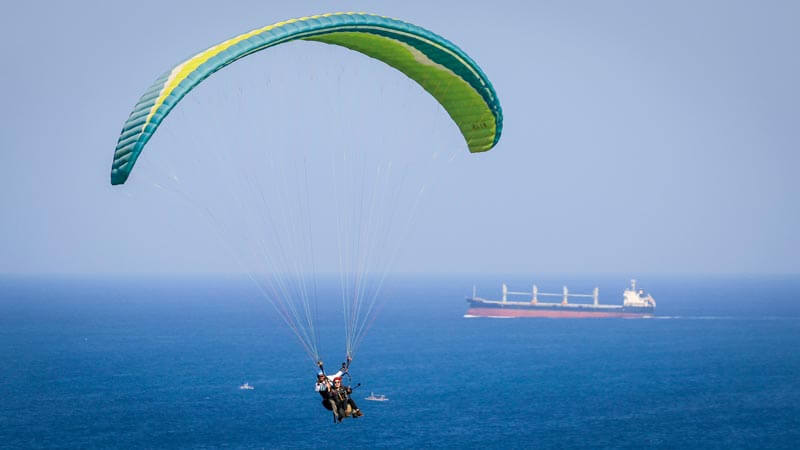 Any form of recreational adventure in Bali will carry risks. Thus, service providers will always try to minimize the level of risk.
Things that paragliding providers in Bali do to minimize risks so that paragliding in Bali can be a safe and fun activity. Such as; providing regular training to instructors, adequate equipment, and safety training to minimize the risks. Also, paragliding operators pay awareness of the weather and provide guidance and brief training to players.
See Bali Bird Park Entrance Ticket Prices.
1. Experienced Instructors
All instructors must be experienced and follow all safety protocols for Bali flying paragliders. In addition, before the flight, the instructor will provide short training for novice participants and guidance and assistance during the flight.
See Here, Bounty Dinner Cruise Price.
2. Quality Paragliding Equipment
In addition to instructors, Bali paragliding operators will provide high-quality paragliding equipment, such as parachutes, helmets, and spare parachutes that the instructor carries when flying.
See Here, Quicksilver Cruise Bali – 1 Day Tour Package To Nusa Penida.
3. Participant Compliance & Conditions
Apart from the equipment and instructor, the criteria for participants who can participate in Bali paragliding are also specified. So that players with specific medical conditions cannot participate in paragliding activities. Furthermore, every paragliding player must always follow the instructions given by the instructor so that the flight becomes safe and easy to control
See, Prices for Camel Rides on Sawangan Beach, Nusa Dua.
4. Observing the Weather
Weather also plays a vital role in safety during paragliding activities. Therefore, Bali paragliding operator will only provide paraglider activities when favorable weather states.
Therefore, although the Bali flying paraglider has a high risk, it can be a very safe adventure activity, with providers paying attention to the above factors.
Find Out, Bali ATV Ride The Best Cheap Quad Bike Rental Prices.
Are There Weight Limits for Bali Paragliding Participants?
Each paragliding operator has diverse participant weight limits. Generally, the benchmarks for players' weight who can participate in paragliding activities are 110 kg to 120 kg (240 lbs to 265 lbs). This is the total weight limit, which is the collective weight of the party, and the paragliding instructor cannot exceed the weight limit.
Furthermore, before booking Bali Paragliding activities, it's a good idea to find out in advance with a travel agent or paraglider operator regarding participants' total weight limit and age limit.
See the difference between parasailing and parasailing adventure.
Where Is The Bali Paragliding Take Place?
Bali paragliding activity zones are in several locations, most of which are in southern Bali's area. Here are some popular paraglider zones in Bali including:
Timbis Beach, which is located east of Pandawa beach.
Then the Riug cliff in the Sawangan Nusa Dua area.
What Month Is It Good To Take Part In Bali Paragliding?
Furthermore, the best time to participate in the Bali paraglider is during the dry season, which usually occurs from April to October.
During the dry season, the possibility of rain in Bali is meager. In addition, during the dry season, the chance of strong winds is slight, so the stability of flying requirements is more constant.
Furthermore, the weather in Bali during these few years is challenging to forecast. Sometimes during the dry season, heavy rain also occurs with thick clouds.
Therefore, before you make any reservations for Bali flying paraglider, ask the travel agent or paragliding operator in Bali in advance. So you get the latest news about the weather and Bali flying paraglider flight schedules.
Furthermore, booking a Bali flying paraglider with a travel agent you can contact directly before confirming the order is very substantial.
See Here, Good Month for a Vacation to Bali, Travel Tips for Beginners.
How Much Does Bali Paragliding Cost?
Furthermore, Bali flying paraglider activity's cost or price depends on Bali paragliding operators. In addition, the paragliding price is also determined by the flight location, duration, and the participant's nationality.
Usually, paragliding prices for domestic visitors will be much lower than for international travelers. Meanwhile, paragliding costs in Bali range from IDR 650,000 to IDR 750,000 per person.
In addition, most Bali flying paraglider operators only offer tandem activities, meaning participants fly accompanied by instructors.
Below are the Bali flying paraglider operators that we recommend that you try;