Holidays to Bali are not only synonymous with visiting Balinese Hindu temple attractions or white sand beaches. Apart from that, Bali also offers many options for adventurous holiday activities. Suppose you are looking for a thrilling adventure while on vacation to Bali. Paragliding is one of the possibilities that you can consider. Furthermore, Bali island offers beautiful sea views, white sand beaches, and panoramic views of high cliffs. Therefore, it makes the island of Bali a perfect spot to attempt paragliding activities. Therefore, if you are interested in trying Bali paragliding, on this page, there is a guide on how to book paragliding in Bali.
Bahasa Indonesia, Cara Booking Paragliding Bali.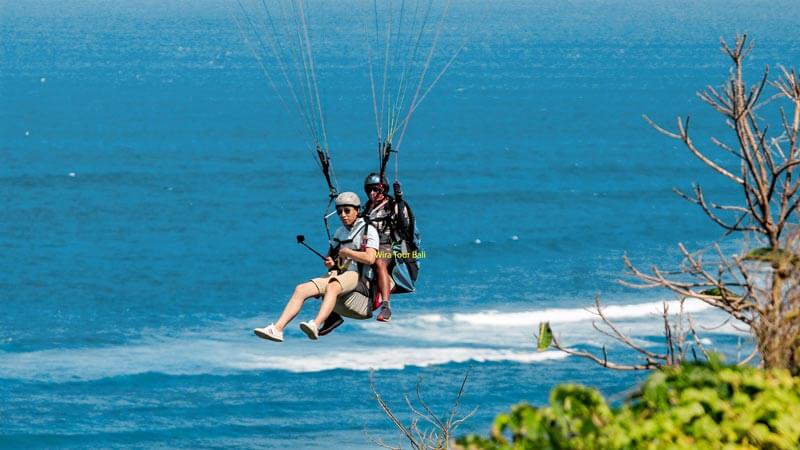 Step 1: Search and Find Famous Paragliding Operators
The first guide on booking paragliding in Bali is to find a paragliding provider or operator with a good reputation for security and safety. The way to find it is to read reviews on the internet. Then choose a paragliding operator that offers fantastic services to their customers.
Apart from discovering out via the internet, you can also ask for suggestions from friends who have tried paragliding in Bali or from official tour operators in Bali.
Find Out Bali ATV Ride Prices.
Step 2: Find Out About the Weather
Before you book paragliding activities in Bali, finding information about the weather forecast on the activity date you want is a good idea.
Furthermore, paragliding activities depend on the weather, either in rain, wind direction, or wind strength. So it is very similar to the Bali parasailing adventure activity in Tanjung Benoa beach. It would help to prioritize joining paragliding activity during clear skies and not too strong winds.
The dry season in Bali occurs almost the same as in other areas in Indonesia, from April to October. Therefore, ordering Bali paragliding activities during the dry season is the best time to try paragliding activities.
As you know, the weather in the past few years has been tough to predict. So, even during the dry season in Bali, strong winds and heavy rains can sometimes occur.
So, you want to order Paragliding activities in Bali. In that case, it's a good idea to call a travel agent in Bali who you can contact directly via WhatsApp or email. Therefore, it will make it much easier for you to know about the latest weather updates.
Read More, Good Month for a Vacation to Bali – Travel Tips for Beginners.
Step 3: Determining the Paragliding Location
Furthermore, Bali has several places for paragliding activities. Here are two popular paragliding spots on the island of Bali:
Timbis Beach: Timbis beach is located in the peninsula hill area of Kutuh village, a tourist area in southern Bali. Timbis Beach offers views of the Indian Ocean and high cliffs. In addition, Timbis beach is one of the ideal paragliding spots in Bali for beginners and experienced participants. Also, Timbis beach is close to Pandawa beach and Melasti beach Ungasan. Find out the ticket price for Timbis Paragliding Pandawa Bali.
Riug Cliff in Sawangan Nusa Dua: The Riug cliff area in Sawangan Nusa Dua is on the southeastern side of the island of Bali. It offers views of white sand beaches, luxury resorts, and the Indian Ocean. In addition, paragliding on the cliffs of Riug Sawangan Nusa Dua is also ideal for beginners or experienced paragliding participants. Furthermore, the Riug cliff area is also close to the location of camel ride activities in Bali.
Likewise, before you book a paragliding activity, you must choose a site that suits your budget and preferences.
See 10 Holiday Activities in Nusa Dua Favorite by Tourists.
Step 4: Place an Advance Order During High Season
For additional information, paragliding is one of the popular holiday activities in Bali. So that during the high season in Bali, many slots for paragliding have been ordered in advance.
If you are on holiday during the high season in Bali, so you can get a paragliding slot, making an early booking is a good idea. At least you book the Bali paragliding activity three days before the activity date.
In addition, currently, many tour and travel agents have collaborated with paragliding operators so you can order online.
Find Out, Guide Regarding Bali River Rafting Adventure.
Step 5: Choose your Bali Paragliding Package
Next, you will select a Paragliding package that suits your preference and budget.
Paragliding operators in Bali will usually deliver various paragliding packages. Paragliding packages include tandem flights with pilots and additional shuttle transportation from the hotel to the paragliding location.
In addition to the shuttle service, Bali paragliding operators provide additional services such as video or photography when participants fly in the air. So the package is very similar to the Bali river rafting activity.
Step 6 How to Book Paragliding Bali: Self Preparation
During your paragliding activity, wearing comfortable clothes and shoes is a good idea.
Apart from that, it's a good idea to use sunscreen, a hat with a strap, and sunglasses to reduce the sun's heat.
Find Out, The Holiday Outfit Guide To Bali Island.
Step 7: Enjoy Your Holiday Activities
If you order online with us, you only show the voucher we sent when you arrive at the paragliding activity location.
After registering, you will get a briefing or safety knowledge from the paragliding pilot. Then, the paragliding staff will assist you with setting on the necessary equipment.
After you are prepared, the pilot will start the flight from the launch site at the top of the cliff. After you fly and are at a height, you can see a beautiful view of the southern Bali sea.
All paragliding activities in Bali are tandem so that the pilot will control the paraglider. Accompanied by a pilot, you can enjoy the scenery freely and the excitement of flying with paragliding.
See the difference between Parasailing and Parasailing Adventure Tanjung Benoa.
Conclusion How to Book Paragliding Bali
In conclusion, paragliding activities in Bali will give you an exciting holiday experience and a different perspective on seeing the sights. Trying the Bali paragliding activity is a good idea when you are on vacation in Bali.
Try to make an online order. By ordering online with an official and trusted travel agent, you will get a much lower price than ordering directly on location. Apart from that, try to book with a travel agent in Bali who you can contact directly. Therefore, you can obtain an immediate reply if you have a question.
Book your paragliding adventure activity in Bali today with us, and you can fly high, feel the adrenaline rush and see the beautiful views of the south Bali sea from a height.
Find Out 5 Things You Need To Know About Bali Parasailing Activities.
Related article