This page is about Wira Water Sports Bali. We are a marine recreations & fun outdoor activities agency in Bali. Our goals are to offer travelers who have a vacation to Bali, to join Bali water sports games. Also, other fun outdoor holiday activities in Bali. Due to our experience in providing an outdoor trip in Bali, therefore we can submit the best potential fun activities in Bali.
Also, adventure trips to a popular venue with the best staff personalities and facilities for both domestic and international travelers. We also ensure the quality of events that customers book with us. Therefore we able to give customers the best value possible on their holiday trips to Bali.
About Wira Water Sports Bali
For your information about Wira Water Sports Bali. We are tour agencies that do marketing and sales for water sports activities in Bali and other outdoor activities in Bali. We cooperate with water sports companies and outdoor adventure activities in Bali. Therefore, we are not a company that operates all the game operations that customers book with us.
The price we offer for Bali water sports and other outdoor activities in Bali to the customer is lower if you compare to the published prices. You must be wondering why we can sell a cheaper rate than buying directly on the site? The reasons why, because we have contracts rate with water sports operators in Bali and we gave them plenty of customers.
These are why we able to offer you a lower Bali marine water sports price. Also able to provide a lower rate for other outdoor activities in Bali. Of course, without any quality and activity difference when you make a direct booking with the same water sports company that we offer.
Online Internet Marketing
Our primary market is through the internet. Online internet marketing significantly reduces the cost of our promotions budget. Therefore, it makes us able to provide cheaper rates for you. We no longer need plenty of staff for advertising on the sales counter. So it reduced the cost of the printed brochure, the cost of transportation also decreases. Due to the operational marketing cost reduces significantly, it allows us to offer a lower price for all kinds of activities in Bali.
Bali Outdoor Fun Activities
When you have a vacation to Bali, it will be great if you can enhance your joyous holiday with your family, friends by trying fun outdoor activities. There are plenty of Bali fun outdoor activities that you can join, such as:
Marine water sports games at Tanjung Benoa beach Bali.
Elephant ride activity in Ubud.
Seawalker / Ocean Walker in Sanur Beach Bali.
A cycling tour with a route from Kintamani to Ubud.
Tanjung Benoa – Marine Water Sport Center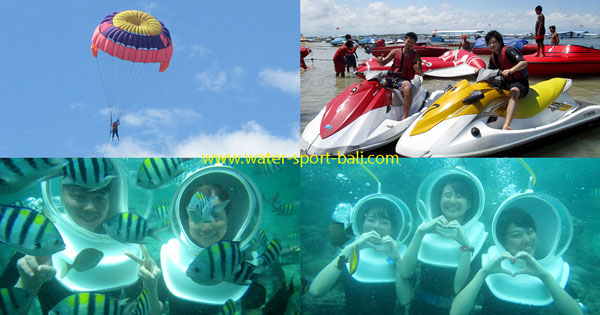 Wira Water Sports Bali is an outdoor activities agency in Bali, and this is mainly about us. One of the outdoor activities in Bali that we offer to customers is marine water sports activities.
Tanjung Benoa beach is the center of marine water sports in Bali. At Tanjung Benoa beach, you will find the best and most complete aquatic sports adventure. From Seawalker, Parasailing, Jet Ski Ride, Snorkeling, Scuba Diving, and many other marine games.
We are confident; once you try the Bali water sports tour at Tanjung Benoa beach, you will want to try it again. We know about this, since most of our clients, they are always coming back to enjoy Tanjung Benoa water sports in Bali.
Choices Of Marine Activities
Tanjung Benoa beach water sports that we offer, such as:
Intro scuba diving in Tanjung Benoa.
Snorkeling activity in Tanjung Benoa.
Bali Parasailing Adventures, allow 1-3 participants to fly at once.
Find Out On, "Complete Choices Of Single Game Of Tanjung Benoa Marine Water Sports With Price" >>>
Water Sports Game For Kids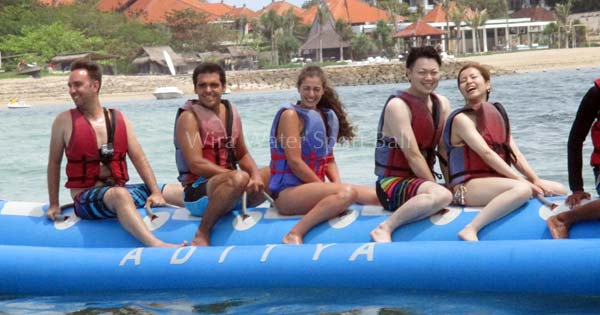 If you are looking for exciting things to do in Bali for your children. Then water sports activities in Bali is one of the best things that you can give to your kids. The water sports activities that suit your youngsters, such as:
Glass Bottom Boat Tour To Turtle Island Tanjung Benoa.
Cheap Online Internet Price
To make sure you will get online internet prices instead of publishing rates on the site. We provide staff to serve you and know you are entitled to water sports Bali Internet rates. So if you are planning to enjoy the holidays with friends or family on the island of Bali, don't wait too long to make a booking of water sports activities in Bali. Send your request online to us and get a low price of water sports packages in Bali.
We will only give a discount if you are making the booking through this website. We guarantee your money will be safe. Due to we always maintain the reputation of Wira water sports Bali and keep our service to every customer.
We also will provide free shuttle service in a particular area in Bali. Such as Legian, Ungasan, Kuta, Jimbaran, Nusa Dua, Seminyak, and Sanur, if you make Bali water sports package booking with us, for your Bali aquatic sports and other outdoor adventures.
Participants Insurance By The Game Operator
All the water sports activities that we provide include accident insurance for participants. For your information, the protection for participants provided by the activity company that participant joins. We Wira Water Sports Bali acted as Bali activities agency and didn't issue insurance for participants and participants family or friends.
All the equipment used for water sports activities bases an international standard. For keeping your comfort and safety during water sports activities.