Thank you for visiting Wira Water Sports Bali, a trusted & legal vacation activities agency in Bali. Furthermore, if you want to make a booking order for the water sports activities or the Bali water sports packages, please feel free to fill the Bali water sports online booking form below. If you have any queries before making a booking, please call us, or you can send us an inquiry through WhatsApp.
Water Sports Tour In Bali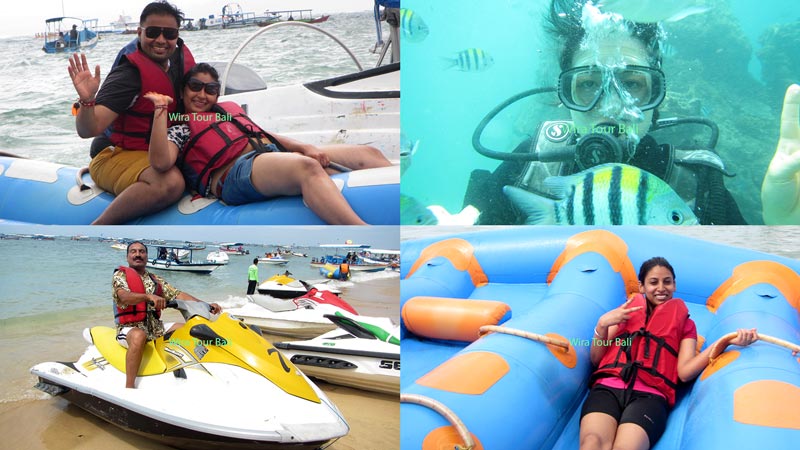 The Bali waters sports online price that we offer is much lower if you compare to water sports Bali publish price. What are watersports publish prices and online prices?
Publish price, is a rate that you will get if you came and buy directly from the service provider of water sport in Bali. Let's say you came to Tanjung Benoa beach for marine water sports and buy the activities on the spot.
The online water sports rate is a price that you will get if you book through the internet. Let's say you book with us www.water-sports-bali.com. You will get discount prices up to 70% of the amount you would get if you buy directly at the water sports locations.
Bali Water Sports Online Booking Form
So please order your marine water activities or white water rafting Bali with us. Then your cost for vacation activities in Bali will become low, and you can use the extra saving budget for other Bali vacation activities.
Finally, fill out the form below if you want to order through us. Also, we suggest supplementing, filling in the form ultimately to simplify the ordering process.
We will reply to your booking immediately in less than 24 hours. Also, if you need an immediate response to your water sports booking, please don't hesitate to call us! Our customer services will be happy to assist with your reservation.
Telephone, SMS, WhatsApp
+62 822 4714 8222 (WhatsApp).
+62 822 4714 8333 (WhatsApp).
+62 812 3615 8243 (WhatsApp).
+62 81 999 021 491 (WhatsApp).
+62 366 5581096 (Office Phone).
Also, by sending your reservation request to us, we will consider that you have agreed to our terms and condition. For more detail of our terms and condition, please follow the link!