When vacationing in Bali, don't just restrict yourself to exploring popular tourist sites. You can also engage in adrenaline-pumping outdoor adventures perfect for a honeymoon, family holidays, or vacation with kids. One of the top tourist activities is marine tourism, popularly known as Bali watersports. Furthermore, Tanjung Benoa Beach, Nusa Dua, is the epicentre of maritime tourism activities. Meanwhile, Jet skiing, parasailing adventures, and banana boat rides are a favourite among travellers. Here, you can discover affordable prices for jet skiing in Tanjung Benoa Beach, Bali, and you can choose a self-drive jet ski rental or choose with a guide.
Bahasa Indonesia, "Harga Naik Jet Ski Di Tanjung Benoa Bali" >>>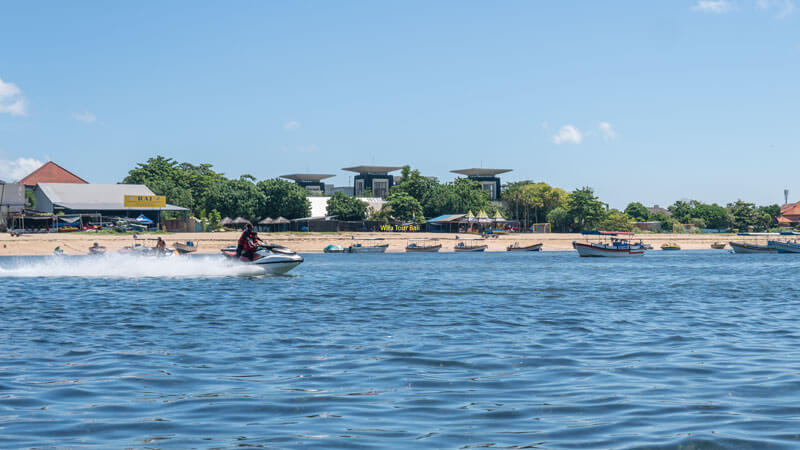 Best Place for Watersports in Bali: Tanjung Benoa Beach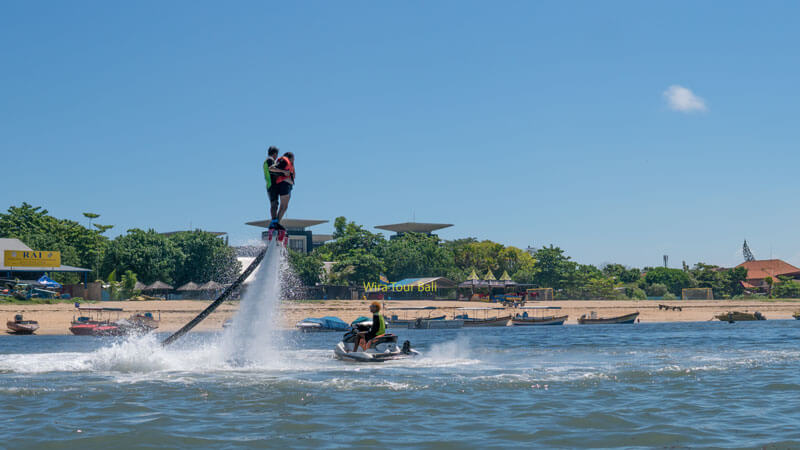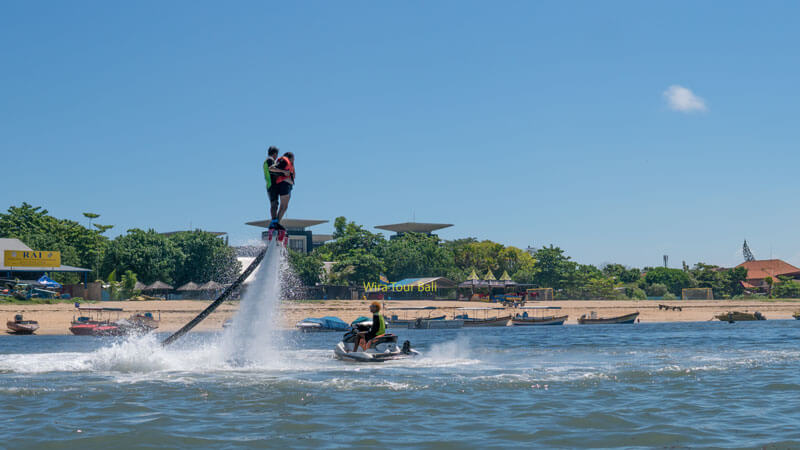 Tanjung Benoa Beach is Bali's ultimate destination for watersports, with jet skiing being one of the most preferred activities.
The beach is renowned for offering diverse water sports activities that cater to different age groups, including 8 Kids-Friendly Water Sports Activities In Bali For Ages Above 7 Years Old. From rolling donut rides and flying fish to wakeboarding, there's something for everyone at this thrilling destination.
Jet Ski Adventures at Tanjung Benoa Beach, Bali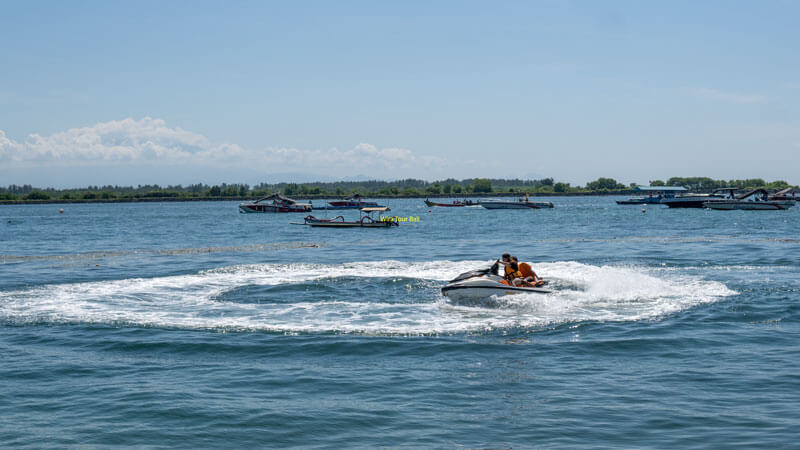 Local and international tourists are drawn to Tanjung Benoa Beach for its jet ski rentals. Tanjung Benoa Beach is favoured by jet ski enthusiasts for its calm seawater and minimal waves, making it an ideal location for jet skiing.
However, the sea traffic can be heavy during peak hours from 09:30 – 11:00, and inexperienced riders may need an instructor to accompany them during the ride.
Guidance for Inexperienced Jet Ski Riders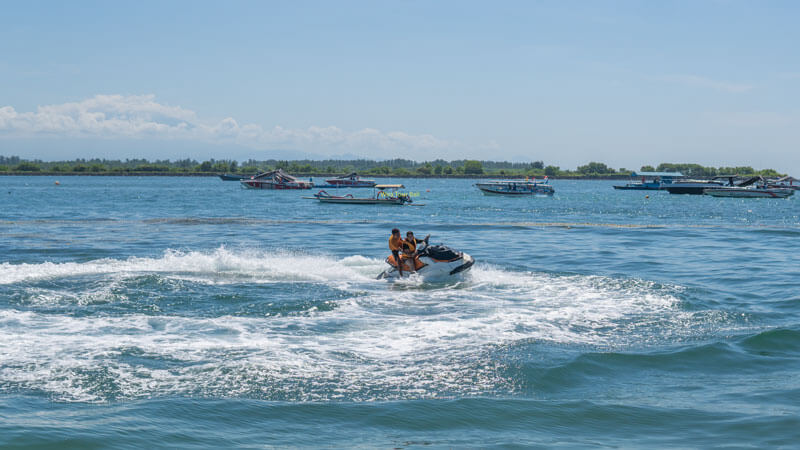 For safety reasons, inexperienced riders who desire to try jet skiing at Tanjung Benoa are recommended to ride with a professional guide.
If you're questioning whether it's enjoyable to ride a jet ski with a guide, consider that for inexperienced riders or those unfamiliar with the sea traffic at Tanjung Benoa Beach, having a guide for safety purposes is a wise choice. Nevertheless, experienced jet skiers can rent a jet ski without a guide.
Pre-Jet Ski Rental Briefing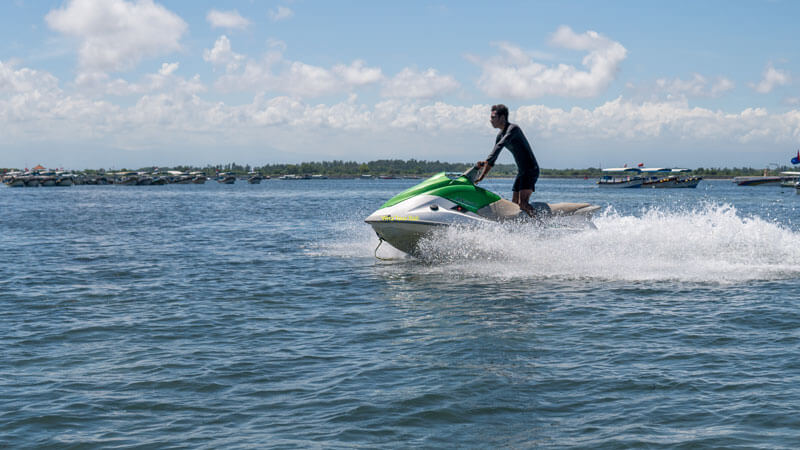 Before starting your jet ski adventure, your guide will introduce how to operate the jet ski, including information on the throttle and driving techniques on the seawater. The instructor will also brief about safety measures to avoid collisions with fishing boats and other jet ski riders.
Safety and Comfort during Your Jet Ski Ride
Safety and comfort are paramount during a jet ski ride at Tanjung Benoa Beach. As a Bali tour and travel agency, we only cooperate with water sports operators in Tanjung Benoa beach that provide well-maintained equipment, including jet skis and life jackets.
Conversely, those renting jet skis constantly experience tremendous excitement as they ride through the crashing waves. The combination of exhilaration and challenge, with the breathtaking coastal scenery and bright sun, results in an extraordinary holiday with friends and family in Bali.
Jet Ski Bali Rental Price With & Without Instructor
| Jet Ski Categories | Publish | Our Rate |
| --- | --- | --- |
| Jet Ski With Guide | IDR 450.000 | IDR 185.000 |
| Jet Ski Without Guide | IDR 500.000 | IDR 275.000 |
Experience Jet Ski Rentals at Tanjung Benoa: Guided & Self-Drive
If you book a jet ski rental with a guide, the instructor will sit in the back seat and take you from the shore to the open sea during your jet ski ride at Tanjung Benoa Beach, Bali.
If you've booked a self-drive jet ski rental, the guide will escort you in another vehicle and show you the designated jet ski riding area.
Also, if your children want to go jetskiing, a guide must accompany children under ten.
The activity takes place at Tanjung Benoa Beach.
Tanjung Benoa Jet Ski Rental Pricing & Details
Prices are for jet ski rental in Bali, valid until December 31, 2023, and covering insurance, service fees, and taxes.
The rental price is per person, and the cost of jet ski rides is the same for adults and children.
Book online with Wira Water Sports Bali for exclusive Tanjung Benoa jet ski prices.
On-site bookings will be charged the published Tanjung Benoa watersport price.
A single jet ski ride lasts for 15 minutes.
Inclusions:
Mandatory life jacket for riders.
Towels, lockers, changing rooms, restrooms, professional guides, and a spacious parking area.
Aditya Water Sports Tanjung Benoa Nusa Dua provides insurance coverage for participants as part of the rental fee.
Include the instructor's fee.
Exclusions:
Photos, video documentation, and gratuities.
Additional activities.
Personal expenses.
Shuttle service.
Booking Your Tanjung Benoa Jet Ski Ride
Bookings for a jet ski ride at Tanjung Benoa Beach must be made at least 2 hours before arrival. To reserve a jet ski riding activity at Tanjung Benoa Beach, you can contact our Bali water sports reservation staff in several ways.
You can reach our reservation staff through the following methods:
Via email: info@water-sports-bali.com.
Phone Call or WhatsApp Call & Chat: +62813 3956 3400.
WhatsApp Chat Only: +62822 4714 8222.
Office Telephone: +62366 5581096.
Alternatively, you can click the Booking or WhatsApp icon below.
Payment Guidelines
We accept diverse payment options, including online payment, credit card, Wise, and PayPal. In contrast, on-site payment, cash, and a credit card are available.
Full payment is necessary when booking a jet ski rental.
After receiving payment for the jet ski ride activity, we will send the booking confirmation via email, which you must present upon arrival at Tanjung Benoa Beach.
We also give you the activity location's address and Google Maps link.
How to Redeem The Voucher
You don't need to print the voucher; display it to Aditya Water Sports staff on your smartphone when you reach the activity area.
Arrive anytime between 09.00 and the last check-in at 14.00 (Bali Time).
How to Get a Free Shuttle for Your Bali Water Sports Adventure:
Enjoy our complimentary shuttle service to maximize your Bali water sports experience! To qualify, clients must fulfil the following criteria:
Book at least three Tanjung Benoa water sports for one person (minimum two people per booking).
Order a Tanjung Benoa watersport package (minimum of two people per booking).
This complimentary shuttle covers popular areas in south Bali, including Kutuh, Sawangan, Jimbaran, Kampial, Ungasan, Kedonganan, Tanjung Benoa, Nusa Dua, and Mumbul. Save on transportation costs and allocate that budget towards marine water sports activities in Tanjung Benoa!
Choose a Bali Water Sports Package for the Ultimate Experience.
We highly recommend you book a Tanjung Benoa watersport package for more affordable Jet Ski rental rates. With a package, you'll enjoy over three or more exciting water sports activities at Tanjung Benoa Beach. Also, choosing a watersports package will reduce overall expenses for each activity.
General Information:
Jet ski ride is inappropriate for pregnant women or individuals with a history of heart attack, epilepsy, and other age-related diseases.
Eligible for participants aged 8 to 70.
Cancelation, Reschedule & Refund Policy:
Please contact our reservation staff to reschedule or cancel the activity.
In case of cancellation, inform us at least 24 hours before the planned activity to prevent cancellation charges.
A 50% revocation fee applies to booking cancellations within 24 hours of the scheduled activity.
No-shows will be charged the total amount.
The Refund excludes service, bank transfer, PayPal, or Wise Fee fees.
Additional Tips for Your Jet Ski Ride at Tanjung Benoa Beach
Carry sunglasses, sunblock cream, and a hat to protect yourself from the sun.
Wear comfortable, quick-drying clothes, as you may get wet during the activity.
Bring fresh clothes and a plastic bag to carry your wet clothes.
Carry additional money to buy drinks or food at the activity location.
Bring a waterproof camera or GoPro to capture your jet ski adventure.
Arrive at the activity location at least 30 minutes before your scheduled activity to check in and receive instructions from your guide.
Listen to your guide's instructions and follow safety directions to ensure secure and enjoyable adventure activities.
Also, if you're not a confident swimmer or are nervous about jet skiing, inform your guide so they can provide extra assistance and support.
Frequently Ask Questions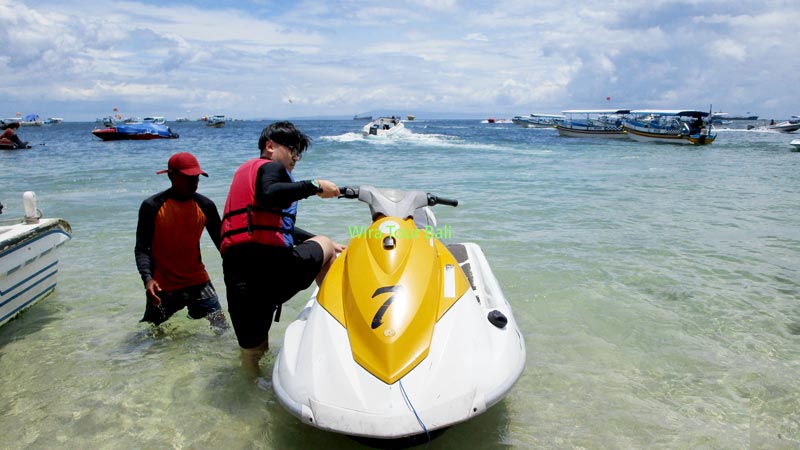 As a leading provider of marine tourism services in Bali, we often receive inquiries about Jet Ski rentals at Tanjung Benoa Beach. Below are frequently asked questions and replies to assist you in organizing your jet ski adventure.
Is it easy to ride a jet ski if I have never experienced it before?
While it may take some adjustment if you're new to jet skiing, we offer Jet Ski rentals with an instructor. This experienced professional will guide you safely operating and enjoying the jet ski.
–
Can I request a Jet Ski ride in Tanjung Benoa without an instructor if I'm experienced?
Absolutely! Please note that the price for a Jet Ski ride without an instructor is slightly higher.
–
For those interested in jet skiing without an instructor on another beach in Bali, consider Sanur Beach. Find out more about Jet Skiing Without Instructors at Sanur Beach Bali here.
Exploring More Water Sports Activities in Tanjung Benoa
Tanjung Benoa Beach is a water sports paradise, offering numerous exciting activities for visitors. Besides jet skiing, you can also try other exciting water sports, such as:
Furthermore, reserving several water sports activities allows you to enjoy an action-packed day at the beach and maximize your holiday experience in Bali. Besides the thrilling water sports at Tanjung Benoa Beach, you can also experience the excitement of the Bali river rafting through the island's lush landscapes.