First of all, the best place for water sports in Bali is the Tanjung Benoa beach. While many watersports activities are available in Bali, most people want to try Jet Ski Bali.
Bahasa Indonesia, "Harga Naik Jet Ski Di Tanjung Benoa Bali" >>>
Almost all of you must have heard about the Jet Ski ride event. A water sports activity that uses a motor vehicle in the water, like riding a motorcycle on the highway. Furthermore, local and foreign tourists love to try Jet Ski at Tanjung Benoa beach. Primarily the youth will have more enthusiasts in riding Jet Ski Bali on open water.
Jet Ski Bali Tanjung Benoa Beach – Marine Sports Activities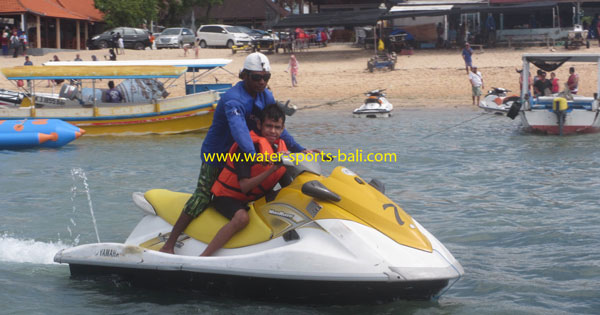 While, water sports enthusiasts are each day busy with office work or other activities. Trying Jet Ski at Tanjung Benoa can reduce stress. Professional guides are happy to accompany you if you are unsure how to ride Jet Ski.
Before the Jet Ski activity starts, the jet ski guide will introduce how to ride Jet Ski. Such as introducing machinery, throttle, brake, driving technique on the water, and security over the sea to avoid a collision with fishing boats and other Jet Ski riders.
Tanjung Benoa loves by Jet Ski game enthusiasts. Tanjung Benoa is supported by calm seawater, and the waves are insignificant. As a result, traffic on the sea is quite heavy in the afternoon by Jet Ski enthusiasts. Usually, travelers who want to try this game are not allowed to ride a Jet Ski alone when there is heavy traffic on the seawater.
Related: Bali Parasailing Adventure.
Guides who are well trained and experienced are happy to accompany you during a jet ski ride in Tanjung Benoa beach Bali. After all, familiar with the rules of Jet Ski, the guide will take you from shore to sea. The guide will show where you should have to ride a Jet Ski. The primary concern is the safety and comfort of these water sports activities.
All the equipment we use already meets International standards and supports water sports, like the Jet Ski, life jackets, and other stuff.
Price For Bali Jet Ski With Instructor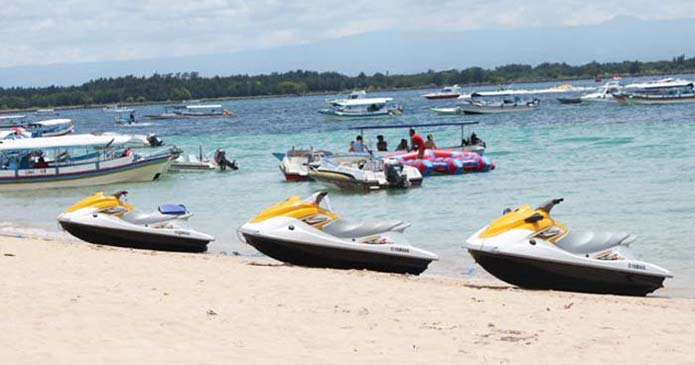 Most noteworthy, for a one-time round, it lasted for 15 minutes. Guides must accompany children under ten who want to try this Jet Ski. Also, travelers should not drive a Jet Ski at high-speed; due to for the sake of safety.
However, participants aged 17 years and above love riding the Jet Ski while the waves crash on the beach. Therefore, a jet ski ride in Bali is fascinating and challenging. While enjoying the beautiful coastal scenery and bright sun at noon would be an unforgettable experience if done with your family and friends.
| Publish Rate | Our Rate |
| --- | --- |
| USD 50 / person | IDR 185.000 / person |

Prices Description Of Bali Jet Ski Hire
During the jet ski rides, participants are accompanied by jet ski instructors, and instructors have included in the jet ski rental price.
A jet ski instructor sat behind the participants.
Bali jet ski rental on this page operates by Aditya water sports Tanjung Benoa Nusa Dua.
Tanjung Benoa jet ski ride price is for one person.
The price includes a life jacket, and participants should wear a life jacket during the jet ski rides.
Participant's insurance includes the jet ski rental price.
Insurance for members provides by Aditya water sports Tanjung Benoa Nusa Dua.
Jet ski ride cost for adults and kids is the same.
Jet ski Bali rental internet price on this page is only valid if you make a booking online with Wira Water Sports Bali.
You will get the published rate by booking on the Tanjung Benoa watersports site directly.
Jetski ride is located at Tanjung Benoa beach.
15 minutes in duration.
The minimum age allows seven years old.
The maximum age allowed is 65 years old.
Related Activities In Bali: "Flying Fish Tanjung Benoa Watersports" >>>
Frequently Ask Questions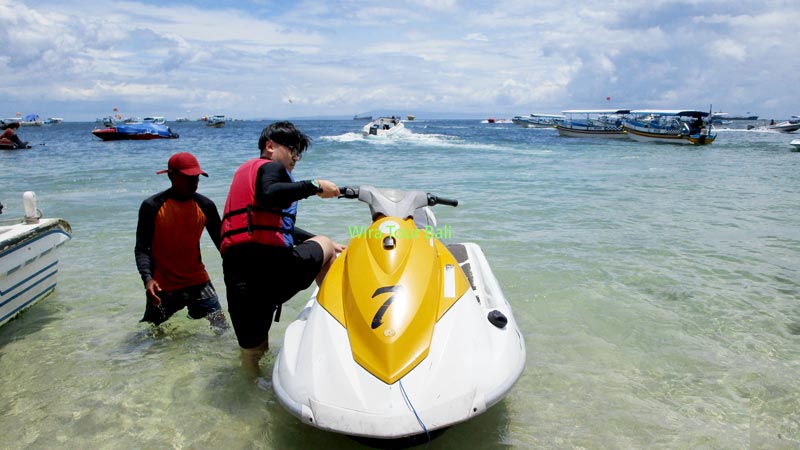 As a provider of marine tourism services on the island of Bali, specifically jet skiing in Tanjung Benoa, we often get questions from customers. Here are some examples of our customers' frequently asked questions about jet ski rides in Tanjung Benoa.
Is it easy to ride a jet ski if I have never experienced it?
It will require an adjustment time if you do not have expertise in riding a jet ski. When you drive a jet ski on Tanjung Benoa beach, you will be accompanied by an instructor who will conduct you how to drive and ride a jet ski.
Can I request a Jet Ski ride in Tanjung Benoa without an instructor? I have experience riding a jet ski, so I don't need an instructor!
Regulations require that operators of jet skiing activities in Tanjung Benoa may only provide Tanjung Benoa jet ski activities with instructors.

The leading cause of a jet ski ride with an instructor is the traffic on the sea of ??Tanjung Benoa is very dense. For the safety of jet ski riders, who are mostly beginners and do not acknowledge sea traffic in Tanjung Benoa, Tanjung Benoa jet ski activities must be accompanied by an instructor.

If you want to ride a jet ski without an instructor, you can try it on Sanur beach! See here, Prices for Jet Skiing Without Instructors at Sanur Beach Bali.
Bali Water Sports Package
If you want to get a lower price for Jet Ski and join more than three activities in Tanjung Benoa, please contact a watersports package in Bali. By booking a watersports package, you will get lower prices on each game you like. Also, if you choose a Tanjung Benoa watersports package, you will get free pick-up and return transfer from your hotel.
Rafting in Bali is another water sports activity we provide for our customers. Whitewater Rafting in Bali is held on a whitewater river and is very suitable for a beginner. You do not need to be a rafting expert to join rafting in Bali.
Read More On, "Providers Choices Of White Water Rafting Bali Telaga Waja River Karangasem" >>>