Are you crafting the perfect Bali itinerary for your dream vacation? You should visit Nusa Lembongan, a charming island destination. Furthermore, our comprehensive guide unravels the smoothest travel routes from Bali to Nusa Lembongan, ensuring a trip that's as memorable as it is seamless. Therefore, if you're seeking thrilling adventures or a peaceful escape from bustling hotspots, the tropical paradise near Bali awaits you with its remarkable tropical charm. Let's dive into our expertly curated transport guide, local insights, and savvy tips to maximise your Nusa Lembongan escapade.
You can find an Indonesian version of this article Here for our Indonesian readers.
Delve into the Stunning Beauty of Nusa Lembongan
To clarify, the tranquil island in the Badung Strait offers an escape from the hustle and bustle of Bali. Also, this tranquil island offers pristine beaches, mesmerising mangrove forests, and vibrant coral reefs. From relaxing on the golden sands to exploring the underwater marvels of the sea, Nusa Lembongan adds an intriguing dimension to your Bali itinerary.
Ignite Your Adventurous Spirit at Nusa Lembongan
Above all, if you're seeking a dose of adrenaline on your Bali adventure, Nusa Lembongan has plenty to offer. From excellent surfing conditions to scuba diving spots, the island is a haven for thrill-seekers. Moreover, after a day of action, unwind with a stunning sunset at the Cloudland Bar, or explore the unique mangroves on a boat ride. Indeed, each experience adds a memorable chapter to your journey.
Departure Ports in Bali: Your Gateway to Nusa Lembongan
Firstly, Bali boasts several ports serving departure points for your Nusa Lembongan adventure. These include Sanur Harbour, Serangan Harbour, Benoa Harbour, and Banjar Bias Kusamba Harbour. Consequently, all offer fast boat services to the island, with journey times varying, depending on your chosen service.
Set Sail from Sanur Harbour: A Preferred Route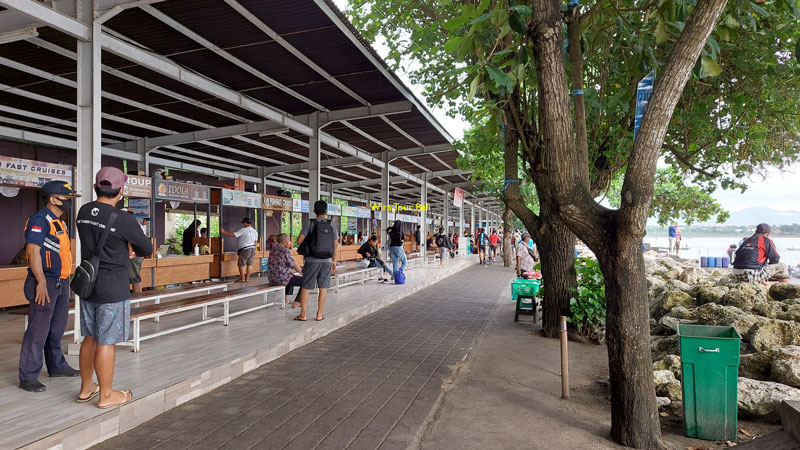 On Bali's southeastern coastline, Sanur Harbour is a preferred embarkation point for Nusa Lembongan and Nusa Penida trips. Moreover, speedy services from here promise a brief voyage to the island. For the quickest route to Sanur Harbour, refer to Google Maps.
Embarkation at Serangan Harbour: A Strategic Gateway
Nestled in South Denpasar, Serangan Harbour is a strategic gateway to Nusa Lembongan, with numerous fast boat services at your disposal. Utilise Google Maps to plan your trip from your current location to Serangan Harbour.
Benoa Harbour: Luxury One-Day Reef Cruises
Benoa Harbour, snug in the Denpasar region, is famed for its plush cruises. Opt for a one-day indulgent journey with Bounty Cruise or Bali Hai Cruise for a trip to remember. Setting sail from the Benoa port at 09:15, the Bali Hai Cruise and Bounty Cruise commences its voyage towards Nusa Lembongan.
Expect a journey through the picturesque Bali Strait before you reach your island destination. Alternatively, fast boat services cater to those valuing speed over opulence.
Please note Benoa Harbour is different from Tanjung Benoa Beach. Check Benoa Harbour's location on Google Maps. Meanwhile, Tanjung Benoa Beach, the best place for marine tourism activity, is commonly called Tanjung Benoa Watersport.
Banjar Bias Kusamba Harbour: A Less Crowded Path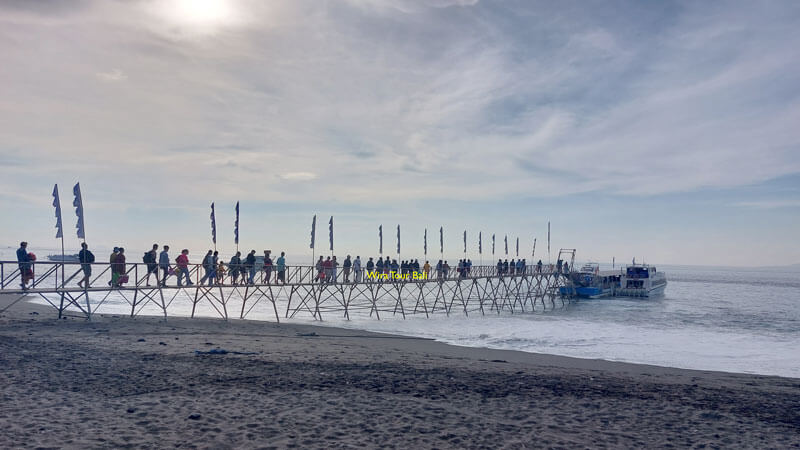 The Banjar Bias Kusamba Harbour on Bali's eastern shore offers swift public speed boat services to Nusa Lembongan. One company serves boat service, which is Sekar Jaya Fast Boat. This less crowded harbour promises a relaxed journey, typically lasting around 30 minutes. Find your way to Banjar Bias Kusamba Harbour using Google Maps.
Your Nusa Lembongan Travel Guide: Departing from Key Locations in Bali
With no bridges linking to the island off the southeast coast of Bali, boat services are the ideal mode of transportation. Depending on your starting location in Bali, there are several alternatives to kick-start your journey to Nusa Lembongan:
East Bali: Tulamben, Amed & Candidasa
If you're in eastern Bali, you can begin your adventure from the peaceful towns of Tulamben, Amed, or Candidasa. Arrange a taxi or shuttle from Tulamben, Amed, or Candidasa to The Banjar Bias Kusamba Harbour, an animated port renowned for its bustling fishing culture.
On arrival, hop onto a fast boat, the quickest and most favoured mode of transport, to the tranquil Nusa Lembongan island. The journey generally takes under half an hour, granting you plenty of time to discover the island's mesmerising beaches, vibrant marine life, and lush greenery.
Ubud: The Heart of Bali
Furthermore, there are two options of ports that you can choose if you depart from Ubud. You can choose Sanur Harbor or The Banjar Bias Kusamba Harbour. You can hail a taxi or shuttle from Ubud to Sanur Beach/ The Banjar Bias Kusamba Harbour. The overall travel time will depend on road traffic and your choice of boat service.
Canggu, Seminyak & Kuta: Bali's Vibrant Hubs
Kick off an unforgettable expedition to Nusa Lembongan from the buzzing zones of Canggu, Seminyak, or Kuta. Book a taxi or avail of shuttle services to Sanur or Serangan Harbor, both known for their rapid boat services.
From Ngurah Rai Airport
Above all, you get a taxi from Ngurah Rai Airport to Serangan Harbour or Sanur Beach Port, followed by a boat service. Depending on the boat service departure schedule selected, you'll reach Nusa Lembongan in anywhere from 30 minutes to 2 hours.
Nusa Penida to Nusa Lembongan: An Island Hop Adventure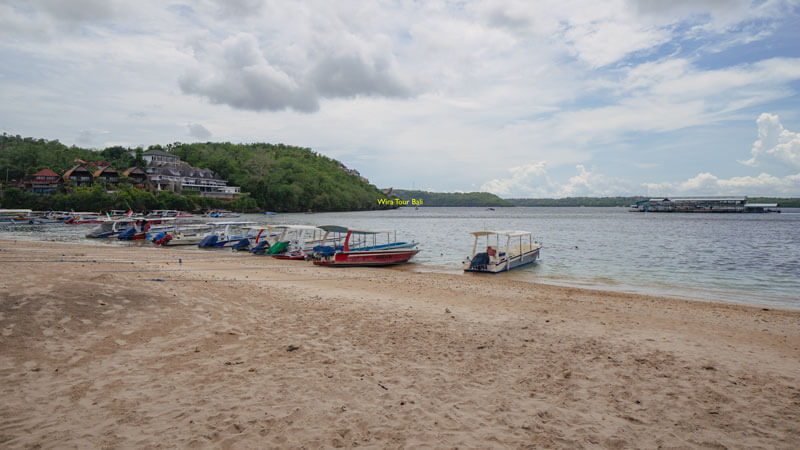 Wondering about the best way to get to Nusa Lembongan from Bali? Well, why not take a slight detour and enjoy Nusa Penida island first? You can read our guide about how to get to Nusa Penida from Sanur Bali. From Nusa Penida, local small boats are the most practical way to reach the sister island.
Moreover, these small boats are known for their frequent services, whisking you across the sea in about 10-15 minutes. You can grab tickets for a mere 50,000 IDR per person from the easily identifiable Toya Pakeh Harbour.
Also, one fascinating aspect of these 'boat services from Bali to Nusa Lembongan' (through Nusa Penida) is their flexible departure times. Instead of adhering to a rigid schedule, these boats embark once there are enough passengers, usually until 4 pm.
Choosing Your Sea Transport: The Bali to Nusa Lembongan Journey
Depending on your budget, requirement, and preference, there are three primary classifications of sea transport choices from Bali to Lembongan Island:
1. One-Day Cruise: A Luxury Voyage to Nusa Lembongan
Luxury cruise ships and private yachts from Benoa Harbour, like Bounty Cruise and Bali Hai Cruise, are famous for one-day tours to Nusa Lembongan Island. These services focus on offering comprehensive tour packages rather than just boat transfers. You can check the latest price of the Bali Hai Lembongan Reef Cruise.
2. Fast Boat/Cruiser From Sanur & Serangan Harbor: Speedy Trips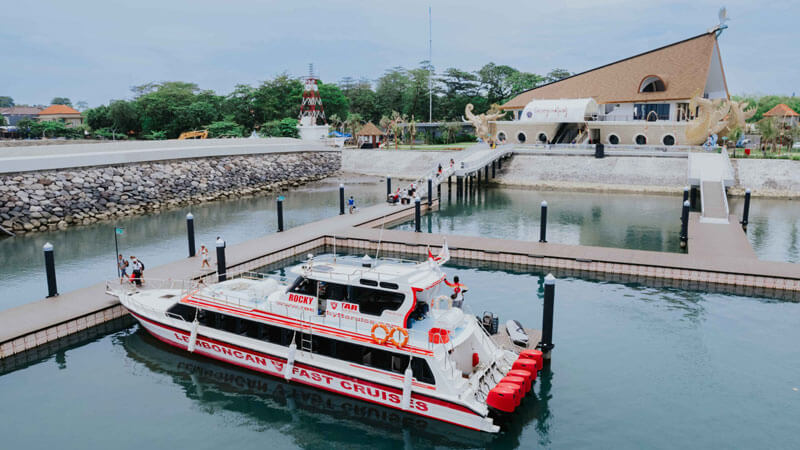 To clarify, the most popular and efficient way for tourists to travel from Bali to Lembongan is by a fast boat cruiser, characterised by having about six engines at the rear. Fast cruisers are favoured due to the availability from two South Bali ports, Serangan and Sanur Harbour, each offering a variety of departure times.
For example, two notable fast cruiser companies, Tanis and Rocky, operate from Sanur Harbour for transfers to Lembongan. Serangan Harbor hosts the Bluewater Express and Gili Getaway fast boats.
Meanwhile, Lembongan has two destination ports if you use a speedboat. There are Jungut Batu and Mushroom Bay. Here is the departure schedule for a fast boat transfer from Sanur to Lembongan Island from each known fast boat company.
Sanur To Jungut Batu Lembongan
| Fast Boat | Time | Departure | Arrival |
| --- | --- | --- | --- |
| Glory Fast Boat | 08:30 | 11:00 | 14:00 | Sanur Port | Jungut Batu |
| D'Camel Fast Boat | 09:30 | 01:30 | 17:00 | Sanur Port | Jungut Batu |
| Rocky Fast Boat | 10:00 | 12:00 | 14:00 | Sanur Port | Jungut Batu |
Sanur To Mushroom Bay Lembongan
| Fast Boat | Time | Departure | Arrival |
| --- | --- | --- | --- |
| Tanis Fast Cruise | 08:15 | Sanur Port | Mushroom Bay |
| Tanis Fast Cruise | 10:00 | Sanur Port | Mushroom Bay |
| Tanis Fast Cruise | 12:00 | Sanur Port | Mushroom Bay |
| Tanis Fast Cruise | 13:45 | Sanur Port | Mushroom Bay |
| Tanis Fast Cruise | 16:00 | Sanur Port | Mushroom Bay |
Above all, fast boat schedules vary, and I suggest reviewing with your preferred fast boat company for the most up-to-date timetables.
3. Slow Public Boat/Traditional Boat: A Budget-Friendly Option
On the other hand, the most economical way for budget-conscious travellers to journey from Bali to Lembongan is by taking a traditional or slow public boat. These larger modified fishing vessels, typically powered by two or three engines, are famous for their affordability.
However, the cheaper cost does come with a longer travel duration. The departure location is on Sanur Beach, at the end of Jalan Hang Tuah, beyond the Mak Beng Sanur food stall. Note that exact departure points might shift according to the sea tide conditions at Sanur Beach.
Also, these traditional boats typically leave Sanur Beach for Jungut Batu Lembongan port at 10:30 am. For the return journey, boats depart from Lembongan at 08:00 am.
Price Estimates for Your Journey to Nusa Lembongan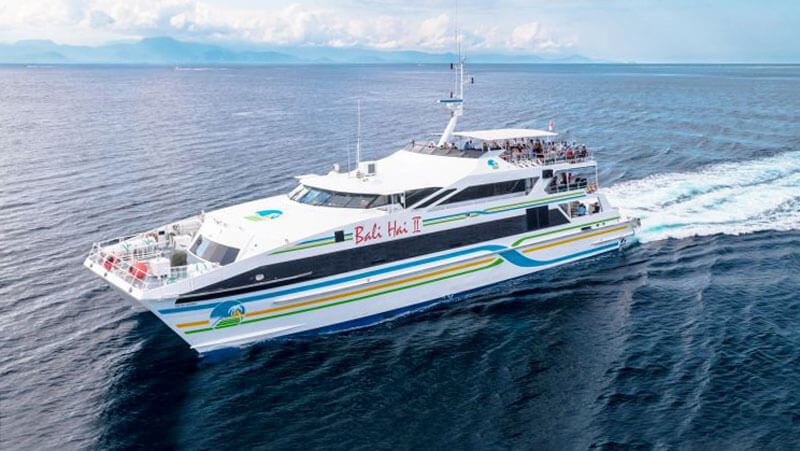 Furthermore, the cost of your journey to Nusa Lembongan will depend on your chosen transport option:
One-Day Cruise: Luxury cruises like Bounty Cruise and Bali Hai Cruise cost approximately USD 120 for a round trip, including all activities, meals, and port transfers.
Fast Boat/Cruiser: The average cost for a one-way trip on a fast cruiser is around USD 17 per person without the shuttle. Tickets with hotel transfers in Bali usually cost about USD 30 per person.
Slow Public Boat/Traditional Boat: A one-way ticket on a slow public boat costs about Rp 140,000 (approx. USD 10), making it the most budget-friendly option.
Kindly be aware that the prices provided are estimated and subject to change based on the fast boat operators, current season and availability.
Deciding on Your Preferred Boat Service to Nusa Lembongan
The best sea transportation option to get to a tranquil island in the Badung Strait from Bali depends on your preferences. A cruise ship may be ideal for those who seek a luxury experience, while others might prefer a public speedboat for a more economical option. Assess your requirements and budget to create the best decision for your journey.
Regardless of your chosen method, Nusa Lembongan offers a unique and unforgettable addition to your Bali adventure.
Booking Process: Securing Your Tickets
For a hassle-free adventure, reserving your tickets in advance is advisable. Most fast boat companies and cruise lines offer online booking systems where you can secure your tickets before your travel date. Booking in person is also possible at the harbours, but availability isn't guaranteed, especially during peak travel seasons.
Preparing for Your Journey: Essentials to Pack
For your boat journey to Nusa Lembongan, you may want to pack essentials like:
Seasickness pills: These can be a lifesaver, especially if prone to motion sickness.
Sunscreen: Protect yourself from the intense tropical sun during your journey and stay on the island.
Light jacket or sweater: The sea breeze can get chilly, especially in the early morning or late evening.
Waterproof bag: Protect your valuables from potential water splashes.
Remember to check the luggage restrictions your boat service provider sets, as some companies limit luggage weight.
Returning from Nusa Lembongan to Bali
Likewise, after your unforgettable Nusa Lembongan adventure, returning to Bali is a breeze. Simply reverse the journey, departing from Jungut Batu or Mushroom Bay. Also, most boat companies offer return services to the same Bali port from which you departed.
Check the boat schedules for return journeys and book your tickets in advance, especially during peak travel seasons. The timings can vary, so confirming with your boat company is advisable.
Accessibility and Functional Needs: Catering to All Travellers
Regarding accessibility, some fast boat companies provide wheelchair-accessible services. However, you should check directly with the boat company if you have specific accessibility or functional needs.
Journey Duration to Nusa Lembongan: Planning Your Time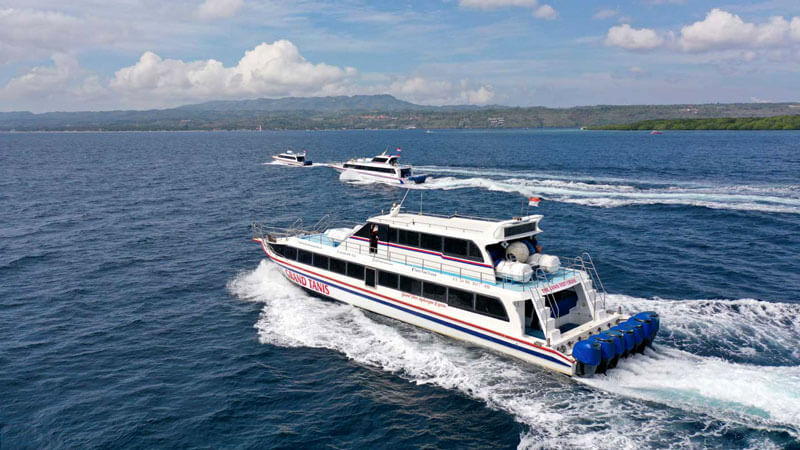 Furthermore, the duration of the journey depends on the starting point and the type of boat service. Here are approximate travel times:
One-Day Cruise from Benoa Harbour: 1.5 hours
Fast Boat/Cruiser from Sanur or Serangan Harbour: 30-45 minutes
Slow Public Boat from Sanur Beach: 1.5 hours.
Remember that these times do not account for possible wait times at the ports or road transfers in Bali.
Ideal Time to Visit Nusa Lembongan
For an ideal Nusa Lembongan visit, consider travelling during the dry season, spanning April to October. This period offers excellent weather for outdoor exploration and water activities. Furthermore, to truly appreciate the tranquillity of the isle, starting your trip earlier in the day is wise, helping you sidestep larger tourist crowds and make the most of your island experience.
FAQs
What are some people's often-requested queries about the trip from Bali to Nusa Lembongan?
What is the fastest way to get to Nusa Lembongan from Bali?
The fastest way is by taking a fast boat service, which typically takes around 30 minutes to an hour.
Can I bring my vehicle to Nusa Lembongan?
No, you cannot bring your vehicle. The island is small, and most areas are accessible by foot or bicycle.
How much does a boat ticket to Nusa Lembongan cost?
It varies. A slow public boat costs around USD 10, a fast boat costs around USD 30, including hotel transfers in Bali, and a luxury cruise costs approximately USD 120 for a round trip.
Where can I buy boat tickets to Nusa Lembongan?
Meanwhile, tickets can be purchased online through the travel agency website, at the harbour, or through your hotel. However, purchasing tickets in advance is advised, especially during peak season. You can contact us for booking fast boat ticket to Nusa Lembongan from Sanur harbor.
What should I bring for my boat trip to Nusa Lembongan?
Essentials like seasickness pills, sunscreen, a light jacket, and a waterproof bag are recommended. Check with your boat service provider for luggage restrictions.
Summary
In conclusion, adding the scenic retreat near Bali to your itinerary promises a refreshing escape from the norm, offering many experiences to make your trip unforgettable. Also, remember, the voyage is just as momentous as the destination. Therefore, carefully prepare your route from Bali to Nusa Lembongan, ensuring a smooth and memorable journey.
Finally, that is all regarding the best way to get to Lembongan Island from Bali. So, if you have any suggestions or comments, I would value comprehending them. Therefore please leave it in the comment form below!