Bali island is well-known as the best holiday destination in Southeast Asia, especially if you have a vacation with children and family. How about you, are you interested in having a family vacation to Bali? For sure, most of you will say yes! Therefore, on this page, you will find information regarding one of the favorite family-friendly things to do in Bali, which is Bali banana boat rides at Tanjung Benoa beach. The Banana boat rides in Bali is one of Bali's water sports activities held at sea.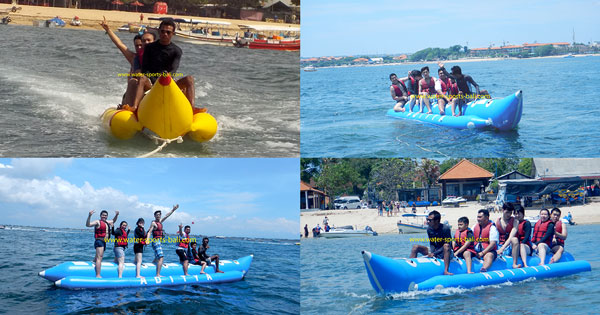 The Banana boat ride uses the large size of an inflatable boat, shaped like a banana. Also for your information, there are four excellent places to do marine water sports in Bali, and there are:
Tanjung Benoa Nusa Dua.
Sanur Beach Bali.
Nusa Lembongan island.
Nusa Penida island.
Bali Watersports Tanjung Benoa Nusa Dua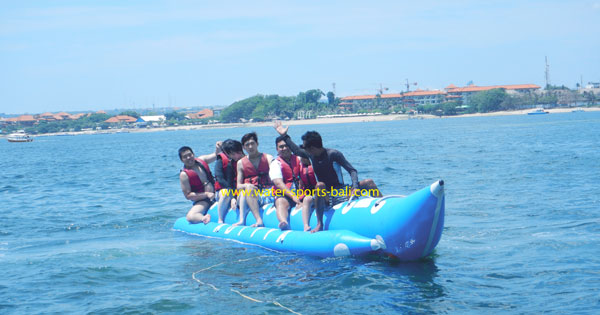 As you might have known, Tanjung Benoa beach is the central location for marine water sports in Bali. Due to Tanjung Benoa beach located close by to Nusa Dua, sometimes traveler calls Tanjung Benoa aquatic activities as Bali water sports Nusa Dua.
Also at Tanjung Benoa beach shoreline, you find a lot of water sports companies. Each of the water sports company at Tanjung Benoa Nusa Dua, offer plenty of choices of the marine sports game. Bali watersports Nusa Dua activities that are famous among travelers such as single parasailing Bali, ocean walker, banana boat ride, and jet ski in Bali. However on this page, I will inform you of further details on Banana Boat rides in the Tanjung Benoa beach, Nusa Dua Bali.
Read Here, "Cost Of Adventure Sports In Bali Specific For Marine Water Sports Game At Tanjung Benoa" >>>
Banana Boat Rides Bali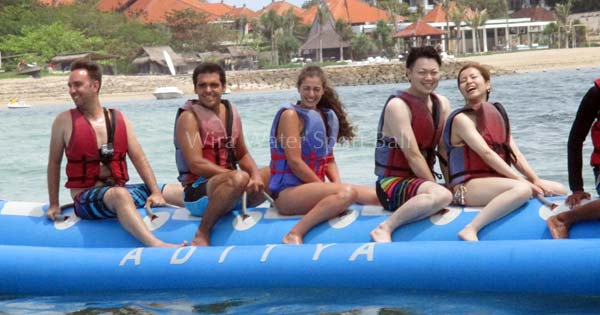 While every day, many local and foreign tourists tried Bali banana boat ride activities. Also, the banana boat can accommodate six passengers and one professional guide. The banana boat ride is like horseback riding — the banana boat pulled by a speedboat around the beach coastline — usually, the speedboat driven by one or two guides. If you join the banana boat ride at the Tanjung Benoa beach, for one round, the duration is 15 minutes.
Traveling while riding the Bali banana boat can enjoy the beautiful scenery on Tanjung Benoa beach with bright sunlight during the day. For your information, Tanjung Benoa coastline sea wave, very calm, is the reason why Tanjung Benoa beach, is the best place for water sports in Bali.
Banana Boat Tanjung Benoa Nusa Dua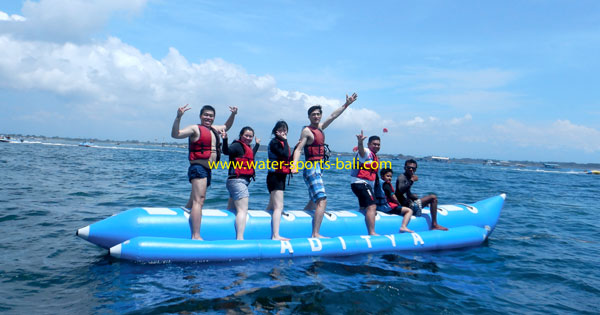 Tanjung Benoa banana boat Bali water sports activity uses equipment that meets the international safety standards. Such as life jackets, speedboats, and the banana boat itself. The professional guides who accompany you during the banana boat Bali activity, are well-trained and experienced. These are to make sure your safety and convenience during the Bali banana boat ride.
Banana Boat Bali Video
Banana boats are so easy to be drawn and directed by speedboats, due to its made of thick rubber and lightweight. The distance between banana boat straps with speedboat about five meters, the length of rope arranged to facilitate communication between the guides with speedboat driver.
Read More, "Marine Activities Package Nusa Dua Bali With Banana Boat, Jet Ski, Donut Ride, Turtle Island Tour" >>>
What You Get During Activity
You can sit back on a banana boat and sail across the sea surface of Tanjung Benoa waters coastline.
Participants will feel the sea breeze, which is pretty fast when riding a banana boat ride.
You will feel a tense sensation as the speed of the boat banana boat increases. All participants will hold tightly on the ropes of the boat when the banana boat changes direction.
In addition to a tense sensation, participants will be able to see the ocean view from different angles.
You don't need to be afraid of drowning, because you wear a life jacket. Also, there is a guide who will help you get back on the boat if you fall into the sea.
Bali Banana Boat Rides Price – Aditya Water Sports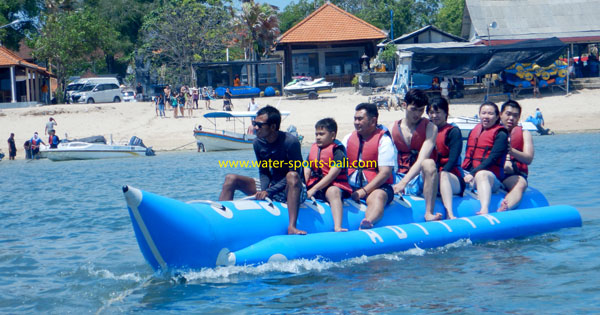 After joining the Tanjung Benoa banana boat ride for 15 minutes, the guide will lead you back to the beach. Consequently, there is an added attraction offered by the instructor to banana boat rides participants. The guide capsizes the banana boat makes all the passengers wet. You need to say it if you do not want to get wet. That you do not wish the banana boats to get reversed when the ride is over, depends on your request.
Banana Boat Bali Price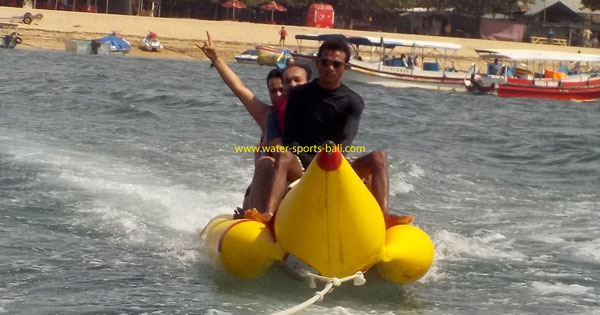 | Publish Rate | Our Rate |
| --- | --- |
| USD 30 / person | IDR 100.000 / person |

Note On Bali Banana Boat Rides At Tanjung Benoa Beach
Tanjung Benoa banana boat rides Bali price is for one person.
Fifteen minutes duration of Tanjung Benoa banana boat rides Bali.
Internet price banana boat rides Bali, only valid if you make a booking online through Wira Water Sports Bali.
Published price applies if you make a reservation on Tanjung Benoa water sports site.
Minimum booking is two people for Tanjung Benoa banana boat rides Bali.
Aditya water sports Tanjung Benoa is the water sports operator that provided above prices.
Tanjung Benoa banana boat ride price includes insurance for the participant.
The member insurance protection provides by Aditya water sports Tanjung Benoa.
Participants age requirement, 7 – 65 years old.
Banana boat Bali price include a life jacket for participants to wear during the banana boat ride.
Banana boat Bali price does not include shuttle service. If you require Tanjung Benoa water sports activities price that provides for free shuttle service. Please choose Bali marine water sports packages that include a banana boat ride activity.
The banana boat ride game is not suitable for somebody with back problems, heart issue, and pregnant women.
Must Read, "8 Kids-Friendly Adventure Sports In Bali With Age Over 7 Years Old" >>>
Cheap Water Sports Package In Bali
The best way to get a lower price is to join water sports in Bali, and you plan to participate in water activities in Bali with more than two people. Therefore, we suggest you make a booking for the Bali water activities package. Since you book water sports packages in Bali, you will get a lot lower single water activity price. Another benefit is if you get a Bali cheap watersports package by Aditya water sports. Most noteworthy, all customers who buy a water sports package, will get free pickup services and return transfer to your hotel. Find out more about Aditya watersports package choices by clicking on the link!
Show Me, "Complete List Of Aditya Water Sports Packages In Tanjung Benoa Bali With Price" >>>
Another outdoor adventure that we provide besides Tanjung Benoa water sports in Bali is white water rafting tours. Most of our customers who book Tanjung Benoa water sports, also reserve whitewater rafting rivers in Bali. In conclusion, adventure on the whitewater river is one outdoor activity that you should try.
Read More, "Jet Ski Ride Bali At Tanjung Benoa Beach Price" >>>
Things You Must Bring
Use swimsuits that do not absorb water.
Use a sunblock lotion before doing activities.
Remember to bring a plastic bag to carry your wet clothes.
Customers Frequently Asked Questions About Banana Boat Games
What is the passenger's maximum on a banana boat?
The maximum number of passengers who can ride a boat banana boat ride is six people and one guide.
Will we ride a banana boat with other participants?
If other customers order banana boat rides at the same time as you, then you will simultaneously board a banana boat with other customers.
What is the age limit for participants to take part in a banana boat ride at Tanjung Benoa?
The age limit for banana boat rides is from 7 years to 65 years old.
Is there a refund if the banana boat activity is canceled?
We will refund your payment if the participant cancels the activity a minimum of one day ere the appointment of the activity order.

If there is bad weather that causes the operator to cancel the activity, then you have the choice to change the activity date or cancel the banana boat ride and get a full refund. The banana boat vehicle operator determines the severe weather criteria.
Will I get a published price if I add a game on location?
No, if you have previously booked Tanjung Benoa watersports activities, with us, you will still get the online price of our Tanjung Benoa watersports.
Where can I store valuables belongings when I ride a banana boat?
The operator provides a locker, and you will carry a locker key. Lockers are available at no extra cost.
Find Out, "Bali Parasailing Adventures Cost At Tanjung Benoa Beach" >>>