Are you on holiday in Bali or planning to have a holiday in Bali? If you answer yes, then for sure, you are looking for better things to do in Bali. While everyone has opinions on the best things to do in Bali, it depends on their liking. So if you love to have marine adventure activities and want to see the beautiful underwater scenery in Bali, the easiest one is snorkeling Bali activity.
Bahasa Indonesia, "Harga Snorkeling Tanjung Benoa Nusa Dua Bali Untuk Wisatawan Indonesia" >>>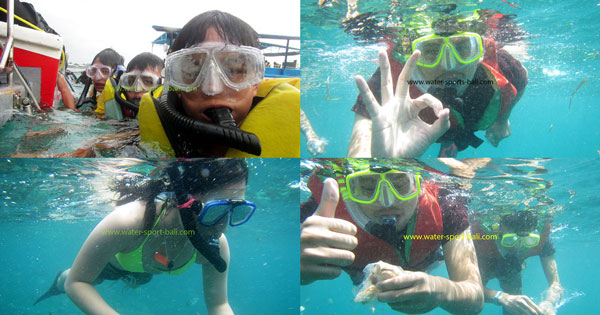 Information that you will get about Bali snorkeling tourism activities with locations in Tanjung Benoa Nusa Dua, such as:
What Is Snorkeling?
How is Snorkeling Done?
Do You Need To Know Swimming For Snorkeling?
Best Snorkeling Location In Bali
Snorkeling At Tanjung Benoa Nusa Dua.
Price Snorkeling Bali At Tanjung Benoa Nusa Dua.
What Is Snorkeling?
Furthermore, snorkeling is a swimming event or floats above sea level using goggles with a snorkel or a funnel fitted with auxiliary breathing. Other equipment used in these activities is the frog's leg shoes, wetsuits, or leotards. These keep our bodies warm and protected from jellyfish stings and other marine animals.
Find Here "6 Things You Should Know Before Diving In Bali" >>>
How is Snorkeling Done?
Before the snorkeling in Bali begins, you are briefed on the rules of how to play. Mainly how to regulate breathing, because you will breathe through the mouth; after all, snorkeling equipment is ready, the snorkeling guide will take you into the middle of the sea with a motorized boat, prepared. For an hour, you can enjoy views of pristine coral reefs, a variety of marine plants, a variety of ornamental fish, and other aquatic animals that still maintain their sustainability.
Do You Need To Know Swimming For Snorkeling?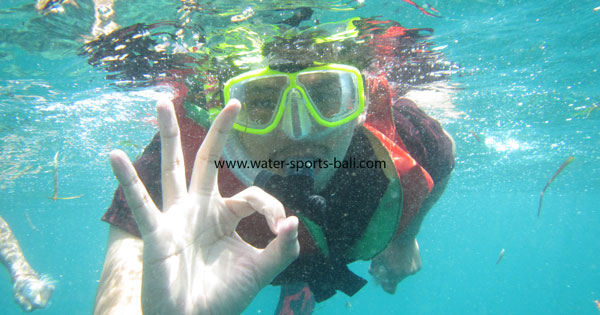 Also, marine dive skill is not required to join the snorkeling activity. However, to be able to snorkel, of course, we must know how to swim or float on the surface of seawater. Wearing life jackets is a must, especially for children who want to try a Bali snorkeling tour. Please let us know if you have guides to accompany you during snorkeling.
Best Snorkeling Location In Bali
So the question now is, where is the best snorkeling in Bali? There is plenty of the best spot to have snorkeled in Bali, but there are eight favorite places to snorkel in Bali, and there are:
Menjangan Island.
Nusa Lembongan Island.
Blue Lagoon Karangasem.
Tanjung Benoa Bali.
Those who do not mind spending 1,5 hours in the car to get a better experience in Bali will choose Amuk Bay snorkeling and Blue Lagoon Karangasem. Amuk Bay and Blue Lagoon offer more variety of marine life, and the marine life environment is still preserved.
Those who prefer to spend one or two days snorkeling tours in Bali will choose Amed, Tulamben, Nusa Penida, Nusa Lembongan, and Menjangan Island as their snorkeling spot.
Read More, "The Best Snorkeling Spot In Bali" >>>
Snorkeling At Tanjung Benoa Nusa Dua
How about Tanjung Benoa Nusa Dua? Is it a great place to snorkel?
People prefer Tanjung Benoa as a snorkeling spot, as Tanjung Benoa Beach's location is close to other Bali's primary tourist destinations. Such as Kuta, Jimbaran, Sanur, Canggu, Ungasan, Seminyak, Legian, Uluwatu, and Nusa Dua.
By choosing Tanjung Benoa as the snorkeling spot in Bali, travelers will not waste their travel time in the car to get to the snorkeling spot.
Furthermore, Tanjung Benoa Beach Nusa Dua is supported by calm sea water, and the wave is insignificant. Therefore, Snorkeling in Tanjung Benoa is very appropriate for a beginner or first-timer in snorkeling activity. So if you are a beginner or first-timer in snorkeling and want to try it, you should choose Tanjung Benoa Nusa Dua as your snorkeling spot.
Read More: "8 Kids-Friendly Water Sports Activities In Bali With Age Above 7 Years Old" >>>
Price Snorkeling Bali At Tanjung Benoa
| Publish Rate | Our Rate |
| --- | --- |
| USD 50 / person | IDR 150.000 / person |

Note For Tanjung Benoa Snorkeling Bali
The duration of snorkeling in Bali is 1 hour.
The operator for Tanjung Benoa Snorkeling is Aditya water sports Tanjung Benoa.
Price for Bali Snorkeling Tanjung Benoa for one participant.
Minimum booking of two people.
The snorkeling price included the participant's insurance, tax, and service charge.
A member's insurance coverage provides by Aditya Tanjung Benoa water sports.
The minimum age allows seven years old.
The maximum age allows is 65 years old.
A life jacket provides for participants.
The snorkeling price above is only valid if you book online on our websites.
Publish rate will apply if you make a booking on a snorkeling location (walk-in booking).
Before snorkeling, please do not forget to use a moisturizer to keep your skin protected from the sun. Fresh seawater and beautiful coastal scenery during the day will add fun to your snorkeling activities.
Tanjung Benoa Water Sports Tour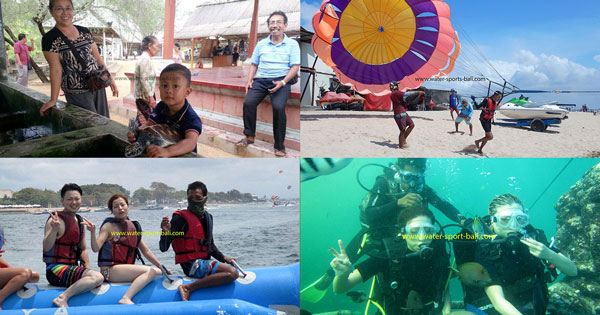 For those who have vacationed in Bali with friends and family, please do not forget to try other Tanjung Benoa water sports activities. All equipment used for water sports in Tanjung Benoa meets the specified standard, safety, and convenience of travelers.
At Tanjung Benoa beach shoreline, you can find plenty of Bali marine sports tours. Below are the Bali water sports choices available in Tanjung Benoa Beach Bali besides Snorkeling.
Consequently, if you want to know the unlimited choices of Bali water sports tours available in Tanjung Benoa with prices, please click the below link!
Read Here, "Game Choices & Price Of Water Sports Bali Tanjung Benoa" >>>
Marine Water Sports Package In Bali
Besides snorkeling, there are other ways to see Bali's beautiful underwater scenery, such as:
If you like to do more than one Tanjung Benoa watersport and more than two people joining, we suggest you get the Bali watersports package. Also, choosing a marine sports package in Bali will lower your total activity price.
Another benefit of selecting a water sports package in Bali is free pick-up and return transfer. So you will not need to pay for a taxi to Tanjung Benoa.
Most importantly, we are a Bali water sports activities agent. Besides providing Bali water sports activities at the Tanjung Benoa beach. We also offer rafting in Bali on a white water river.
Frequently Asked Questions About Tanjung Benoa Snorkeling
Moreover, in providing snorkeling tours as one of the watersport activities in Tanjung Benoa Nusa Dua, we regularly get inquiries from clients who want to reserve snorkeling activities. Our customers frequently ask the following questions about snorkeling at Tanjung Benoa Nusa Dua.
How many snorkeling spots are available in Tanjung Benoa?
For snorkeling spots on Tanjung Benoa beach, only one place is available.
I don't want to hire a snorkeling guide. Can I snorkel in Tanjung Benoa without a snorkeling guide?
Of course, it is permissible, and participants have no obligation to use the guide during snorkeling activities in Tanjung Benoa. However, we highly recommend you use a snorkeling guide.
Do I need to ride a speedboat to get to the snorkeling spot in Tanjung Benoa? If yes, does the Tanjung Benoa snorkeling price include the boat ride?
Participants will take a boat ride from the Tanjung Benoa beach shoreline to get to the snorkeling spot. The price of snorkeling in Tanjung Benoa that we offer includes a speedboat ride and the use of a life jacket.
Can I bring a camera on a snorkeling tour?
Yes, you can bring a camera. Furthermore, we advise you to carry a waterproof camera if you want to use a camera while snorkeling.
Pregnant women, can they participate in a snorkeling tour?
Pregnant women are not allowed to participate in the Tanjung Benoa snorkeling tour.
Read More, "Best Dive Sites In Bali For Beginners" >>>