Bali, a paradise for nature enthusiasts and lovers of adventure activities, is globally renowned for its assortment of attractions. However, our focus today will be on the underwater beauty of Tanjung Benoa, one of the top spots for snorkeling in Bali, especially for beginners. Furthermore, the article provides a comprehensive guide to Bali snorkeling activities at Tanjung Benoa Beach, curated explicitly for beginners at affordable prices.
Bahasa Indonesia, Harga Snorkeling Tanjung Benoa Nusa Dua Bali Untuk Wisatawan Indonesia.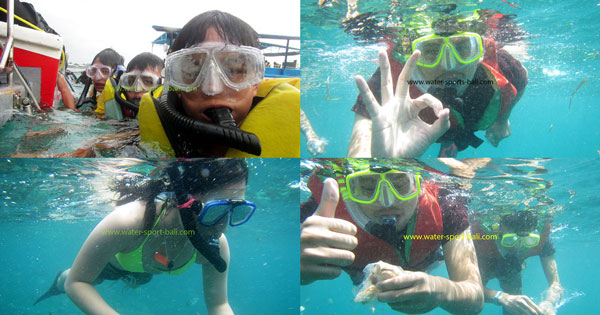 Introduction to Snorkeling
What is Snorkeling?
Snorkeling is a water-based activity using specific equipment like a diving mask, a snorkel, and fins, allowing you to observe marine life near the water's surface. Wetsuits or leotards are optional for protection from marine hazards.
The Snorkeling Process
Snorkeling starts with a briefing about breathing, equipment use, and safety. Once equipped, a guide leads the group into the sea by boat, and snorkelers can explore underwater wonders for roughly an hour.
Why Tanjung Benoa is the Ideal Snorkeling Spot for Beginners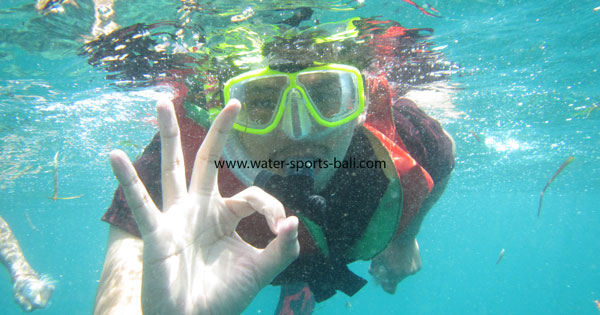 When choosing a snorkeling spot, beginners need to evaluate factors such as swimming ability, understanding of sea elements, and having knowledgeable guides for advice and safety. Tanjung Benoa Beach, one of Bali's best snorkeling spots, is particularly suitable for novices due to the following reasons:
The beach has calm water and small waves, making it an excellent location for beginners to explore underwater beauty worry-free.
Its proximity to Nusa Dua, known for diverse marine species, ensures a rich underwater experience without needing to swim far.
The area provides various snorkeling facilities, including equipment, experienced guides, and insurance, as part of the water sports package.
Its location near Bali's southern centres like Kuta, Uluwatu, Canggu, Ungasan, Seminyak, and Nusa Dua allows easy access without a lengthy commute.
Given all these aspects, it's no surprise that Tanjung Benoa remains a favourite choice for snorkeling, particularly for first-timers. Those seeking a more adventurous Bali snorkeling experience must read the best guide for snorkeling on Nusa Penida Island.
Snorkeling Guide at Tanjung Benoa Bali for Beginners
Looking to explore the aquatic world? Snorkeling is worth a shot! Even if you're a beginner, this comprehensive guide to snorkeling in Tanjung Benoa will help you start confidently exploring the breathtaking underwater scenery.
Preparation and Essential Skills for Snorkeling in Tanjung Benoa Bali
Snorkeling in Tanjung Benoa requires mental and physical readiness as it demands stamina. Before snorkeling, ensure you're well-rested and have eaten adequately. Although advanced marine diving skills are not essential, the ability to swim or float is crucial for safety and a better snorkeling experience. Children and beginners should consider wearing a life jacket and let their guides know if they require extra assistance.
The organizers will equip you with the necessary gear, including diving masks, snorkels, and fins. Familiarise yourself with this equipment and understand how to wear, adjust, and use them effectively. Also, acquaint yourself with the snorkeling location, the currents, and water conditions, avoiding areas with sharp rocks or strong currents.
Learn the essential snorkeling techniques like swimming with flippers, breathing through the snorkel, and clearing water from your mask and snorkel. Snorkeling aims to enjoy and explore, so that these safety measures will ensure a safe and memorable experience.
How to Snorkel in Tanjung Benoa Bali for Beginners
Put on all your equipment, ensuring a comfortable and snug fit. Wearing a life jacket is recommended if you are not experienced in swimming.
You will be transported to the snorkeling location via a motorized boat. Once you arrive, gradually get into the water, utilizing the techniques you've learned to adjust your mask and snorkel.
When you feel at ease, begin your underwater exploration. Endeavour to swim steadily and maintain a safe distance from the boat.
Communicate with your guide or partner using hand signals. If you encounter any discomfort or difficulties, notify the guide straight away.
After completion, return to the boat quietly and with caution.
Remember, safety is paramount during your snorkeling experience in Bali, so ensure you follow all the guidelines from the guide.
Snorkeling Prices at Tanjung Benoa Bali
| Published Prices | Our Online Prices |
| --- | --- |
| IDR 450,000/person | IDR 150,000/person |
Description of Snorkeling at Tanjung Benoa, Nusa Dua, Bali
Aditya Watersport is the operator providing the Bali snorkeling activities outlined on this page.
The snorkeling tour lasts for approximately 1 hour.
The snorkeling spot is located at Tanjung Benoa Beach, Nusa Dua. You can locate the area on Google Maps.
The prices for snorkeling in Bali mentioned on this page are applicable until 31 December 2023.
The Tanjung Benoa snorkeling prices listed in the table are per person, requiring a minimum booking of two individuals.
The snorkeling package includes participant insurance, service fees, equipment, life jackets, usage of towels, lockers, changing rooms, bathrooms, and parking facilities.
Aditya Watersport, the operator, provides insurance for snorkeling participants.
The online listed prices for snorkeling are applicable only if you book through Wira Water Sports Bali. The published prices will apply if you book directly at the activity location.
The lowest age limit for players is 7 years, and the maximum is 65 years. This restriction is set based on insurance coverage.
For family-friendly water sports activities, including snorkeling, explore our guide on 8 Kids-Friendly Water Sports Activities in Bali for kids above 7.
Additional Costs Not Included in The Tanjung Benoa Snorkeling Price
While our snorkeling package offers excellent value, be aware there might be other costs during your trip.
These may include transport from your hotel to Tanjung Benoa, though a free shuttle is available with booking a Bali water sports package.
Other possible expenses could involve meals and drinks, photography and video services, and guide fees if you require one.
Tipping the staff, while not mandatory, is appreciated.
Remember to factor these potential costs into your budget to ensure a smooth, enjoyable snorkeling adventure.
List of Items to Bring
It is recommended that you bring swimwear.
Remember to apply sunscreen or sunblock before initiating the activity.
Please bring a plastic bag to store your wet clothes.
Carry cash to buy food and beverages at the activity site.
You are also welcome to carry your meals and beverages.
Contact Us for a Snorkeling Plan in Tanjung Benoa Watersports
Above all, contact our Bali Watersport reservations department to assemble a Bali snorkeling plan at Tanjung Benoa Beach. You can access our Bali watersport order form by clicking the link. Alternatively, you can click the button displaying our WhatsApp number to communicate directly with our Watersport reservation team.
Provisions for Activity Cancellation
We understand plans can change, so here's a quick summary of our cancellation policy:
Cancel at least one day before the activity for a refund (excluding admin and service fees).
Same-day cancellations will incur a 100% fee.
If the operator cancels due to adverse weather, we'll refund your payment or help you reschedule.
Please note all decisions regarding weather conditions rest with the watersport operator.
Exploring the Ocean at Tanjung Benoa Nusa Dua Bali
For tourists interested in water sports activities like snorkeling in Bali, Tanjung Benoa Nusa Dua Beach offers a range of other underwater activities. Besides snorkeling, there are additional options like Ocean Walker/Seawalker and introductory scuba diving in Bali.
The Seawalker ride can be an apt choice if you are not a strong swimmer or are trying it for the first time. With the Tanjung Benoa Seawalker, you can enjoy the underwater beauty without swimming.
If you are seasoned and want a more immersive underwater adventure, introductory scuba diving in Bali can be an excellent alternative.
Before diving, don't forget to check our essential guide on 6 Things You Should Know Before Diving In Bali.
For further information about Tanjung Benoa Seawalker ticket prices and introductory scuba diving promos for beginners, please click the link provided.
Frequently Asked Questions About Snorkeling at Tanjung Benoa, Bali for Beginners
Numerous queries frequently surface from travellers intrigued by the snorkeling activities at Tanjung Benoa, especially those attempting it for the first time. Here are the most common questions asked by our customers:
Should I hire a guide for snorkeling activities?
The choice to hire a snorkel guide is entirely yours. However, we suggest engaging a snorkel guide, particularly if you're new to snorkeling.
–
Am I allowed to bring my camera on the snorkeling tour?
You are welcome to carry your camera along. Nonetheless, using a waterproof camera for capturing photos during your snorkeling session is ideal.
–
Do I need to bring my equipment, or does the water sports operator provide everything?
The water sports operator provides all necessary snorkeling equipment, including a diving mask, snorkel, life jacket, and fins.
–
Indeed, after understanding the details above, we believe you'll be well-prepared and ready to enjoy your snorkeling adventure in Bali.
Conclusion
In conclusion, if you're a novice, selecting Tanjung Benoa as your snorkeling spot in Bali is commendable. Offering breathtaking underwater views and favourable conditions for beginners, snorkeling at this locale promises a mesmerizing experience. Therefore, it's time you plan your snorkeling expedition and experience the aquatic grandeur of southern Bali firsthand. So why wait? Take the plunge, book your snorkeling adventure with us today, and engage in the wonders beneath the surface.