Tanjung Benoa, located on the southeastern side of the island of Bali, is the best place for tourists looking for marine tourism adventure activities. Tanjung Benoa tourist spot is famous for its white sand beaches, calm waters, and the center of various water sports activities at low prices. As a result, its calm, clear waters teem with marine life making it a top spot for Bali water sports. Whether it's a parasailing adventure above the sea or exploring the underwater wonders via a seawalker, Tanjung Benoa offers many marine watersport activities. Whatever your skill level, there is a water sport for you in Tanjung Benoa. So, are you ready to try Bali water sports at Tanjung Benoa Beach at an affordable price?
Bahasa Indonesia, Daftar Harga & Permainan Water Sport Tanjung Benoa Bali.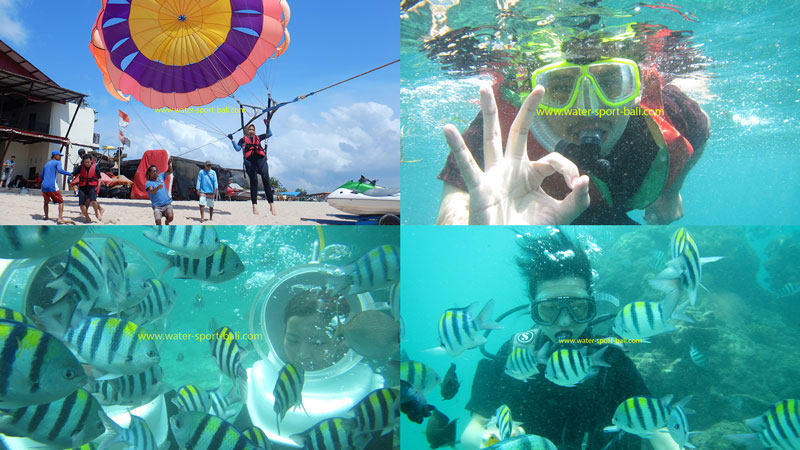 So, Why Choose Tanjung Benoa for Bali Water Sports
Firstly, Tanjung Benoa is famous as a marine activities destination in Bali which is excellent for beginners. Why is that? Its primary feature is its calm and clear sea water, making it ideal for various activities for beginners. The calm waves of Tanjung Benoa ensure safety and allow for a more enjoyable experience in water sports, especially for beginners.
Above all, Tanjung Benoa offers a wide selection of aquatic recreations catering to various preferences and skill levels. In other words, you can try jet-skiing, parasailing, and banana boat rides to more unique adventures like a flying fish ride or seawalker, where you walk on the ocean floor.
Moreover, the marine biodiversity of Tanjung Benoa adds to the charm of underwater activities you can see by participating in snorkeling or scuba diving.
Also, the availability of many professional water sports operators in Tanjung Benoa ensures high safety and equipment quality standards. They provide well-maintained equipment, trained instructors, and even insurance coverage for their customers, further enhancing Tanjung Benoa's reputation as a reliable center for water sports.
For those unsure where to start, check out our list of the Top 5 Amazing Attractions in Tanjung Benoa to kickstart your marine adventure.
Location of Tanjung Benoa Beach Water Sports Bali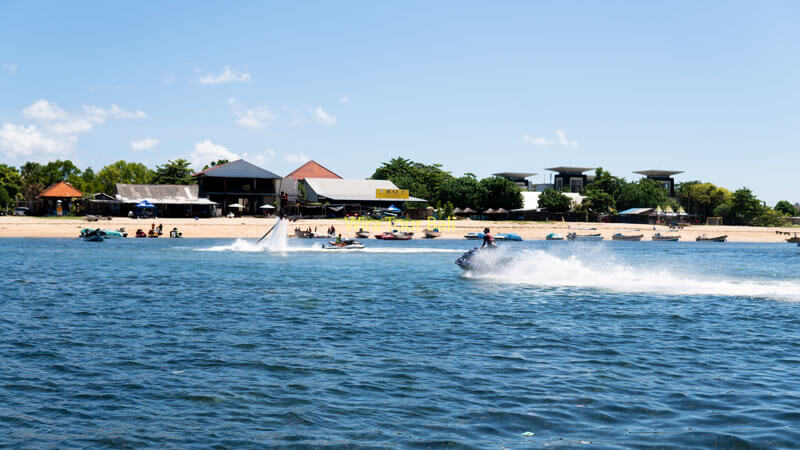 Above all, now, let's talk about the location of Tanjung Benoa Beach, Bali.
At the southeastern end of Bali, Tanjung Benoa Beach is the best spot for thrilling water sports. It is conveniently close to Nusa Dua, renowned for its luxury resorts, and a 35-minute drive from Ngurah Rai International Airport. Refer to the Tanjung Benoa Bali Location on Google Maps for easy navigation.
Tanjung Benoa Watersport Price List
Types of 12 Water Sports in Tanjung Benoa With Price
Here's a concise yet detailed breakdown of the various marine adventure activities in Tanjung Benoa. Besides the short description of the activities, you can also see each activity's Tanjung Benoa Water Sports price. Also, please click each activity's link for more detailed information on your favorite marine activity.
1. Parasailing Adventure Bali Water Sports Price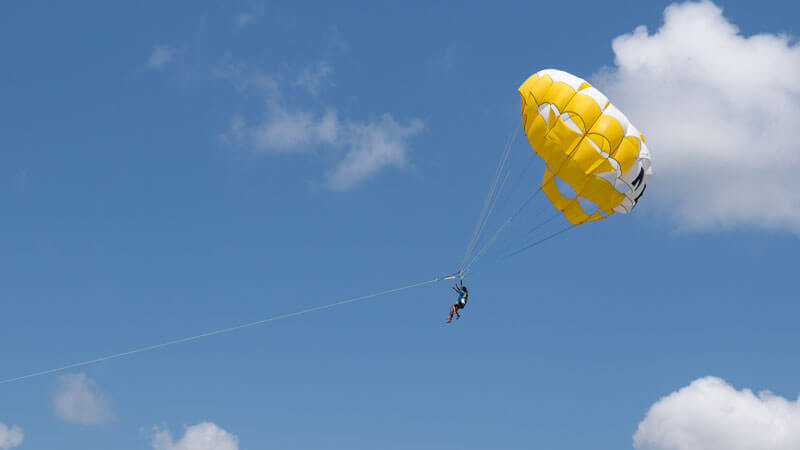 Fly to the skies with a parasailing adventure in Bali. Glide above the sky-blue waters while tethered to a boat for a unique bird's-eye view of Tanjung Benoa Bali's stunning coastline.
| Publish Price | Online Price |
| --- | --- |
| IDR 800.000/Person | IDR 250.000/Person |
2. Jet Skiing Tanjung Benoa Beach
Experience the thrill of Bali jet skiing. Speed across Tanjung Benoa's calm waters, guided by a professional instructor, guaranteeing both safety and an adrenaline rush. Or you can book a sefl drive jet ski accompanied by an instructor on different jet skis.
| Jet Ski Categories | Publish | Our Rate |
| --- | --- | --- |
| Jet Ski With Guide | IDR 450.000 | IDR 185.000 |
| Jet Ski Without Guide | IDR 500.000 | IDR 275.000 |
3. Banana Boat Riding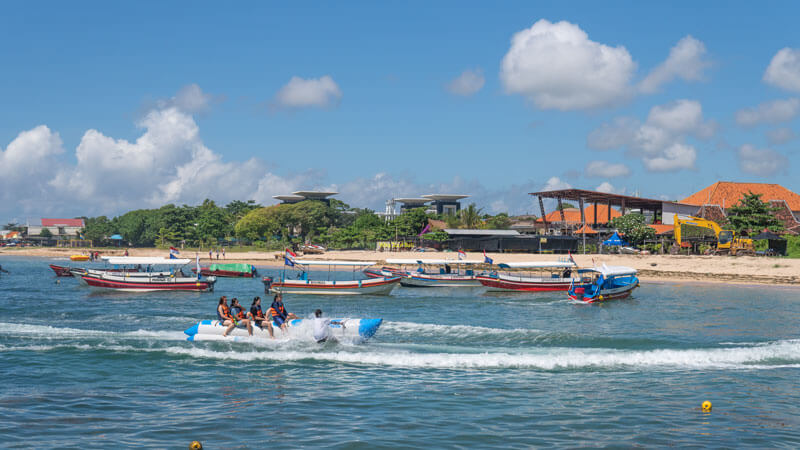 For a fun water sports activity that suits all ages, the banana boat ride in Tanjung Benoa Beach is a group activity you must join. Hold on tight as you bounce over waves and enjoy laughter-filled moments.
| Publish Rate | Our Rate |
| --- | --- |
| IDR 300.000/person | IDR 80.000/person |
4. Snorkeling Tanjung Benoa Water Sports
Snorkeling in Tanjung Benoa is the perfect activity for visitors wishing to explore the underwater world. If incapable of swimming, you can utilize a life jacket during snorkeling.
| Published Prices | Our Online Prices |
| --- | --- |
| IDR 450,000/person | IDR 150,000/person |
5. Introductory Scuba Diving
For a deeper exploration, try introductory scuba diving. Professional guidance ensures even beginners can safely encounter vibrant marine creatures. Also, introductory scuba diving only dives up to 6 meters.
| Publish Rate | Our Rate |
| --- | --- |
| IDR 1,000,000/person | IDR 325,000/person |
6. Rolling Donut Bali Water Sports Price
Modeled after a donut, this thrilling rolling donut ride is pulled by a speedboat. As it bounces and spins over the waves, prepare for an exhilarating experience.
| Published Prices | Our Prices |
| --- | --- |
| IDR 350,000 | IDR 125,000 |
7. Seawalker Tanjung Benoa Water Sports
The Seawalker Tanjung Benoa offers a unique chance to walk on the seafloor. Safely explore the ocean depths and meet the local aquatic life up close. Participants will wear particular design sea walking helmets; with these helmets, participants can breathe in the water like on the land.
| Publish Price | Our Price |
| --- | --- |
| IDR 1.000.000/person | IDR 325.000/person |
8. Flyboarding Bali Water Sports Price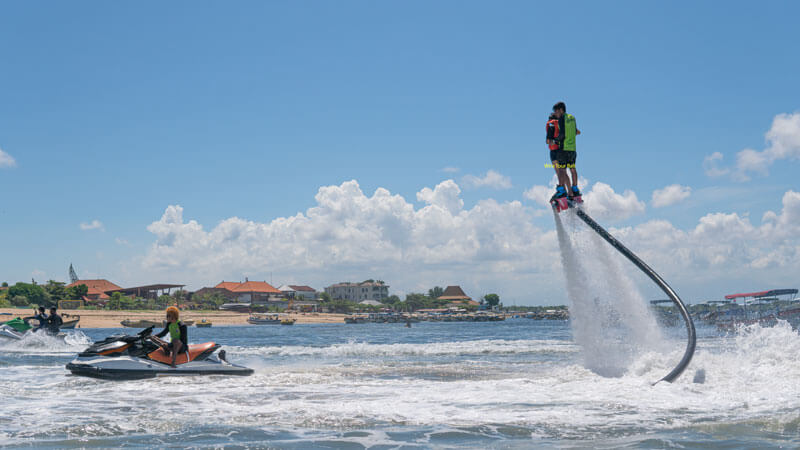 Defy gravity with a flyboarding experience. Propelled by a water jet, fly above the sea for a heart-pumping, unforgettable adventure. If you cannot fly alone, you can ask the instructor to accompany you on the Tanjung Benoa flight board without an additional fee.
| Publish Price | Online Price |
| --- | --- |
| IDR 1,000,000/person | IDR 450,000/person |
9. Wake Boarding Bali Water Sports Price
For the challenge-seeking visitor, try wakeboarding Tanjung Benoa. Ride the waves on a board while being pulled by a speedboat. Balance and fun are essential here!
| Publish Price | Internet Booking Price |
| --- | --- |
| USD 70/person | IDR 350.000/person |
10. Flying Fish Water Sports Price In Bali
Feel the sensation of flying together using a Flying Fish boat in Tanjung Benoa. This inflatable boat is shaped like a fish and will be lifted into the air when the speedboat pulls it at high speed.
| Publish Rate | Our Flying Fish Price |
| --- | --- |
| IDR 450,000 | IDR 185,000 |
11. Turtle Island tour with a Glass Bottom Boat
Witness the beauty of marine life through the bottom of a glass boat en route to Turtle Island. Once there, meet the adorable turtles in their conservation area.
| Publish Rate | Our Rate |
| --- | --- |
| IDR 700,000/boat | IDR 500,000/boat |
12. Mangrove Forest Tour
For nature lovers, a tour of the Mangrove Forest while riding a jet ski will offer an adventure tourism experience amidst the rich biodiversity of the mangrove habitat. Serenity, thrill, and the beauty of nature are the essence of this tour.
| Price | Total Duration |
| --- | --- |
| IDR 1.700.000 | 1 hour |
Safety Measures and Guidelines On Tanjung Benoa Water Sports Bali
Safety remains crucial when enjoying the exciting marine adventure in Tanjung Benoa. Here are some of the essential safety measures and guidelines that our water sports operator provides to ensure a fun-filled and secure experience:
A. Professional Guidance and Training
Certified instructors supervise every watersports activity in Tanjung Benoa to ensure maximum safety for participants. For activities like scuba diving, wakeboarding, and flyboarding, preliminary training sessions are provided to acquaint beginners with the basics.
B. Quality Equipment
Our marine activities providers in Tanjung Benoa prioritize the quality and maintenance of their equipment. Everything adheres to international safety standards, from life jackets to water sports gear.
C. Physical Fitness and Health Precautions
Participants must generally be in good health before engaging in water sports. Certain activities may have age restrictions or require parental consent for younger participants. If you plan to visit Tanjung Benoa Beach with children, learn about 8 Kids-Friendly Water Sports Activities In Bali.
D. Briefings Before Each Activity
Before starting any marine adventures, our water sports operators provide detailed safety briefings to ensure participants know potential risks and correctly understand how to use their equipment.
E. Insurance Coverage
Our reputable aquatic activity providers in Tanjung Benoa include insurance coverage in their marine adventure activities or packages. This offers extra peace of mind for participants.
F. Observance of Weather Conditions
Tanjung Benoa Watersports are subject to current weather conditions. Our operators are vigilant in monitoring the weather and may reschedule activities if conditions are not deemed safe.
G. Rescue and First-Aid Availability
In the occurrence of any accidents, immediate rescue assistance is available. Additionally, first-aid kits are on standby at all water sports centers.
If you are planning a trip to Bali, then make sure to compare the Tanjung Benoa water sports price to get the best deals.
Timing Your Visit: Best Season and Hours for Tanjung Benoa Water Sports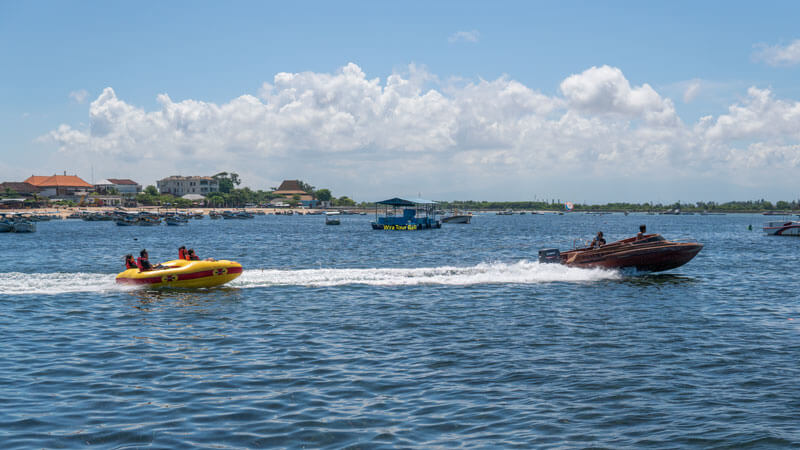 In Tanjung Benoa, timing is vital to enjoying water sports thoroughly. The optimal time to join Bali water sports is during the dry season, from April to October, thanks to clear skies and calm waters. Furthermore, lighter winds during these months enhance parasailing and underwater explorations. You also can read about the best time to visit Bali for holidays.
Furthermore, Tanjung Benoa Watersport operates daily from 09:00 to 15:00. After 15:00, the seawater at Tanjung Benoa Beach often recedes, affecting the optimal operation of speedboats for marine sports activities. Thus, the ideal time to participate in the Tanjung Benoa watersport adventure activity is between 09:00 and 14:00.
Early mornings offer calmer sea conditions, lesser heat, and fewer crowds and ensure you make the most of your time before the tide recedes.
Also, always remember to check the day's weather forecast and follow the guidance of our Tanjung Benoa marine adventure reservation staff, whose primary goal is to ensure your safety and maximum enjoyment.
Booking Your Tanjung Benoa Water Sports Experience
Whether you are an adventure activity lover who likes high speed or loves activities in the sea and wants to explore the underwater world of Bali, booking your Tanjung Benoa nautical sports activity is very easy.
Phone/WhatsApp: +62813 3956 3400.
WhatsApp Chat only: +62822 4714 8222.
Office Telephone: +6236 6558 1096 (Land Line).
Email info@water-sports-bali.com.
Conclusion Tanjung Benoa Beach Water Sports
To sum up, Tanjung Benoa is an aquatic sports hub. Its diverse activities, perfect conditions, and convenient location make it the go-to place for thrill-seekers and beginners participants. As a result, you can create unforgettable memories through the amazing adventures of Tanjung Benoa Beach watersport.
Furthermore, you can create unforgettable memories through combined marine experiences like parasailing adventure, jet skiing, banana boating, or scuba diving, all available in our exclusive Bali water sports package.
Next Steps
Ready for the thrill of Tanjung Benoa watersport? It's your time to embrace the exciting marine recreation in Tanjung Benoa. So, if you crave more adventure, don't miss out on Bali River Rafting Adventures.
In conclusion, browse, book, and brace yourself for a fantastic time! Have questions or experiences to share about Tanjung Benoa Water Sports? Comment below. Also, if this Tanjung Benoa marine adventure activity guide was helpful, share it with fellow adventurers. In short, aquatic adventure awaits you in Tanjung Benoa!