Want to feel the sensation of flying with your friends or family? Consider trying the Tanjung Benoa Parasailing Adventure in Bali at an affordable price. You can fly for IDR 250,000 per person and appreciate the stunning view of Tanjung Benoa Beach from above. Its prime location and competitive pricing make Tanjung Benoa a top choice for tourists eager to embark on a tandem parasailing adventure in Bali.
Bahasa Indonesia, Parasailing Adventure Bali: Pengalaman Seru Terbang di Perairan Tanjung Benoa Harga Promo Murah.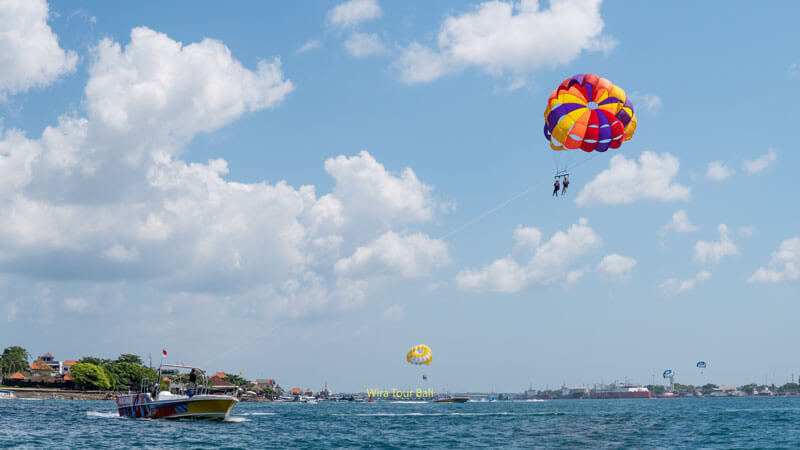 Popular Water Sports Activities in Bali for Tourists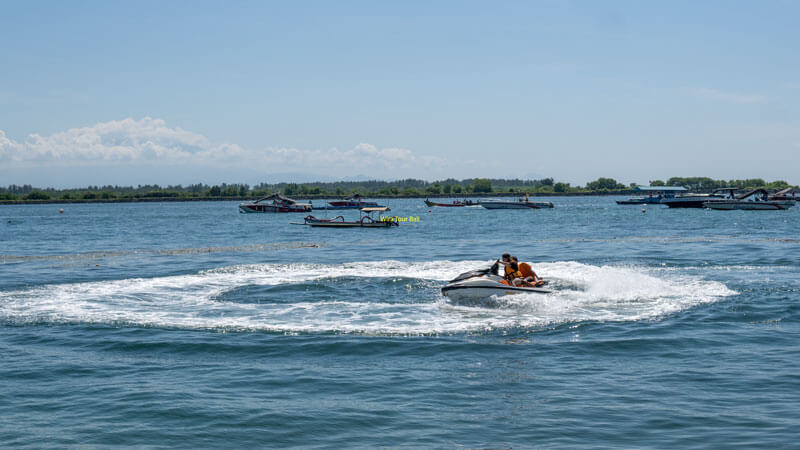 Bali, a captivating island known for its beautiful beaches, offers a variety of exhilarating water sports activities. Both local and international tourists vacationing in Bali show keen interest in these pursuits. Here are some water sports activities that are especially popular among tourists:
Bali parasailing adventure.
With parasailing activities in Bali attracting considerable tourist interest almost daily, Tanjung Benoa is invariably bustling with participants.
Are you keen to experience the newest water activities in Tanjung Benoa? For comprehensive information about Watersport Bali 2023, click the provided link.
Discover the Bali Tandem Parasailing Adventure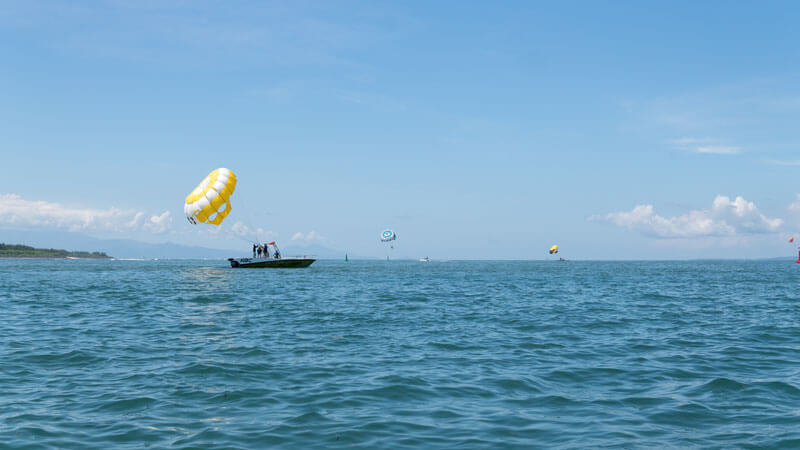 Tandem parasailing, or Bali Parasailing Adventure, is a water sport activity that accommodates two participants under one parasailing parachute, offering them an exhilarating skyward adventure together.
In tandem parasailing experiences, a harness attached to a parasailing parachute secures the two participants. A speedboat then tows this parachute, and as the boat accelerates, the participants ascend into the air to enjoy breathtaking aerial views.
This tandem parasailing activity also features prominently among the 8 Water Sports Games for Children in Bali, attracting young adventure-seekers.
Tanjung Benoa: A Popular Destination for Parasailing Adventures
Tandem parasailing is a popular water sport in Bali, drawing significant tourist interest. However, not every tourist destination in Bali offers this thrilling activity. Only Tanjung Benoa and Nusa Penida offer the unique experience of tandem parasailing over the expansive ocean.
Tanjung Benoa, the hub of marine tourism activities in Bali, is renowned for its water sports, particularly parasailing. The calm coastal waters and favourable wind conditions make Tanjung Benoa Beach an ideal location for Parasailing Adventure rides.
Check out videos of Tandem Parasailing Activities in Bali on YouTube for an immersive preview.
The Unique Features and Benefits of Parasailing Adventures in Bali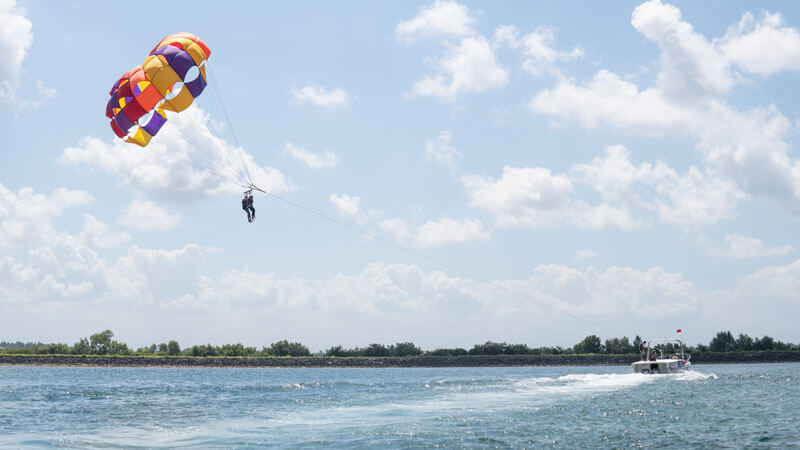 Unlike some water sports, parasailing in Bali does not rely on specific wind directions or sea tides. Participants start their flight and land directly on the speedboat. The boats used for tandem parasailing activities in Bali are significantly larger than those used for other water games, such as rolling donut games or flying fish rides.
Launching and landing on boats, combined with larger speedboats equipped with more powerful engines, allows for the benefit of more enormous parasailing parachutes. These large parachutes can accommodate two participants flying together, thus earning the activity its moniker, "Tandem Parasailing."
However, using larger boats and engines for towing parasailing parachutes inevitably leads to higher costs, making a parasailing adventure in Bali more expensive than other water sports available in Tanjung Benoa.
Watch the YouTube video showcasing the exhilarating Tanjung Benoa Parasailing Rides for a closer look.
An Exciting Experience: Parasailing Adventure at Tanjung Benoa, Bali
Tanjung Benoa, Bali, is one of the top destinations for diverse water sports activities, including the Parasailing Adventure. Here are some aspects tourists can enjoy while participating in tandem parasailing activities in Tanjung Benoa, Bali.
During the Tanjung Benoa tandem parasailing activity, visitors can relish views of the stunning white sand beaches and clear seawater from a significant height. Experiencing the panorama of Bali from above while feeling the sea breeze will undoubtedly create an unforgettable holiday memory.
The Parasailing Adventure is a thrill-seeking activity. A speedboat tows you in the air during parasailing, providing an exhilarating sense of adventure that genuinely electrifies.
Thanks to the availability of tandem parasailing, travellers can enjoy this experience with friends or family. This feature makes tandem parasailing a thrilling and fun activity to share with those closest to you.
The operator conducts parasailing in Tanjung Benoa with strict safety standards. Service providers typically provide comprehensive instructions and appropriate safety equipment, including life vests, high-speed crane boats, and a professional and experienced team. As such, tourists can feel secure during their activities.
Perhaps this is what you're searching for: 5 Things You Need to Know About Bali Parasailing.
Tanjung Benoa Parasailing Adventure Bali Ticket Prices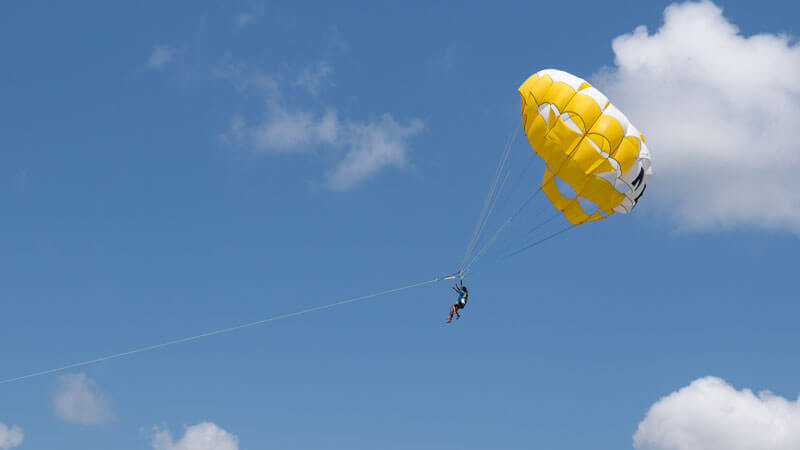 How much does it cost for Tandem Parasailing Tanjung Benoa Nusa Dua Bali?
| Publish Price | Online Price |
| --- | --- |
| IDR 800.000/Person | IDR 250.000/Person |
Description of the Bali Parasailing Adventure in Tanjung Benoa
The duration of the tandem parasailing is 5 minutes.
Aditya Tanjung Benoa Watersports, the operator in charge of this activity, is located at Tanjung Benoa Beach, Nusa Dua, Bali.
The price for the Tanjung Benoa parasailing adventure, listed in the table, is per person.
Participants aged between 7 and 65 are eligible for the Bali parasailing adventure.
The published price is applicable if you order directly at the Tanjung Benoa tandem parasailing activity location.
You will avail of the online price if you order the Tanjung Benoa parasailing adventure through us.
Check out the Tanjung Benoa Parasailing Adventure on YouTube.
Bali Tandem Parasailing Adventure Tickets Price Include:
Parasailing adventure ticket rates include insurance for participants during the activity.
The insurance provider for activity participants is Aditya Water Sports Tanjung Benoa Bali.
The ticket consists of the use of life jackets for participants.
The organizers include all the equipment participants need during the activity.
The organizers provide access to changing rooms, towels, lockers, vehicle parking areas, and bathrooms.
Tanjung Benoa Parasailing Adventure Prices Exclude:
The price of the Parasailing Adventure in Tanjung Benoa Bali does not include shuttle services.
The Tanjung Benoa Parasailing price does not include additional participants' expenses.
The Tanjung Benoa Tandem Parasailing ticket price does not include tips for the staff at the location.
The Tanjung Benoa Parasailing Adventure ticket price does not include the cost of photo and video services for documentation during the activity.
Order Process for Tandem Tanjung Benoa Parasailing Adventure
Do you want to experience the thrilling sensation of a Tandem Parasailing Adventure at Tanjung Benoa Beach, Bali? If so, you can place your order in the following ways:
Phone Numbers: +62813 3956 3400 & +62822 4714 8222 (also available on WhatsApp).
Office Phone Number: +6236 6558 1096.
Email: info@water-sports-bali.com.
Procedure for Redeeming Tandem Parasailing Watersport Vouchers at Tanjung Benoa
Upon confirmation and payment of your Tanjung Benoa Tandem Parasailing order, we will send you a Tanjung Benoa Watersport voucher via email or WhatsApp.
Furthermore, we will provide you with the address of the Tandem Parasailing activity location on Tanjung Benoa Beach, complete with a Google Maps link via email or WhatsApp.
There is no need to print the Watersport Bali voucher we send. Simply save it on your cellphone.
Aditya Watersport Tanjung Benoa operates daily from 09:00 – 16:00.
The optimal time for tandem parasailing activities is from 09:00 – 14:00.
Upon arrival at the Tandem Parasailing activity location, present the Bali Watersport voucher from your smartphone to our on-duty staff at the Tanjung Benoa Beach Water Sports site.
Bali Watersports vouchers are valid every day.
If there are changes in your arrival schedule at the Watersport Bali location, please inform our customer service promptly.
Terms and Conditions for Availing Free Shuttle Service
To avail of the free shuttle service from the hotel to the water sports location in Tanjung Benoa and back to the hotel after completing the activities, customers must fulfil the following conditions:
Customers must book a minimum of three types of Tanjung Benoa water sports rides per person, with a minimum of two participants.
The customer must book the Tanjung Benoa water sports package, and the minimum number of participants should be two people.
This free shuttle service covers several tourist areas in the southern part of Bali, including Nusa Dua, Tanjung Benoa, Kampial, Sawangan, Kutuh, Ungasan, Jimbaran, Kedonganan, Tuban, and Mumbul. Thus, you can enjoy various water sports activities in Tanjung Benoa without worrying about transportation costs during your holiday.
Things You Should Bring
Here are some items you need to equip before experiencing Tanjung Benoa water sports activities:
Wear swimwear that does not absorb water to provide comfort during the activities.
Don't forget to apply sunblock before starting the activity.
Carry a plastic bag to store your wet clothes after the activities.
Personal protection items such as hand sanitisers and masks are essential in the current pandemic. Make sure to carry and use both before and after your activities.
If you want to capture your exciting moments, consider bringing a waterproof camera. A waterproof camera lets you take photos or videos during the water sports activity.
For those planning to join Paragliding in Bali, check out all the details you need to know before attempting it.
Provisions for Cancellation of Tanjung Benoa Tandem Parasailing Activities in Bali
The Tandem Parasailing activity at Tanjung Benoa Beach in Bali adheres to a specific cancellation policy.
If you want to do an activity cancellation, please do it at least the day before the scheduled date. We can refund the Parasailing Adventure activity you paid for, but this does not include administration fees, bank transfers, and other service fees.
If you cancel on the day of the scheduled Parasailing Adventure activity, the policy imposes a cancellation fee of 100% of the total payment.
If the weather conditions are unfavourable and the Tanjung Benoa watersport operator decides to cancel the Parasailing Adventure activity, we will fully refund your payment. Additionally, there is an option to reschedule the Parasailing Adventure activity for the following day.
The authority to determine adverse weather conditions solely lies with the Tanjung Benoa watersport operator.
Frequently Asked Questions About Tandem Tanjung Benoa Parasailing Adventure in Bali
Furthermore, here are answers to some common questions regarding tandem parasailing adventure activities in Tanjung Benoa, Bali:
Is there a specified weight limit for tandem parasailing adventure activities?
The maximum combined weight of two tandem parasailing adventure participants is 120 kilograms. However, these limitations may be subject to modification based on the weather circumstances and the weight differential between the two players.
–
Do I need prior experience to participate in a tandem parasailing adventure?
To partake in a tandem parasailing adventure in Tanjung Benoa, you don't need previous experience. Clear and detailed instructions will be provided before the commencement of the activity.
–
What are the ideal weather conditions for a tandem parasailing adventure?
Sunny weather and average wind speed are ideal conditions for tandem parasailing activities. It is also essential that there are no impending storms and that the sea waves are not significantly significant.
Besides the above, you can also read this article regarding Frequently Asked Questions About Parasailing in Bali.