Bali Ocean Walker, commonly called Seawalker Bali or Bali marine walk, is one of the best water activities in Bali. Furthermore, Seawalker Bali now available at Tanjung Benoa Nusa Dua Bali since February 2010. On this page, you will find Bali seawalker activity in Tanjung Benoa beach, with prices description, things to see, and safety.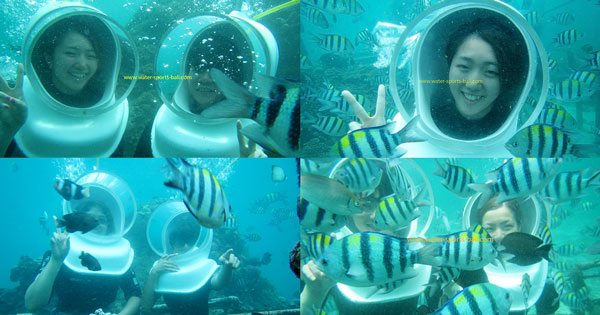 Find Out, "Snorkeling Price For Beginner In Tanjung Benoa Bali" >>>
Many Names Of Bali Seawalker Activities
Seawalker activities in Bali, both at Tanjung Benoa beach and Sanur beach Bali, have many names. Although the games are called different names, the operation is the same. So if you are on vacation in Bali, someone offers a Bali water sports tour with the below name, meaning that the event is a sea walker.
Bali Ocean Walker.
Dive walker Bali.
Bali marine walk.
Helmet Diving Bali.
Water Walk Bali.
Marine walk activities in Bali are available in three places. Such as Tanjung Benoa beach, Sanur beach, and Nusa Lembongan island. So before you book an underwater ocean walk in Bali, you need to decide on the Bali sea walker location you want to join. Also, the marine walk price in Bali varies in each area.
However, specifically, this page is about the activities of Bali marine walks in Tanjung Benoa. If you want to know the price of the Bali marine walk tour on Sanur beach, please click the link below!
Read here: "Dive Walker Tour Prices in Sanur Bali" >>>
Tanjung Benoa Beach Nusa Dua
For your information! Are you looking for the best beach for marine water sports in Bali? Then it would be best to choose Tanjung Benoa Beach in Nusa Dua.
The Tanjung Benoa Beach Nusa Dua offers crystal clear seawater and a gentle wave. It is very suitable for water activities such as seawalker Bali, especially in the morning, because the air is fresh in the morning, and the sun is also not too hot.
To get to Tanjung Benoa beach, you will need about 30 minutes of driving from Ngurah Rai Airport. Tanjung Benoa beach is very near the the Nusa Dua resort area, which is the center of the hospitality industry area in Bali.
Tanjung Benoa water activities location is very close to Nusa Dua, so sometimes people call Tanjung Benoa Watersports Bali with name of water sports Nusa. So don't get confused! It is all in the same place. So, for example, people say seawalker Tanjung Benoa or seawalker Nusa Dua! It is in the exact location.
Find Here, "The Tanjung Benoa Watersports Game Choices & Prices" >>>
What Is Tanjung Benoa Marine Walk?
Bali seawalker Tanjung Benoa is a seafloor walking activity, which is why it's called a marine walk. It definitely will be different as you walk on land.
During the Bali ocean walk, participants will be using a masked helmet. This mask helmet contains water-resistant clear glass. The helmet will be fed pure oxygen for members to breathe during seawalker activity.
Oxygen will flow through the hose that is attached to the seawalker helmets. All you have to do is breathe as you breathe on land.
Those who wear glasses or contact lens don't have to be worried. You can still use your glasses or contact lenses during marine walk activities because the seawater will not leak and enter the helmet.
Rea" More, "Jet Ski Ride Price In Tanjung Be"oa Bali" >>>
Things To See During Ocean Walk Activity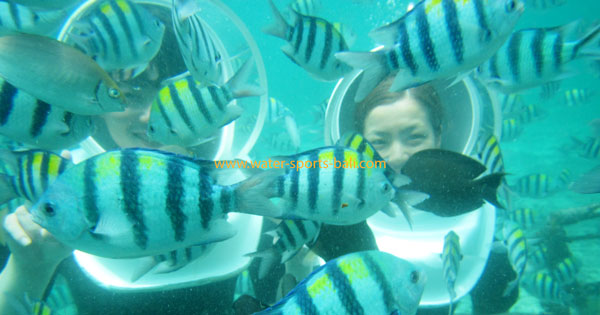 Once all Bali sea Walker equipment is ready, the sea Walker guide will take you to dive into the sea floor. Many fish and beautiful coral reefs are on the bottom of the sea. It would be best if you went down at least 6 meters using the stairs and then reached the sea floor.
While walking around the sea floor, you can see fish, marine plants, and coral reefs. You also can feed the fish and don't forget to ask your guide to take your photo and video during the seawalker in Bali.
Of course, there is an additional charge for the picture and video. The fees for photos and video on CD are approximately IDR 400.000.
To walk in the sea is not as easy as walking on land. While walking on the sea floor, members need to maintain body balance, and you can use the pipeline by holding to it while walking on the seafloor. Marine walk Bali will take about 30 minutes underwater.
Find Out "Banana Boat Ride Cost In Tanju"g Benoa Bali" >>>
Is It Safe?
Your comfort and safety get full attention during the Bali marine walk event. Furthermore, Bali Ocean Walker equipment meets international standards of safety.
Professional guides trained and experienced in sea Walker action will happily accompany you during the marine walk in Bali. You do not need to have swimming skills or diving skills to have sea walking in Bali. Starting at age 12 and above can try Bali seawalker.
If you are looking for adventure on the white water river, you should try Bali river rafting.
Seawalker Bali Price Tanjung Benoa
| Publish Price | Our Price |
| --- | --- |
| USD 100 / person | IDR 325.000 / person |

Tanjung Benoa Seawalker Bali Price Include:
Include all seawalker equipment, like a seawalker helmet and swimsuit.
Life insurance during Bali ocean walker activities, provide by Aditya water sports.
Include locker.
Include fresh towels.
Experience & Professional seawalker guides.
The minimum booking of ocean walks in Bali is two people.
Bali ocean walker provided by Aditya water sports Tanjung Benoa.
Besides Seawalker Bali, Tanjung Benoa beach also offers another kind of Bali water activity. Such as parasailing, flying fish, and many other choices. If you want to join more than one water activity in Bali, I suggest getting the Bali water sports package! Wondering how much is the water sports package in Bali? Find out by clicking the below link!
Read More On: "Bali Water Sports Package" >>>
Seawalker Video In Tanjung Benoa Nusa Dua
Read More, Diving Tanjung Benoa Beach Bali.