Firstly, do you want to try out the Bali Seawalker experience? You can enjoy Seawalker tour activities in Sanur, Bali, and Tanjung Benoa. Famous for its white sand beaches with clear, calm seawater, Tanjung Benoa Bali is an ideal location for various water sports activities, including the Bali Seawalker tour. Thus, secure an unforgettable experience with the Bali Seawalker in Tanjung Benoa, where you can walk under the sea while savouring the beauty of the underwater world, all at a reasonable price.
Bahasa Indonesia, Bali Seawalker di Tanjung Benoa: Wisata Water Sport dengan Harga Terjangkau.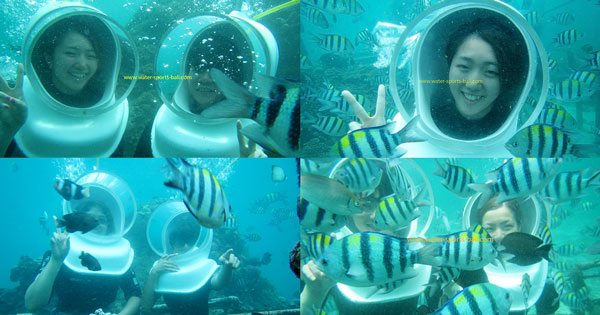 Advantages of Tanjung Benoa as a Location for Bali Seawalker Activities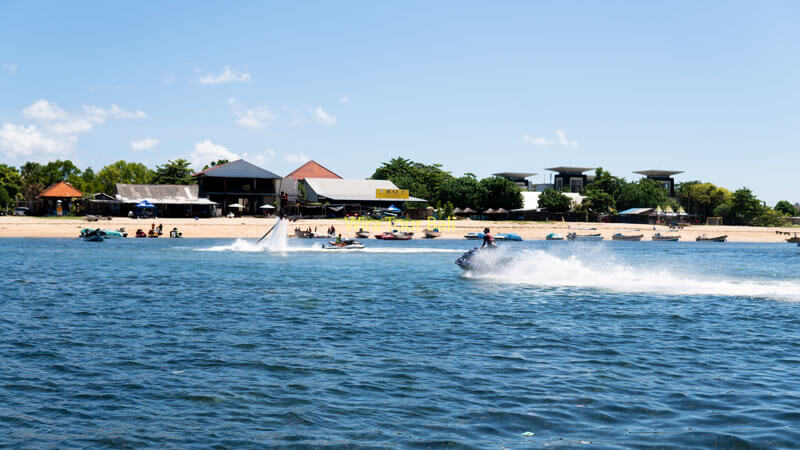 Above all, Bali is a paradise for water tourism enthusiasts, brimming with exciting activities. A must-try while vacationing in Bali is the seawalker. Also, this unique diving activity allows you to stroll on the ocean floor, and Tanjung Benoa is the perfect location for this adventurous holiday activity.
1. Economic Seawalker Prices
Seawalker activities in Tanjung Benoa are more affordable than in other locations such as Sanur. This provides an advantage for tourists wanting to experience diving without breaking the bank.
2. Variety of Water Tourism Activities
Above all, Tanjung Benoa is not solely about sea walkers. Here, you can enjoy various other water sports like jet skiing, parasailing adventure, snorkelling, Flying Fish, and many more. As a result, you can engage in thrilling activities in just one day at this location.
3. Accessible Location
Moreover, Tanjung Benoa's strategic location, roughly 30 minutes from Ngurah Rai Airport, makes it easily accessible. Moreover, the distance from Kuta Beach to Tanjung Benoa is about 18 kilometres, equating to a travel time of approximately 50 minutes.
In addition, visitors are not charged an entrance fee to the Tanjung Benoa area. Tanjung Benoa's proximity to other popular tourist spots in southern Bali, such as Nusa Dua and Garuda Wisnu Kencana Bali, allows you to visit more attractions daily.
4. White Sand Beach and Clear Sea Water
Tanjung Benoa is renowned for its underwater riches and stunning beaches. The best time to visit Tanjung Benoa for a sunrise view is early morning. Soft white sand beaches, calm and clear seawater, and expansive blue skies are the sights that will greet you. These beautiful aspects will make your seawalker experience even more enjoyable and mesmerising.
5. Professional Equipment and Guides
Seawalker activities in Tanjung Benoa utilise equipment that meets international standards and includes professional guide services. This ensures your comfort and safety while underwater.
6. Stunning Underwater Scenery
Tanjung Benoa boasts a wealth of beautiful underwater nature. With a seawalker, you can observe various fish and other marine life in their natural habitat.
Tanjung Benoa, with all its perks, has become a favourite destination for tourists visiting Bali. It offers an exceptional seawalker experience and other exciting activities to entertain tourists.
What is Bali Seawalker?
Seawalker activities in Bali, also known as Bali ocean walkers, dive walkers, or marine walks, are ideal for those wanting to enjoy underwater views without needing diving experience or expertise. Therefore, participants of the Tanjung Benoa seawalker do not need to be proficient in swimming or diving, such as in intro scuba dives, to participate in this activity.
Seawalker Activity Locations in Bali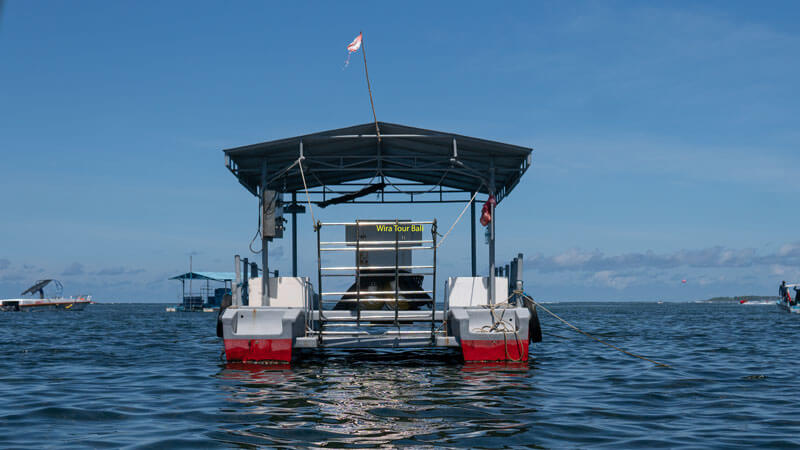 You can enjoy the Seawalker activity at various locations in Bali, including Tanjung Benoa, Sanur Beach, and Nusa Lembongan. However, please note that prices and locations for marine walks in Bali may differ.
Diving Experience with Bali Marine Walk in Tanjung Benoa
To clarify, Walking on the ocean floor offers a unique experience. Savour this one-of-a-kind sensation with the Bali Seawalker water sport activity at Tanjung Benoa Beach. When participating in the Seawalker, you'll wear a waterproof helmet with clear glass. This helmet is connected to a pure oxygen supply via an air tube, allowing you to breathe normally. Seawater will not enter the helmet, even if you wear glasses or contact lenses.
Preparation Before Activities
Most importantly, you will wear unique dive walker clothing that the activity operator provides. A speed boat will then transport you from Tanjung Benoa Beach to the dive walker location. Also, a trained and experienced guide will accompany you down a 6-meter-high ladder to the seabed.
Seawalker Activity Itinerary in Tanjung Benoa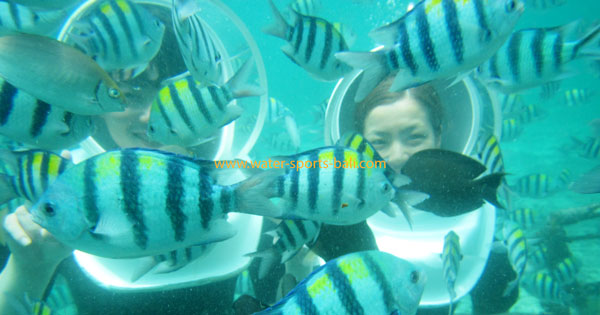 Here's what to expect during the Seawalker activity:
Participants will be prepared for the Bali seawalker activity and accompanied by a professional guide.
With the guide's assistance, descend the 6-meter-high ladder to the seabed.
Begin strolling on the ocean floor, viewing fish, sea plants, and coral reefs.
You'll have the chance to feed the fish swimming around.
The activity lasts approximately 30 minutes in the water (1-hour total duration, including preparation).
For the most rewarding experience, we advise undertaking the activity in the early morning (09:00 – 11:00).
Following these steps guarantees an unforgettable experience during the Seawalker activity in Tanjung Benoa. Watch Activity Videos on YouTube.
Tanjung Benoa Bali Seawalker Ticket Prices
| Publish Price | Our Price |
| --- | --- |
| IDR 1.000.000/person | IDR 325.000/person |
Information on Tanjung Benoa Dive Walker Prices
These prices remain valid until 31st December 2023.
Interestingly, our Bali marine walk tour prices do not differentiate between adults and children.
These prices correspond to the online rates for our Wira Water Sports Bali ocean walker activities. This online Bali seawalker price applies only to orders placed directly with us.
Conversely, the published price for the Bali seawalker tour is what you'll pay if you order and purchase tickets directly at the activity location.
Please follow this link for price comparison with seawalker locations in Sanur, Bali.
What's Included in the Bali Seawalker Tanjung Benoa Ticket Price?
The Tanjung Benoa Seawalker ticket price includes the following:
International standard equipment.
Experienced instructor service.
Transfer boat.
Bothie (special shoes for walking on the seabed).
In addition, Aditya Tanjung Benoa, Water Sports Bali, provides insurance for participants during the Tanjung Benoa ocean walker activity. However, this insurance only covers participants aged between 12 and 65.
Exclusions from the Bali Seawalker Tanjung Benoa Price
Please note that the activity ticket price does not include the following.
Food and beverages.
Cost of photos and videos taken during the activity (this is not mandatory).
Shuttle service. Contact us if you require additional shuttle services.
Description of the Ocean Walker Activity at Tanjung Benoa
Aditya Water Sports Bali is the operator providing the Tanjung Benoa dive walker activity.
The minimum order for Tanjung Benoa sea walkers is 2 participants.
The water sport activity takes place at Tanjung Benoa Beach, Bali.
The Tanjung Benoa water sports operator can cancel activities due to unfavourable weather conditions.
It is crucial to note that participants with a history of heart disease, lung disease, ear problems, epilepsy, or pregnant women are not permitted to partake in this Tanjung Benoa watersport activity.
Facilities Available at the Location
Indeed, the Seawalker Tanjung Benoa location provides a variety of facilities for your convenience. These include:
A large parking area for private vehicles.
Nearby eateries.
Changing rooms with shower facilities, lockers, and towels at no extra cost.
How to Avoid Additional Fees on Bali Seawalker Tanjung Benoa Activities
If you receive an offer for a marine walk tour in Tanjung Benoa at a price significantly lower than ours, ask if the price includes guide fees, insurance and equipment. Unusually cheap offers can sometimes incur hidden costs such as guide fees and equipment once your activities commence, making your total cost higher than ours.
Items to Bring
Before embarking on Seawalker activities, remember to bring the following:
A change of clothes.
Personal toiletries, sunscreen, hats, and sunglasses.
Extra cash for any personal purchases on-site.
Conditions to Qualify for a Free Shuttle
To qualify for a free shuttle, customers must:
Order three Tanjung Benoa watersport games for one person (minimum booking of 2 people) or a Tanjung Benoa watersport package (minimum booking of 2 people).
The areas in Bali included in the free shuttle service are Tanjung Benoa, Nusa Dua, Sawangan, Ungasan, Kampial, Kutuh, Jimbaran, Kedonganan, Tuban, Mumbul, Kuta, and Legian.
How to Book Tanjung Benoa Bali Seawalker Activities
Meanwhile, booking a Seawalker in Tanjung Benoa is straightforward and convenient. You can reach us via:
Our mobile numbers: +62813 3956 3400 and +62822 4714 8222.
Email info@water-sports-bali.com.
Fill out an order form for water sports on our website.
Please remember you agree to our terms and conditions by booking Tanjung Benoa water sports activities.
Payment Methods and Voucher Use
Payments can be completed via bank transfer, PayPal, Wise or at the activity site. It is advisable to confirm if you choose to pay on the spot.
Once we confirm your order and payment is complete, we will send you an activity voucher via email or WhatsApp.
Printing this voucher is not required; save it on your mobile phone.
This voucher is valid according to the stated date, and you can present it to our officers at the Tanjung Benoa Beach Aditya Watersport location.
Aditya Water Sports operates daily from 09:00 to 16:00 hrs, with the best time for Seawalker activity being between 09:00 and 11:00 hrs.
Please inform us of any changes in your arrival schedule. We aim to offer you the best and safest experience in water sports.
Please contact us immediately if you encounter issues with the Tanjung Benoa watersport voucher. Our reservation team is ready to assist promptly.
Guide for Cancellation and Schedule Changes for Seawalker Activities in Tanjung Benoa, Bali
If you wish to cancel your participation, you must do so no later than one day before the activity day, before 18:00. In case of cancellation; we will refund the amount you have paid for the Seawalker activity. Please note that the refund does not include administration fees, bank transaction fees, and other service fees.
If you cancel Tanjung Benoa watersport on the day of the activities, you will be charged a 100% cancellation expense.
In the event of unsuitable weather conditions and the operator decides to cancel the game activity, we will refund your payment. Besides cancelling the activity, you also have the opportunity to reschedule for the following day.
Please contact the service provider about cancellation policies, schedule changes, and applicable terms and conditions.