Are you looking for a unique and romantic dinner spot in Bali? If so, I would suggest you try the Bounty Dinner Cruise Bali. Then what kind of romantic dinner, Sunset Dinner Cruise Bali Bounty?
Bahasa Indonesia, "Makan Malam Di Kapal Pesiar Mewah Bounty Cruise" >>>
Furthermore, Bali Bounty Cruise is one of the luxurious cruise ships on Bali island and is included in one of the sightseer ship companies in Bali. Furthermore, the yellow colour ship is the main attribute of the Bounty Cruise ship.
In addition to offering cruise ship tour packages from Bali to the Nusa Lembongan island, the Bounty cruise also offers sunset dinner cruise activities in Bali.
Sunset dinner on an indulgent cruise ship will undoubtedly offer a distinguishable sense, particularly for those on a honeymoon in Bali. Besides being suited for those on their honeymoon in Bali, sunset dinner activities on luxury cruises are also ideal for family dinners.
The question is, during the dinner cruise, will the Bounty cruise vessel remain in the harbour during dinner or is the boat moving into the ocean? To answer this inquiry, I will write below the itinerary of the sunset dinner activity on the Bounty cruise.
Find Out: Where do you catch the boat to Nusa Lembongan?
Itinerary Bounty Cruise Sunset Dinner
Furthermore, the dinner trip on the Bali Bounty cruise ship will start from Benoa Harbor, Bali. Also, participants must reach Benoa harbour before 17:30 (Bali time). The reason is that boarding time will be at 17:30. Most importantly, please be aware that Benoa Harbor and Tanjung Benoa Beach is in a different place.
Furthermore, Bounty Cruise ships offer international standard dinner cruises with restaurants, toilets, and changing rooms. When you board the Bounty Cruise ship, you will be greeted with a welcome drink by the Bounty Cruise ship staff, who are dressed in traditional Balinese clothes.
Consequently, around 18:00, dinner on the cruise ship began. The Bounty Cruise ship will sail around the port of Benoa. You can enjoy the beautiful sea view of the Tanjung Benoa area from the Bali Bounty cruise ship.
In addition, you will also see a view of the mangrove forest with sunset nuances, which will make your dinner cruise even more memorable.
Read More, "Best Way To Get To Nusa Lembongan From Bali" >>>
Menu & Entertainment Activities Dinner Cruise Bali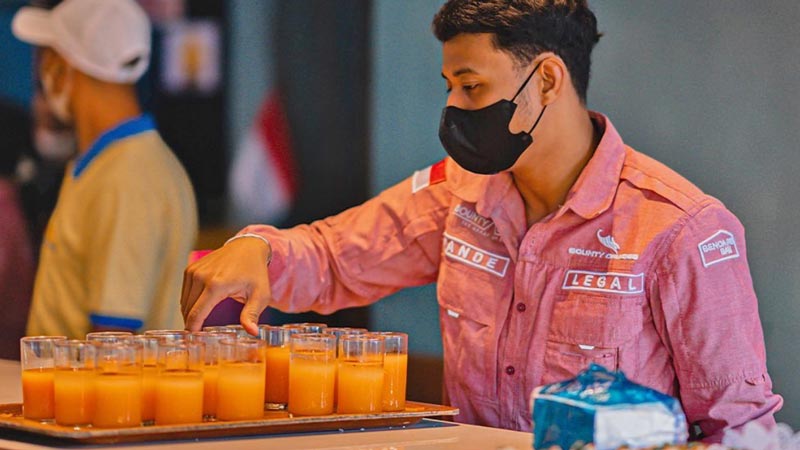 The menu served at dinner on the Bounty Cruise is international and Indonesian food. The dinners are buffet style. Dishes include salads, soups, processed seafood, Indonesian food, and other European menus.
While enjoying dinner on a cruise ship with romantic surroundings, you will be entertained by diverse performances. The shows that you will see during the Dinner Cruise in Bali include:
Balinese dance performance.
Modern dance show.
Live singer. You can also order a memorable song to make the atmosphere more romantic.
A professional DJ will play music to accompany your dinner.
The Singer trio will always accompany you throughout dinner on the Bounty ship.
Comedy Cabaret Show.
At 20:30, your Dinner Cruise in Bali is over.
Bali Bounty cruise dinners are usually full of booking, specifically on Valentine's Day, Eid Mubarak, Christmas, and before the new year.
If you are on your honeymoon in Bali, don't ignore trying the Bali cruise dinner. Of course, the Bounty Dinner Cruise in Bali will be a lovely memory for you and your partner during your vacation in Bali.
Read More, "Guide On Six-Days Honeymoon Itinerary Bali" >>>
Sunset Dinner Cruise Bali Bounty Price
| CATEGORY | Publish Price | Online Price |
| --- | --- | --- |
| Adult | USD 59 | IDR 600.000 |
| Children (3 – 12 years) | USD 29.5 | IDR 325.000 |
| Infant (Under 3 Years Old) | Free | Free |
Bali Bounty Dinner Cruise Prices Include
Balinese traditional dance performance.
Welcome, drink, and canapes.
International buffet dinner.
1 X mineral water.
Onboard live DJ.
Modern dance show.
Crew shows.
Comedy cabaret shows.
Live music.
Description of Bounty Dinner Cruise Bali
The location of the dinner cruise trip is around the port of Benoa, Bali.
The duration of the dinner cruise is from 18:00 – 20:30.
Furthermore, boarding for the Bali Dinner Cruise at 17:30.
Discover a distinctive and romantic dining experience in Bali with the Bounty Dinner Cruise. Learn more and book your spot today.
Booking
Furthermore, to get further information and book a Bounty Cruise dinner activity, please get in touch with our booking service;
WhatsApp Call & Chat: +62 813 3956 3400.
WhatsApp Chat Only: +62 822 4714 8222.
+62 366 5581096 (Office Telephone Land Line).
You can email us at info@water-sports-bali.com.
Also, you can fill out the booking form below.
Booking Form
Terms and Conditions
The cost of the Bounty Dinner cruise is for 1 participant.
The minimum order for a Bali dinner cruise is two people.
The Bali sunset dinner cruise rate only applies to International travellers.
Dinner on the Bali Bounty cruise does not include beverages. Participants can order drinks directly on board, and the price of beverages adjusts according to the type of beverage ordered.
The price of the dinner tour package on the Bounty cruise does not include a shuttle. You can use your transportation or taxi to get to Benoa port.
The minimum order days for a Bali dinner cruise is four days before the dinner date.
Payment for dinner activities on the Bounty cruise is paid in full three days before the dinner date.
If the customer cancels the dinner reservation on the Bounty cruise two days before the activity date, we will not refund the payment.
Bounty Cruise has the full right to change schedules and activities, and this is beyond our authority as a tour agent for dinner on Bali cruises.
The online price is the promo price for the Bounty Cruise dinner you will get if you order through us (Wira Water Sports Bali/Wira Tour).
Above all, the published price rate is the price you will get if you book directly with Bounty Cruise Bali.
Bounty Cruise Bali, sunset dinner prices are valid until March 31, 2024.