If you want adventure vacation activities in Bali, try the Timbis Paragliding Pandawa Beach Kutuh Bali. By trying paragliding activities, you will get a thrilling adventure. Furthermore, Timbis is one of the best paragliding operators on the island of the gods. The flight area is close to Pandawa Beach Kutuh. With beautiful views of Pandawa Beach and professional pilots, Timbis will deliver an unforgettable holiday experience for those who dare to fly utilizing paragliding. On this page, you will discover more detailed information about how to order and Timbis Paragliding Bali ticket prices.
Bahasa Indonesia, Harga Tiket Timbis Paralayang Bali.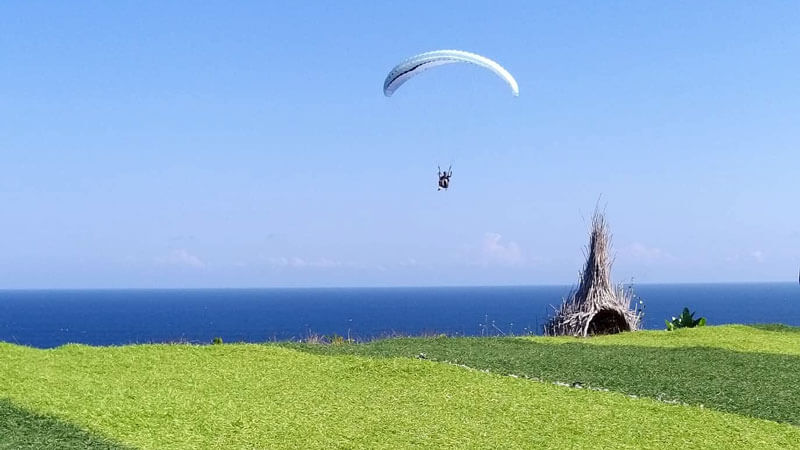 Timbis Paragliding Bali
Take advantage of the tandem paragliding ticket promo price by Timbis Paragliding Bali. Uncover the beauty of Bali from an altitude by flying paragliding over the Indian Ocean and seeing views of the Pandawa beach and limestone cliffs. Experience tandem paragliding and beat your fear of heights. Book now and be part of an unforgettable holiday adventure in Bali!
Timbis has been one of Bali's oldest and most established paragliding operators since 1995. Also, the Bali paragliding activity company is known for its commitment to the participants' safety.
As a tandem paragliding operator, Timbis allows visitors to feel the sensation of flying attended by trained pilots. In addition, tandem paragliding flights are designed for beginners or those trying paragliding for the first time. So that participants who do not have knowledge or training can take part in the Timbis Paragliding tandem activity.
See Everything You Need to Know Before Trying Bali Paragliding.
Location of Timbis Paragliding Pandawa Beach Bali
The flying location from Timbis Paragliding is above a high cliff. The address is in Kutuh Village, South Kuta District, Badung Regency, Bali. To the west of the Timbis cliff location is Pandawa Beach. On the east side is the location of Gunung Payung Beach.
To simplify locating the Timbis cliff Pandawa Beach in Kutuh village, south Bali, please use Google Maps by clicking the link below!
See the location of the Timbis Flying Site on Google Maps.
Safety Is Timbis Paragliding's Top Priority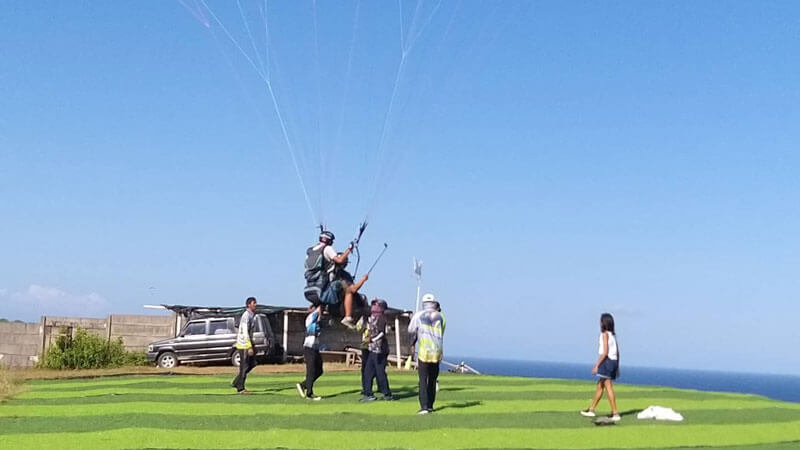 Timbis Bali sets safety as its top priority because paragliding activities carry a high risk. Timbis Management implements precautionary measures to ensure safe flights for participants and pilots.
Measures to ensure security are carried out such as;
Check and maintain equipment regularly.
The staff and pilot monitor the weather.
They are recruiting tandem paragliding aviators who are experienced and have a flying license.
In addition, each participant will be briefed on safety and security before the flight.
As a participant, you should comprehend the essential parts of the paragliding activity before commencing the flight or before trying any paragliding activity anywhere. You must understand the following crucial things before flying utilizing paragliding.
See Prices for Tandem Riug Paragliding In Sawangan Beach Nusa Dua.
1. Weather Aspects
Participating in Bali Paragliding activities will be capable of providing an exciting vacation adventure. Still, your safety must consistently be the top priority. The weather is one of the most critical aspects to evaluate before trying to fly utilizing paragliding.
The Timbis Bali emphasizes monitoring climate requirements before flying, thus ensuring safe paragliding flights. Therefore, Timbis Paragliding Pandawa Beach Kutuh has enabled it to endure competition until now by delivering tandem Para-gliding activities for travellers.
In this case, the weather elements are wind speed, direction, and clouds. If the weather meets the requirements for flight, then the Timbis Paragliding Pandawa Beach Kutuh activity begins. Not only before flying but during the flight, the weather circumstances are also monitored and pay attention to changes in weather conditions.
Search, Prices for Bali Parasailing Adventure Tanjung Benoa.
2. Paragliding Equipment Routine Maintenance
Routine checks and maintenance of paragliding gear are necessary to secure the safety of paragliding players during flights. Timbis Paragliding pilots and crew always check and maintain the equipment and ensure that the gear is in an appropriate state and safe to operate.
During the equipment inspection, staff and pilots will check various components of paragliding equipment, such as the harness, carabiner, riser, and glider itself. In addition, the crew checking the kit will look for signs of wear or damage. Also, the storage of paragliding gear must be proper to avoid damage from exposure to salt water.
See 5 Things You Need to Know About Bali Parasailing.
3. Licensed and Experienced Paragliding Pilot
Timbis Paragliding Pandawa Beach employs experienced aviators, and pilots must have a flying license and certification to guarantee participants' security and safety.
Pilots who have flying authorization are instructed to undergo training. In addition, flyers must be trained to deal with emergencies and unexpected challenges during flying.
In addition to having a flight permit and certification, aviators must also know and understand the flight zone and local weather patterns in each season. Knowledge of weather patterns will allow tandem paragliding pilots to decide when and in which direction to fly.
See Adventure in Bali's Nature with Bali ATV Ride at Affordable Costs.
Staff Friendliness
One aspect that makes Timbis Paragliding get good customer reviews is the professionalism and friendliness of its staff.
Timbis Bali staff ensures you are comfortable when you arrive at the flight location. In addition, the team is knowledgeable, experienced, and willing to explain in detail about paragliding activities.
Find Out the Romance of a Sunset Dinner Cruise with Bali Bounty.
Who Can Participate in Timbis Paragliding Kutuh?
Almost everyone can participate in Timbis Tandem Para-gliding because players do not require paragliding experience.
So anyone healthy, fit enough, and over five years old and a maximum of 60 can participate in Timbis tandem para-gliding. In addition, the maximum participant weight is 110 kg (242 pounds).
See Prices for Camel Rides on Sawangan Beach, Nusa Dua.
Opening Hours & Best Time for Paragliding on Timbis Cliff, Pandawa Beach, Bali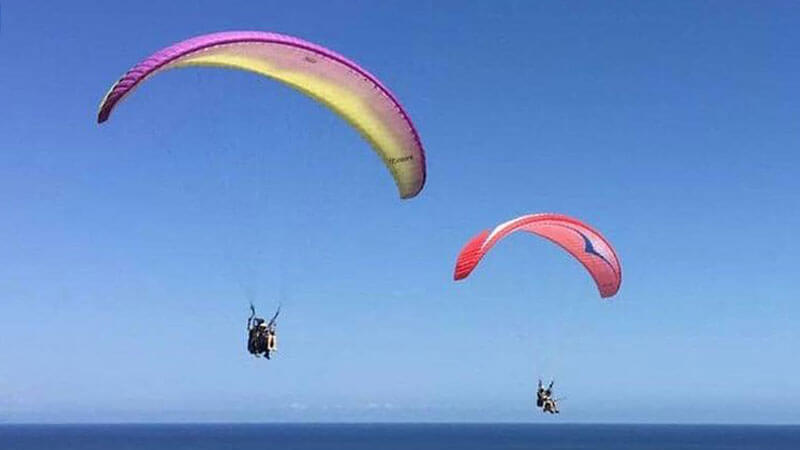 The best time for paragliding on the Timbis cliffs of Bali's Pandawa Beach is during the dry season, from April to October. During dry seasons in Bali, the weather is generally sunny, with little chance of rain or strong winds.
Also, paragliding flights are usually carried out in the afternoon until the evening when the wind velocity is more stable and calm.
What are the operating hours for Timbis Kutuh Bali? Timbis Paragliding operating hours are every day from 12:00 to 17:00.
See, the prices for water sports activities in Tanjung Benoa are affordable.
Timbis Tandem Paragliding Adventure
Your paragliding adventure in Bali will start when you meet the pilot. Then, you will be fitted with tandem paraglider equipment.
Furthermore, paragliding will take off from the top of the hillside, close to Bali's famous tourist attraction, Pandawa Beach. The cliff's height provides a take-off location of approximately 110 meters above sea level.
While the pilot controls the glider, you can unwind and enjoy the views of the coastline, cliffs, and sea waters south of Bali. Therefore, participating in paragliding activities is a compelling and unique way to feel the natural beauty of Bali from a height.
In addition, you can ask the paragliding pilot to fly according to your convenience. Do you prefer to fly relaxed and stable, or do you like adrenaline with a more aggressive flying style?
Order a water sports package at Tanjung Benoa Beach to save your vacation budget.
Tandem Timbis Paragliding Bali Ticket Promo Prices
| Publish Price | Our Rate |
| --- | --- |
| IDR 1.200.000 | IDR 860.000 |
Information on Timbis Paragliding Ticket Fees
A professional pilot will escort each player during the flight.
The published price by Timbis para-gliding is the rate customers get if they order tickets presently at the flight zone.
Online prices for Timbis para-gliding are special rates for bookings through the Wira Water Sports Bali/Wira Tour.
Timbis Paragliding prices are valid until March 31, 2024.
See Bali River Rafting Adventures.
Timbis Paragliding Tandem Ticket Prices Include
The following is included in the package:
Timbis paragliding Kutuh flight duration is approximately 15 minutes.
There is an action camera with a selfie stick.
Videos and photos will be stored on the memory card.
Including insurance for paragliding participants provided by Timbis Paragliding Kutuh.
All paragliding equipment and safety equipment required by participants.
Tandem Paragliding award certificate.
See, Explore Nusa Lembongan Island: 1 Day Bali Hai Cruise Tour Package.
The Tandem Timbis Paragliding Ticket Price Does Not Include
The following is not included in the package price:
Food and Drink.
It does not have a shuttle service (if the customer requests a shuttle, it will be available at an additional cost).
Expenses for personal use.
Not including the entrance ticket to Pandawa Beach.
Read More: Popular destinations to visit in South Bali for first-time visitors.
Additional Information, Timbis Tandem Paragliding Terms & Conditions
The following is additional information and terms & conditions for the Timbis Tandem Paragliding activity. Before you place an order for paragliding activities in Bali, there is some information you need to know and pay attention to:
Paragliding activity is not permitted for pregnant women.
Participants with a history of heart disease, epilepsy, or other congenital conditions cannot partake in paragliding activities.
Paragliding players must be between 5 and 60 years old.
The weight of paragliding parties must not exceed 110 kg.
The paragliding pilot will determine who can fly and when to fly.
Flying activities employing paragliding depend on weather requirements such as strong winds, weak winds, and rain.
Timbis Paragliding will offer the option of rescheduling or refunding if the paragliding flight cannot continue due to sudden weather changes.
Enjoy the Beauty of Bali's Saba Beach While Riding a Horse.
Things You Should Bring
Here are some items to carry when paragliding in Bali:
Wear comfortable clothes that absorb sweat and allow you to move freely.
Wear sports shoes with a good grip to protect your feet during take-off and landing.
Bring sunglasses to protect your eyes from the sun's glare.
Before flying, apply sunscreen to protect your skin from the sun's rays.
Bring a water bottle so you don't get dehydrated.
Carry a camera or smartphone with a camera to capture the beautiful view of the Timbis cliffs as you wait your turn to take flight.
Bring sufficient cash to cover your expenses at the paragliding venue.
Please remember to bring the voucher you were given for re-registration at the paragliding site. It is acceptable to save the voucher on your mobile device instead of printing it.
Should winter occur in Australia, it is advisable to wear a light jacket while paragliding to maintain your body temperature.
See A Comprehensive Guide to Booking Paragliding Adventures in Bali.
Meeting Point & Voucher Exchange
After you make your booking, we will confirm the location of the meeting point and voucher redemption location since Timbis Paragliding has two flight base locations. The exact address will be sent to you through email or WhatsApp.
Flight Base Location:
FAQ: Timbis Paragliding Kutuh
Here are some frequently asked questions by our previous customers who want to book Timbis Paragliding adventures:
What is Timbis Paragliding Kutuh?
Timbis Para-gliding is a company that offers a popular vacation adventure on the cliffs of Kutuh Village, located in the southern region of Bali. Here, visitors can fly through the air with professional paragliding pilots and take in the breathtaking natural views in south Bali from above.
Is it safe to participate in Timbis Paragliding Adventure?
Timbis is a well-established para-gliding operator that has been operating since 1995 until now. The team at Timbis Para-gliding includes experienced professionals who prioritize the safety of their customers. Before taking a flight, you will receive basic paragliding knowledge and safety procedures to provide a safe and enjoyable experience.
How long does the flight last?
Flights usually last 15 minutes, depending on weather conditions and wind direction.
What should I wear during paragliding?
You should wear comfortable clothes and shoes. Avoid wearing skirts or dresses and flip-flops or sandals.
Do I need to make a reservation?
It is recommended to make a reservation in advance to ensure availability. You can contact us to book Timbis Paragliding activities.
Is there an age limit for paragliding participants?
Yes, the minimum age requirement for paragliding is five years old, while the maximum is 60.
When is the best time for paragliding in Timbis?
The ideal time for para-gliding in Timbis is during the dry season in Bali, from April to October. Paragliding flights are generally scheduled in the afternoon to late afternoon, as the winds tend to be less turbulent.
Booking Tandem Timbis Paragliding Kutuh Bali
Please contact our reservation team to book the Tandem Timbis Paragliding adventures. You can get them in several ways:
Phone Call: +62813 3956 3400.
Phone: +62822 4714 8222 (WhatsApp Chat).
Send an email to info@water-sports-bali.com.
You can also fill out the Tandem Bali Paragliding booking form below.
We also provide a button to make connecting with our reservation team easier via WhatsApp.
Timbis Tandem Bali Paragliding Booking Form
Timbis Paragliding Pandawa Bali Tandem Voucher Exchange
After you make a reservation and pay for the Tandem Timbis Paragliding activity, our staff will send a voucher via WhatsApp or email.
We will also send the location address and Google Maps of Tandem Timbis Paragliding via email or WhatsApp.
You don't need to print the voucher we sent; save it on your smartphone and show it when you arrive at the Timbis Paragliding location.
Remember to show the voucher to the reception staff on site.
The Timbis Paragliding Tandem Voucher is valid according to the date stated. If there is a schedule change, don't hesitate to contact our customer service.
Read More, Catch the Fascinating World of Birds at Bali Bird Park – A Must-Visit Attraction.
Reschedule & Refund Terms
We are unable to accommodate requests to reschedule activity dates at this time.
To acquire a full refund, activity cancellations must be submitted at least two days before the confirmed activity date and before 2:00 PM (Bali Time).
Activity cancellations are made within one day of the scheduled activity date. A 100% cancellation fee will be charged to your booking.
The party must appear at the appointed activity site on the date stated on their voucher, or it will be regarded as a no-show. No-shows will be charged a 100% cancellation fee.
Client requests to cancel an activity on the scheduled date will be charged a 100% cancellation fee.
Please note the refund amount client receive exclude service fees, discounts, Wize fees, PayPal fees, or bank transfer fees.
Suppose Timbis Paragliding cancels the activity due to weather; players can either reschedule for the next day or receive a refund.
If you want to cancel your activity, please contact customer service.
Related Article That People Also Search