Pandawa Beach Bali is one of the renowned white sand beaches in southern Bali. Pandawa Beach is located in Kutuh Village, Badung Regency, and was previously popular among foreign tourists; named Bali secret beach. At the same time, the local community is more familiar with the name Kutuh Beach. How about you? Are you interested in a holiday to Bali's Pandawa Beach? If so, please continue reading this page! This page contains information, entrance fee, guides & holiday tips for Pandawa Beach Kutuh.
Indonesian Language: "Pantai Pandawa Kutuh Bali – Lokasi & Harga Tiket Masuk" >>>
Address & Beach Location
Then where is Pandawa Beach located in Bali?
The address is Jalan Pandawa Beach, Kutuh Village, South Kuta District, Badung Regency, Bali Province 80361. To enter the beach area in Kutuh Village Bali, you must pass a road flanked by steep rocky cliffs. On this cliff is a statue of Panca Pandawa taken from the Mahabharata story. Therefore the beach is called Pandawa Beach Bali.
The location of the beach is located behind a very high limestone cliff. From the top of the cliff, you will be able to see the Indian Ocean beautiful view. Please use the Google map below for those who want a location map.
Click Here, "Pandawa Beach Google Maps" >>>
Mileage & Travel Time
Suppose you are departing from Bali's Ngurah Rai airport. In that case, you will take a 1-hour journey with a distance of 18 kilometres over Jalan Goa Gong Jimbaran.
Although the distance is only 18 kilometres, the travel time needed to reach the beach location is one hour. The road traffic jam causes a longer time to get to the beach location; you will see on most of the road heading to GWK culture park Ungasan Bali. Also, the street is small and bent in two ways direction.
Furthermore, most Indian, Australian, and Chinese tourists on vacation to Bali choose to stay in Kuta Bali's tourist area. Therefore, it's good for me to list the distance from Kuta Beach to Pandawa Beach Bali.
If you leave the Kuta Beach Bali area and head to the Pandawa Beach location, it will cover 21 kilometres, with an estimated travel time of 1 hour and 15 minutes.
See More "Nusa Dua Beach, The Cleanest Beach In Bali" >>>
Car Hire With a Driver
Suppose you are uncomfortable driving in Bali and would love to visit Pandawa Kutuh Beach. In that case, you get Bali car hire with a driver primarily available all the time. Your driver knows the location of Pandawa Beach Bali and, with pleasure, escorts you there. The car hire with the driver included fuel in Bali, costing around IDR 700.000 / 12 hour for six-seater family MPV cars.
Read More, "Guide On Holiday Transportation In Bali That You Need To Understand'' >>>
Bali Pandawa Beach Attraction
If you don't have vacation experience visiting Pandawa Beach Bali before attending, you will most likely ask! What attractions of Bali's Pandawa Beach make so many tourists visit?
Pandawa Beach Bali is famous as one of the secret beaches in Bali among foreign visitors. Is it still a remote beach now? Not at this moment! It can be considered Bali's secret coast if you come to Bali in 2000 and visit Kutuh Beach Bali.
However, since road access opened to the public in 2012, Pandawa Beach is no longer one of Bali's hidden beaches. Every day, Pandawa Beach is always crowded with tourists visiting. Nowadays, Pandawa Beach Bali is one of Bali's famous white sand beaches. Many visitors visit Pandawa Beach daily, so it is not a secret beach anymore.
International tourist visits no longer dominate Pandawa Beach Kutuh. Many vacationers at Pandawa Beach Kutuh are domestic tourists. My entire appeal of Pandawa Beach Bali as a reference before a holiday.
Read here, "List of 10 White Sand Beaches in Bali Suitable for Children to Swim" >>>
Beach Entrance Gate
When you enter the Pandawa Beach area, you will see an entrance gate with four access points passed by the vehicle. These four accesses resemble Toll road gates and are made of white limestone.
You will pay entrance and vehicle parking fees at one of these entry gates. Regarding the entrance fee's price to enter Pandawa Beach Bali, I will inform you below.
Bali Pandawa Beach Entrance Fee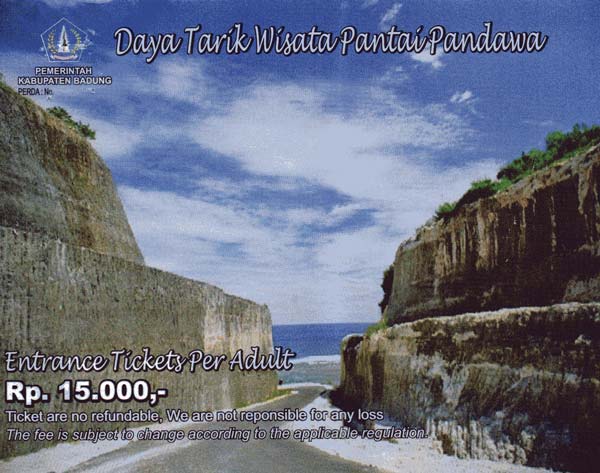 Almost all tourist attractions in Bali will charge an entrance ticket. When we publish this article, as of 05 June 2023, the ticket prices to enter Pandawa Beach, Bali, are as follows.
| Category | Ticket Price |
| --- | --- |
| Adult | IDR 15,000/person |
| Car parking | IDR 5,000/1 car |
| Motorcycle parking | IDR 2,000/1 motorbike |
Note On Pandawa Beach Entrance Ticket Prices
Pandawa Beach Bali entrance ticket costs can change at any moment.
If there are modifications to the ticket expense for entering Pandawa Beach Bali, we will update this page immediately.
The entrance ticket will change during a specific event at Pandawa Beach. However, if there is no event, the ticket cost for entering Pandawa Beach is standard, as shown in the table above.
See here: "List of Attraction Entrance Ticket Prices in Bali" >>>
The Indian Ocean Scenery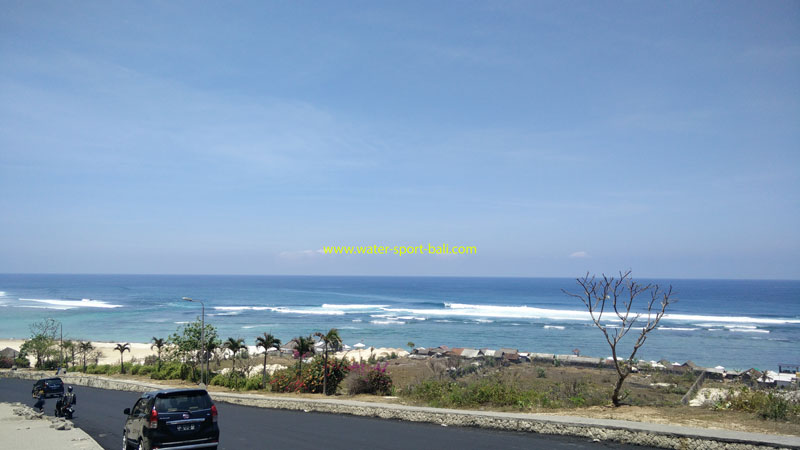 After you pay for the entrance ticket, you will pass the highway with smooth tarmac. At the edge of the road, you will see towering limestone cliffs. After several meters, you will see a view of the Indian Ocean and a white coastline.
Read Here, "The Balian Beach Tabanan – Southwest Bali Hidden Beach" >>>
Statue of Panca Pandawa
From the cliff's top, you can see a huge parking lot for visitors' vehicles. While on the left side of the highway, there are six holes in the cliff. Inside this hole are statues of Five Pandavas and his mother, Dewi Kunti. The first statue of Five Pandawa that you will see is the statue of Yudhishthira, Bhima, Arjuna, Nakula, and Sahadeva.
Spacious Parking Area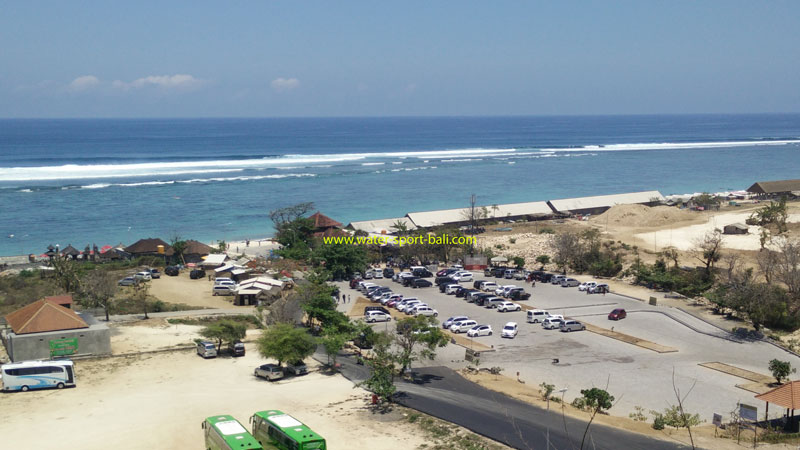 You will see an extensive vehicle parking area after you go down the highway from the Panca Pandawa statue's location. Although Pandawa Beach is crowded with tourist visits, finding a car parking space is very easy. Also, the location of the parking lot is adjacent to the beach shoreline area.
See Here, "Petitenget Beach In Seminyak Bali – Everything You Need to Know Before Visiting" >>>.
The Beauty of Bali's Pandawa Beach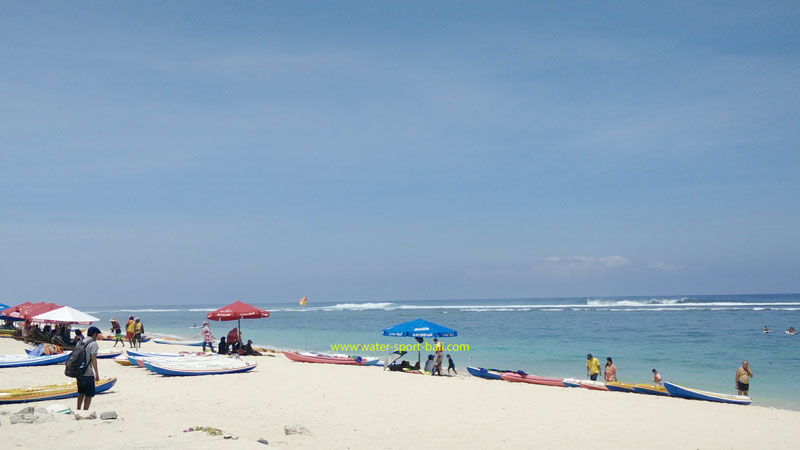 Every tourist who visits Pandawa Beach in Kutuh village will be amazed by the beautiful beach scenery. Arriving on the shoreline, you will see a white sand beach stretch as far as 1 kilometre: fine sand texture and yellowish-white sand.
The beach's cleanliness is quite awake, and the waves are calm. When you set foot on the beach and overlook the Indian Ocean, you will see a beautiful blend of colours. The sea watercolour on the shore is green with a blue seawater gradient.
Pandawa Beach in Kutuh village is one of the best beaches in Bali that you must visit. Because the beach view is lovely, the seawater is apparent, and even I can see the seafloor while swimming. Besides, the ocean waves are very calm, and I can swim without fear of being drawn by ocean currents.
Find Here, "The 10 Best Places in Bali for Sunset Watching" >>>
Visitor Facility
Like other beach attractions in Bali, the primary facilities visitors want when on vacation to the beach are the availability of toilets, changing rooms, bathrooms, and clean water. Then what about Pandawa Beach? Are these facilities available?
Pandawa Beach has toilets, changing rooms, and bathrooms with clean water. So you can rinse your body after swimming or playing on the beach sand.
Places to Eat & Drink
If you visit Pandawa Beach with family and children, you don't need to bring your food and drink. Along the edge of the coastline, there are many food stalls.
The food stall provides a large selection of fried rice, fried noodles, grilled seafood, and several types of Western food. For cold drinks, it is also available in almost all beachside stalls. You can also order whole young coconut drinks.
If you want to sunbathe on this beach, the food stalls provide sun loungers and umbrellas you can rent. Bring a mat to sit comfortably on the beach if you don't want to spend your money on a sun lounger rental.
Traditional Balinese Massage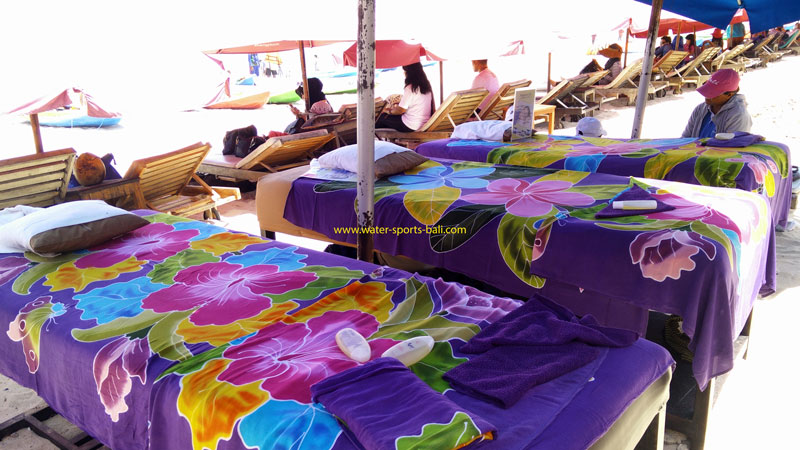 Want to try reflexology? On this beach are reflexology services, the name of the place where Pandawa SPA. The following is a price table from Pandawa SPA.
| Type of Massage | Price / Person |
| --- | --- |
| Pandawa Massage - 90 Minutes | IDR 130,000 |
| Balinese Massage - 60 Minutes | IDR 100,000 |
| Balinese Massage - 90 Minutes | IDR 130,000 |
| Relaxation Massage - 60 Minutes | IDR 100,000 |
| Back Massage - 30 Minutes | IDR 50,000 |
| Shiatsu Massage - 60 Minutes | IDR 100,000 |
| Foot Reflexology Massage - 30 Minutes | IDR 40,000 |
| Foot Reflexology Massage - 60 Minutes | IDR 80,000 |
| Manicure - 60 Minutes | IDR 60,000 |
| Pedicure - 60 Minutes | IDR 60,000 |
| Manicure & Pedicure - 60 Minutes | IDR 100,000 |
Please note that the massage price above may change without prior notice.
Tourist Activities on Bali's Pandawa Beach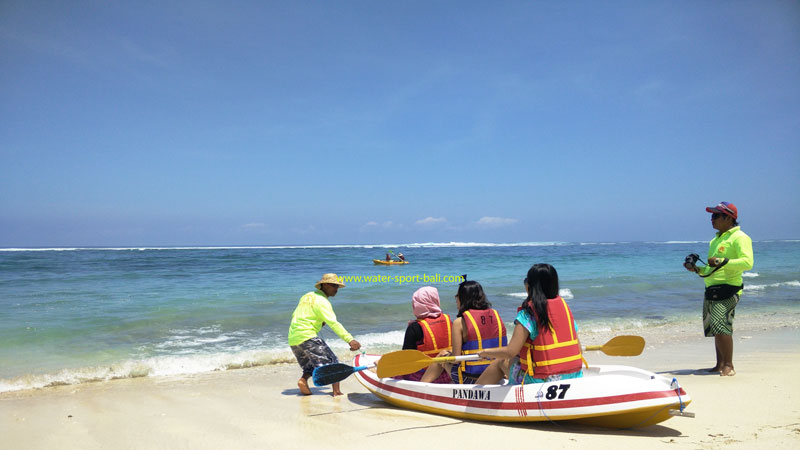 Suppose you are looking for the best place to visit in Bali for families. In that case, we recommend Pandawa Beach Kutuh for you to see because Pandawa Beach is suitable for kids who love to swim. Therefore, we can recommend this beach as one of the best beach attractions for children in Bali.
In addition to swimming activities, the beach also offers canoe rental services for water sports recreation. Here is a list of canoe rentals price on Bali Pandawa Beach.
Single Canoe: IDR 50,000 / 1 person, 1-hour duration.
Double Canoe: IDR 100,000 / 2 people, 1-hour course.
Afraid of drowning when you ride a canoe? You can wear a life jacket. If you don't desire to hire a Canoe but want to wear a life jacket, you can rent a life jacket for IDR 20,000 / 1 hour. The rent for the sundeck + umbrella is IDR 50,000 / hour.
Please note that the rental rates for canoes at Pandawa Beach above may change without prior notice.
Pandawa Beach Opening hours
The gate access to Pandawa Beach and ticket counters are open daily from 08:00 – 18:00. If you want to do activities at Pandawa Beach at night, such as camping gala dinner, please coordinate in advance with Pandawa Beach Bali's administrator.
Bali Pandawa Beach FAQ
Below are some topics tourists often ask before vacationing at Pandawa Beach Bali.
Is there a locker or a storage facility at Pandawa Beach?
For luggage storage on Pandawa Beach, locker rental services are available in the visitor information area.
Is Pandawa Beach Bali great for sunset scenery?
The Pandawa beach shoreline faces the south, then the opportunity to see the sunset at Pandawa beach if the sun is leaning into the southwest side.
Does the beach access from the vehicle parking lot have plenty of stairs?
There are no stairs. Beach access from the vehicle parking lot is very close, with no stairs. Also, road access to the beach using a paving block.
Watersport Activities in Bali For Family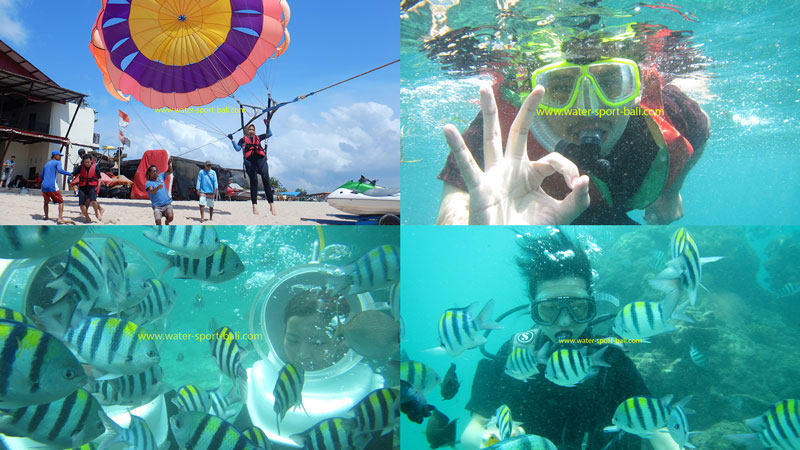 Suppose you want to experience watersport activities on vacation in Bali, more than just a canoe ride. In that case, you must visit the Tanjung Benoa beach in Bali. Bali water sports are Tanjung Benoa available such as parasailing, jet-skiing, banana boat rides, turtle island tours, rolling doughnuts, sea walkers, and many other exciting watersports games.
Please click the link to learn the Tanjung Benoa watersport Bali price list!
Most people who love doing Bali canoe activities also love Bali river rafting. Bali also offers whitewater rafting adventures. Mainly on two rivers and there are:
1. Ayung River Ubud.
Attractions Adjacent to Pandawa Beach Bali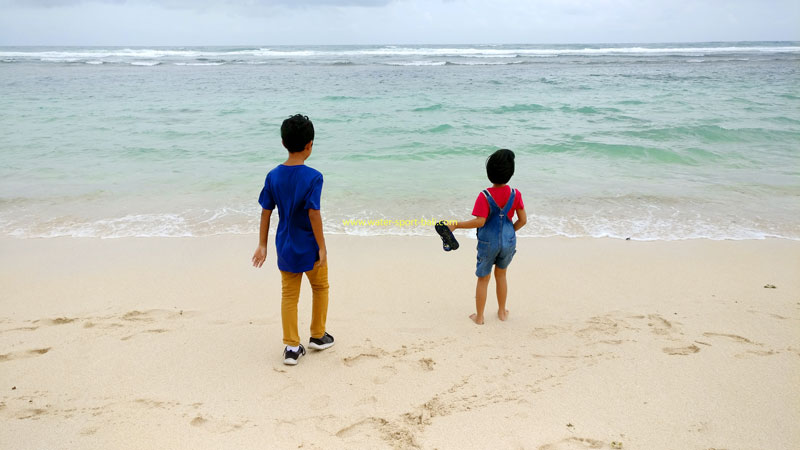 If you are visiting, Pandawa Beach is the leading tourist destination you want to attend. It's good that you also know the tourist attractions in Bali, located near Pandawa Beach Bali.
Because the beach area is in southern Bali, finding exciting attractions adjacent to Pandawa Beach Kutuh will be effortless. Here is a list of attractions near Bali's Pandawa Beach.