Bali, the jewel of Indonesia, offers something for every traveller. Whether seeking spiritual enlightenment, culinary adventures, or adrenaline-pumping excitement, this guide about things to do in Bali will ignite your wanderlust. Bali beckons from the serene shores of Seminyak to the cultural allure of Ubud. Dive in, and discover the Island of the Gods.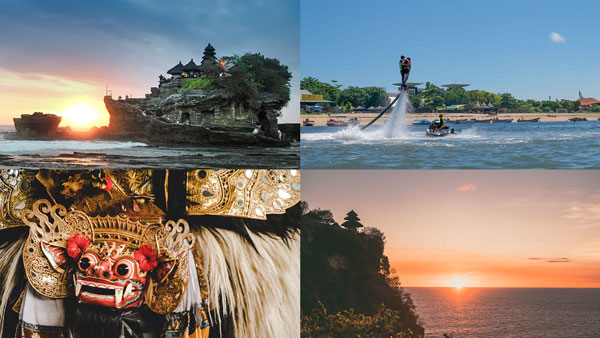 Please note that all the information provided on this page is subject to change and may not be current when publishing the article. Details like opening hours, entrance ticket prices, and other relevant information may undergo modifications. It's recommended to verify the most up-to-date information before planning your visit.
Unleash Your Inner Adventurer: Things to Do in Bali
1. Brave the Rapids: Telaga Waja River Rafting
Above all, for thrill-seekers, Bali's fierce rapids beckon. Battle the swift currents and test your rafting prowess amidst nature's splendour by joining Telaga Waja Rafting.
Location: Telaga Waja River in East Bali Google Maps. Around a 1.5-hour drive from Ubud.
Adventure: Unleash your inner thrill-seeker with Bali's fierce rapids.
Budget: From IDR 300.000 – IDR 500,000, the higher price includes extras like a buffet lunch and shuttle.
Book with reputable providers like BMW Rafting.
Start Timings: Mornings (10 am – 11 am).
Season: Best post-rainfall, November to March, for the most exciting rapids.
Age Limits: 7+ years old; minors require parental consent.
Health Considerations: Must be physically fit, with no chronic health issues.
Skills Needed: Basic swimming is a plus but not required, as safety measures are in place.
2. Off-road Adventures: ATV Ride in Ubud Things To Do In Bali With Family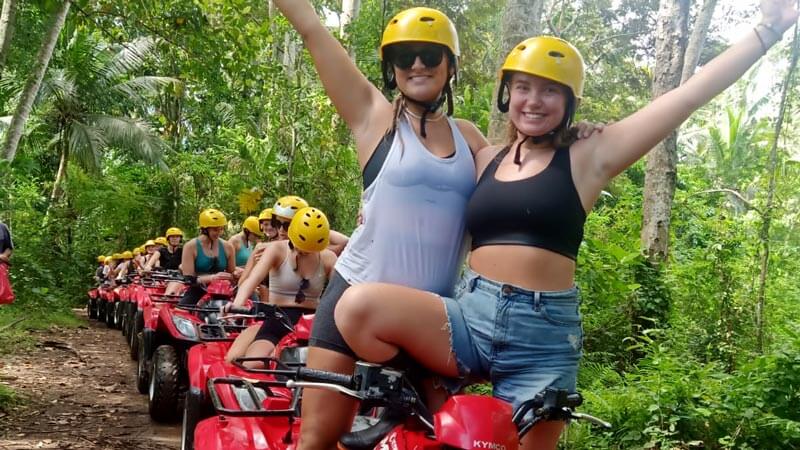 The ATV Ride in Ubud is a fantastic way to see a different side of Bali. The blend of adventure and exploration of natural scenery makes it a thrilling choice for those looking to get off the beaten path. It's an activity that offers a fun and exciting way to experience Bali's landscapes.
Location: Various spots around Payangan Ubud, Bali, such as Kuber ATV Ride Payangan.
Experience: Explore Bali's natural beauty on an ATV, navigating muddy trails, lush jungles, and Ubud's rustic charm.
Budget: IDR 500.000 – 700,000 for a 2-hour ride, a fair price for a unique adventure.
Timings: Available from 8 am to 5 pm; bookings are recommended to secure your spot.
3. Camel Riding in Sawangan Beach Nusa Dua: Fun and Exciting Things to Experience in Bali
Details:
Experience: A leisurely camel journey framed by the stunning blue sea.
Budget: IDR 300.000 – IDR 700,000 for the experience.
Timings: Best enjoyed in the morning (8 am – 10 am) for serene beach vibes. Booking in advance is recommended.
This activity promises a novel and delightful way to appreciate Bali's beauty, creating standout memories of your trip.
4. Gallop Along the Shores: Horse Riding at Saba Beach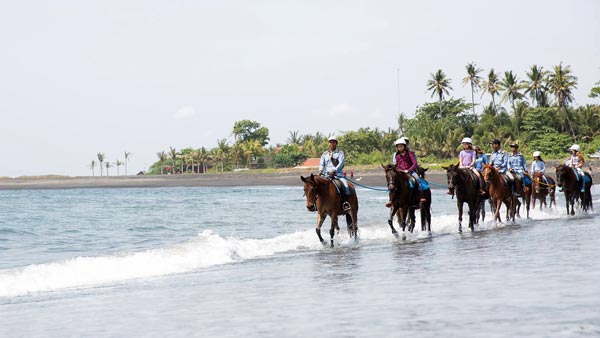 Enjoy the freedom of galloping along the scenic shoreline, feeling the wind in your hair, and connecting with nature on this unique equestrian adventure.
Location: Saba Beach, Gianyar Regency Google Maps. It is a 30-minute from Sanur Beach.
Experience: Whether a seasoned rider or a beginner, horse riding at Saba Beach offers a refreshing experience along Bali's beautiful coast. Ideal for all, it's a blend of adventure and romance.
Budget: IDR 600,000 per hour.
Seasonal Recommendations: Best during the dry season, May to September.
Booking Information: Reservations are recommended for this famous escapade.
5. Touch the Sky with Riug Paragliding: Thrill Things To Do In Bali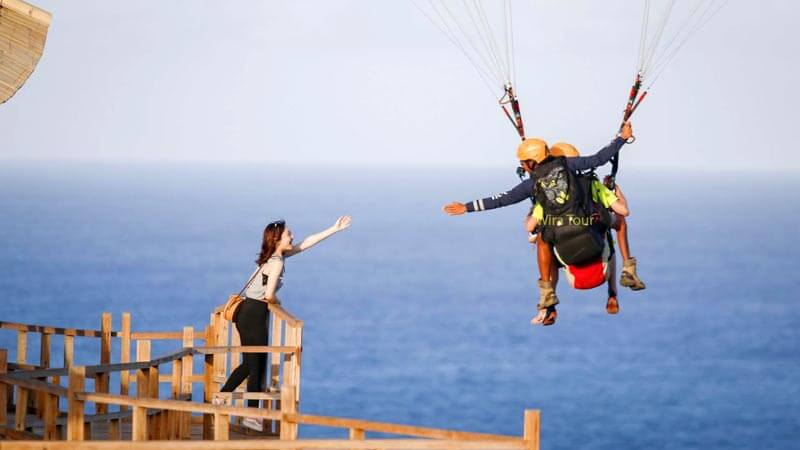 Riug Location: Fly over Bali's stunning coastal regions, with Uluwatu in South Bali being a favoured spot.
Experience: Soar above the island's beauty with Riug Paragliding, guided by professional instructors. Suitable for thrill-seekers and first-timers alike.
Budget: Tandem flights at IDR 1,000,000 offer unparalleled memories. Timings: 11 am to 5 pm, wind conditions permitting.
Booking Information: Reservations are advised to secure this unmatched experience.
Age and Health Considerations: Suitable for those above 5, with parental consent required for minors and considerations for heart or respiratory conditions.
Skills Needed: No prior experience necessary; follow the instructors' guidance.
With Riug Paragliding, the sky's the limit in Bali, allowing you to capture the island's majestic landscapes from a breathtaking vantage point. Whether a seasoned adventurer or new to the sport, Bali Paragliding activity offers an exhilarating and unforgettable way to see Bali.
6. Watersports in Tanjung Benoa: Fun Things To Do In Bali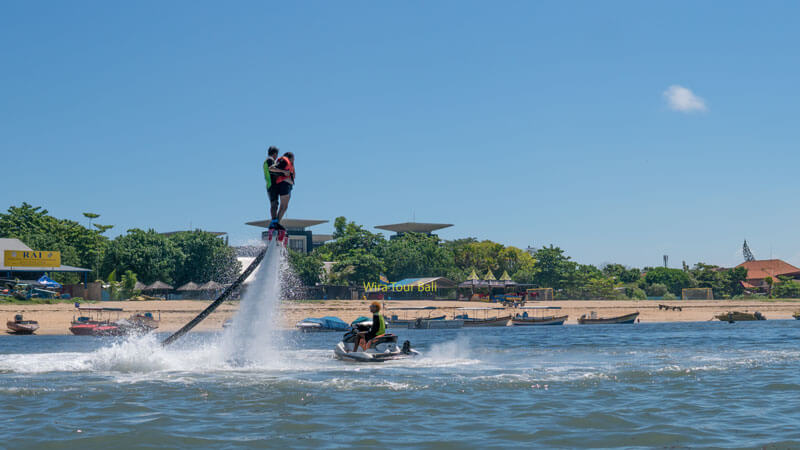 Location Insight Google Maps: In southern Bali, near Nusa Dua, Tanjung Benoa is 17 km from Ngurah Rai Airport, a hub for water fun.
Experience: From flyboarding, jet-skiing and parasailing to banana boat rides and underwater adventures, Tanjung Benoa Beach offers various aquatic activities for all ages and thrill levels.
Prices: Tanjung Benoa Water Sports is priced between IDR 80.000 – IDR 500.000, allowing various budgets to dive into the excitement.
Timings: Enjoy water fun between 9 am and 3 pm when the weather's perfect.
Booking Information: Booking through providers like Wira Water Sports is advised to secure your favourite activities.
Tanjung Benoa Beach is the destination for those seeking a splash of adrenaline and joy in Bali. Catering to everyone from families to adrenaline junkies, it delivers a broad scope of water-based activities concentrating on safety, variety, and fun. Whether seeking thrills or more serene experiences, this location will quench your aquatic adventure thirst!
7. Swing High on the Bali Swing Adventure: Attractions and Experiences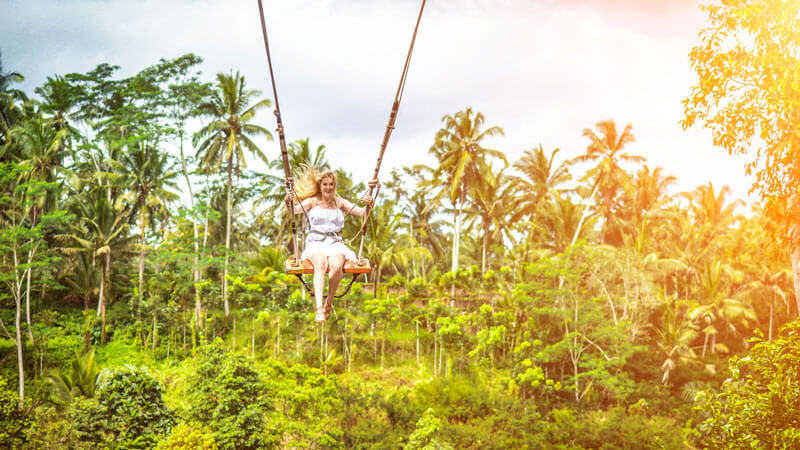 Swing Location Google Maps: Just 15 km northwest of central Ubud, the Bali Swing offers a thrilling escape over spectacular valleys and lush forests.
What to Expect: More than a mere ride, the Bali Swing is a fusion of excitement and natural beauty, perfect for adventure-seekers or anyone wanting Instagram-worthy photos of Bali's landscape.
Prices: Entrance fees vary between IDR 500.000 – IDR 570.000, with different packages to suit your budget.
Booking Information: It's advisable to book in advance, especially during peak seasons, with reputable providers like Real Bali Swing Adventure.
Tip: Wear comfortable clothing, and don't forget your camera! The views from the swing are breathtaking and provide a unique perspective on Bali's splendour.
Whether you crave adrenaline or a unique way to appreciate Bali, the Bali Swing Adventure is a must-visit attraction. Enjoy the rush as you soar above the landscape, and capture memories that will last a lifetime.
8. Explore Bali on a Scooter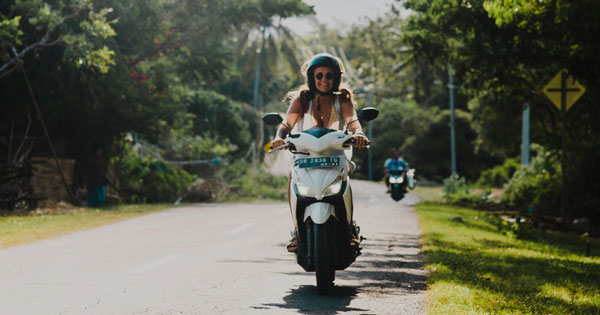 Unlock the Island's Secrets: Riding a scooter offers a thrilling and budget-friendly way to uncover Bali's hidden treasures. Ideal for the adventurous, this option provides an intimate connection with the local culture and landscapes.
Location Insight: Renting scooters is easy across Bali, allowing you to explore independently.
Quick Tips:
Experience: From bustling streets to east Bali's peaceful countryside, navigate the island's diverse terrains. Be mindful of Bali's unique traffic conditions.
Safety Precautions: Ensure safety by wearing a helmet, following traffic laws, checking the scooter's condition, and considering an international driving permit for longer rentals.
Budget Indication: With daily rentals ranging from IDR 100,000 to IDR 250,000, this is economical for those eager to explore beyond the tourist spots.
Summary: For those up for a local adventure, exploring Bali on a scooter is an unforgettable experience that offers unparalleled freedom and excitement. It's an appealing option for budget-savvy travellers wanting to delve into the island's heart.
9. Bali Waterbom: Make a Splash!
Location on Google Maps: In the heart of Kuta, South Bali, lies Waterbom, one of Asia's top water parks.
Experience the Thrills and Chills: Whether seeking adrenaline-pumping water slides or calming pools, Waterbom caters to all. Families, couples, and solo travellers will find ways to slide, splash, and savour the day in this aquatic oasis.
Budget and Timing:
Entrance Fee: Day passes usually start at IDR 580.000.
Operating Hours: Open daily from 9 am to 6 pm.
A visit to Waterbom Kuta Bali provides an exciting and refreshing break from Bali's tropical heat, making it a valuable addition to any travel itinerary. Whether for fun-seekers or those looking to relax, Waterbom's diverse offerings ensure that every visitor leaves with a smile.
10. Hike the Mount Batur Sunrise Trek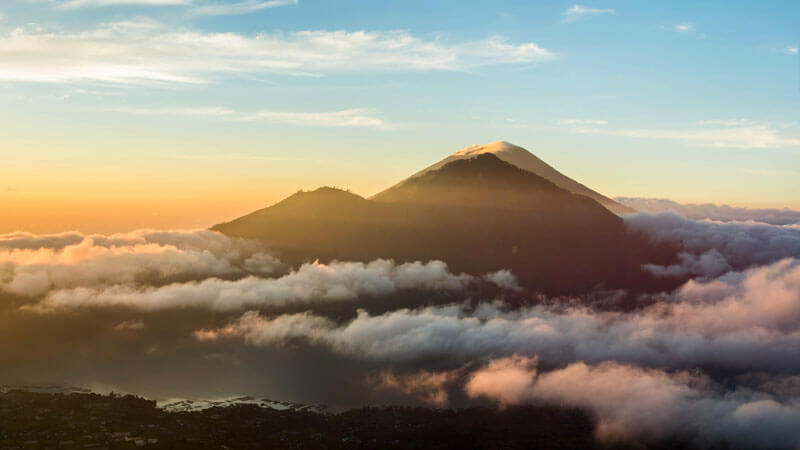 A must-do for visitors to Bali, the sunrise trek to Mount Batur offers a unique opportunity for adventure-seekers and photography enthusiasts to create lasting memories.
Location on Google Maps: Mount Batur, Northeast Bali, approximately 2 hours from Ubud.
Adventure Awaits: Experience the sunrise trek to Mount Batur, an active volcano, for a unique blend of adventure and spirituality. Opt for Mount Batur guided tours that cater to different skill levels, provide safety, and share insights into local culture.
Essentials:
Challenge and Reward: The hike takes about 2 hours to the summit, with sunrise around 6 am. A reputable guide and proper hiking gear are vital.
Budget Indication: Costs range from US $50 to US $70 per person, covering transportation, a guide, an entrance fee, and sometimes breakfast.
Timings: Tours begin around 2 am, with the breathtaking sunrise awaiting at the summit.
11. Explore the Underwater Wonders: Scuba Diving and Snorkeling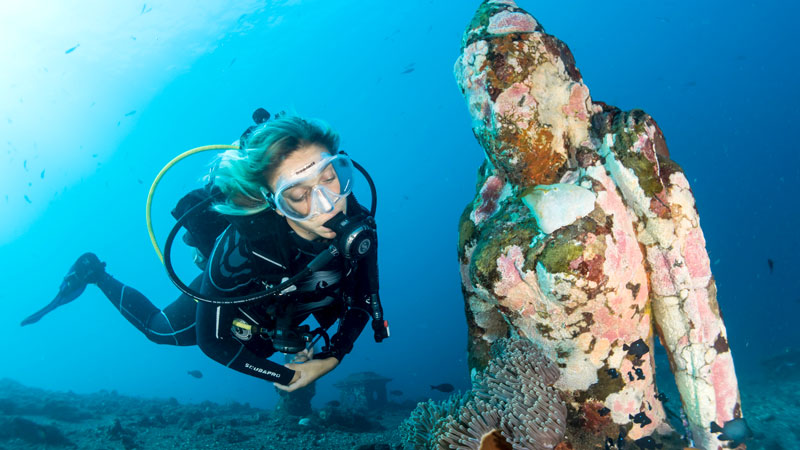 Uncover Bali's Marine Beauty: Dive into an enchanting underwater world that suits beginners and seasoned divers. From vibrant coral reefs to historical shipwrecks like the USAT Liberty in Tulamben, every dive promises a unique adventure.
Location: Bali offers diverse diving sites catering to all experience levels. Notable spots include Tulamben, Amed, Nusa Penida, and Padang Bai.
Budget Indication: Expect to pay around US $50 – US $120 for diving, including equipment and guides. Snorkelling tours start from $20.
Timings: Most trips begin early, around 7 AM, and vary in length.
What to Expect:
Explore Colorful Reefs and Fascinating Marine Life: The underwater landscapes feature a variety of corals, fish, and sometimes even manta rays or sunfish.
Photography Opportunities: Bring a waterproof camera to capture mesmerizing underwater vistas.
Guided Tours: Many opt for guided tours, ensuring safety and a richer experience.
Whether a snorkelling novice or a master scuba diver, Bali's underwater treasures offer an unforgettable aquatic journey.
(Note: Check the local guidelines and weather conditions before planning your underwater exploration, as safety should always be a priority.)
Immerse Yourself in the Rich Cultural Tapestry of Bali
12. Unearth Ubud's Cultural Roots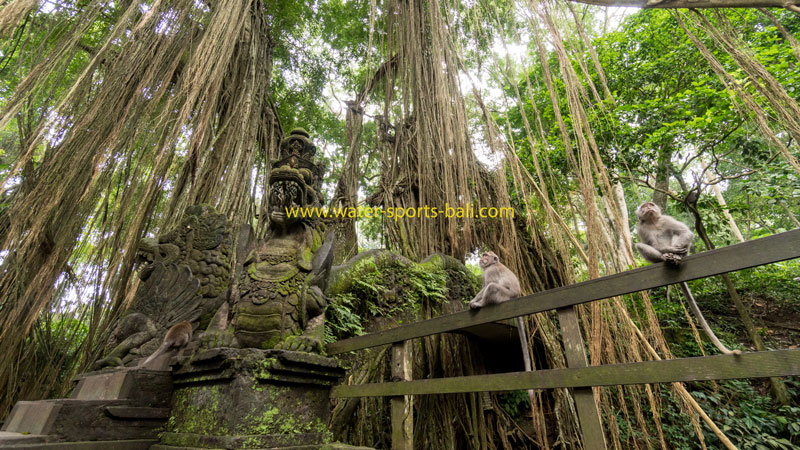 Ubud, the cultural heart of Bali, offers a fusion of art, nature, and spirituality. Explore the Sacred Monkey Forest Sanctuary early (8:30 am – 10 am for fewer crowds) and admire Saraswati ancient temples, adhering to local dress codes.
Location Insight Google Maps: Ubud is in central Bali, about 37 km from Ngurah Rai Airport.
Booking Information: Guided tours add depth to your exploration.
Budget Indication: Expect entrance fees of IDR 80,000 during weekdays and weekends of IDR 100.000
Ubud's charm lies in its unique combination of heritage and scenic beauty, making it an essential part of any Bali itinerary.
13. Embrace Spirituality at Water Temples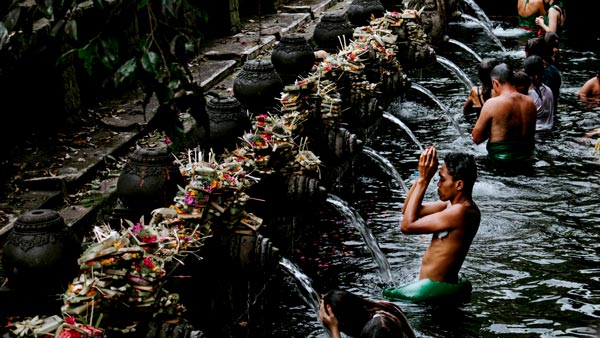 A Sacred Journey at Tirta Empul: Nestled in Manukaya, central Bali, and just 15 km from Ubud Palace, Tirta Empul is a revered water temple known for its holy spring water. It's a place for spiritual rejuvenation, where locals and tourists can participate in purification rituals.
What to Know:
Location: Google Maps.
Temple Dress Code: Wearing a traditional sarong before entering shows respect for Balinese customs.
Best Time to Visit: Consider visiting in the morning or late afternoon for a serene experience and ideal photography lighting.
Budget Indication: Entrance fees are typically between IDR 50,000 (adult) and IDR 25.000 (child).
Embark on a spiritual quest or immerse yourself in Balinese culture at Tirta Empul, a destination where tranquillity and spirituality beautifully intertwine.
14. Marvel at the Majestic Tanah Lot Temple: Bali Attractions and Experiences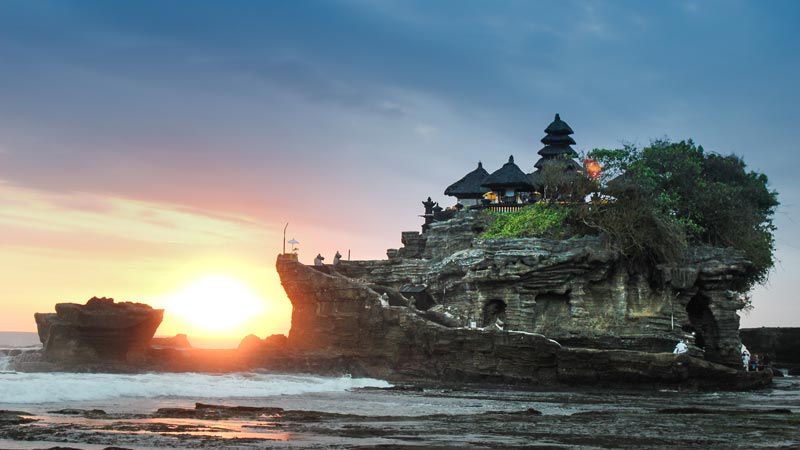 Tanah Lot Temple symbolises Bali's cultural and spiritual heritage, uniquely situated offshore on a rock. Renowned for its mesmerizing sunset views, it's a must-see for photographers and spiritual seekers alike.
Whether for the striking silhouette at sunset or its significant place in Balinese Hinduism, Tanah Lot Temple provides an enriching experience for every traveller.
15. Unveil Mysteries at the Temple Of Penataran Agung Lempuyang
Penataran Agung Lempuyang, also known as the 'Gateway to Heaven,' is a powerful emblem of Bali's spiritual beauty. This temple offers a sacred pilgrimage and a magnificent photo opportunity, with Mount Agung framed between the gate pillars.
Location on Google Maps: Located in Karangasem, East Bali, around a 2-hour drive from Ubud.
Photography and Pilgrimage: A hotspot for photographers and spiritual seekers alike, capturing the essence of Bali's natural and cultural heritage.
Timings: Opens at 06:30 am; best visited early to avoid heat and crowds.
Budget Indication: Lempuyang temple entry fee, IDR 55.000.
Seasonal Recommendations: Best experienced during the dry season, from April to October, when the skies will likely clear.
Whether it's the quest for the perfect snapshot or a profoundly spiritual exploration, Penataran Agung Lempuyang provides an enriching and unforgettable experience.
16. Bask in the Spirituality of Besakih Temple
Besakih is a complex of around 23 related temples dating back over 1,000 years. Its intricate carvings and terraced courtyards reflect Balinese art and spirituality. The elevated location offers breathtaking views of hills, mountains, streams, and rice paddies.
Location on Google Maps: Standing on Mount Agung in East Bali, Besakih Temple, or the 'Mother Temple' of Bali, is a 1-hour 30 minutes drive from central Ubud.
Timings: Open from 8:00 am to 6:00 pm daily. Note that parts of the temple may be closed during religious ceremonies.
Budget: Entrance fees IDR 60,000.
Seasonal Recommendations: Post-rain or cooler months add to the mystical beauty with lush greenery and misty surroundings.
17. Revel in the Devdan Show's Cultural Spectacle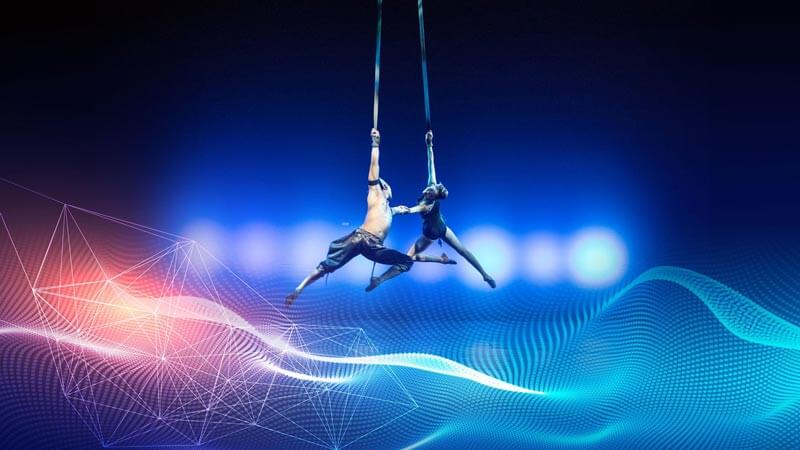 A Unique Experience: The Devdan Show offers a 90-minute marvel of Indonesian culture, blending traditional dances with modern techniques and aerial acrobatics. Located in Nusa Dua, Southern Bali, it's a convenient 30-minute drive from Kuta.
What to Expect:
Journey Through Indonesia: Experience the rich diversity of Indonesia's islands, including Bali, Sumatra, Java, Borneo, and Papua, depicted through mesmerizing performances.
Budget: Tickets start at IDR 230,000 – IDR 935.000, with various options, including VIP seating.
Timings: Shows at 7:30 pm on selected days every Monday, Wednesday, and Saturday. Plan to arrive early for pre-show activities.
Booking: Booking is advised, available online or Devdan Show through authorized agents, with some including transportation.
With its blend of tradition and innovation, the Devdan Show provides spectacular insight into the cultural richness of Indonesia, making it a unique must-see for visitors to Bali.
18. Cultural Dances of Bali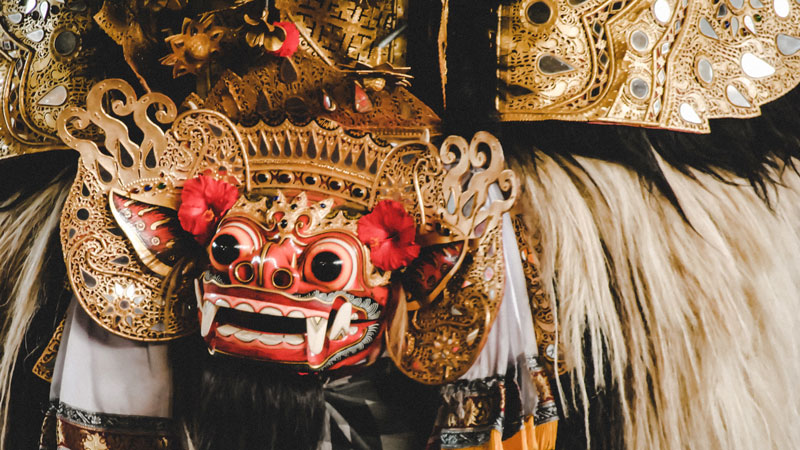 Location: Various Central and South Bali venues showcasing Bali's rich and diverse traditions through mesmerizing dance performances.
These dance performances encapsulate the spirit and heritage of Bali, offering a must-see experience for those looking to delve into the island's cultural roots. It provides essential information for travellers, allowing them to plan their visits accordingly, and emphasizes the importance of these dances in Balinese culture.
19. Sunset Views at Uluwatu Temple
Visiting Uluwatu Temple is necessary for those seeking a serene and spiritual connection with Bali's natural beauty. The location provides an ideal backdrop for photography enthusiasts, while the sunset adds a golden touch to this magnificent destination.
Location Insight Google Maps: Uluwatu Temple, situated on the southwestern tip of Bali, about 22 km from Ngurah Rai Airport, is known for its stunning architectural beauty.
Experience: Perched on a cliff, the temple offers breathtaking sunset views, complemented by the rhythmic waves below. It's a scenic spot that captures the spiritual essence of Bali.
Timings: Open from 7 am to 7 pm, but visiting close to sunset provides the most captivating experience.
Accommodation Recommendations: Consider staying in beach villas in the Uluwatu area for a truly unforgettable experience.
20. Morning Rituals: Local Market Exploration
For travellers keen on immersing themselves in the local culture and everyday life, visiting a Balinese morning market is an enriching experience that shouldn't be missed. It's also a fantastic opportunity to shop for fresh ingredients if you plan to take a Balinese cooking class later in the day!
Location Insight: Explore the various local markets across Bali, with particularly vibrant atmospheres in Ubud and Denpasar.
Experience: Witness the island's soul as Bali comes alive in its morning markets. The bustle of activity creates a symphony of sights, sounds, and scents that provide an authentic local experience. From fresh produce to unique crafts, these markets offer a glimpse into the daily life of the Balinese people.
Timings: These markets are most active early in the morning, usually starting from 4 am and winding down by 9 am.
21. Savour Local Flavours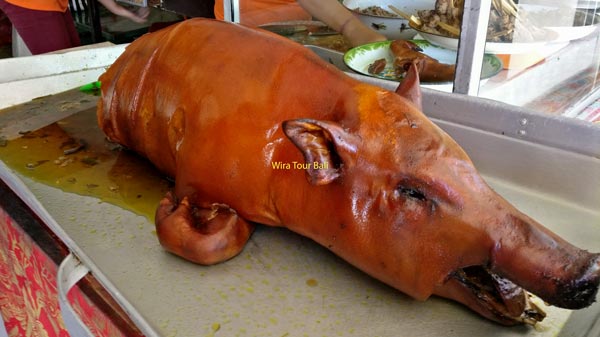 For travellers looking to connect with Bali's cultural essence, sampling local dishes is more than a meal; it's an experience. Eating at a Warung isn't just about the food; it's about the people's warmth, the place's atmosphere, and the soulful connection to Bali's heritage.
Location Insight: Embark on a culinary journey across Bali, exploring the local Warungs – traditional family-owned eateries.
Taste the Authenticity: Bali offers a treasure trove of flavours beyond the familiar 'Mie Goreng.' Dive into the rich and diverse Balinese gastronomy, where each bite tells a story of the island's culture and tradition.
Food Recommendations: In local delicacies like 'Sate Lilit,' a minced seafood satay, 'Babi Guling' (Suckling Pigor) or 'Ayam Betutu,' a slow-cooked chicken dish marinated in various Balinese spices.
Budget Indication: Enjoying these authentic flavours won't break the bank. Meals typically range between IDR 40,000 to 60,000.
Revel in Bali's Breathtaking Natural Beauty: From Peaks to Reefs
Enjoy the serene and lush environment of Bali through its diverse nature attractions.
22. Beach Destinations: Kuta, Seminyak, and Canggu
These beaches encapsulate Bali's versatile appeal, catering to many travellers' interests and budgets. From waves and golden sands to the rhythm of nightlife, Kuta, Seminyak, and Canggu await those looking to immerse in Bali's vibrant coastal culture fully.
Location Insight: South Bali's coastal treasures, Kuta, Seminyak, and Canggu, offer an array of beach experiences just a short drive from Denpasar.
Vibe and Variety: Each beach has its unique charm. Kuta area buzzes with life, perfect for party-goers and surf enthusiasts. The Seminyak area offers more refined relaxation with upscale resorts and trendy eateries. Canggu area, the hipster's haven, blends surf culture with artful living.
Activities: Indulge in everything from surfing and sunbathing to beachfront dining.
Accommodations: Options abound, whether you're on a tight budget or seeking luxury. Stay in a cosy beach shack or splurge on a plush resort with stunning sea views.
Getting Around: Explore at your pace by renting a scooter.
23. Stroll Through Tegalalang & Jatiluwih Rice Terrace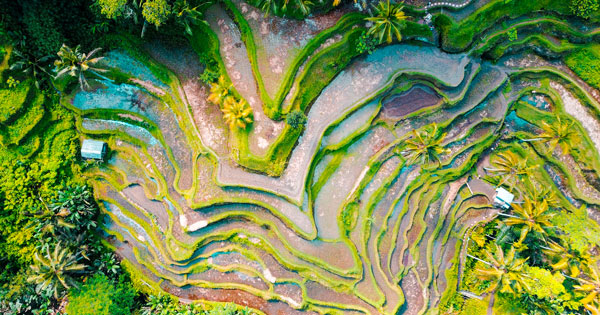 Tegalalang Rice Terrace and Jatiluwih symbolises Bali's agricultural heritage, a must-visit for those looking to connect with the land's timeless beauty. Whether a photography enthusiast or a nature lover, the panorama here offers something enriching for every visitor.
Location Insight Google Maps: Ceking Tegalalang is just 20 minutes north of Ubud's centre, and Jatiluwih is just 1 hour 35 minutes from Ubud Palace. Both offer breathtaking landscapes of cascading rice paddies.
A Photographer's Paradise: For the best travel photos, visit early in the morning or late in the afternoon when the light casts a magical glow. The verdant fields provide a serene and picturesque backdrop.
Tips for Visitors:
Prices: Entry is a mere US $1 – US $3.
Timings: Open from sunrise to sunset. The more excellent hours of early morning or late afternoon are ideal.
Seasonal Recommendations: Avoid October to March if possible, as the rainy season can make paths slippery. If visiting during this time, sturdy shoes are a must.
Stay Nearby: For a truly immersive experience, forest retreats or boutique villas in the area offer unique accommodations.
24. Dolphin Watching at Lovina Beach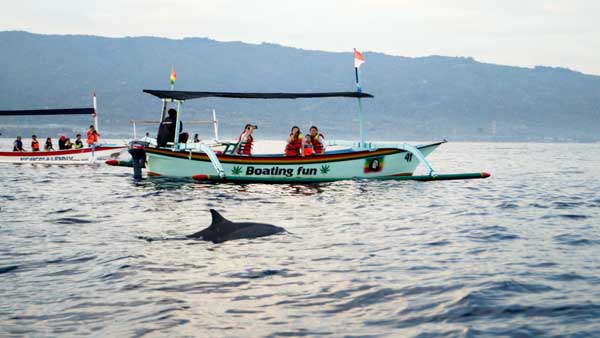 Lovina Beach offers an experience unlike any other in Bali, blending the tranquil northern coastal atmosphere with the unparalleled thrill of watching dolphins dance with the sunrise. It's a memory to cherish and an ideal excursion for those seeking to connect with nature profoundly.
Location Insight Google Maps: Located in North Bali, 93 km from the Jimbaran area, Lovina Beach is a world apart from the southern beaches, with calm waves and a laid-back vibe.
A Sunrise Spectacle: The primary attraction is seeing dolphins in their natural habitat. It's an early morning affair, so prepare to set sail at dawn.
Tips for Visitors:
Prices: Expect to pay between US $10 – US $15 per person. Some providers offer package deals, including breakfast.
Timings: It's a sunrise event. Aim to be on the boat as the sun rises for the best chance to see the dolphins.
Booking Information: While arranging a boat on the spot is possible, booking in advance through a reputable provider ensures a smoother experience.
25. Explore the Gili Islands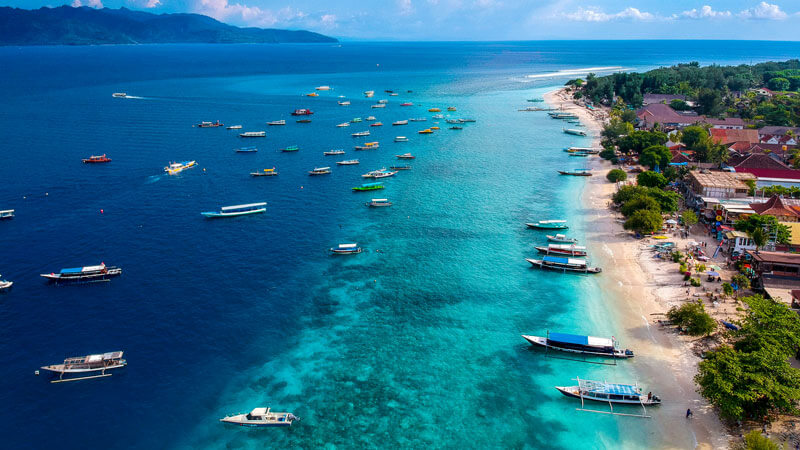 Location Insight Google Maps: Situated off Lombok's northwest coast, the Gili Islands are accessible via a fast boat from Bali's east coast, particularly Padang Bai port, around 55 km from Kuta Beach.
Island Bliss: Comprising three islands (Gili Trawangan, Gili Meno, and Gili Air), the Gili Islands are renowned for their unspoiled beaches, abundant marine life, and energetic nightlife. The car-free islands offer a laid-back atmosphere and endless opportunities for relaxation and adventure.
Tips for Visitors:
Food and Cuisine: Don't miss the fresh seafood or local coconut drinks. Many beachside restaurants serve BBQ-style seafood feasts at night.
Seasonal Recommendations: If diving is on your agenda, the best time to visit is from April to November, outside the rainy season.
Accommodation Recommendations: Beachfront huts and bungalows offer an authentic island experience. Options range from budget-friendly hostels to luxury resorts.
Activities: Snorkeling, diving, sunbathing, and exploring by bicycle are popular activities here. Look out for turtles while snorkelling, and enjoy the sunset view from beachside bars.
Whether seeking tranquillity in Gili Meno or partying in Gili Trawangan, the Gili Islands are a tropical paradise not to be missed on your Bali adventure. It's a slice of island life that encapsulates the very essence of a holiday in Indonesia.
26. Wildlife Encounters at Bali Safari and Marine Park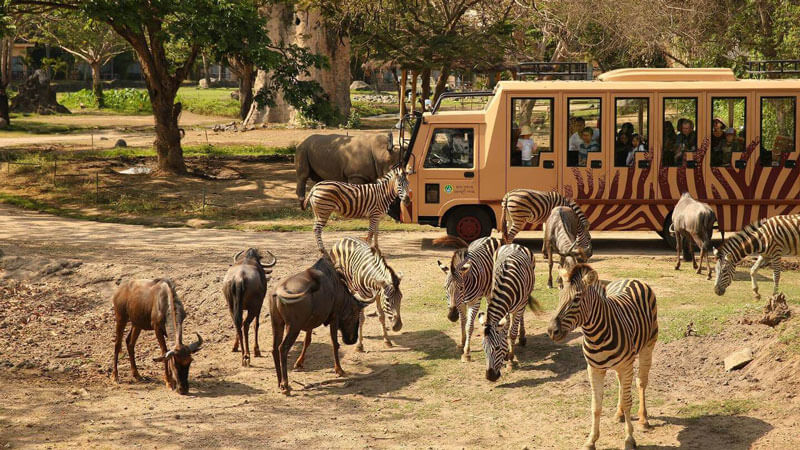 The park offers a delightful mix of education and entertainment, ensuring a memorable experience for all age groups. It's a must-visit for wildlife lovers and families exploring Bali.
Details:
Prices: Admission ranges from IDR 700.000, with different packages available, including safari tours and animal encounters.
Timings: Open daily from 9:00 am to 5:30 pm. For Night Safari: Open from 06:00 pm – 09:00 pm.
Food and Cuisine: A variety of dining options, offering both international and Balinese dishes.
Booking Information: Purchasing tickets in advance from the official website or authorized agents is advisable, especially during peak seasons.
Accommodation Recommendations: Nearby jungle retreats provide immersive experiences for wildlife enthusiasts.
27. Trekking at Campuhan Ridge Walk, Ubud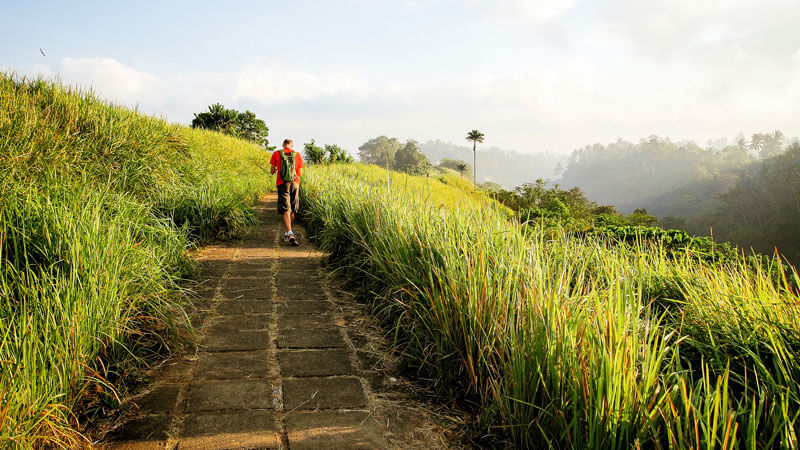 On this tranquil trek, visitors can enjoy a peaceful and scenic journey amidst Ubud Bali's natural beauty. Whether you're an avid hiker or simply seeking a stroll, Campuhan Ridge Walk caters to all, providing a refreshing break from Ubud's bustling centre.
Location on Google Maps: Campuhan Ridge Walk Ubud is about an hour's drive from Denpasar.
An Escape to Nature: Campuhan Ridge Walk is a haven for trekkers and nature enthusiasts, offering stunning panoramic views. Away from the crowds, it's a perfect spot to connect with nature.
Tips for Visitors:
Prices: Free entry.
Timings: Best visited early in the morning or late in the afternoon to avoid the heat.
Seasonal Recommendations: June to September is the ideal time to experience the lush scenery.
Accommodation Recommendations: Consider staying in boutique villas or forest lodges in Ubud for an immersive experience.
28. Wildlife Experience at Bali Zoo
A trip to Bali Zoo offers a unique opportunity to interact with the natural world, fostering appreciation and understanding of wildlife. It's a fulfilling and educational addition to any Bali itinerary.
Location on Google Maps: Situated in Gianyar, central Bali, Bali Zoo is a 40-minute drive from Ubud, offering convenient access.
Experience the Animal Kingdom: Bali Zoo provides an engaging experience with diverse species in well-maintained habitats. Whether observing tigers, feeding elephants, or enjoying bird shows, it's a delightful outing for families, animal lovers, and photographers alike.
Essential Information:
Prices: Tickets range from IDR 395,000 per 1 adult and for Children IDR 280,000 per child (ages 2 – 12 years), with various packages available, including animal encounters.
Timings: Open daily from 9 am to 5 pm.
Food and Cuisine: On-site eateries serve traditional Balinese delights and international cuisine to refuel during your visit.
Booking Information: It's advisable to book tickets through the official Bali Zoo website or authorized travel agent to ensure authenticity and access to special promotions.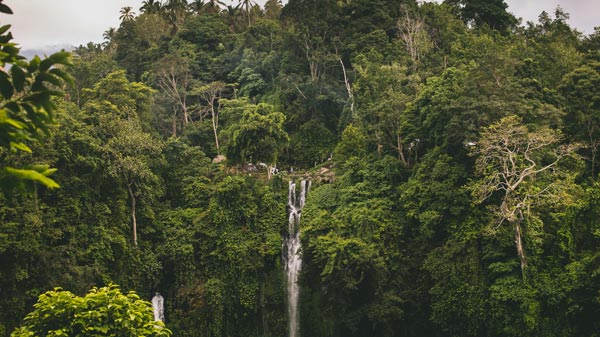 The Sekumpul hidden waterfalls are a perfect escape for nature lovers, offering a tranquil setting to connect with Bali's incredible natural landscape.
Essential Information:
Prices: Entrance for Sekumpul and Canyon/Hidden Waterfall is IDR 150.000 per person, and it's 250.000 if you include Fiji.
Timings: Typically open from 8 am to 5 pm.
Safety Precautions: The paths can be slippery; sturdy footwear is recommended.
Seasonal Recommendations: Rainy season offers majestic views but challenging trails; dry months are easier to access.
30. Feathered Friends at Bali Bird Park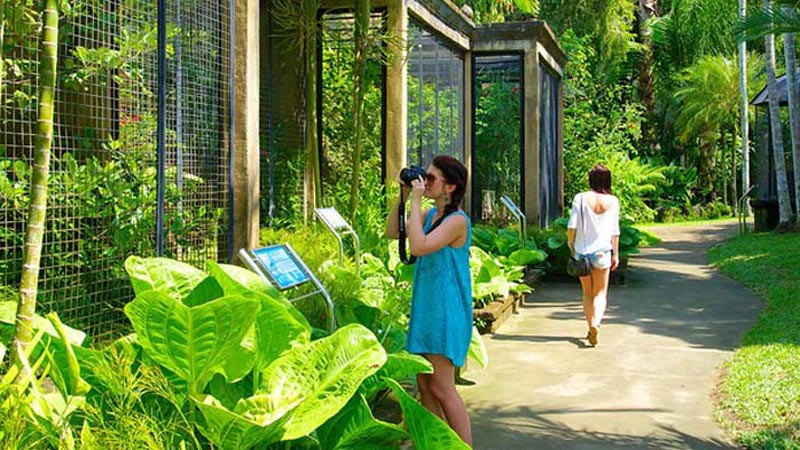 Location on Google Maps: Situated in Gianyar, a 45-minute drive from Sanur in Denpasar.
A Bird Lover's Paradise: Bali Bird Park is home to over 1,000 birds representing various species worldwide. Wander through tropical gardens and aviaries filled with vibrant parrots, rare alluring birds, and local species unique to Bali.
Visitor Information:
Budget Indication: Adults IDR 385,000; discounts may be available for children and older people.
Timings: Open daily from 9:00 am to 5:30 pm, including bird shows and feeding opportunities.
Booking Information: To guarantee authenticity and take advantage of special promotions, purchasing tickets via Bali Bird Park's official website or through an authorized travel agent is recommended.
A visit to Bali Bird Park provides an enlightening and entertaining experience for families and bird enthusiasts, offering a chance to connect with nature and learn about avian conservation efforts.
31. Nature's Bounty: Bali Botanic Gardens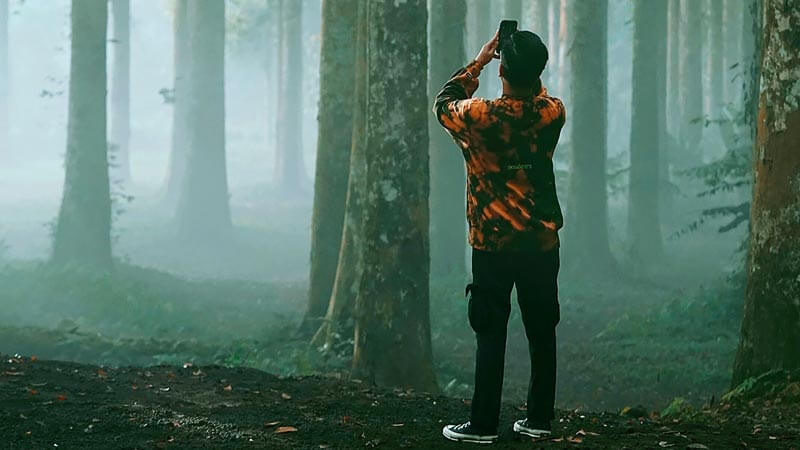 Location on Google Maps: Located in Bedugul, central Bali, approximately 1.5 hours from Seminyak.
Experience: Explore 389 lush gardens showcasing over 2000 plant species. The vast collection of orchids is a highlight. Ideal for nature lovers and those seeking a serene escape.
Essentials:
Budget: Adults IDR 20,000 weekday and IDR 30.000 weekend.
Timings: 8 am – 4 pm weekdays, 8 am – 4 pm weekend.
Whether you're a botany enthusiast or simply want to enjoy a stroll in nature, the Bali Botanic Gardens provide an enriching experience and a chance to connect with Bali's diverse flora.
32. Uncharted Beauty: Nusa Penida Island
Nusa Penida offers an authentic and tranquil experience, refreshingly contrasting Bali's busier spots. It's an unspoiled destination perfect for adventure-seekers and nature enthusiasts.
33. Laid-back Vibes at Lembongan Island
Whether you're an adventure-seeker or prefer a leisurely holiday, Lembongan Island's charm caters to all tastes and is a must-visit for any Bali itinerary.
Lembongan Location on Google Maps: Southwest of Bali, Lembongan Island is just a 30-minute boat ride from Sanur Harbour.
The Island Escape: Ideal for surfing, diving, or simply relaxing on the sandy shores, Lembongan is perfect for those seeking tranquillity and rejuvenation. Its clear waters and rich coral reefs make it a top spot for water enthusiasts.
Food and Cuisine: Don't miss the chance to savour locally caught grilled fish, paired with Lawar salad and tangy Tamarind juice, at one of the beachside eateries.
34. Natural Wellness: Immerse in Bali's Hot Springs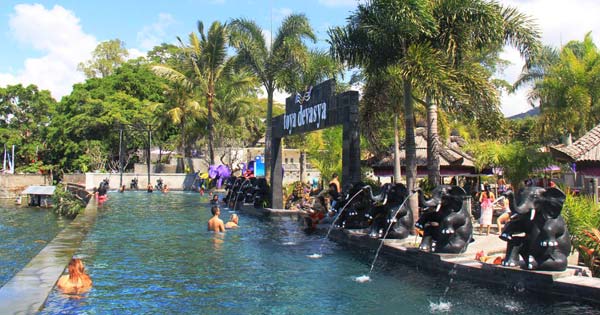 Location: Popular spots near North Bali's mountains include Banjar Hot Spring, Toya Devasya and Air Panas Penatahan.
Experience: Bali's geothermal hot springs, renowned for therapeutic benefits, are set against picturesque backdrops of lush greenery and mountains.
Tips for Visitors:
Timings: Visit between 8:30 am and 12 pm to avoid crowds.
Budget Indication: Entry fees range from IDR 20,000 to 30,000.
Whether seeking relaxation or natural therapy, Bali's hot springs provide an enchanting, rejuvenating experience.
35. Walk Amidst Gold: Marigold Fields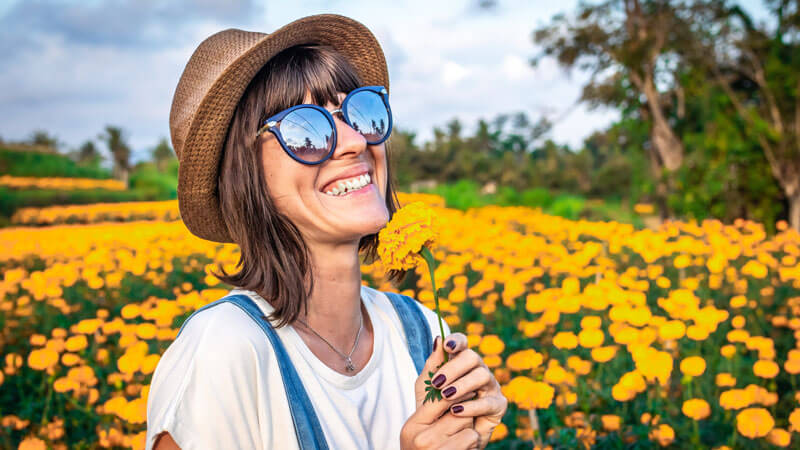 This destination provides an ideal spot for photography and an opportunity to engage in the natural beauty of Bali's floral landscape. It's a perfect escape for those seeking tranquillity and connecting with the island's cultural symbolism.
Location: There are plenty of locations, such as in North Bali, near Ulun Danu Temple Bedugul, the Kintamani area, and Taman Edelweiss. The Marigold Fields offer a picturesque and unique experience.
Experience: Stroll through vibrant golden fields of marigold flowers, a sight often associated with Balinese ceremonies and offerings.
Seasonal Recommendations: Visit between June and August for the peak blooming periods, when the fields are most captivating.
36. Dive into Blue: Lembongan Reef Cruise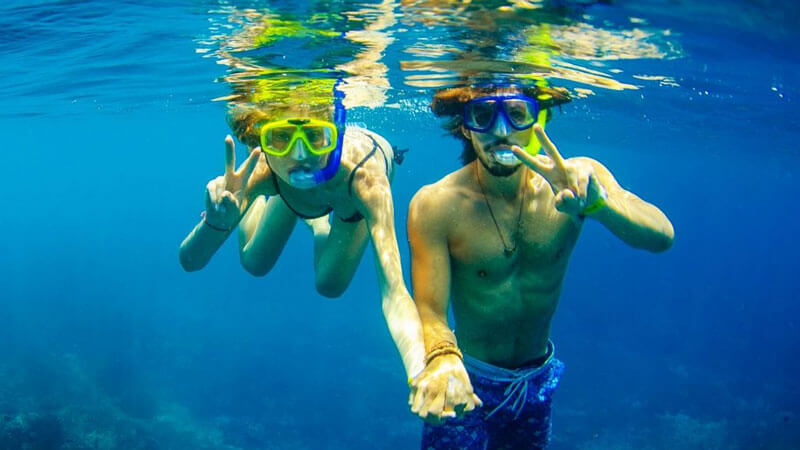 Whether you're an avid diver or just looking to unwind, the Lembongan Reef Cruise by Bali Hai offers a perfect blend of adventure and relaxation, all set against Bali's stunning coastline.
Location on Google Maps: Depart from Benoa Harbor, just 35 minutes from Kuta.
Explore Lembongan Island: Enjoy a day of sun, sea, and serenity on a cruise around Lembongan Island. Activities range from snorkelling and diving to simply relaxing on the deck.
Key Information:
Budget: Starting at IDR 1.750.000
Best Time to Visit: Clear waters are best from April to October.
Booking: Prior reservations are recommended to secure your spot.
Dance the Night Away: Explore Bali's Exuberant Nightlife Scene
37. Party Hard on Legian Street
Location Insight: Legian is strategically located between Kuta and Seminyak, about 9 km from Ngurah Rai Airport. Known as Bali's electric nightlife hub, Legian Street transforms into a vibrant destination after sunset.
Highlights:
Clubs and Bars: Iconic venues such as Bounty Discotheque, Engine Room Discotheque., and Vi Ai Pi offer different atmospheres, from EDM-blasting dance floors to laid-back live music settings.
Music Variety: While clubs mostly play EDM and house, it's possible to find spots with reggae, rock, or traditional Balinese music.
Safety Tips: Stay vigilant with your belongings, avoid aggressive street promoters, and ensure a safe ride back.
Local Taste: Enjoy local Balinese cocktails and finger foods at various bars.
Whether a party enthusiast or just looking for a fun night out, Legian Street offers an unforgettable experience reflecting Bali's vibrant and diverse nightlife culture.
38. Sun, Sand, Sound: Explore Bali's Best Beach Clubs & Nightlife
Location: From the dramatic cliffs of Uluwatu to the bustling streets of Seminyak, Bali's coastlines are dotted with vibrant venues.
What to Expect:
Day to Night: Spend a leisurely day by the beach with a cocktail or dance to international DJs' beats as the sun sets.
Culinary Delights: Sample local favourites like 'Nasi Campur' at late-night eateries or enjoy the taste of Bali's potent local brew, 'Arak,' but be mindful of its strength.
Diverse Venues: Whether you prefer beach clubs, nightclubs, or rooftop lounges, a place caters to every taste and vibe.
Budget Indication: Entry typically ranges from IDR 100,000 to 300,000. Planning your transportation back, especially if consuming alcoholic beverages, is advisable.
Tips for an Unforgettable Experience:
Stay Responsible: If sampling 'Arak,' remember to be mindful of consumption and plan your transportation accordingly.
Local Customs: Enjoy the lively spirit of Bali while respecting local customs.
Whether you're looking to party, enjoy a beautiful sunset, or experience a chill beachfront moment, Bali's beach clubs and nightlife offer a slice of the island's lively spirit that suits every taste and budget. Enjoy the rhythm of Bali's nights responsibly!
Must-Know Tips for Your Bali Adventure
Local Customs
Dressing: Bali, a predominantly Hindu island, expects modest dressing at temples or religious ceremonies. Sarongs are available at temple entrances.
Respecting Traditions: Embrace the cultural nuances, and you'll find the Balinese welcoming and warm.
Transportation
Renting a Scooter: An affordable option, but safety is paramount. Always wear a helmet, and an international driving permit is a must.
Public Transport: Public transportation in Bali is inadequate and available in meters and online taxis such as Grab or Gojek, especially in southern Bali.
Car Hire: If you want convenience in holiday transportation, I recommend using Bali car rental services with a private driver.
Safety Tips
Whether embarking on a thrilling adventure or serene nature walk, keep these in mind:
Equipment Check: Ensure that all equipment is well-maintained.
Weather Considerations: Paths can become slippery during the rainy season, so invest in sturdy footwear.
Savor Bali's Cuisine
Bali's culinary scene is a gastronomic adventure. From the humble roadside Warungs to fine dining, indulge in:
Local Delights: Ayam Betutu, Dadar Gulung, and Kopi Bali are must-tries.
Dining Options: Explore the variety, from local eateries to upscale restaurants.
Accommodation Recommendations:
Bali's diverse accommodations cater to every whim. Seek beachfront bliss in Sanur, embrace boho vibes in Canggu, or enjoy jungle retreats in Ubud. Traditional Balinese bungalows offer a cultural touch, while luxurious forest lodges provide an immersive nature experience.
Conclusion Things To Do In Bali
Bali, an island of diverse wonders, caters to all tastes and budgets. From the cultural richness of Ubud to the sun-kissed beaches of the south, every corner tells a story. Remember to:
Plan Ahead: Research and book ahead, especially for popular activities or during peak seasons.
Mind Your Budget: Bali offers options for all, but having a clear budget helps make informed choices.
Respect the Culture: Local customs and traditions are vital to the Balinese, so dress appropriately at temples and adhere to local norms.
Stay Safe: Follow safety guidelines on the road or in the sea.
Your Bali adventure is more than a trip; it embraces a culture and a way of life. So, pack your bags and let the magic of Bali unfold. Safe and memorable travels!
P.S. Bali's magic awaits. Dive in, explore, and make memories that last a lifetime.