Are you preparing for a holiday with friends or family and are confused about what to visit? What about the island of Bali, is it in your consideration? If so, I will write a list of fun things to do in Bali on this page. Of course, it is an exciting tourist activity popular among tourists while on vacation to Bali.
Bahasa Indonesia, "Panduan Aktivitas Liburan Seru Di Pulau Bali" >>>
Apart from fun things to do in Bali, on this page, you will also find information such as;
Vacation Activity Location with Map.
Vacation Activity Prices.
Bali Tourism Attraction
Bali has become a popular tourist destination, both for Indonesian and international tourists. International travelers for holiday destinations recognize Bali island. Due to safety factors, has adequate tourism facilities and infrastructure, and has many choices of exciting tourist attractions to visit.
Also, Bali offers unique arts and culture, many choices of family tourist attractions. Bali Beach attractions are one of the favorite tourist attractions while people are on vacation. Apart from beaches, does the island of Bali offer exciting activities for holidays?
The answer is yes! Bali's island offers many natural tourism activities, arts, and cultures. It is a fascinating place to have a vacation with your friends or family.
List of Fun Things To Do In Bali
Furthermore, Bali offers a wide selection of exciting holiday activities that can cater to tourists' various tastes. There are plenty of fun things to do in Bali, making many tourists visit Bali for vacation more than one time.
Meanwhile, our experience in providing Bali river rafting, Bali tour package services, and car rental with Bali drivers since 2008, our customers will always ask. How can I have fun in Bali? Therefore, it gains easier for us to assist vacationists in choosing holiday activities they like. So we made a list of popular fun things to do in Bali.
1. Telaga Waja River Rafting Karangasem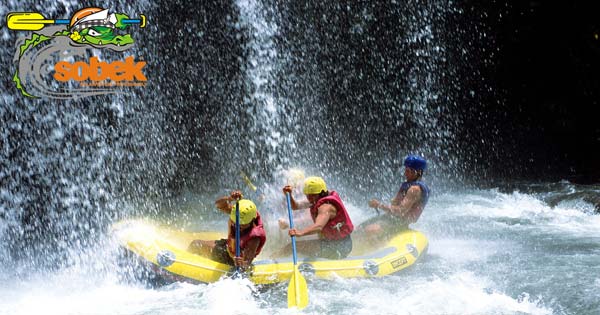 The Telaga Waja is the name of the river for the Telaga Waja rafting trip. The river's location is in the eastern part of Bali, which is in the Karangasem Regency. Most of the Telaga Waja river routes pass through the village of Rendang. Telaga Waja river rafting has its edges compared to the Bali rafting trip on other rivers, such as the Ayung river rafting in Ubud.
Telaga Waja River has the longest Bali river rafting route, about 16 kilometers with a travel time of 2.5 hours. The faster river flow makes it challenging and exciting when you try.
The rush of adrenaline made me put the Telaga Waja rafting tour number 1 on the list of fun things to do in Bali. Then what about the price of the Telaga Waja river rafting adventure?
Search, How Hard Is Telaga Waja River For Bali Rafting Trips & Why People Love It?
Telaga Waja River Rafting Price
There are plenty of companies that provide river rafting on the Telaga Waja River. Also, each company offers different Telaga Waja rafting prices. Usually, the difference in Bali rafting prices is due to the amount of insurance coverage, food variety, and the quality of the rafting supporting facilities.
Two of the Telaga Waja River Karangasem rafting providers that we can recommend is Alam Rafting Bali and Sobek Telaga Waja Rafting. Due to the Alam Rafting and Sobek Telaga Waja Rafting, Bali offers excellent facilities that meet the standards and competitive rafting prices. To reach the Alam rafting start location, you don't need to bother with transportation. The cost of Telaga Waja river by Alam rafting includes a shuttle and lunch.
The time needed to complete the Telaga Waja River Rafting, is from 07:00 – 16:00, assuming you are staying in the south Bali region.
See Here, "Alam Rafting Telaga Waja River Price" >>>
Look for the location map, "Alam Rafting Telaga Waja Start Point on Google Map" >>>
2. Parasailing Watersport Tanjung Benoa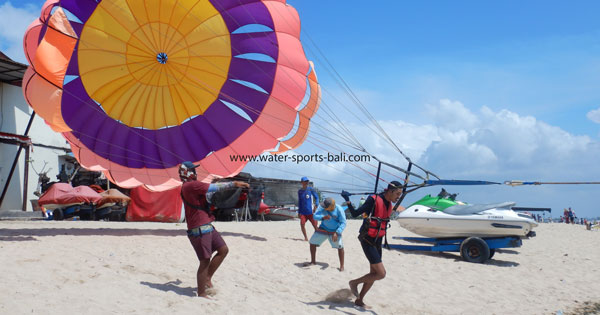 The Bali water sports activity's central location for beginners is the Tanjung Benoa beach. The thing that makes Tanjung Benoa beach popular for marine tourism activities because;
The waves of Tanjung Benoa beach seawater are very calm, making water sports activities safe for beginners.
The location of the Tanjung Benoa beach is close to southern Bali tourist attractions, such as Nusa Dua tourist attractions.
Tanjung Benoa water sport's price is relatively low if you compare it to other places in Bali.
The sand of Tanjung Benoa beach is yellowish-white, with a sloping coastline.
There are many choices of marine tourism rides near Tanjung Benoa beach. Examples are banana boats, jet skis, snorkeling, turtle island tours, rolling donuts.
Tanjung Benoa Parasailing
Bali's most exciting watersport activities in Tanjung Benoa and many tourists are interested in joining is Parasailing. For information, there are two types of Tanjung Benoa parasailing rides, namely;
Single Parasailing can only fly one participant.
Bali parasailing adventure, known as Tandem parasailing, can fly three participants at once.
See, "The Difference Between Single Parasailing and Bali Parasailing Adventure" >>>
Even though Parasailing is only around 5 minutes, the rush of adrenaline is swift. Therefore, making I set Tanjung Benoa Bali parasailing activity at number 2 on the list of fun things to do in Bali.
Our advice in purchasing Tanjung Benoa watersport activities is to look for the Tanjung Benoa watersport package. Due to the game unit price in the Tanjung Benoa water sport package being lower. Also, on the sets, there are free shuttle services for some regions of Bali's island. Such as Kuta, Legian, Seminyak, Jimbaran, Ungasan, Sanur, Denpasar, Nusa Dua.
The average time needed to join Bali water sports at Tanjung Benoa beach is from 09:00 – 14:00, assuming you are staying around the Kuta beach area.
See, "Tanjung Benoa Single Parasailing Ride Prices" >>>
Location Map, "Tanjung Benoa Marine Tourism Activities Google Map" >>>
3. Bali Odyssey Submarine Tour – Fun Things To Do In Bali
Do you want to get on board a submarine and see the underwater scenery from a submarine? Of course, the Bali submarine tour is exhilarating to try.
The Bali submarine tour is called Bali Odyssey Submarine. There are only two places that provide a submarine tour in the world, namely Hawaii and Bali.
Because there are only 2 in the world, so don't miss it when you are in Bali. Unique experience when joining the Submarine tour makes me list Bali Odyssey Submarine as number 3 in Bali's exciting holiday activities.
Even though during the low season in Bali, there are always many demands by tourists to join a submarine tour. Therefore, we suggest you create a booking in advance for at least one week if you are interested in taking a Bali submarine tour.
The time needed to join the Bali Odyssey submarine tour, is from 07:00 – 15:00, assuming you are staying around the Seminyak area. Want to know the price of the Bali Odyssey submarine activity and the location of the action? Please click the below link!
See, "Bali Odyssey Submarine Price" >>>
Location Map, "Bali Odyssey Submarine Harbor Google Map" >>>
4. Bali Elephant Ride – Fun Things To Do In Ubud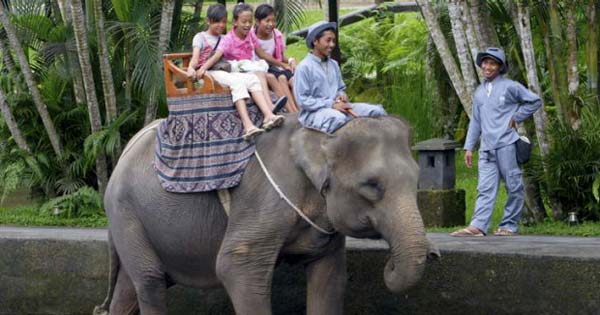 Have you wondered about ridden a Sumatran elephant while walking around a neatly arranged tropical plantation area? You must have imagined the excitement!
The island of Bali provides many choices of providers of Sumatran elephant riding tour packages. But the best in delivering the Bali elephant riding tour is Mason Elephant Park & Lodge in Taro Ubud.
The elephants are clean and well-groomed and fat, the elephants don't smell, the gardens are neat, and the assistants are friendly.
Not every time, we can ride a tame elephant and walk around in a neatly arranged garden. These made me put an elephant ride on Mason Elephant Park & Lodge in Taro Ubud among the fun things to do in Bali. Want to comprehend how much it costs to ride the elephant, Mason Elephant Park & Lodge, in Taro Ubud and its location? Please click the link below!
See Here, "Bali Elephant Ride Mason Elephant Park & Lodge in Taro Ubud" >>>
Location Map, "Mason Elephant Park & Lodge Taro Ubud" >>>
5. Ride a Fast Boat To Gili Trawangan Island from Bali
Gili Trawangan Island, Lombok, is currently one of the popular holiday destinations while you are in Bali. The attraction of Gili Trawangan island lies in;
The white sand beach has scenic beauty.
The atmosphere is calm because there are no motorized vehicles.
Plenty of evening entertainment.
One of the best approaches to travel to Gili Trawangan Island Lombok is to board a fast boat. In riding a fast boat, the boat's speed is quite fast in crashing the waves and creates an exciting experience while riding it. Therefore, I put the fast boat riding activity at number 5 on the list of exciting holiday activities on Bali's island.
Location of Fast Boat Harbor from Bali to Gili Trawangan
There are three popular locations to get a fast boat from Bali to Gili Trawangan, namely;
Serangan Harbor Badung.
Search, "Guide on the Best Way from Bali Island to Gili Trawangan Island" >>>
6. Bali Treetop Adventure Park Bedugul
If you never heard about Bali Treetop Adventure Park Bedugul, for sure, you will ask! What kind of tourist activity is this? The Bali treetop adventure park provides an obstacle course activity inside the Bali botanical garden Bedugul area. This activity requires you to pass through the trees' obstacles, and usually, children like it.
For those who live in urban areas, retreating to nature will undoubtedly make an exciting experience for you. Therefore, I include the Bali treetop adventure park Bedugul on a list of fun things in Bali. Bali Treetop Adventure Park Bedugul's opening hours are from 09.30 am – 06.00 pm and open daily.
Of course, it will be easier for you to know what the Bali treetop adventure Bedugul is like by looking at the photos. For that, please click the below link!
Look Here, "Bali Treetop Adventure Park" >>>
Location Map, "Bali Treetop Adventure Park Google Map" >>>
Hopefully, the list of exciting holiday activities in Bali above is useful for you. Suppose you have suggestions or additional Bali vacation activities that are more exciting. Please share it by writing in the comments column!