Do you want to have a vacation in Bali and planning to visit Tanah Lot Temple? I am pretty sure you answer yes. Due to you are looking for information regarding Tanah Lot Temple entrance fee prices.
Bahasa Indonesia: "Harga Tiket Masuk Tanah Lot Bali Wisatawan Indonesia" >>>
Therefore on this site page, you will find the latest entry fee of Tanah Lot Temple Bali. Also, you gone get other information related to Tanah Lot temple, such as:
The Tanah Lot temple point of interest and the map location.
Dress code, best time to visit & transportation.
Tanah Lot Temple Entrance Fee Prices
To be able to enter the area of Tanah Lot temple, every visitor charged an admission fee. Also, there is a difference between adults and children's admission ticket prices at Tanah Lot temple. So how much is Tanah Lot Temple entrance fee costs?
| Categories | Ticket Price |
| --- | --- |
| Adult | IDR 60,000 / person |
| Child | IDR 30,000 / person |
| Motor Bike Parking Fee | IDR 2,000 / 1 motor bike |
| Car Parking Fee | IDR 5,000 / 1 car |
| Bus Parking Fee | IDR 10,000 / 1 bus |
Information On Tanah Lot Temple Entrance Fee
Tanah Lot Temple Bali ticket price updated on December 24, 2019.
Tanah Lot entrance fees price and vehicle parking fees can change at any time without prior notice.
We will always try to update with the latest Tanah Lot temple entrance fee if there are changes in ticket prices.
The Tanah Lot entrance fee price is only valid for a foreigner.
Read More On: "The Latest Pandawa Beach Entrance Fee" >>>
Point Of Intrest & Map Location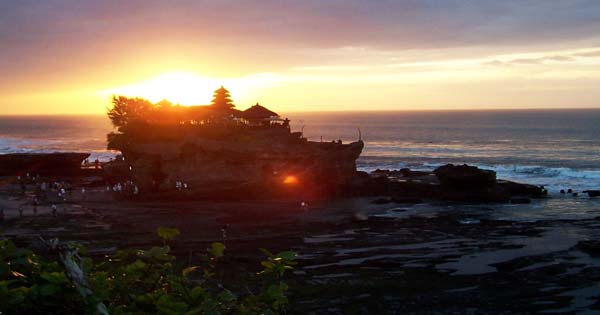 Tanah Lot temple as a Bali attraction is one of 10 favorite vacation spots in Bali. Almost every day, the Tanah Lot temple bustling with tourists. Due to the high interest of tourists to visit Tanah Lot Temple Bali. Therefore many tour agents offer Tanah lot temple tour package.
The main point of interest of Tanah Lot temple is on the uniqueness of the amazing temple architecture. Also, the location of the temple at an unusual place. Tanah Lot temple location situated on a top of a large black rock. During high tides, the access way from the beach to the temple fulfilled by the seawater, with waves that always hit the rocks.
In the coastal areas, there is a small cavern, and inside the caves, there are some snakes with black and white colors. Have you heard about the Tanah Lot sacred snake, this black and white striped snake is intended.
Due to the location of Tanah Lot Bali located in the southwest of Bali island, this makes Tanah Lot area is one of the best places to see the beautiful sunset in Bali. That is why most travelers who visiting Tanah Lot their primary purpose is to witness the beautiful sunset scenery overlooking the Indian Ocean. The unique things about sunset view at Tanah lot due to the temple oversized rock silhouette.
Tanah Lot Temple Bali located at Beraban village, district of Kediri, Tabanan regency, Bali. To make it easier to find the location of Tanah Lot temple in Tabanan regency, please use the below Google map!
Dress Code, Best Time To Visit & Transportation
There is no dress code required if you only want to visit Tanah Lot Bali without entering the temple area. However, if you're going to get into the temple area, there is a strict dress code that you should follow.
Women need to wear a sarong (clothes that wrap from waist to ankle). Also, women need to use a Kebaya and on you need to tie a scarf or a sash on your shirtwaist. Please note, women during menstruation, are not allowed to enter the temple area.
Men also need to wear a sarong, a shirt, a scarf or a sash tied around the waist and Udeng (Balinese headdress create from elaborately folded clothes).
Most travelers choose to visit Tanah Lot Bali from 17:00 – 19:00. Due to the sunset view and this consider the best time to visit Tanah Lot Bali. Furthermore, the only public transportation that available in the area is the Taxi. Therefore, it is recommended to get a car hire services, with a driver or self-drive if you are coming from Kuta, Ubud or Seminyak area.
Read More On: "Uluwatu Temple Bali Sunset, Kecak Dance, Best Thing To See" >>>