Bali has many good places to visit during a holiday. One of the best places to go is Jimbaran Beach Bali, located in the southwest of Bali island at Badung regency.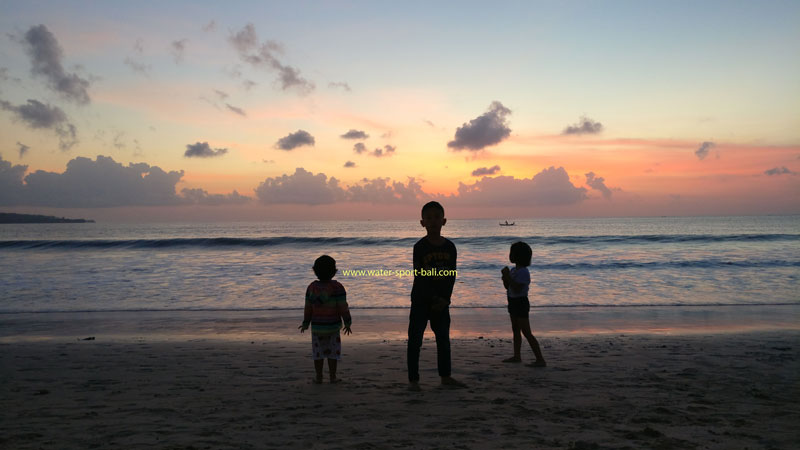 The locations of Jimbaran beach Bali about 10 kilometers from Kuta Beach Bali and will take 25 minutes driving. The distance from Ngurah Rai International airport about 4,6 miles and will take about 20 minutes driving.
Jimbaran Bali located in a strategic area and very close to other well-known tourist destination in Bali. Such as Tanjung Benoa beach and Nusa Dua beach.
Before tourism industry develops like nowadays, local people who live at Jimbaran earn their living as a fisherman. The fisherman sold their fish at the fish market located at Kedonganan village, located next to Jimbaran village. Because most of the fish distribute on the south part of Bali coming from Kedonganan fish market, this initiated Kelan, Kedonganan and Jimbaran village to build beach seafood restaurants.
Bali White Sand Beach
Jimbaran Beach Bali as one of white sand beach in Bali has a soft texture and yellowish sand color. On the cost line of Jimbaran beach, there are many hotels, resorts, villas, and SPA. For examples like Bali Intercontinental Hotel and Four Seasons Jimbaran Bay.
Because beach cleanliness is a vital role in tourism, between the village community and hotels, maintain Jimbaran beach cleanliness on a daily basis.
Jimbaran Beach Bali Seafood Barbecue
The unique things about Jimbaran Beach Bali not on the white sand beach or the sunset view. The uniqueness on the seafood barbecue restaurants. Nearly almost all of Jimbaran beach cost line fills with seafood barbecue restaurants. The seafood barbecue restaurants well know as Jimbaran beach seafood cafe.
In the evening, Jimbaran beaches seafood restaurants filled with plenty of visitors. Some restaurant requires customers to make a reservation for front row seat which is on the beach. Jimbaran beach area has very spacious parking lots. So it will be not difficult for the visitor to get parking space for their vehicle.
Seafood barbecues menu serve at Jimbaran beach restaurants such as grilled fish, grilled squid, grilled scallops, grilled lobster and grilled king prawns. Beside fish the cafes also serve with steam white rice, Balinese vegetable salad knows as "Plecing," with much free dressing on the side. The seafood restaurants also serve young coconut coolers for your drink if you want to.
At Jimbaran beach seafood barbecue restaurants, the visitor is free to determine how many fish want to serve. The prices calculated per gram of each kind of seafood the customers desired to have. Customers also have the option to choose the package, and the prices of the menu packages are less high compared to ala carte menu.
Marine Water Sports Activities
If you plan to have marine water sports activities at Jimbaran beach Bali, you will be only able to do surfing, snorkeling, and swimming. Marine water sports that use an engine like Jet Ski are not allowed at Jimbaran beach. Do you like to have Bali Marine watersport activities such as jet ski, parasailing or Seawalker? Then you can do it at Tanjung Benoa beach, which is the best place for water sports in Bali.
The best way to book Bali water sports activities is through online booking! Because you will get, lower prices compare to book directly on the spot with publishing prices.
Some of the water sports agents in Bali also offer Bali water sports package with many choices of water sports packages. If you book watersports package in Bali with minimum two people booking, you will get free pick up and return transfer to the particular area in Bali. So you need to make sure your hotel's area is cover by free pick up and return transfer or not, before making Bali water sports package booking.
Beside marine sports activity, Tanjung Benoa Beach also offers an outdoor activity for families which is turtle island Bali day tours. Beside marine sports venture, the island of Bali also offers an outdoor adventure that love by kid such as Bali white water river rafting. If you want to know more about the safety of white water rafting for children in Bali, Please click below link!
Best Beach In Bali With Sunset View
The most visitor who visit Bali Jimbaran beach beside looking for seafood barbecue also looking for sunset view. Because the beauty of Jimbaran beach lies on sunset view and quiet sea wave, this makes the beach very appropriate for swimming. From the beach, you also will able to see the International Ngurah Rai Airport.
Combine with white sand beach, sunset view and while having dinner on the beach with barbecue seafood menu, make most honeymooners couple during their holiday in Bali will focus their itinerary to visit Bali Jimbaran beach.
The Best Way To Jimbaran Beach
There are several best way to visit Jimbaran beach. If your hotel location at Kuta, Seminyak or Nusa Dua, taxi meter is the best option. However, if your hotel location in Ubud Bali, getting Bali car rental with driver services, one of the best ways to Jimbaran beach.
Related Article With Jimbaran Beach Bali