Holiday to Bali is synonymous with sensing white sand beach attractions. In addition, Bali has many beautiful and attractive white sand beaches to visit. The question is, of the many white-sand beaches on the island of Bali, which one will you see? If Jimbaran beach, one of the white sand beaches in Bali that you are considering visiting, then continue reading this page! Because on this page, I will write a vacation guide to Jimbaran beach Bali.
Bahasa Indonesia, "Panduan Liburan Ke Pantai Jimbaran Bali" >>>
Information on vacation guides to Jimbaran beach Bali that you will find on this page such as;
Beach location.
Distance & travel time.
Best way to Jimbaran beach.
Jimbaran beach attraction.
Seaside grilled seafood.
Beautiful sunset view.
Admission.
Find Here, "5 Best Places To Visit At Night In Jimbaran Bali" >>>
Jimbaran Beach Location
If you have never vacationed to Bali island, most likely, you will ask, where is Jimbaran beach located? Jimbaran beach area location is on the southwest side of the island of Bali. In addition, the coastline is in a wide bay area with a curved shape and is right on the south side of Ngurah Rai International Airport. From the beach, you can see planes land at Ngurah Rai airport.
Meanwhile, on the south side of the Jimbaran beach area is the starting area of ??the Bukit Peninsula area, which is famous for the Pecatu, Ungasan, and Uluwatu areas.
There are three different beach names in the Jimbaran bay area, even though the coastlines are integrated. On the north side of Jimbaran beach is Kedonganan beach, and the coastline closest to the airport is called Kelan beach Bali.
The location of the coastline facing the southwest makes Jimbaran beach one of the best places to see the sunset view in Bali.
To create a more straightforward for you to find the address and location of Jimbaran beach Bali, please utilize the Google Map by ticking the link under!
Look Here, "Jimbaran Beach Google Map" >>>
Distance & Travel Time
Suppose you depart from Ngurah Rai Airport to the Jimbaran beach area. In that case, it will take you 15 minutes with a distance of 8 kilometers. If you leave from the Bali Garuda Wisnu Kencana culture park, heading to Jimbaran beach will take 10 minutes to drive with a length of 4 kilometers.
If you depart from the Melasti beach Ungasan area, go to Jimbaran beach. Then you will need 20 minutes to drive with a distance of approximately 10 kilometers.
If you depart from the Kuta Beach area, then the travel time is longer to Jimbaran beach. The estimated travel time from Kuta beach Bali to Jimbaran beach is about 20 minutes drive.
In addition, the location of Jimbaran beach is also in line with other well-known tourism areas in Bali. Such as Tanjung Benoa marine tourism and star-rated hotel areas in Nusa Dua.
Read More, "Best Beach In Bali For Newlywed Couples" >>>
The Best Way To Jimbaran Beach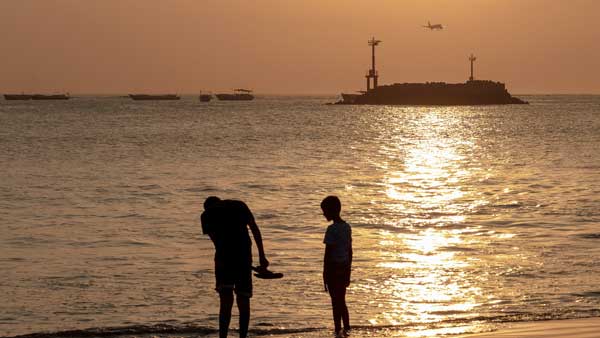 Wherever you are on vacation, knowing the transportation choices available in certain tourist areas will be able to save on your vacation expenses.
The Jimbaran area is in the southern part of Bali. So, you will find public transportation alternatives in the form of taxi meters, online taxis, and online motorcycle taxis. Apart from public transportation, you can also use private transport in the form of motorbikes or cars.
Of course, if you stay in the Sanur beach area, you will need transportation to get to the Jimbaran area. Then which transport will you choose to have a vacation to Jimbaran beach Bali?
Read here, "Guide & Tips On How To Get Around Bali Island" >>>
Taxi Meter, Online Taxi & Online Scooter Taxi
If your hotel near the Jimbaran beach area, then after finishing your vacation on the beach, you return to the hotel. Therefore, from your hotel to the beach, you can use online taxis & online motorcycle taxis. Online taxis are available in Bali, such as Grab car, and online motorcycle taxis such as Gojek.
However, when returning to your hotel, the only available options are taxi meters and Gojek. For your information, in several areas in Bali, online taxis are not allowed to pick up passengers. The cost of a meter taxi from the Jimbaran area to the Petitenget beach Seminyak area approximately IDR 100,000 / taxi.
Rent a Scooter
If you want to save on Bali vacation costs and only vacation with friends or a single traveler. Riding a scooter is the best vacation transportation to Jimbaran beach for you.
Looking for motorbike rental services in Bali is very easy if you stay in the southern Bali area such as Kuta, Legian, Seminyak, Canggu, Sanur. All you need to do is use Google to find the nearest motorbike rental service from your hotel.
The motorbike rental cost in Bali depends on the type of scooter you want to ride. The average scooter rental rate in Bali is around IDR 80,000 / 24 hours without fuel. Please note, to ride a scooter in Bali, you need to wear a helmet and own an international driving license.
Find Here, "Travel Guide To Pandawa Beach Bali" >>>
Bali Car Rental
Suppose you are on family leave or a vacation with more than four friends. You are so using a car, the best transportation for a holiday to Jimbaran beach. Because the cost of car hire can be share with your friend and you will be more comfortable.
Finding self-drive car rental in Bali is very difficult. Due to not many Bali car rental companies provide car rental services without a driver. On the other hand, finding a car rental in Bali with a driver is very easy. You only need to search through Google for car rental service providers with drivers in Bali.
The cost of car hire on the island of Bali depends on the car model you want to use. For example, the rental price for a Toyota Avanza with a driver in Bali is around IDR 500,000 / 12 hours, including fuel. If you are on vacation with more than 6 participants, it's a good idea to rent a microbus car like the Isuzu Elf.
Also, if you want to visit more than one place in one day, getting a car hire with a driver will save your vacation budget.
Find Here, "Visitor Guide to Suluban Beach Uluwatu Bali" >>>
Bali Tour Packages
Besides getting Bali rental car, many tourists, when they want to have a vacation to Jimbaran beach, choose to book a tour package to Bali with one of the routes to Jimbaran Beach.
Read More, "Guide On Best Time To Visit Bali" >>>
The Attraction of Jimbaran Beach as a Vacation Spot
Is Jimbaran beach worth visiting? What is unique about Jimbaran beach Bali as a vacation spot? In the following, I will shortly describe the main attraction of Jimbaran beach, making it suitable for a vacation spot. There are four main attractions of Jimbaran beach Bali, making this beach very famous and getting many tourist visits.
1. Beach Cleanliness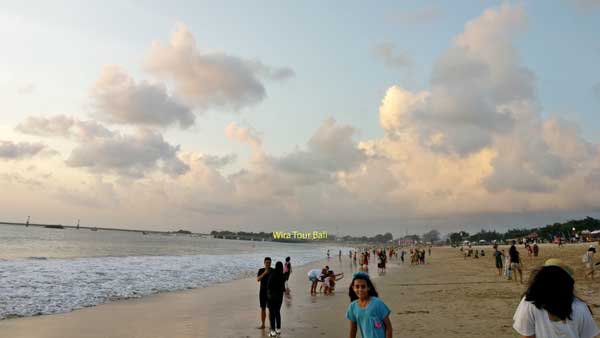 Jimbaran Beach Bali is one of the most famous white sand beaches on the island of Bali. The sand has a fine texture, and the color is white to yellow-brass. In addition, many luxury resorts and villas are close to the coastline, like the Intercontinental resort and Four Seasons Jimbaran resort.
Cleanliness on this beach is always maintained because there are cleaners on duty to clean the beach area. Then, the hotel also always maintains the beach's cleanliness by holding cooperation to clean the beach from rubbish. Therefore, it makes the cleanliness of Jimbaran beach very well maintained.
Read More, "Echo Beach Canggu Bali" >>>
2. Jimbaran Beach Seafood Barbecue
The unique things about Jimbaran Beach Bali not only on the white sand beach or the sunset view. The uniqueness also lies in the seafood barbecue restaurants. Nearly almost all of the Jimbaran beach cost line fills with seafood barbecue restaurants. The seafood barbecue restaurants well know as Jimbaran beach seafood cafe.
In the evening, Jimbaran beaches seafood restaurants filled with plenty of visitors. Some restaurant requires customers to make a reservation for a front-row seat which is on the beach.
Seafood barbecues menu serves at Jimbaran beach restaurants, such as grilled fish, grilled squid, grilled scallops, grilled lobster, and grilled king prawns. Besides fish, the cafes also serve steam rice, spicy water spinach dish knows as "Plecing Kangkung," dressing on the side. The seafood restaurants also serve young coconut coolers for your drink if you want to.
At Jimbaran beach seafood barbecue restaurants, the visitor is free to determine how many fish want to serve. The prices were calculated per gram of each kind of seafood the customers desired to have. Customers also can choose the package, and the costs of the menu packages are less high compared to the ala carte menu.
Read, "Dine Like A Balinese On These 10 Best Bali Local Food Restaurants" >>>
3. Beautiful Sunset View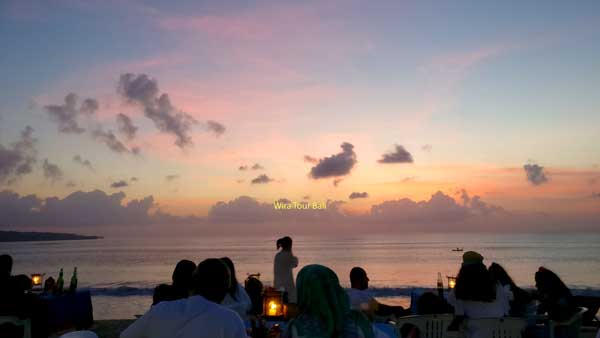 Furthermore, most tourists who visit Jimbaran beach, apart from looking for grille seafood, their main goal is to see the sunset. Therefore, in the late afternoon, Jimbaran beach is always busy with tourist visits. Both international tourists and domestic tourists.
While watching the sunset scenery on the white sand coastline, then you eat delicious grilled seafood. While eating, hit with the gentle breeze of the wind, and the sound of the roar of the beach waves, are the main attractions of Jimbaran beach Bali.
With beautiful beach views, white sand, and sunsets, many hotels on the beach, often hold various events in this beachfront area. There are also Balinese handicraft merchants, small food stalls, and masseurs by the beach.
Must Read, "Tegal Wangi Beach Jimbaran – A Hidden Beach In Bali" >>>
4. Suitable for Family Vacation With Children
Is it safe to swim at Jimbaran Beach? We get this question quite often from our customers who reserve car rental and Bali river rafting trips.
The waves on Jimbaran beach are not strong, and the waters are very shallow because the coastline is in the bay area. So that makes Jimbaran beach one of the best beaches in Bali for children to swim.
In addition, the stretch of Jimbaran Bali coastline is very long, with a sloping coast. Making Jimbaran beach suitable for children's play areas.
Read here, "10 Ideas That Give Jimbaran Bali the Best Place for Children & Family Vacation" >>>
Jimbaran Beach Entrance Fee
Most of you who often vacation to Bali know that there is an entrance fee you need to pay while on vacation to certain Bali tourist attractions. Then what about Jimbaran Beach! How much is the entrance ticket to Jimbaran beach Bali?
There is no admission fee to Jimbaran Beach Bali, meaning it's free. There is only a vehicle parking fee. Car parking IDR 5,000 / car and motorcycle parking IDR 2,000 / motorbike. The parking area in the Jimbaran beach area is quite large and managed by residents, so you will have no trouble finding a parking space.
Bali Marine Water Sports Activities
Plan to have marine water sports activities at Jimbaran beach Bali. You will be only able to do surfing, snorkeling, and swimming. Aquatic water sports that use an engine like Jet Ski are not allowed at Jimbaran beach.
Do you like to have Bali Marine watersport activities such as jet ski, parasailing, or Seawalker? Then you can do it at Tanjung Benoa beach, which is the best place for water sports in Bali.
The best way to book Bali water sports activities is through online booking! Because you will get lower prices to compare to book directly on the spot with publishing prices.
Some of the water sports agents in Bali also offer a Bali water sports package with many choices of water sports packages. Book a watersports package in Bali with a minimum of two people booking; then, you will get free pick up and return transfer to the particular area in Bali. So you need to make sure your hotel's area is cover by a complimentary shuttle or not before making a Bali water sports package booking.
Besides marine sports activity, Tanjung Benoa Beach also offers an outdoor activity for families visiting the turtle island Bali. Besides maritime sports ventures, the island of Bali also offers an outdoor adventure that love by kids, such as Bali river rafting. If you want to know more about the safety of white water rafting for children in Bali, please click the link!