Firstly, the famous Jimbaran Bali offers white-sand beaches, grilled seafood culinary, sunset scenes, and luxury resorts. Furthermore, along the coastline of Jimbaran, visitors will see many beachfront resorts. Also, grilled seafood cafes start to open in the afternoon. The Jimbaran beach area is trendy for tourists who vacation with family or for honeymoon destinations. If you have to visit Pandawa beach or Kuta beach, you will see both beaches bustling with visitors from noon to evening. In contrast to Jimbaran beach, which begins to get crowded with visitors from sunset to evening. Especially on this page, I will write a guide about for top 5 Jimbaran nightlife spots.
Bahasa Indonesia, "5 Hiburan Malam Jimbaran Bali" >>>
Jimbaran Bali Tourism Attraction
Before I write about the top five best places to visit at night in Jimbaran, it's good for me to address the Jimbaran Bali tourism area's attractiveness.
Above all, the Jimbaran Bali area has a very strategic location. Because of its location close to Ngurah Rai Airport, as well as the Garuda Wisnu Kencana culture park. The main attraction of Jimbaran is the pristine white sand beach. Jimbaran beach shoreline leads to the southwest. In the afternoon, visitors can see the sunset view from the Jimbaran beach.
The beach waves are not too high. So Jimbaran beach is top-rated for tourists who want to take their children to swim. You will not find Bali water sports activities such as Jet Ski or parasailing at Jimbaran beach. Therefore, if you want to join Bali's water sports activities, please visit the Tanjung Benoa beach in Bali.
See Here, "Things Need To Know Before Visiting Tegal Wangi Beach Jimbaran Bali" >>>
List Of Top 5 Jimbaran Nightlife
What can travelers do in Jimbaran at night? Nightlife at Jimbaran offers a different atmosphere if you compare it to Kuta's nightlife or Legian nightlife. Likewise, if you are in Kuta and Legian Bali's, you find more nightly entertainment in the form of discos or night clubs. In the Jimbaran Bali area, you will find evening entertainment in a different atmosphere.
Jimbaran nightlife starts before sunset, with a grilled seafood cafe opening right on the edge of Jimbaran beach. Jimbaran beach visitors will begin arriving at around 17:00. Some visitors who want to enjoy the sunset while having dinner will choose front seats at one of the grilled seafood cafes.
Some tourists, after enjoying Jimbaran beachside dinner, immediately leave. However, many tourists continue to hang out on the edge of Jimbaran beach until evening. Tourists who continue to hang out are usually accompanied by cold drinks and enjoy live music entertainment.
In addition to night entertainment at one of the grilled seafood cafes, Jimbaran tourist attractions also offer whole night entertainment with a luxurious atmosphere in the form of a bar or restaurant located on a high cliff. Here is the top 5 Jimbaran nightlife.
Find Here, "Top 10 Family Beaches In Bali" >>>
1. Rock Bar
If you like hanging out in Bali, chances are you've heard the name Rock Bar Bali. Rock Bar location is in the area of AYANA Resort and Spa. The Rock Bar's uniqueness lies in its place on top of a high cliff with southern sea views.
If you bring your vehicle, Ayana Resort has a vast vehicle parking area. From the vehicle parking area, AYANA Resort provides buggy facilities to take you to the hotel lobby. From the AYANA Resort lobby area to the Rock Bar, you will walk for approximately 10 minutes. After you reach the cliff's top, you will go down to the Rock Bar by tram. Rock Bar will be crowded with visitors before sunset, which is around 17:00 – 18:00.
Because Rock Bar location is on the edge of a cliff, making Rock Bar visitors see a breathtaking view, especially at sunset. Many tourists say that Rock Bar, one of Bali's best bars for perfect hanging out while listening to live DJs.
Address, Ayana Resort, Jalan Karang Mas, Jimbaran, Badung Regency, Bali.
Location Map, Rock Bar Google Map.
Opening Hours, 17:00 - 21:00.
Dress code, casual clothes.
Singlets are not permitted.
It is not allowed to carry a backpack for security reasons.
2. Sundara Beach Club
Next in the list of top 5 Jimbaran nightlife is the Sundara Beach Club. Sundara Beach Club is located in the Four Seasons Jimbaran resort area. Sundara Beach Club, one of Bali's elite hangout spots. It offers luxury, five-star service, beautiful views of Jimbaran's white sand beach, and the best location to see the Bali sunset.
When you enter the Sundara Beach Club area, the first thing that catches your eye is the 57-meters long infinity pool. There are daybeds, lounges, and luxurious interior designs combined with a lotus pond around the pool area.
The best time to visit Sundara Beach Club is around 17:00 – 19:00 sunset time, and there are Happy Hours (2 for 1). To get the best seats, you should make a reservation beforehand. After the sunset, the live music band will start the show.
Address, Jalan Bukit Permai Four Seasons Resort Jimbaran.
Location Map, Sundara Beach Club Google Map.
Opening hours, 11:00 - 01:00.
Dress code, casual clothes.
3. Smoqee Lounge and Sky Bar
One of the cool hangout places in the Jimbaran Bali area is Smoqee Lounge and Sky Bar because you can see Jimbaran beach's sunset view from the top floor. Smoqee is divided into two regions. Sky Bar is an open area with sky open with views of Jimbaran beach and an indoor lounge area. This place is preferred by tourists who vacation in Bali with their partner or hanging out with friends.
Address Location, Le Méridien Bali Jimbaran, Jalan Bukit Permai
Jimbaran - Bali
Location Map, Smoqee Lounge, and Sky Bar Google Map.
Opening Hours, 17:30 - 23:00.
Dress Code, casual clothes.
4. Ibiza In Bali Jimbaran Nightlife
The Ibiza In Bali is one of the newest beach clubs in the Jimbaran area, owned by a Spanish. As information, Ibiza is one of the islands in the Mediterranean in eastern Spain. Ibiza Island is very famous as a center of nightlife.
The location of Ibiza In Bali is on the edge of Kelan Beach, north of Kedonganan beach and in line with Jimbaran beach. Because the beach club owner is Spanish, most of the food menu offered in Spanish cuisine.
The exciting thing about Ibiza In Bali is that it offers an aquarium swimming pool, jacuzzi, live DJ, and a rooftop bar. At sunset, the view of the evening looks gorgeous from the rooftop bar area. Happy hours are available from 17:00 – 19:00; pay 1 for two. In addition to the cocktail and tapas menu, Ibiza In Bali also provides Shisha.
For me, Ibiza In Bali is one of the best places to hang out. Also, great as a place to see the sunset and watch airplanes land at the airport because Ibiza In Bali is very close to Ngurah Rai airport. Suppose you are caring for the most reliable place to see the sunset on Bali's island. In that case, it's a good idea to visit Ibiza In Bali, Kelan beach. After sunset, a fire dance show begins, and the music beat never stops.
Address Location, Kelan Beach, Jalan Segara Madu, Tuban, Bali.
Location Map, Ibiza In Bali Google Map.
Opening hours, 11:00 - 01:00.
Dress Code, casual wear, swimwear if you want to swim.
5. Grill Seafood Cafe Jimbaran Nightlife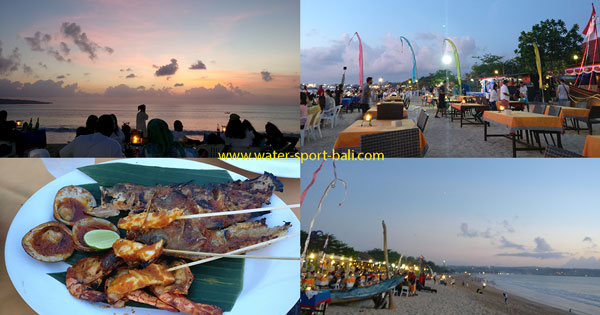 To clarify, Jimbaran beachfront grilled seafood cafe has become the main attraction of Bali. Therefore, most tourists who have a vacation to Jimbaran beach have the primary goal of enjoying the sunset view with a menu of grilled seafood. One of the best places to enjoy Jimbaran style grilled seafood is at one of the grilled seafood cafes by the Jimbaran beach.
Furthermore, the best time to visit Jimbaran beach for beachfront dinner is 17:15. Also, along the coastline of Jimbaran, you will find many grilled seafood cafes. Before you decide on the choice of grilled seafood cafe, you can first take a walk by the beach while looking at the available cafe options.
Furthermore, after you choose a cafe, it's a good idea to choose the front seat. For the food menu, you can order a package or ala carte. For example, the average package price of Jimbaran grilled seafood is IDR 150,000 / person.
Address, Jimbaran Beach Bali.
Location Map, Jimbaran Beach Bali on Google Map.
Opening Hours, 15:00 - 23:00.
Dress Code, casual clothes.
Read More, "10 Ideas Create Jimbaran Bali As The Best Spot For A Family Hideaway" >>>