Bali Paragliding is one of the adventure activities for an exciting vacation by flying in the air utilizing a paraglider. In addition, the Paragliding activity is one of the favorite things to do in Bali and attracts many travelers looking for experiences and adrenaline-pumping adventures. On this page, you will discover paragliding adventures with Riug Paragliding operators. You will find information about Tandem Riug Paragliding Nusa Dua, such as; price, location, activity details, what is included in the ticket price, and how to order.
Bahasa Indonesia, Harga Riug Paralayang Nusa Dua Bali.
Experience the breathtaking view of Sawangan Nusa Dua from a bird's eye with Tandem Riug Paragliding, starting at affordable prices and including a professional guide, safety gear, and insurance. Book your adventure now and make your Bali trip unforgettable!
Choice of Bali Tandem Paragliding Operators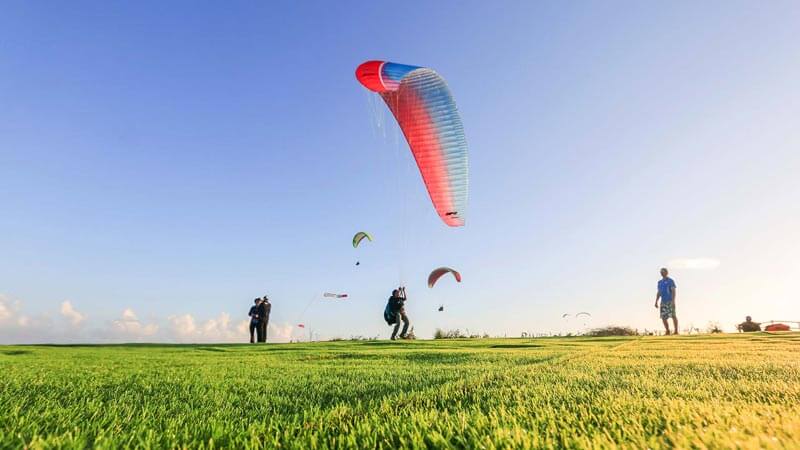 Several paragliding companies in Bali offer paragliding activities. In addition, each paragliding operator provides all the necessary equipment and training to ensure a safe and enjoyable visitor experience.
Furthermore, paragliding operators in Bali only offer tandem flights so participants can fly with experienced pilots. So, the pilot's job is to control the flight while you sit back and enjoy the adventure and sights.
There are two very famous paragliding operators in Bali, including;
Riug Paragliding.
But specifically on this page, I will write for you in more detail about Riug Paragliding.
See Guide on How to Book Paragliding Bali.
Tandem Riug Paragliding Bali Highlights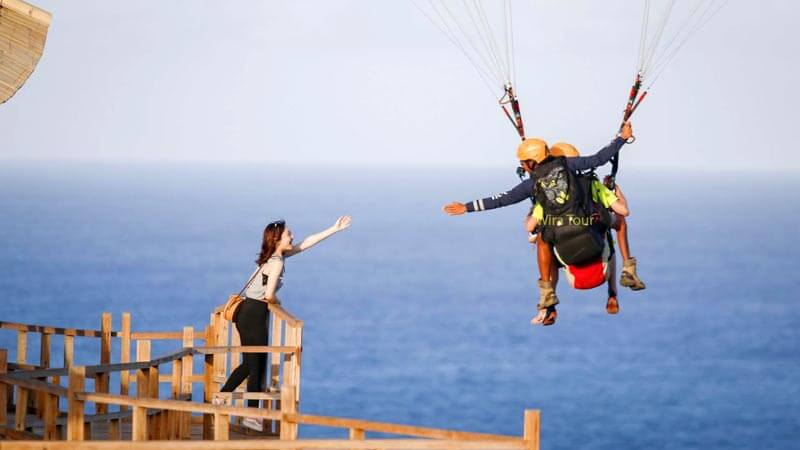 Enjoy the experience of flying in the air safely and challengingly by trying Tandem paragliding on the Riug cliff, Sawangan Nusa Dua Bali. Paragliding can be a fun and exciting holiday activity with safe weather requirements and proper gear.
You will also be guided to find out basic security and safety techniques. In addition, when flying, you will be accompanied by an experienced paragliding pilot. So, during the flight, you can sense the sensation of flying and see the beautiful scenery from above.
Before you choose Riug Paragliding as a provider of paragliding adventures in Bali, you will undoubtedly ask several questions!
What are the edges of Riug paragliding compared to other Bali paragliding operators?
Following are the facilities and services provided to customers by Riug Paragliding.
See, Prices for Bali Parasailing Adventures Tanjung Benoa.
Location & Opening Hours
Furthermore, Riug Paragliding is open every day from 11:00 – 17:00.
Also, Riug Paragliding occupies an area of 3,000 square meters and offers the best facilities that differentiate Riug paragliding from other tandem paragliding operators in Bali. Riug Paragliding's commitment to ensuring the comfort and safety of sightseers is noticeable, such as the availability of relaxing and comfortable facilities.
The address of the Nusa Dua paragliding Riug is on Jl. Villa The Santi Residence, Banjar. Sawangan, Nusa Dua. To construct a more straightforward for you to discover the location of Riug Paragliding, please use Google Maps by clicking the link below!
See, Location of Riug Paragliding on Google Maps.
Distance & Travel Time
The distance from Kuta Beach to Sawangan Nusa Dua is around 15.4 kilometers if you follow the most common road route. Travel time is usually 30-45 minutes, depending on traffic conditions.
The distance from Echo Beach Canggu to Sawangan Nusa Dua is around 19.4 kilometers if you follow the most common route. Meanwhile, travel time is usually 45-60 minutes, depending on traffic conditions.
Remember that the distance and travel time may vary depending on the route taken and traffic conditions.
See the difference between Parasailing and Parasailing Adventure Tanjung Benoa.
Take-off Location and Landing Spot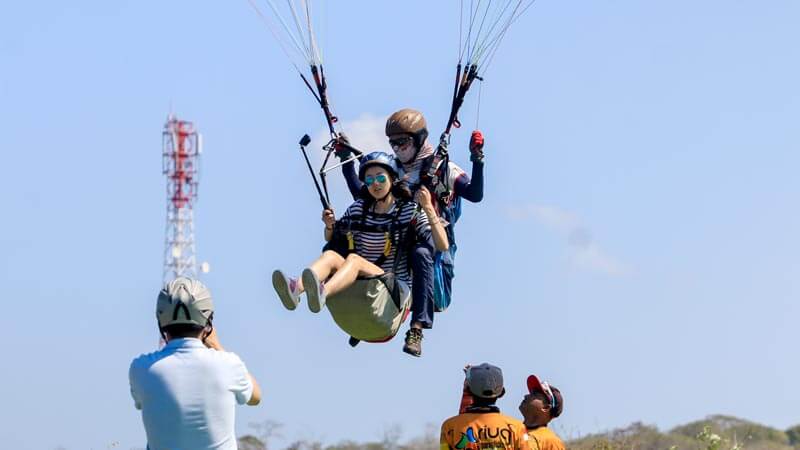 The take-off and landing area covers an area of 200 square meters. In addition, the take-off and landing areas are also covered with synthetic turf to ensure a safe and comfortable landing. However, relying on the flight's wind situation, the pilot will sometimes land the paraglider on the beach area.
Find Out 10 Favorite Vacation Activities in Nusa Dua Bali.
Relax in the Natural Bamboo Lobby of Riug Paragliding: Charging Stations, Music, WiFi, and Comfortable Seating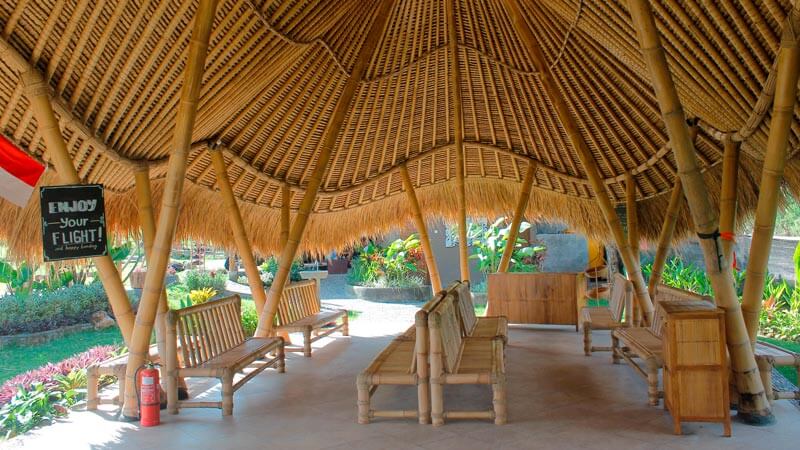 The lobby made of natural bamboo offers visitors a large and breezy area to relax. In the lobby zone, guests can access power sockets to charge their cellphones, and there are speakers for music and wifi to stay connected to the internet.
Bamboo benches and hammocks are also available to enhance travelers' comfort, allowing visitors to sit and enjoy the cool breeze while waiting for their turn to fly.
See Bali ATV Ride Prices.
Riug Paragliding Equipment and Safety Measures
Paragliding gear, including helmets, harnesses, and gliders, are all designed to meet the FAI standards (Federation Aeronautique Internationale) and European regulations and standards.
Sports shoes are one of the mandatory equipment to be capable of flying. Therefore, to ensure visitors wear the right-sized footwear, Riug Paragliding also offers various shoe sizes for guests who may have yet to carry sports shoes.
Find Out, Prices for Tanjung Benoa Water Sports Packages.
The Facilities Provided by Riug Paragliding at Sawangan Nusa Dua Bali
While waiting for their turn to fly or just enjoying the sea view and socializing with friends, visitors can relax in the extensive wooden gazebo area, which is located on the edge of a cliff.
In addition, lockers with locks are available for guests to store their personal belongings during flights, while first aid kits and medicines are also available for emergencies.
For added peace of mind, guests are protected by insurance benefits of up to IDR 250 million per participant. Then two clean toilets are also available, located next to the lobby area. In addition, a large vehicle parking area is also available and can accommodate up to 20 cars.
View, Selection & Price List of Tanjung Benoa Water Sport.
The Best Time to Fly Utilizing Paragliding in Bali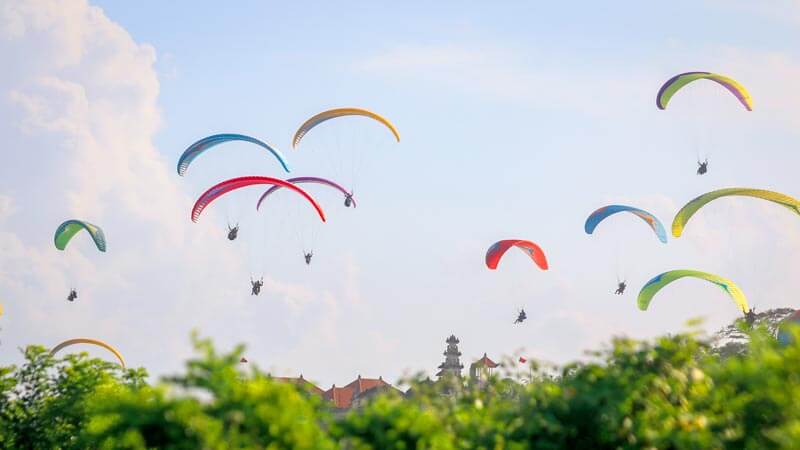 Paragliding activity is highly dependent on the weather, especially the movement and strength of the wind. The following are the criteria for the best time to fly utilizing paragliding.
The ideal flying time for paragliding is in the morning or evening when the air conditions are more stable and calm. Furthermore, weather conditions during the day are hotter and windier, which can worsen paraglider performance. In addition, the dry season in Bali, which generally occurs from April to October, is the best time to participate in paragliding adventures in Bali.
In addition, when selecting a flight time, paying attention to the overall weather conditions, such as wind speed, wind direction, and humidity, is essential. Poor weather or intense wind situations can affect the safety and comfort of flying. Especially for Riug paragliding, the wind direction to the southeast or southwest is the best wind approach to fly.
Before flying, check the weather forecast and consult with a paragliding instructor. They can provide more detailed information and help you choose the right flight time.
Read More, The Best Month Travel To Bali – A Vacation Guide.
Tandem Riug Paragliding Bali Itinerary
When you arrive at the Riug Paragliding Nusa Dua site, you will be greeted by the reception staff.
Paragliding players will check in and re-register at the reception counter. Then, participants will get a flight number and measure their weight.
Afterward, the paragliding staff will call participants to wear sports shoes, safety straps, and helmets. Riug paragliding would provide sports shoes if players did not wear or bring sports shoes.
The paragliding pilot will describe to players about safety equipment and safety procedures.
Participants with the pilot will take off from the Riug cliff area.
You will fly for about 10 – 15 minutes, and the flight duration depends on the wind. In addition, you can see views of the southern ocean, high cliffs, and several villa structures visible from above.
After flying, you will land on the cliffs of Riug or the edge of Riug beach. Furthermore, the landing location depends on the direction and strength of the wind when you fly.
Find Out, Prices for Camel Rides on Sawangan Beach, Nusa Dua.
Price of Riug Paragliding Sawangan Nusa Dua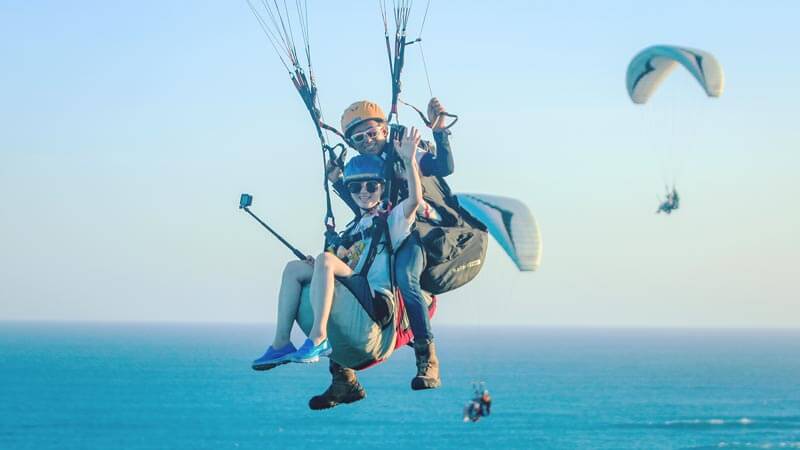 | Publish Price | Online Price |
| --- | --- |
| IDR 1.000.000 | IDR 975.000 |
The Riug Paragliding Price Package includes the following:
All players are covered by insurance; the insurance provider is Riug Paragliding Nusa Dua.
Flying duration is approximately 10-15 minutes.
In addition, each player will be accompanied by a Professional Tandem Pilot with a T2 rating when flying. The T2 rating is the license category for experienced tandem paragliding pilots.
The published price for Riug Paragliding is the price you will obtain if you order directly at the activity location.
Meanwhile, the Riug Paragliding price online is the price you will get if you order with Wira Water Sports Bali/Wira Tour.
All participants will acquire safety equipment, including a certified glider, helmet, and harness compatible with FAI (Federation Aeronautique Internationale) Safety Standards and European/EN Standards.
Usage of sports shoes for passengers if necessary.
The price includes video flight recorded on GoPro Hero series nine with an 8 GB memory card.
Players will receive a RIUG Tandem Paragliding award certificate.
The price listed on the table is for one person.
Prices for Riug Paragliding Nusa Dua are valid until December 31, 2023.
Things You Should Bring
Here are some things that must be brought when experiencing the Bali paragliding Nusa Dua adventures:
Comfortable clothing: Wear comfortable clothing suitable for Bali's hot climate.
Sports shoes: Wear sports shoes or sneakers that provide good support and traction.
Sunglasses: Carry sunglasses to protect your eyes from the sun and wind.
Sunscreen: Before the activity, apply sunscreen cream to cover the skin from the sun's UV rays.
Drinking water: Bring a water bottle to keep you hydrated during the flight.
Camera: Bring a camera or smartphone to capture the fantastic views when you are on the cliffs of Riug Sawangan Nusa Dua.
Voucher: Bring the voucher you received from us for re-registration purposes. You don't need to print the coupon; you need to save it on your cellphone.
Jacket: If you're flying during winter in Australia, wearing a light coat on the flight will help maintain your body temperature.
Read More, Bali River Rafting.
Tandem Riug Paragliding FAQ
Our customers frequently ask questions about Riug Paragliding in Sawangan Nusa Dua.
How many paragliders/parachutes are available at Riug Paragliding?
Currently, there are more than ten paragliders or parachutes available.
How many paragliding pilots are available?
Currently, Riug Paragliding has 6-8 paragliding pilots.
Can we fly in paragliding with friends or family simultaneously?
Riug paragliding allows participants can fly together with friends or family. However, at the time of take-off, it is still being carried out individually; it cannot take off simultaneously.
What are the conditions if a child under five wants to experience paragliding activities?
Child participants under five years old will fly together with the child's parents, but there is no insurance coverage for participants under the age of 5 years.
Are there specific conditions for players with a history of certain illnesses or pregnant women?
Participants with heart disease, epilepsy, and pregnant females, are not permitted to partake in paragliding activities. At the time of registration, before flying, each participant will sign a statement form stating that the player does not have particular conditions that not allowed to participate in paragliding.
If it rains during paragliding activities, will the activity continue?
When it rains, paragliding activities are not authorized. Paragliding activities will be carried out again if the rain has stopped. Also, the pilot will make sure after the rain, the wind direction and wind speed are in good condition for flying.
What time are the first check-in and last check-in time?
First, check in at 10:30 am, and last, at 4:30 pm.
Does paragliding activity depend on wind direction and speed?
Paragliding activity is very dependent on the wind. The best average time to fly is 13:00 – 17:00. Sometimes can fly earlier, around 10:00 to 18:00.
Booking a Tandem Riug Paragliding Nusa Dua Bali
Please get in touch with our reservation department to book the Tandem Riug Paragliding in Sawangan Nusa Dua. You can contact our reservation staff through several available ways, such as;
Phone +62813 3956 3400 (WhatsApp Call and Chat).
Phone: +62822 4714 8222 (WhatsApp Chat Only)
Office Phone +6236 6558 1096 (landline).
Email info@water-sports-bali.com.
Alternatively, you can complete the Riug Paragliding order form by filling out the booking form below.
We also provide a WhatsApp number button to produce a more manageable for you to connect with the Tandem Riug Paragliding reservation staff at our place.
Riug Tandem Paragliding Booking Form
Riug Tandem Paragliding Bali Voucher Redeem
After ordering Tandem Riug Paragliding and completing payment, we will send a Tandem Riug Paragliding voucher through email or WhatsApp.
We will also provide the address and location of the Tandem Riug Paragliding adventures and Google Maps via email or WhatsApp.
You don't require to print the voucher; show it on your cellphone when you arrive at the activity site.
Be sure to show the Bali watersport voucher to the staff on duty at the Tandem Riug Paragliding spot.
The Tandem Riug Paragliding voucher is valid according to the date stated on the voucher. If there is a change in the arrival schedule, please notify our customer service department.
Terms & Conditions for Tandem Riug Paragliding Nusa Dua
The following is some general information that needs to be considered before booking or taking a Riug paragliding Nusa Dua flight:
The minimum age of passengers who can experience paragliding is five years old, depending on height and weight.
Then the highest age of passengers who can partake in paragliding is 65 years. In addition, health requirements, weight, and height will also determine the criteria for passengers who can participate in paragliding.
The maximum weight permitted is 120 kg.
Ensure you don't have a history of heart disease, epilepsy, or other congenital disorders.
The availability of paragliding activities is highly dependent on weather requirements, including wind direction, speed, and passenger weight.
In addition, the authorized paragliding pilot determines who can fly and the flight time.
Safety is Riug paragliding's top priority, and Riug Paragliding may require to cancel flights due to threatening weather circumstances, such as strong winds, weak winds, and rain.
Rescheduling and Refund Conditions
Reschedule for the date of the Tandem Riug Paragliding activity is unavailable.
Please request to cancel the activity one day before the activity date before 14:00 (Bali time) to get a 100% refund.
Activity cancellations made one day before the activity date and cancellations made after 14:00 will incur a 100% cancellation fee.
Participants who do not come to the activity location according to the date on the voucher are considered a no-show. Therefore, a no-show will be subject to a cancellation fee of 100% of the total activity payment.
Activity cancellations are made on the date of the activity that has been ordered; a cancellation fee of 100% of the total payment will be charged.
The refund will not cover service fees, discounts, PayPal fees, Wize Fees, or bank transfers.
To cancel an activity, please contact our customer service department.
The cancellation of the Riug Paragliding Nusa Dua activity was due to weather factors, which made it impossible to fly. Therefore, Riug paragliding will give two choices for participants. The first option is changing the flight schedule to the next day, and the second is a payment refund.