While Kuta Beach, with its spectacular sunset views, is a hot favourite among tourists, many thrill-seekers find paradise in the energetic morning vibe of the Tanjung Benoa tourist attractions. Here, adrenaline-infused Tanjung Benoa Beach activities, especially the water sports, form the heartbeat of the day, with the affordable Bali Flying Fish water sport activity on Tanjung Benoa Beach promising to be the thrill of a lifetime.
Bahasa Indonesia, Harga Wahana Permainan Flying Fish Tanjung Benoa Bali Murah.
Bali Flying Fish Watersport at Tanjung Benoa: Touching the Skies!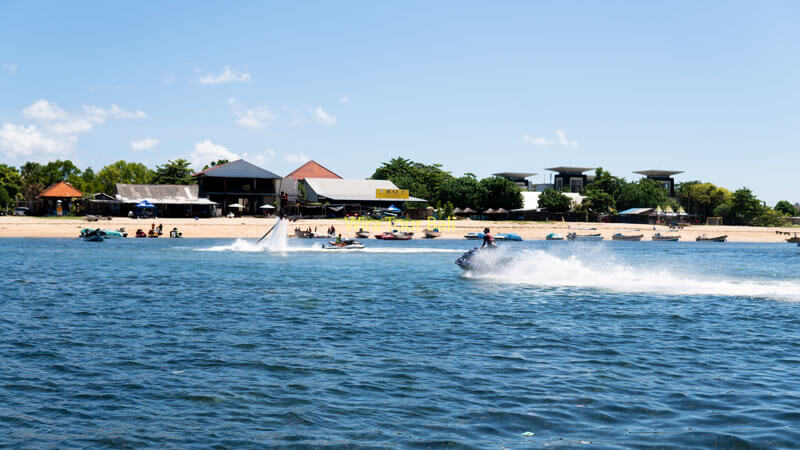 If you've visited Tanjung Benoa Beach before, you may already be familiar with the exhilarating Bali Flying Fish adventure, which paints the sky with fun and excitement. Let's just say this is an airborne thrill ride for those who have yet to explore the watersport Bali scene.
The High-Flying Experience with Flying Fish at Tanjung Benoa
Imagine sitting on a rubber boat – a unique inflatable Flying Fish boat – engineered to mimic a fish sliding and leaping into the sky. This extraordinary sensation sets it apart from other water sports activities at Tanjung Benoa Bali, like parasailing adventures, banana boating, jet skiing, rolling doughnuts, and snorkelling.
And what about the Flying Fish Boat? Well, this is where the actual enjoyment begins.
Design and Capacity of the Flying Fish Boat
This unique inflatable boat is made of three banana-shaped boats, interconnected and sporting wings on both sides, providing a striking fish-like appearance. It can carry three individuals—two adventure-seekers and one guide to maintain the weight balance during flight. The guide's role is pivotal in securing a seamless flight experience, making it enjoyable even for novices.
Participant Positioning for the Flying Fish Ride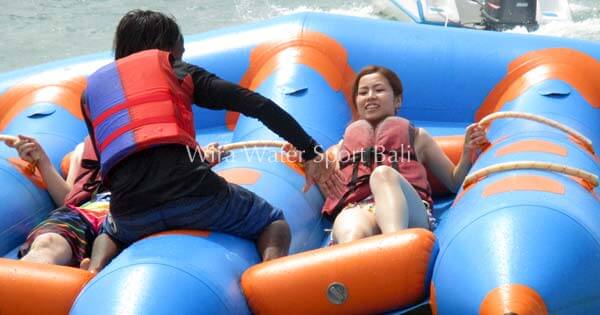 The ride offers two positions – sitting like you're on a motorbike or lying on your back. While both are thrilling, lying flat on your back, clutching the rope that runs along the boat is safer and more generally recommended. From this position, your view of the sky-blue will be unrestricted, enhancing your flying experience.
More Bali Water Sports Adventure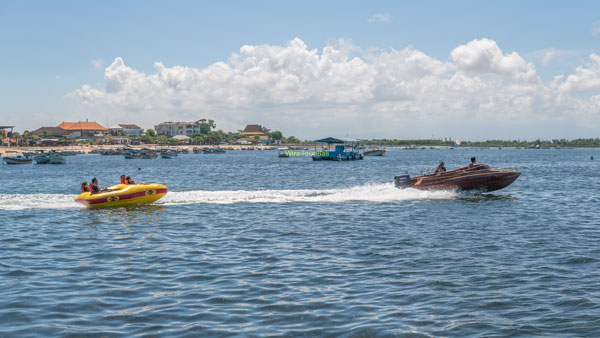 While the Bali Flying Fish activity certainly promises an adrenaline rush, the island of Bali offers more than just this marine water sport. If you are a thrill-seeker looking for the best things to do in Bali and love outdoor adventure, consider trying other water sports activities like Bali river rafting.
Bali is teeming with water sports adventures that cater to various tastes. If you enjoy a boost of adrenaline and a sense of outdoor adventure, then the various water sports activities in Bali will undoubtedly cater to your preferences.
Experience the Unique Sensation of Flying Above Water with Flying Fish
When you embark on the Bali Flying Fish ride at Tanjung Benoa, be prepared for an extraordinary sensation. As you grip the rope on this fish-like rubber boat, you're ready to soar into the sky, signifying the start of your water sports adventure in Bali.
Your journey begins at the beach, with a speed boat pulling you towards the open sea. Against the wind and due to the boat's aerodynamic design, you will lift about 2-3 meters above the sea.
Picture this: In just a few seconds, you're flying! This unforgettable feeling will set your heart racing. Though wind speed can impact the flight altitude, a safe and fun ride is always guaranteed.
Safety and Instructions for Flying Fish Game in Tanjung Benoa
Professional staff will attend throughout the ride, guaranteeing your comfort and safety. They will provide thorough instructions on boarding the boat, appropriate positioning, and game rules to abide by. Aditya Water Sports Tanjung Benoa always prioritises participant safety and security, so rest assured, you're in good hands.
Flying Fish Instructions and Game Duration
Meanwhile, our trained and experienced guides delight in instructing tourists eager to partake in this water sport in Bali. This includes familiarisation with equipment, precise positioning on the boat, and a thorough explanation of the game rules from start to finish.
Furthermore, all equipment meets international standards and focuses on safety and comfort. Two rounds in the flying fish game, which lasts about 10 minutes, make it perfect for holidaying in Bali with family or friends.
During the monsoon season (typically from November to March), we might experience an occasional rainy day, which could lead to temporary activity halts. However, such days are infrequent, and there's usually plenty of sun to enjoy this exciting activity.
Affordable Flying Fish Water Sport – A Tanjung Benoa Beach Activity
| Publish Rate | Our Flying Fish Price |
| --- | --- |
| IDR 450,000 | IDR 185,000 |
Details of Flying Fish Game in Tanjung Benoa
Here are the details for the Bali Flying Fish game in Tanjung Benoa:
Aditya Water Sports Bali operates the activity, including 2 flights, each lasting 8-10 minutes.
With the same prices for adults and children, it's a fun-filled activity for the entire family.
Please note these rates are valid until 31st December 2023.
While the minimum order is for 2 people, each person is considered an individual participant. The price of the Tanjung Benoa Bali flying fish applies to each individual, ensuring everyone gets their share of fun.
Also, safety comes first to us. As such, the activity may be cancelled during adverse weather conditions, ensuring your well-being. In such circumstances, your water sports payment will be fully refunded.
Tanjung Benoa flying fish online price is only valid if you book through us, Wira Water Sports Bali.
Insurance covers participants aged between 8 and 65 years. Smaller-bodied children, although over 8 years old, may not be able to participate in this water sports activity.
Pregnant women, people with a chronology of heart illness, or those under medical therapy are prohibited from participating in this water sports activity.
Inclusions in the Bali Flying Fish Ticket at Tanjung Benoa:
Your ticket covers using activity equipment, life jackets, insurance, service charges, and taxes.
Aditya Water Sports Bali provides the insurance.
We also provide lockers, towels, changing rooms, toilets, bathrooms, and a parking area.
Exclusions:
Shuttle service, food and drinks at the activity location, and photography and video costs are not included in the ticket price. Call us if you want a car rental with a private driver in Bali.
Read More: Restaurants or Cafes near the activity location – TripAdvisor's.
How to Book Flying Fish at Tanjung Benoa – Your Next Bali Water Sports Adventure
Furthermore, for those interested in experiencing this unique and thrilling sensation, booking the Flying Fish at Tanjung Benoa is straightforward. You can reach us through:
Phone numbers: +62813 3956 3400 & +62822 4714 8222.
Email us at info@water-sports-bali.com.
Alternatively, you can fill out the reservation form we provide.
Eligibility for a Free Shuttle Service
To qualify for a free shuttle service, customers must at least:
Furthermore, areas in Bali that are included in the free shuttle service encompass Tanjung Benoa, Nusa Dua, Sawangan, Kampial, Kutuh, Jimbaran, Ungasan, Kedonganan, Tuban, Mumbul, Kuta, and Legian. You can see the terms and conditions for Bali water sports in Tanjung Benoa by clicking the following link.
Payment Methods and Voucher Exchange
We accept bank transfers, credit cards, PayPal, Wise, and cash payments on-site for those who prefer to pay directly for their water sports in Bali adventure.
If you plan to pay on location, please confirm in advance.
Once we acquire your order confirmation and payment, we will send a voucher to your email or WhatsApp.
Printing this voucher is unnecessary; save it on your cellphone.
The voucher is valid daily, and you can present it to our staff on duty at the Tanjung Benoa Beach Aditya Watersport location.
Aditya Water Sport's operational hours are from 09:00 to 16:00, with the best time for the Flying Fish activity being between 09:00 and 14:00.
Should there be any changes to your scheduled arrival, kindly notify us. We are committed to delivering the most enjoyable and safe water sports adventure.
If you encounter any issues with your Tanjung Benoa watersport voucher, please reach us instantly. Our reservation staff will promptly assist you in resolving any voucher-related problems.
Essential Items to Bring
To ensure your comfort while on holiday at Tanjung Benoa Beach and partaking in our activities, we recommend bringing the following items:
Sweat-absorbing clothing.
Slippers.
Hat, sunblock, sunglasses, and a change of clothes.
Extra cash for purchases of food and drinks.
Frequently Asked Questions from Customers
In our experience providing marine tourism games in Tanjung Benoa, we often receive questions from customers about the Flying Fish activity before they place orders. The following are common queries from customers before booking the Flying Fish rides at Tanjung Benoa Bali:
Common Queries from Customers
If the Fly Fish activity duration is 2 flights and we book for 2 people, will the total flight duration be 4?
Each participant will still experience 2 flights regardless of the number of people booked. This is because one fly fish boat can accommodate 2 participants, and the fly fish boat will take flight twice. Hence, each participant will receive 2 flights.
Will participants be accompanied by a guide when playing Flying Fish?
Yes, a guide will always accompany participants in the middle of the boat. Moreover, the guide is crucial in maintaining the boat's balance while in flight.
Finally, with the clear blue skies of Bali as your surroundings and the sparkling waters under you, the Bali Flying Fish at Tanjung Benoa Beach, one of the most thrilling Tanjung Benoa Beach activities, will fill your Bali holiday with unforgettable memories.