Bali, recognised for its astonishing beauty and uniqueness, has always been a favourite tourist destination. A hotbed of various intriguing activities, scuba diving has consistently drawn the attention of underwater adventure enthusiasts. This article provides a comprehensive guide for beginners on scuba diving at Tanjung Benoa Beach, Bali, covering essential preparations, what to expect, and applicable conditions. Additionally, we also offer competitively priced Bali scuba dive packages.
Dive Sites in Bali for Beginners
While not all dive sites in Bali are appropriate for beginners, some exceptional scuba diving spots, such as Tanjung Benoa, Nusa Dua, and Sanur Beach, offer weaker undersea currents and sea depths not exceeding 10 metres, making them ideal for beginners without PADI diving certification.
Discovering Tanjung Benoa: The Go-to Spot for Watersport Enthusiasts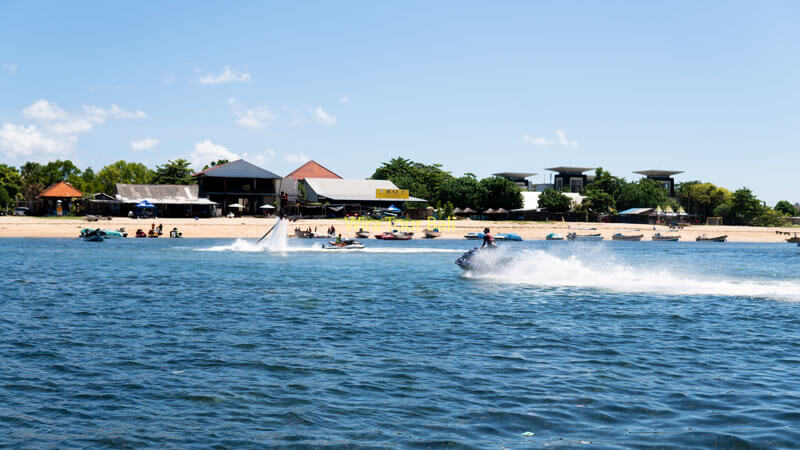 Tanjung Benoa is a preferred destination for local and international tourists seeking watersport activities. The location is strategically located near Ngurah Rai Airport and at the heart of southern Bali's tourist attractions. The journey from Kuta Beach by motor vehicle takes approximately 35 minutes, making it a popular destination if you stay in the Kuta tourism area.
Tanjung Benoa Beach is a must-visit for adventurers in Bali. As a hub of the best watersport activities in Bali, it offers scuba diving and other thrilling activities such as Ocean walkers, snorkelling, flying fish, and other water games.
Additionally, Tanjung Benoa Turtle Island is a particular attraction for tourists. You can interact directly with green turtles and learn more about this protected marine animal.
Consider visiting this beach if you're planning a vacation to Bali and looking for new experiences. Tanjung Benoa's beauty and exciting activities will make your holiday unforgettable.
Experience Introductory Scuba Diving in Tanjung Benoa
What to Expect When Scuba Diving in Tanjung Benoa
Scuba diving in Tanjung Benoa, Nusa Dua, consistently draws the interest of beginner divers, with calm, clear water conditions and a comfortable climate all year round, making this beach the top choice. This scuba diving video lets you see the diving atmosphere in Tanjung Benoa.
The Best Time to Dive in Tanjung Benoa
While you can enjoy diving here all year round, the best time to dive in Tanjung Benoa is between May and November. During these months, water clarity is at its peak, ensuring high visibility of vibrant sea life and enchanting underwater landscapes. The weather conditions are also more predictable and pleasant. If you've never tried scuba diving, find our Bali Diving Tips for Beginners to familiarise yourself before diving.
Snorkelling in Bali: An Alternative Water Sport Activity
If you want to explore underwater scenery differently, try snorkelling in Tanjung Bali as an alternative water sports activity. With affordable snorkelling prices, you can revel in the captivating beauty underwater.
Ensuring Safe and Enjoyable Dives: Equipment and Techniques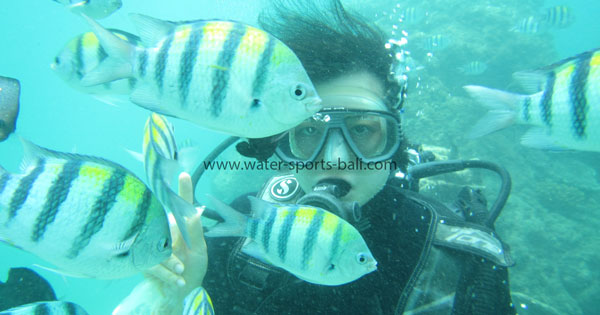 For those beginners interested in Bali scuba diving, don't worry! Before diving, you'll receive briefings and introductions about scuba diving equipment.
The equipment you'll familiarise yourself with includes:
Oxygen cylinders for underwater breathing.
Wetsuits for thermal protection.
Fins for improved mobility.
Masks for clear underwater vision.
It's essential to note that all gear is thoroughly washed, checked, and maintained after each use for your safety and convenience.
Apart from equipment familiarisation, physical and health preparation are crucial. This applies to essential physical wellness, staying hydrated, avoiding alcohol, and getting a good night's sleep the day before your dive. Also, consult a doctor before scuba diving if you retain any pre-existing health requirements, particularly respiratory or cardiovascular issues. Here are some Health Guidelines for Scuba Diving for reference.
Furthermore, a professional dive instructor will accompany you throughout the dive. Then, you'll learn about swimming and breathing techniques in the sea. Check out the video Introduction to Scuba Diving Nusa Dua For Beginners on YouTube to get a feel for the activity.
Embarking on an Underwater Adventure in Tanjung Benoa: Safety and Protocols
A motorised boat will transport the divers to the sea's heart, accompanied by experienced instructors. During the dive, you can explore the rich biodiversity of Tanjung Benoa's underwater world. Marvel at various ornamental coral fish, coral reefs, and diverse marine life.
This diving process is meticulously supervised by a guide adhering to stringent safety procedures. In addition to using standard equipment, the participants' conditions are checked before and after the dive.
The guide's adherence to stringent safety procedures involves a detailed step-by-step explanation of safety protocols, constant communication during the dive, and careful monitoring of all divers, especially those nervous or unsure. Beginners are especially reassured about the emergency procedures to alleviate their anxiety.
The Cost of Intro Scuba Diving in Tanjung Benoa
If you're eager to try scuba diving, please book with us! We offer very affordable prices for scuba diving intros and other watersport activities in Tanjung Benoa.
Tanjung Benoa Scuba Diving Ticket Prices
| Publish Rate | Our Rate |
| --- | --- |
| IDR 1,000,000/person | IDR 325,000/person |
Description of Tanjung Benoa Bali Intro Scuba Diving Activities
This price is valid until 31 December 2023 and includes one dive of 30 minutes.
Aditya Watersport operates the intro scuba dive activity on this page.
This rate applies specifically to International travellers. For Indonesian citizen rates, please click the link.
The prices listed for Tanjung Benoa intro scuba dive tickets in the table are for one participant.
The online prices listed on this site only apply if you order through us. The published price will apply immediately if you come directly to the Aditya Watersport location and order on-site without booking through Wira Water Sports Bali.
Even though insurance starts to cover from age 10, the average child who can do this activity is 15 years old, according to their body build, and the maximum age of the participants is 65 years. Check out Scuba Diving In Nusa Dua Bali For Beginners on YouTube.
What's Included in the Tanjung Benoa Scuba Diving Ticket Price?
The rate for diving activities includes a dive instructor, speed boat, all scuba dive equipment, and participant insurance. Aditya Watersport provides insurance for diving activity participants.
What's Not Included in the Tanjung Benoa Scuba Diving Ticket Price?
Please note that the price of the Intro Scuba Dive, Bali, does not include a shuttle service.
Participants' expenses, such as buying drinks and food at the activity location, are not included in the Scuba Diving in Bali price.
The cost of documentation services for photos and videos taken during activities is also not included in the Intro Scuba Dive ticket price at Tanjung Benoa.
Planning Your Scuba Diving Adventure: Booking Process and Vouchers
How to Book Bali Scuba Dive Activities
You can reach us in the following ways:
Phone Number: Call us at +62813 3956 3400 or +62822 4714 8222. We are also reachable via WhatsApp.
Our Office: You can call our office at +6236 6558 1096.
Email: If you want to send more details or questions about Scuba Dive, email info@water-sport-bali.com.
Don't hesitate to call us now to become part of an unforgettable underwater adventure.
Our Method Of Payment
We accept on-the-spot payment for Bali activities at water sports locations by IDR cash.
Payment at the water sports activity location with other currency converted with the currency exchange rates applies on the day of booking the water sports activities and the conversion by Aditya Tanjung Benoa Bali water sports.
For customer payment for Bali activities at the water sports location by credit card (Visa & Master Card), there will be an extra 3 % of the total cost.
Also, if you come to our watersports activities site escorted by your driver, our Bali scuba diving price will not be applied for payment on the spot. Make our scuba diving Bali price eligible if you come with your driver. You must make an advance payment at least one day before the activity date.
How to Use Scuba Dive Bali Vouchers
After we receive confirmation of your complete Tanjung Benoa Bali scuba diving booking and payment, we will send a Tanjung Benoa scuba dive voucher via your email or WhatsApp.
You simply need to save the voucher on your mobile device; no need for a printout.
To help you find the location, we will provide you with the complete address of the scuba dive activity on Tanjung Benoa Beach, accompanied by a Google Maps link via email or WhatsApp.
Aditya Watersport operates daily from 09:00 – 16:00, with the best time for scuba diving between 09:00 – 11:00.
Upon arrival at the scuba dive location, simply show our staff the voucher we sent via your cellphone.
Please inform us immediately if there are changes to your arrival schedule.
Complimentary Shuttle Service for Your Convenience
We offer a free shuttle service! However, there are certain conditions to fulfil.
Requirements for Our Free Shuttle Facility
Each member in your group (with a minimum of two people) must order three different types of water sports rides at Tanjung Benoa. Are you intrigued by scuba diving, a banana boat, or a parasailing adventure? Or perhaps another activity? Please choose according to your preferences!
Alternatively, you could opt for our Tanjung Benoa water sports package for two people.
Regions Covered by Our Free Shuttle Service
Our complimentary shuttle service covers multiple tourist destinations in the southern part of Bali, including Nusa Dua, Tanjung Benoa, Kampial, Sawangan, Kutuh, Ungasan, Jimbaran, Kedonganan, Tuban, and Mumbul. You can relax and indulge in exciting outdoor activities in Bali without worrying about transportation expenses.
What Should You Bring When Diving in Tanjung Benoa?
Spare clothes and swimwear.
Sun cream.
Plastic bags for your wet clothes.
Cash for food or drink.
Sunglasses.
Cancellation Policies for Scuba Diving at Tanjung Benoa Beach
If you're planning to explore the underwater world with the Intro Scuba Dive experience at Tanjung Benoa Beach, Bali, it's essential to know our cancellation policies.
You may cancel your dive experience up until the day before. We'll refund your Intro Scuba Dive experience payment, excluding administration, bank transfer, and other service fees.
Should you cancel on the same day as your scheduled scuba dive, we'll charge a cancellation fee equivalent to 100% of the total payment.
Your safety is our priority. If the weather conditions are unfavourable, the Tanjung Benoa watersport operator reserves the right to cancel your dive activity.
In case of operator cancellation, we will fully refund your payment, or you can reschedule your dive for the next day.
The Tanjung Benoa watersport operator solely determines unfavourable weather conditions. Changes in weather conditions during activities are out of our control and can occur without prior notice.
We highly recommend that you check the weather forecast in Bali before scuba diving in Tanjung Benoa.
Frequently Asked Questions
We often receive customer questions based on our experience offering Tanjung Benoa watersport services, specifically for the Introductory Scuba Dive Bali. Here are some common inquiries and our responses.
Can I book the Tanjung Benoa Intro Scuba Dive through Wira Water Sports and pay on arrival at the activity location?
You're welcome to book the Tanjung Benoa Intro Scuba Dive through Wira Water Sports and pay when you arrive at the site, but there are conditions. You must reserve our shuttle service to access online watersport prices. Without a voucher, our transportation service is proof of your online booking through Wira Water Sports.
–
I can't swim. Can I participate in the intro scuba dive at Tanjung Benoa?
The Scuba diving intro experience requires swimming skills. If you can't swim but still wish to experience the underwater world, we recommend trying out games offered by the Bali Marine Walk.
What's the average dive depth?
The typical dive depth is around 5-10 meters, ideal for beginners.
Will I have a dive guide with me when I dive?
Yes, a guide will accompany customers during the dive.