Furthermore, if you have this question, where is the best place for water sports in Bali? The answer is Tanjung Benoa Beach Nusa Dua Bali. There are plenty of marine games in Tanjung Benoa beach, such as ride a banana boat Bali, rolling donut, and fly board. However, the most popular aquatic sports game in Bali is Bali Parasailing. The location to join Bali Parasailing is in the Tanjung Benoa beach part of the Nusa Dua area.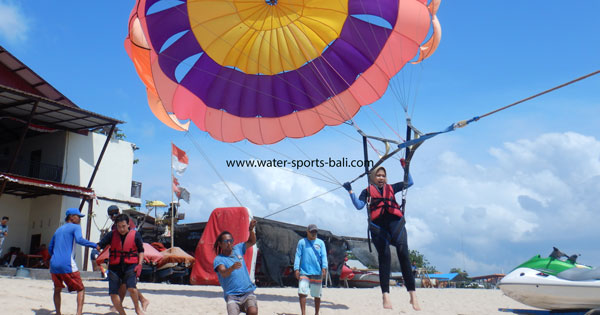 Parasailing very attractive for local and foreign tourists, and especially travelers from Singapore, Hong Kong, Malaysia, India, and Indonesia. Like a free bird flying in the air while enjoying the beautiful sea view from the sky. In case you want to know more regarding Bali parasailing at Tanjung Benoa beach, you should read this! "Five Things You Need To Know About Parasailing Activity In Bali" >>>
Two Different Kinds Of Tanjung Benoa Parasailing Activities
Please be aware, single person parasailing and tandem parasailing adventure in Tanjung Benoa Nusa Dua – Bali, is two separate kinds of parasailing activities, with varying prices on each of the games.
Single person parasailing is one person fly on the parachute. The flight begins from the beach sand and also land on the beach sand. Also, this page is about single parasailing with the Aditya Water Sports Tanjung Benoa as the single parasailing operator.
Parasailing adventure in Bali, also known as the tandem parasailing adventure, is a tandem parasailing Bali activity that can accommodate two and three people to fly together. However, during Bali parasailing adventures, the participants started to take flight from the speedboat and landed in a motorboat.
If you want to know what is the difference between parasailing and parasailing adventure in Bali, please click on the below link!
Read Here, "What Is The Difference Between Parasailing And Parasailing Adventure In Tanjung Benoa Bali" >>>
Single Parasailing Bali – Marine Sports Tanjung Benoa
Travelers, who want to try single Bali Parasailing Tanjung Benoa Nusa Dua, do not need to have the expertise as a real paratrooper. The speedboat will pull the parachute rope around the coast. Before you start, the parasailing guides will give you an instruction. You are starting from the introduction of the tools used, the standing position before the flight, the situation at the time in the air, and what to do before landing.
Parachute used tailored to the size of passenger weight — the goal to maintain balance and comfort while in the air. There is a wide choice of colors for the parachute.
Getting Ready
If the equipment used is mounted securely, the guide will give instructions that a speedboat will pull the chute, then fly. The length of parachute cord with a speedboat around 80 meters. The speedboat driven by two people, one is as a driver and another as a guide. At the time of landing, some guides will guard the umbrella. One round takes about 2 minutes.
Equipment used for Tanjung Benoa Watersports has guaranteed security. However, travelers don't need to worry because all the stuff meets international standards. The guide will be happy to accompany while flying through the air for children under ten years. The use of a life jacket is a must to keep up floating in seawater if the umbrella parachute crashed into the sea.
Single Bali Parasailing Price Tanjung Benoa Nusa Dua
One person parasailing in Bali is very suitable for families and friends for outdoor adventure in Bali. We recommend you to wear simple clothing for ease and comfort while flying through the air. Do not forget to use a moisturizer cream to keep skin protected from the sun during the day. The colorful umbrella parachute will appear on the beach from a distance, adorn the beautiful views of the beach.
If you want to try single Bali Parasailing in Tanjung Benoa beach, we offer cheap rates for all types of Bali water sports, and please contact us for reservations.
| Publish Rate | Our Rate |
| --- | --- |
| USD 30 / Person | IDR 110.000 / Person |

Note On Single Parasailing Tanjung Benoa
Activity duration is 1 round trip, approximately 2 minutes.
The single person parasailing operator on this page is Aditya Tanjung Benoa Watersports Bali.
Single parasailing is for one man/woman, and it cannot fly two people at once.
The price of single parasailing Tanjung Benoa on the table above is for one participant.
Price includes member insurance, tax, and service charge.
Insurance for members provides by the single parasailing operator who is Aditya Tanjung Benoa Watersports Bali.
The minimum age allows eight years old.
The maximum age allows 65 years old.
Life jacket provided.
Our single Bali parasailing price only valid if the booking through our website (Wira Water Sports Bali).
Publish rates will apply if the single parasailing reservation on the spot (walk-in booking).
Shuttle service excluded in single person parasailing ticket prices by Aditya Water Sports Tanjung Benoa.
Furthermore, if you want Bali marine water sports prices in Tanjung Benoa Nusa Dua, that has included a free shuttle. Please choose, "Aditya water sports activities packages in Bali" >>>
See Here, "Bali Parasailing Adventures Price In Tanjung Benoa Nusa Dua" >>>
Bali Parasailing Cancellation Policy
During harsh weather, single person parasailing at Tanjung Benoa will be canceled. These done for the safety of individual parasailing participants.
Cancellation single parasailing Tanjung Benoa by Aditya water sports operator, due to inclement weather. Then Aditya water sport gives a refund for all single parasailing payments.
Severe weather in Bali can occur at any time and beyond our control.
Weather condition changes that cause marine sports activity cancellation without prior notice to customers.
However, if maritime sports event cancellation made by customers for any reason. Also, there is no issue of climates and equipment, and the Aditya water sports operator declares safe to do single person parasailing. Therefore, a 100 % cancellation fee applies, charge to customers.
Also, if you change your mind at the Bali water sports operator location, and want to change the Aditya single person, parasailing becomes tandem parasailing adventures by Aditya Water Sports. The tandem parasailing adventure price will apply, which is IDR 350.000 / person. Also, if you have made payment for single person parasailing, therefore the operator or we will return the single parasailing payment and collect the fee for a tandem parasailing adventure.
Water Sports Packages In Bali
If you want to join water sports in Bali, more than one activity with more than two people participating, we suggest you book water sports packages in Bali. Due to the rate of water sports packages is a lot cheaper. You will also get free pick-up services from your hotel to Tanjung Benoa water sports location and return transfer.
Also, you can create a custom marine water sports tour package, with a maritime sports activity that you like. Perhaps, in one watersports tour package, there are a flyboard game, rolling donut, and banana boat ride.
Besides Bali water sports at Tanjung Benoa, we also provide another type of adventure in Bali. Whitewater rafting is one of them. Therefore, if you feel bored on the beach, then Bali white water river rafting is one adventure that you should consider to try.
These might be what you are looking for, "Jet Ski Ride In Tanjung Benoa Nusa Dua Bali" >>>
Bali Parasailing FAQ
When our customers want to book a single parasailing ride in Tanjung Benoa beach, they will ask some inquiries. Below is the most frequent inquiries being as by our customer regarding a single parasailing ride in Bali.
What is the maximum weight of participants to join single parasailing in Tanjung Benoa beach Bali?
The maximum weight for participants to join single parasailing is 80 Kilogram or 176 lbs.
What is the duration of flight during single parasailing?
Flight duration of single parasailing is around 2 minutes.
Is it single parasailing safe, and is it can be done every day?
The single parasailing ride depends on weather and wind direction. To make it safe for participants, perfect weather, and wind direction to the beach shoreline required. Therefore, single parasailing is not available daily due to entirely depend on weather conditions.
Is it a single parasailing ride accompanied by an instructor?
For adults, single parasailing not accompanied by an instructor. However, an instructor will accompany the kids during the flight because kids are not strong enough to control the landing rope.