If you love to watch MotoGP racing and are a fan of Repsol Honda, some of you must notice. While the launching event of Honda RC213V 2015, which was on 1st February 2015 held in Sanur Bali. During this event, one of the Repsol Honda racers tries Flyboarding activities. Due to this event being broadcast worldwide, it makes Flyboard Tanjung Benoa Bali activities famous among travelers.
Bahasa Indonesia, "Harga Permainan Flyboard Bali Di Tanjung Benoa" >>>
Even though flyboarding activities in Bali are still considered expensive compared to other Bali water sports activities, it seems that travelers do not hesitate to try Bali flyboarding activities.
Bali Flyboarding Activities
Many Bali water sports activities use water jet propulsion mechanisms. One of the water jets rides available in Bali is a flyboard ride. The flyboarding ride is currently in trend in Bali and is one of the latest water sports games in Bali.
How Flyboard Works
Flyboarding activities in Bali using a tool called flyboard. A flyboard is a water jet equipment worn on the feat shape like a shoe — the flyboard connected to a device shaped like a jet ski provides the driving force for flyboard users to fly. Also, the flyboarding activity is the latest water sports game in Bali.
It uses the water jet propulsion mechanism for a flyboard like a jet ski. A water jet propulsion is located on the back of a jet ski if on a jet ski. Therefore, it allows the jet ski to run on the water's surface. However, on the flyboard, water jet nozzles are mounted on shoes. The water jet propulsion from the boots the participants used allowed participants to fly over the water surface.
Following flyboard rides in Bali, you will use water jet shoes. The shoe is connected to a jet ski using a hose. This water hose will channel the water thrust from under the boot, which makes the flyboard user push and flies up to 5 meters.
After the user hovers, the user can hold the balance while flying, then jump into the water. Advanced flyboard users, when diving into the water, will do a beautiful acrobatic attraction. While for inexperienced people on flyboarding activity, an acrobatic move will not be easy.
Find Out More: "Tandem Parasailing Tanjung Benoa Bali" >>>
Flyboard Tanjung Benoa Bali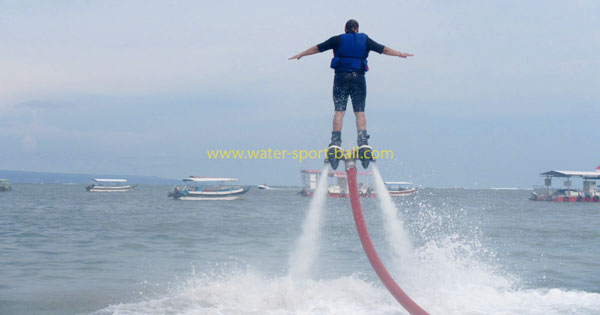 Once you know about Bali Flyboarding and how it works, you will have this question: where is the location of Flyboarding rides in Bali? The Flyboarding rides in Bali are available in two areas in Bali. Namely on the Sanur beach and the Tanjung Benoa beach in Bali.
For the Bali Flyboarding location between Sanur beach and Tanjung Benoa beach, travelers prefer to try flyboard rides at Tanjung Benoa beach. Because on Tanjung Benoa beach, travelers can find other marine sports activities besides Flyboarding.
Tourists better know the marine watersports activities at Tanjung Benoa beach as watersport Tanjung Benoa Bali. If you want to know the maritime sports game choice and the price of Tanjung Benoa watersports Bali, please click the link below!
See here, "List of Games and Tanjung Benoa Bali Water Sports Prices" >>>
In the early introduction of the Bali flyboarding activity, few water sports operators in Tanjung Benoa Bali were willing to provide flyboarding activities because Flyboard equipment prices were relatively high. However, many flyboard enthusiasts would like to try Tanjung Benoa flyboarding. Then one by one, watersports operators in Tanjung Benoa Bali began providing Flyboarding activities.
Do you have an interest in trying Flyboard Tanjung Benoa Nusa Dua? If yes! How about you? You will probably ask, how much is the price for flyboard Tanjung Benoa?
Tanjung Benoa Flyboarding Price
| Publish Price | Online Price |
| --- | --- |
| USD 100 / person | IDR 450.000 / person |

Description Of Flyboard Tanjung Benoa Prices
Bali flyboarding prices at Tanjung Benoa beach, listed in the table above, are for one participant.
Tanjung Benoa flyboard rides provider/company on this page is Aditya Tanjung Benoa water sports.
Tanjung Benoa flyboarding rates include lockers, the use of changing rooms, showers, and the use of towels.
Life jackets are available for participants to wear.
Bali flyboarding rides price includes all types of equipment required for the game.
Ticket prices for Bali flyboarding games include flyboarding instructors.
Insurance for participants is included in flyboarding prices at Tanjung Benoa Bali.
Insurance providers for flyboarding participants are Aditya Watersport and Tanjung Benoa.
The published price is the Tanjung Benoa flyboard price that customers will get if customers make a booking directly at the Bali flyboarding location.
The online price is the Tanjung Benoa flyboard price customers will get if customers book Bali Flyboarding activities through Wira water sports in Bali.
Water Sports Flyboard Activities Information
The flyboarding game location in Bali takes place at Tanjung Benoa beach Bali.
The total duration of the Flyboarding game is 15 minutes.
The minimum age of Bali flyboard participants is 17 years.
The maximum age of participants is 65 years.
Flyboarding Rides Booking Cancellation Policy
Suppose there are severe weather constraints. Such as high tides, strong winds, and low tides, then the Tanjung Benoa flyboarding will be canceled for the participant's safety.
Suppose there is a cancellation of the flyboarding game by the Tanjung Benoa Watersport operator due to severe weather conditions. In that case, we will refund the customer's payment.
Severe weather in Bali can occur at any time and beyond our control. Also, changes in weather conditions that cause the cancellation of watersports activities in Tanjung Benoa are sometimes without prior notice to customers.
Suppose the customers make booking cancellations and there is no severe weather equipment issue at the activities location. Also, the watersport operator declares it safe to do Flyboarding. In that case, the customer will need to pay a 100% cancellation fee.
What You Should Bring
Change clothes, swimsuit, shorts, sunglasses and sun cream.
Plastic bags you will use to wrap your wet clothes.
Bali Flyboarding Rides FAQ
In providing Tanjung Benoa Bali watersport promo activities, one of which is the Bali flyboarding ride. We often get questions from customers interested in ordering water flyboard games. The following are frequently asked questions by our customers regarding Bali flyboarding rides.
How long is the duration of the water flyboard game at Tanjung Benoa Bali?
The duration of the Bali flyboarding game that we provide is 15 minutes.
Will a guide accompany participants during the flyboarding activity?
It all depends on customer requests, and customers can ask to be accompanied by a guide or not during Flyboarding. In addition, there is no additional fee if participants want to be accompanied by a guide during Bali flyboarding activities.
If I can't swim, can I try the Bali flyboarding ride?
Participants who cannot swim can try the Tanjung Benoa Bali flyboarding activity. The flyboarding activity provider will prepare a life jacket you wear during the water flyboarding ride.
In addition, water flyboarding participants who cannot swim will immediately be accompanied by a guide during water flyboarding activities. The goal is to avoid panic when participants are operating on the water's surface with a water jet.
What is the lowest age for players participating in the Tanjung Benoa water flyboarding?
The minimum age for participants in the Tanjung Benoa water flyboarding ride is 17 years. Participants under the age of 17 do not get accident insurance coverage.
What is the maximum weight of participants who can join the Tanjung Benoa water flyboarding ride?
For water flyboarding participants who are not accompanied by a guide, the maximum weight is 130 kilograms. Meanwhile, water flyboarding participants accompanied by a guide have a maximum weight of 80 kilograms because there will be a guide who will increase the total weight of the participants.
Tanjung Benoa Game Rides Package
Currently, we do not include Flyboarding activities on our Bali watersports package. However, if you would like to create a custom watersports package in Bali with us that includes Flyboard Tanjung Benoa activities with other water games in Bali. Please get in touch with us, such as snorkeling Tanjung Benoa, jet ski rides, or other water activities!
Our customer service department will be happy to customize the Bali water sports package by combining other water activities. Such as parasailing Adventure Tanjung Benoa or other marine sports activities that you like with Flyboard Tanjung Benoa.