Assume you're a fan of MotoGP racing and the Repsol Honda team. You might have noticed a unique water sport at the Honda RC213V 2015 launching event on February 1st, 2015, in Sanur, Bali. During this occasion, one of the Repsol Honda racers attempted Flyboarding, highlighting Flyboard Tanjung Benoa Bali as a popular activity for travellers.
Bahasa Indonesia Harga Permainan Flyboard Bali Di Tanjung Benoa.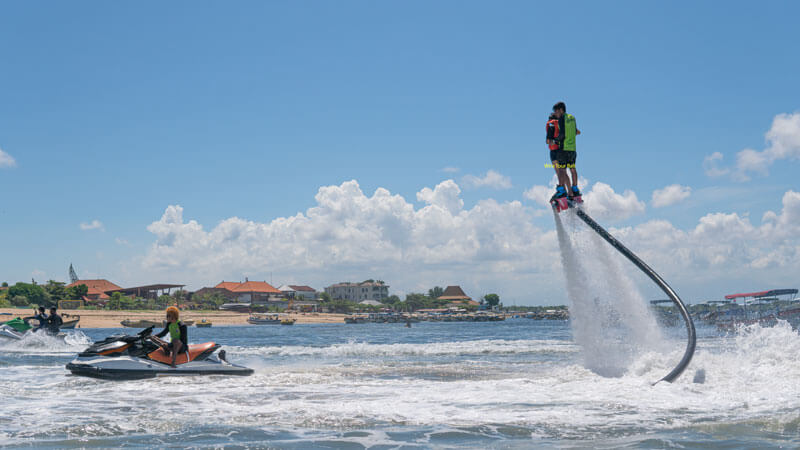 Despite being more expensive than other water sports in Bali, Flyboarding still attracts many travellers. On this page, you will learn about Flyboarding in Bali, the locations, and the prices to help you plan your next adventure.
Bali Flyboarding Activities: Flyboard Bali Price and Experience
Many Bali water sports activities use water jet propulsion mechanisms. One of the water jet rides available in Bali is a flyboard ride. The flyboarding ride is currently in trend in Bali and is one of the latest water sports games in Bali.
How Flyboarding in Bali Works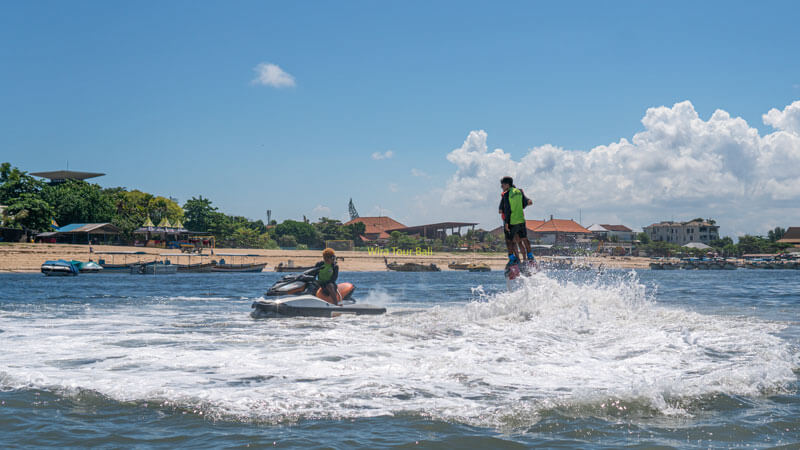 Flyboarding uses a device called a flyboard, which is water jet equipment worn on your feet, like shoes. The flyboard connects to a jet ski, giving users the power to fly.
Flyboarding is Bali's latest water sports game, utilizing a water jet propulsion mechanism similar to a jet ski ride. The water jet propulsion allows users to hover and fly over the water's surface.
After the user hovers, the user can hold the balance while flying and then jump into the water. Advanced flyboard users, when diving into the water, will do a beautiful acrobatic attraction. You also can learn more about Flyboarding origins and history.
Flyboard Bali Locations: Tanjung Benoa and Sanur Beach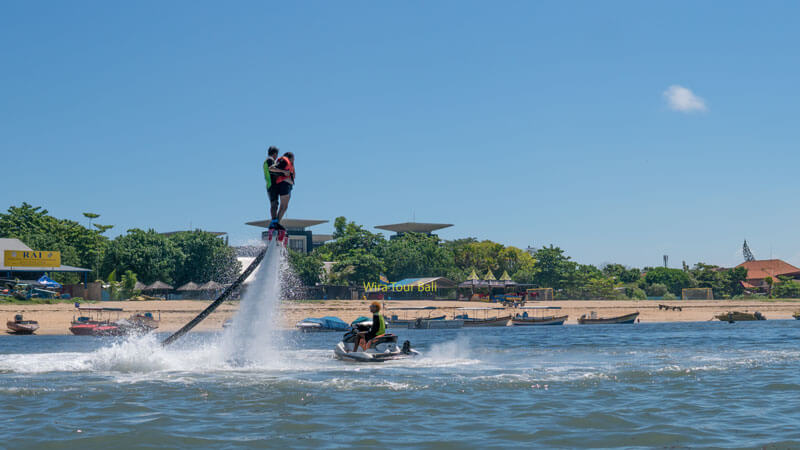 Once you know about Bali Flyboarding and how it works, you will have this question: where is the location of Flyboarding rides in Bali?
Meanwhile, Flyboarding in Bali is available at:
Most travellers prefer Tanjung Benoa Beach for Flyboarding because it offers a variety of other marine sports activities. The beach is better known for its marine watersports activities, collectively called Watersport Tanjung Benoa Bali. Learn more about the available games and the Tanjung Benoa Bali water sports prices.
Tanjung Benoa Bali Flyboarding Price
| Publish Price | Online Price |
| --- | --- |
| IDR 1,000,000/person | IDR 450,000/person |
Description of Flyboard Tanjung Benoa Prices
The prices listed above are for one participant.
Aditya Tanjung Benoa Water Sports provides Tanjung Benoa flyboarding.
Prices include locker use, changing rooms, showers, towels, life jackets, and all necessary equipment.
Flyboarding instructors and participant insurance are included in the price.
Also, insurance providers are Aditya Watersport and Tanjung Benoa.
The published price is the price you will get if you book directly at the flyboarding location in Tanjung Benoa.
In contrast, the online price is the price you will get if you book through Wira Water Sports in Bali.
Flyboard Activities Information
The flyboarding activity takes place at Tanjung Benoa Beach, Bali.
The total duration of the flyboarding experience is 15 minutes.
All parties must be between the ages of 17 to 65 years old.
What You Should Bring
Swimsuit, shorts, sunglasses, and sun cream.
Remember to bring a change of clothing and a plastic bag to carry your wet garments.
Booking Flyboarding at Tanjung Benoa Beach Bali Watersport
Don't hesitate to contact our reservation team to book your Flyboarding experience at Tanjung Benoa Beach, Bali. You can contact our reservation team in several ways:
Phone Call/WhatsApp Call: +62813 3956 3400.
WhatsApp Chat Only: +62822 4714 8222.
Office Telephone: +6236 6558 1096 (landline).
Email: info@water-sports-bali.com.
You can also click the booking icon below to complete the Tanjung Benoa Watersport order form or click on our WhatsApp number button to connect with our Tanjung Benoa Watersport reservation team via WhatsApp.
Flyboarding Watersport Tanjung Benoa Voucher Redemption
Once you confirm your Flyboarding booking at Tanjung Benoa and receive your payment, we'll send you a Tanjung Benoa watersport voucher via email or WhatsApp.
We will provide the activity location address on Tanjung Benoa Beach and a Google Maps link along with the voucher.
There's no need to print the Bali watersport voucher; keep it on your smartphone.
When you arrive at the activity location, show the voucher to our staff on duty at the Tanjung Benoa Beach watersport site.
The voucher is valid every day, and if there's a change in your arrival schedule, please inform our customer service department.
Booking Cancellation Policy
Suppose severe weather conditions, such as high tides, low tides, or strong winds, arise during your activities. In that case, Flyboarding may be cancelled for safety reasons.
Severe weather in Bali can occur at any time and beyond our control.
Also, changes in weather conditions that cause the cancellation of watersports activities in Tanjung Benoa are sometimes without prior notice to customers.
Suppose the Tanjung Benoa watersport operator cancels the Flyboarding activity due to threatening weather. In that case, we will refund your payment or reschedule the activity for the next day.
The Tanjung Benoa water sports operator has the full right to determine threatening weather conditions.
Suppose you cancel the Flyboarding activity at Tanjung Benoa one day before the activity date. In that case, we will refund your payment, excluding any administration, bank transfer fees, PayPal fees, or service fees.
Cancellations made on the activity date will incur a 100% cancellation fee of the total payment.
Flyboarding in Bali: Frequently Asked Questions
Here are some often-asked queries from our previous clients that you need to know to help you prepare for your flyboarding adventure in Tanjung Benoa, Bali:
Will a guide accompany participants during the flyboarding activity?
It depends on customer requests, and customers can ask whether to be accompanied by a guide during Flyboarding. In addition, there is no additional fee if participants want to be accompanied by a guide during Bali flyboarding activities.
–
Can nonswimmers participate in Flyboarding?
Yes, nonswimmers can participate in Flyboarding in Tanjung Benoa. Life jackets will be provided, and a guide will accompany nonswimmers to ensure their safety and prevent panic while on the water.
–
What is the minimum age for participants in the Tanjung Benoa Flyboarding activity?
The minimum age for participants is 17 years old. Players below 17 years old are not eligible for accident insurance coverage.
–
What is the maximum weight for participants in the Tanjung Benoa Flyboarding activity?
The maximum weight for participants not accompanied by a guide is 130 kilograms. When a guide accompanies participants, their maximum weight must be 80 kilograms, considering the guide's weight.
Customized Watersports Packages in Tanjung Benoa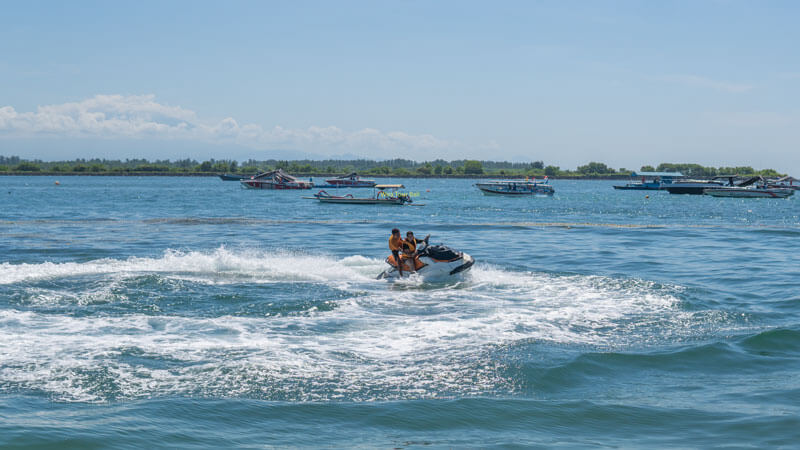 Although we do not currently offer a Bali watersports package that includes Flyboarding, we can create a customized package for you that combines Flyboard Tanjung Benoa with other water activities, such as snorkelling, banana boat rides, or parasailing adventures.
Please contact our customer service department to customize your Bali water sports package. We are happy to help you plan an unforgettable adventure that includes Flyboard Tanjung Benoa and other thrilling marine sports.
Besides Flyboarding Tanjung Benoa Beach, the island offers various thrilling water sports and outdoor activities for adventure enthusiasts, such as Bali river rafting, which provides an unforgettable experience as you navigate the island's attractive rivers and lush terrains.