As a travel blogger specializing in content creation at Wira Water Sports, I often write about Bali holiday guides for tourists. I am very excited to share the fun and exciting experience of trying the flyboarding activity provided by Aditya Watersports at Tanjung Benoa Beach on this page. Furthermore, this guide regarding flyboarding activities in Bali will be one of your natural sources of information about this thrilling marine tourism activity. So, let's continue reading and exploring the excitement of flyboarding activities on Tanjung Benoa Beach!
Bahasa Indonesia, Pengalaman Bali Flyboarding Water Sports Terbaik di Pantai Tanjung Benoa.
What is Flyboarding?
Flyboarding is a water sport that often occurs on sea level and is still a relatively new water sports variety. Currently, flyboarding activities are quickly becoming popular around the world, including in Bali.
When participating in flyboarding, you will stand on a board connected to the jet-pack water shoes. Then, you'll be raised to 15 meters (50 feet) above the water's surface. So that allows you to turn and dive into the water from a height.
Furthermore, the adrenaline and easygoing sense will create the experience of trying flyboarding, an unforgettable holiday activity. Of course, for those of you who are always looking for adventure when visiting Bali. So give this fantastic water sport a try! Book your flyboarding adventure with Wira Water Sports today.
Find Out, Wikipedia Flyboard.
Tanjung Benoa Beach – Ideal Location for Fun Flyboarding Watersports Experience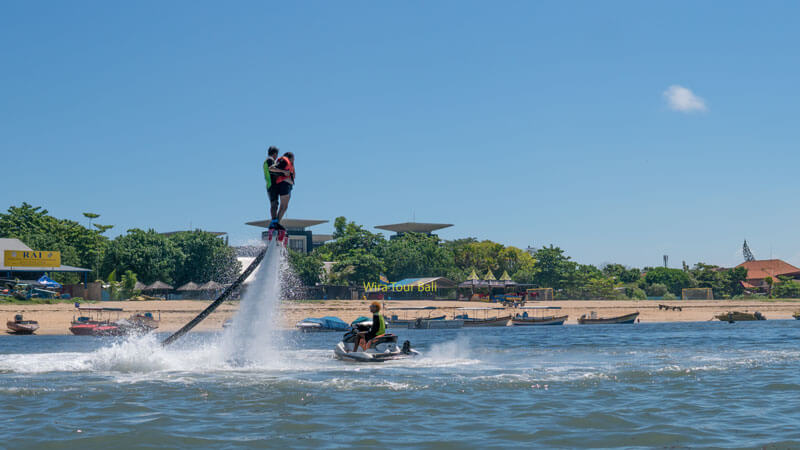 Located on the southeastern tip of Bali, Tanjung Benoa Beach is famous for its calm waters and other exciting watersport activities. Starting from jet skiing and parasailing adventures, snorkeling, and scuba diving for beginners. In short, Tanjung Benoa Watersports offers something for everyone. Thus making it the perfect destination for those who want to try the best water sports in Bali.
Flyboarding is one of the most popular and thrilling tourist activities in Tanjung Benoa. The combination of professional instructors, calm waters, and adequate equipment makes it the ideal location for beginners and experienced fly boarders.
Whether you are a newcomer or a skilled fly boarder, Aditya Watersports at Tanjung Benoa Beach provides high-quality services and professional instructors to ensure a safe and unforgettable adventure experience.
Discover the best spot for water sports in Bali.
Why Choose Aditya Watersports for Flyboarding Tanjung Benoa Bali
Furthermore, when you vacation at Tanjung Benoa Beach Bali, many Bali watersports operators provide a wide selection of games/rides. However, not all operators on Tanjung Benoa Beach give a choice of flyboard rides. The reason is that the price of flyboard equipment is very high, so the selling price of the activity is high for tourists.
Regarding the flyboarding activity, Aditya Watersports stands out due to the service of their staff and very dedication towards customer satisfaction. Here are some reasons to choose Aditya Watersports for your flyboarding adventure:
Professional Instructors: Aditya Watersports employs experienced instructors who prioritize safety and customer satisfaction. As information, flyboard activity instructors' income is relatively high. The reason is that only a few people can teach flyboard techniques and flying skills.
Advanced Equipment: You can enjoy the flyboarding experience with high-quality equipment, guaranteeing a safe and thrilling adventure.
Competitive Prices: When you come directly to the Aditya Watersports location, you will get a reasonably high published price. However, if you book with Wira Watersport, you will get attractive price offers for flyboarding and other water sports. It provides good value for your vacation budget in Bali.
Good Reputation: Aditya Watersports has earned a trusted reputation in the Bali water sports provider industry with many positive reviews and recommendations from other customers.
Wira Water Sport/Wira Tour Bali and Aditya Watersports are committed to always being precise about the game's duration. We don't cut the course of the rides to offer meager watersport prices. So, if you find the cost of Fly Board games and the price of Tanjung Benoa water sports packages cheaper than ours, please pay attention to the game's duration. In addition, pay attention to the insurance of game participants in the event of an accident which the Tanjung Benoa water sports operator will bear.
Believe that ordering Bali watersports activities with Wira Tour, the choice operator Aditya Watersports is the right choice for flyboarding at Tanjung Benoa and other marine tourism rides. Book your session now and see for yourself!
Find Out: Explore other thrilling activities in Bali.
Tips for a Fun Flyboarding Watersports Experience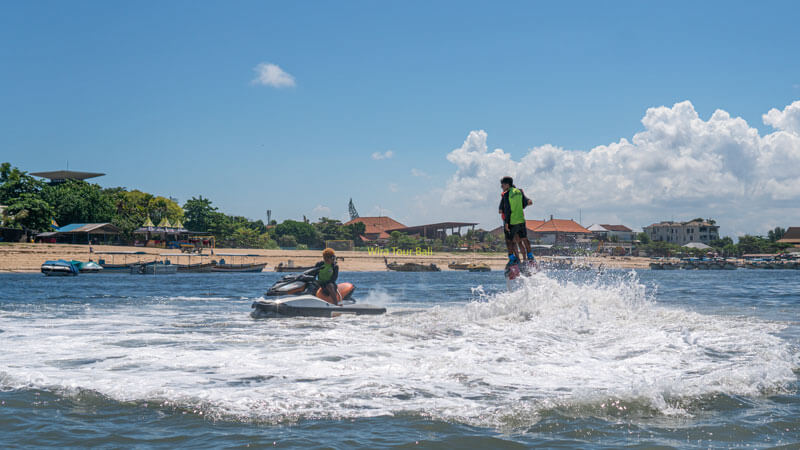 To make the most of your flyboarding adventure at Tanjung Benoa Beach, consider the following valuable tips:
Listen to Your Instructor: Follow your flyboard instructor's directions to ensure a safe and enjoyable experience.
Stay Relaxed: Maintain a relaxed posture and trust the process as you learn to fly using flyboarding.
Bring a GoPro Camera with a Waterproof case: Record your flyboarding adventures with the camera to share with friends and family.
Stay Fluidized: Drink plenty of water before and after your session to stay hydrated in Bali's hot tropical weather.
Have fun: Have fun and enjoy every moment of your flyboarding experience.
Wear non-absorbent clothes: Wear non-absorbent swimwear. Aditya Water Sports will provide a life vest or jacket. Remember to bring a change of clothes you will wear after your session.
Learn about other water sports at Tanjung Benoa Beach.
Book Your Exciting Flyboarding Watersports Experience Today!
Flyboarding at Tanjung Benoa Beach is a must-try holiday activity for anyone visiting Bali. As a holiday travel blogger who always provides holiday guides to Bali for domestic and international tourists. I highly recommend you try the Tanjung Benoa Flyboard ride. With experienced instructors, high-quality equipment, competitive prices, and personalized service, Aditya Watersports is the perfect choice for your flyboarding adventure in Tanjung Benoa.
Finally, now that you have all the information you need, it's time to book an unforgettable flyboarding experience at Tanjung Benoa Beach with Aditya Watersports. Prepare to float above the water's surface and create exciting holiday memories in Bali. Take advantage of this thrilling holiday adventure – book your session now!
Feel the thrill of Flyboarding Tanjung Benoa Bali – book your session with Wira Water Sports today!
Related Articles: