Are you interested in having a vacation in a tropical area with white sand beaches, clear sea waters, and relaxed surroundings while on holiday in Bali? If so, it's a good idea to vacation on the Gili Trawangan island, Lombok. Then, what is the best way to reach Gili Trawangan island from Bali? The answer is to utilize a fast boat from Bali to Gili Trawangan. I have written a comprehensive guide for an exciting fast boat trip from Bali to Gili Trawangan on this page. So, this holiday guide allows you to maximize your trip to Gili Trawangan using a fast boat.
Bahasa Indonesia, Panduan Lengkap Naik Fast Boat Dari Bali Ke Gili Trawangan.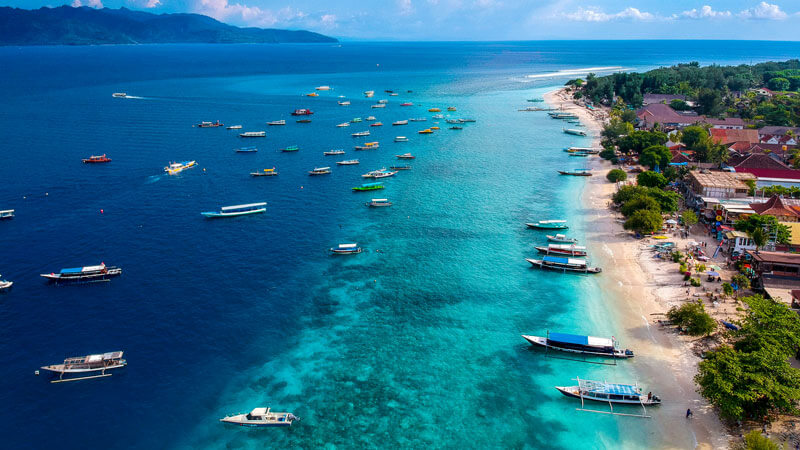 Complete Guide: Fast Boat Ride from Bali to Gili Trawangan for a Perfect Island Getaway
The Gili Islands are off the coast of Lombok Island and are currently one of the best spots for holidays in Indonesia, alongside the islands of Bali, Nusa Penida, and Nusa Lembongan.
Travellers want to vacation in the Gili islands because they like a relaxed holiday atmosphere with a natural environment and avoid traffic jams like in the tourist areas of southern Bali. The Gili Islands are known for their beautiful panoramic beaches, clear sea waters, and relaxing environment. Furthermore, the Gili Islands consist of three small islands, namely:
Gili Trawangan.
Although several methods are available to get to the Gili Islands from Bali, a fast boat is the most popular and convenient transportation.
On this page, I will write a comprehensive guide about a fast boat ride from Bali to the Gili Trawangan Islands so that you can maximize your adventure on Gili Trawangan. If you are looking for a speedboat guide from Bali to Gili Air or Gili Meno, I will write about it on another page on this site.
Read More, How to reach Nusa Lembongan from Bali: The most effective travel options.
Advantages of taking a fast boat from Bali to Gili Trawangan
There are several advantages of utilizing a fast boat from Bali to Gili Trawangan:
Speed: One of the main advantages of using a fast boat from Bali to Gili Trawangan Island is that it is the quickest and easiest way compared to a ferry from Padang Bai port in Karangasem. The duration of the speedboat trip from Bali to Gili Trawangan depends on your fast boat port location in Bali. Each fast boat port location in Bali will have a different trip duration to Gili Trawangan. Apart from the port location, the type of speedboat and weather conditions will also influence the span of the trip.
Vacation Time: Another advantage of utilizing a fast boat is that it allows you to have more vacation time, whether it's vacation time in Bali or vacation time in Gili Trawangan. Instead of spending more than 5 hours travelling to Gili Trawangan by ferry, you can take a fast boat. So, you still have plenty of time to explore other Bali tourist attractions or vacation spots in Gili Trawangan.
Schedule Flexibility: Most speedboat operators offer more than one departure time in 1 day. You can easily incorporate a travel schedule to Gili Trawangan in your vacation itinerary in Bali.
Convenience: Speedboats are generally more comfortable than other modes of transportation, such as Ferries. Speedboats offer comfortable seats, air-conditioned cabins, and other facilities like toilets.
Choice of Fast Boat Port Locations: Fast boats usually depart from several ports in Bali, so it will be easier to find a fast port close to your hotel in Bali. In addition, speedboat operators usually provide pick-up and drop-off services from hotels in Bali to the port.
Sights: Furthermore, riding a speedboat will allow you to see the sea views of Bali and the Lombok Strait from inside the cabin of the fast boat.
See The Best Guide To Gili Trawangan from Bali.
How to Choose the Best Fast Boat From Bali to Gili Trawangan
When selecting a fast boat operator to go to Gili Trawangan from Bali, there are several aspects you need to consider. Here is some advice to assist you in choosing a fast boat operator in Bali.
Safety: Look for a speedboat operator with a good safety record. You can view their safety record using Google, using the keyword "Accident with Fast Boat Name.
Reputation: Apart from that, you can also look at online reviews of fast boats or ask for recommendations from other travellers who have used the services of the same fast boat operator. Regarding reviews, examine for only a few good reviews; look for ratings ranging from 4.3 to 4.6.
Speed: Check on the fast boat website you are interested in utilizing regarding the speed of the fast boat being used. Faster boats will take less time to get to Gili Trawangan.
Comfort: Look for a fast boat with comfortable seating and generous legroom. Some speedboats have air conditioning, which will make your trip more enjoyable.
Schedule: Choose a speedboat operator with a plan that fits your itinerary. Some operators provide multiple departures daily, so you can choose a departure time that suits your vacation itinerary.
Prices: Compare ticket prices for various fast boat operators. However, don't only choose the lowest speedboat ticket price; Your safety and comfort should always be the top priority.
Considering the above aspects, you can choose the best fast boat operator from Bali to Gili Trawangan island for your holiday trip.
See Here The Top Boat Locations in Bali to Reach Nusa Lembongan.
Bali Fast Boat Ports for Travelling to Gili Trawangan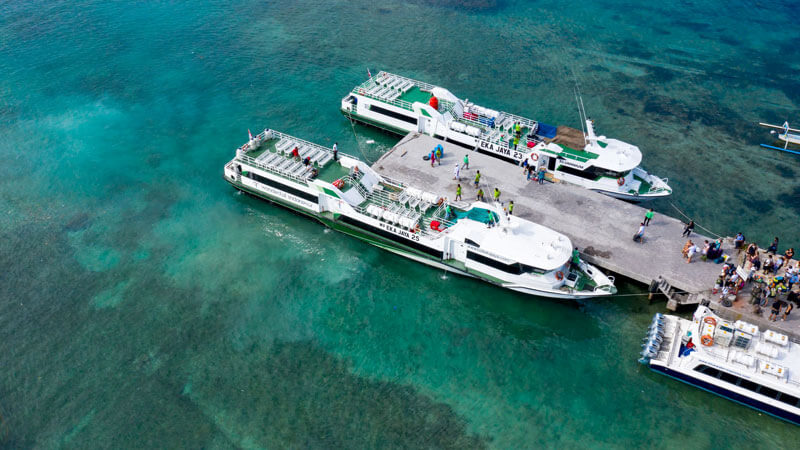 Several fast boat ports in Bali have voyage routes to Gili Trawangan. Here are some popular speedboat ports:
1. Padang Bai Harbor
The fast boat port is situated in the eastern region of Bali, and it takes about 1 hour and 35 minutes to drive from Kuta Beach to Padang Bai port. The speedboat ride from Padang Bai port to Gili Trawangan island takes approximately 1 hour and 40 minutes.
So the total travel time, if you depart from Kuta Beach to Gili Trawangan, is approximately 3 hours and 20 minutes.
The ferry will take approximately 4 hours from Padang Bai port to reach Lombok. From there, you must take a boat from Bangsal Harbor to Gili Trawangan, which will take about 30 minutes.
Read More and Plan Your Ideal Getaway with this Holiday Guide to East Bali.
2. Serangan Port
Serangan Port is situated in the southern tourist area of Bali, about a 30-minute drive from Jimbaran Beach. The fast boat journey from Serangan Harbour to Gili Trawangan takes approximately 2 hours and 30 minutes. Therefore, the total trip duration using the fast boat from Jimbaran Bali to Gili Trawangan is around 3 hours and 10 minutes.
3. Sanur Port
Sanur Harbor is situated in the Sanur beach area of Bali, which is about a 30-minute drive from Denpasar. The fast boat trip from Sanur port to Gili Trawangan takes about 3 hours.
The port location for your speedboat ride depends on the fast boat company you choose. Therefore, checking the departure port location of the fast boat company you want to book with is essential.
Looking for adventure or relaxation? Our list of top things to do in Gili Trawangan has something for everyone.
Fast Boat Gili Trawangan Booking
The best way to order fast boat tickets to Gili Trawangan is to book tickets in advance. You can reserve fast boat tickets to Gili Trawangan through a travel agent for a lower price.
When booking speedboat tickets to Gili Trawangan from Bali, always provide correct information such as the number of passengers, date of departure from Bali, and date of arrival in Bali. You must also read the terms and conditions before booking fast boat tickets, such as cancellation and refund conditions.
See the Best Fast Boat Recommendations from Bali to Gili Trawangan.
Preparing for a Fast Boat Trip
To make sure your fast boat trip from Bali to Gili Trawangan is comfortable, there are several things you should keep in mind. Here are a few recommendations to assist you in preparing for your fast boat journey:
Find Out Weather Conditions: It's a good idea to find the weather forecast on your departure date before ordering fast boat tickets. Your trip can become uncomfortable due to high sea waves caused by bad weather conditions like heavy rain and strong winds.
Bring Sufficient Goods: Most fast boat operators have weight limits for passenger baggage, so it is essential only to bring what you need.
Wear Comfortable Clothes: Wear comfortable clothing and footwear that can be quickly taken off, as you may need to walk in the beach area before boarding the speedboat.
Carry motion sickness medication: If you tend to get it quickly, it's advisable to bring it with you. The rocking motion of the speedboat can cause nausea and discomfort.
Arrive early at the port: If your fast boat ticket does not include a shuttle, arriving at the port at least 30 minutes before the scheduled departure time is recommended. This will give you enough time to check in and board the fast boat without feeling rushed.
Following the tips above can ensure a more comfortable and enjoyable speedboat trip.
Read More: Travel to Gili Trawangan with Bluewater Express Fast Boat Includes a free shuttle.
While On The Fast Boat
Once you've boarded the fast boat, you can relax during the journey to Gili Trawangan. You can see the beautiful views of Bali's coastline and even nap. Also, promptly following the fast boat crew's safety instructions is essential.
Find Out and explore the Beauty of Lembongan Island with Gili Getaway Fast Boat.
Arrive at Gili Trawangan Island
After several hours on the fast boat, you finally arrive at Gili Trawangan island. You can immediately see clear sea waters and a wonderful white sand beach. After getting off the speedboat, take a moment to enjoy the breathtaking white sand beach panorama.
For those who are visiting Gili Trawangan for the first time, here are some holiday activities that you can enjoy during your visit:
Try snorkelling or diving to explore coral reefs and marine life.
Rent a bicycle and explore the island. You can see the beautiful scenery and local culture while riding the bike.
Enjoy the nightlife of Gili Trawangan.
You can have a unique experience by riding a horse-drawn carriage, a cidomo.
Visit the Gili Trawangan Turtle Sanctuary to see the conservation area and sea turtles up close.
You can enjoy a drink or food at several beachside bars or restaurants and watch the sunset.
Find Here How to reach Nusa Penida from Sanur Bali: A comprehensive guide on different modes of transportation.
Tips for Maximizing Your Experience
Here are some tips to help you make the most of your vacation experience in Gili Trawangan.
Plan and choose the holiday activities you want to do during your vacation.
Also, remember to carry sunscreen with you.
Try local cuisine, especially fresh grilled seafood.
It's advisable to bring cash with you as many small shops and restaurants in Gili Trawangan don't accept credit card payments.
Feel free to explore on foot or by bicycle.
Remember to respect local culture and people.
Read More: Book your Golden Queen fast boat ticket trip from Sanur Bali to Nusa Penida.
FAQ – About Fast Boat From Bali to Gili Trawangan
People frequently have questions about taking fast boats from Bali to Gili Trawangan. Here are some common ones:
How long does a fast boat travel from Bali to Gili Trawangan?
The length of your fast boat trip from Bali to Gili Trawangan will depend on your chosen departure port. A fast boat trip from Bali to Gili Trawangan usually takes an average of 1.5 to 2.5 hours.
How much is the fast boat ticket from Bali to Gili Trawangan?
The fast boat from Bali to Gili Trawangan ticket price may vary based on the type of boat and the operator. Fast boat ticket prices from Bali to Gili Trawangan range from IDR 350,000 to IDR 450,000 per person for one trip.
Where is the location of the fast boat port in Bali?
There are multiple ports in Bali where you can board a fast boat to Gili Trawangan, and these are the most commonly used ports: Sanur Harbor, Serangan Harbor, and Padang Bai Harbor.
What is the fast boat departure schedule from Bali to Gili Trawangan?
Fast boat operators in Bali generally offer a variety of departure times throughout the day, ranging from morning to evening. The exact departure schedule can vary between different speedboat operators.
Is it safe to travel by fast boat to Gili Trawangan?
While taking a fast boat from Bali to Gili Trawangan is generally considered safe, as with any form of transportation, risks are always involved. Choosing a trusted, fast boat operator ensures your safety during the journey.
Conclusion Guide to Fast Boat Ride from Bali to Gili Trawangan
Using a fast boat from Bali to Gili Trawangan is the most convenient and fast way. Following the information in the fast boat guide from Bali to Gili Trawangan, you can ensure a safe and comfortable trip and make the most of your holiday moments on Gili Trawangan island.
Whether you want to relax on the white sand beaches or explore the area by bicycle, Gili Trawangan has something new for all travellers.
Read More, Bluewater Express fast boat from Serangan to Nusa Lembongan.