Padang Bai port is a pivotal gateway for travellers planning an idyllic retreat to Nusa Penida, Nusa Lembongan, or the serene shores of Lombok and Gili Trawangan islands. This bustling port is renowned for offering the swiftest and most reliable passage, particularly sought after by those journeying to the enchanting Gili Trawangan in Lombok. A hive of maritime activity, Padang Bai is a crucial hub for daily transit, ensuring visitors a smooth sail to their island destinations.
Bahasa Indonesia, "Pelabuhan Padang Bai Karangasem" >>>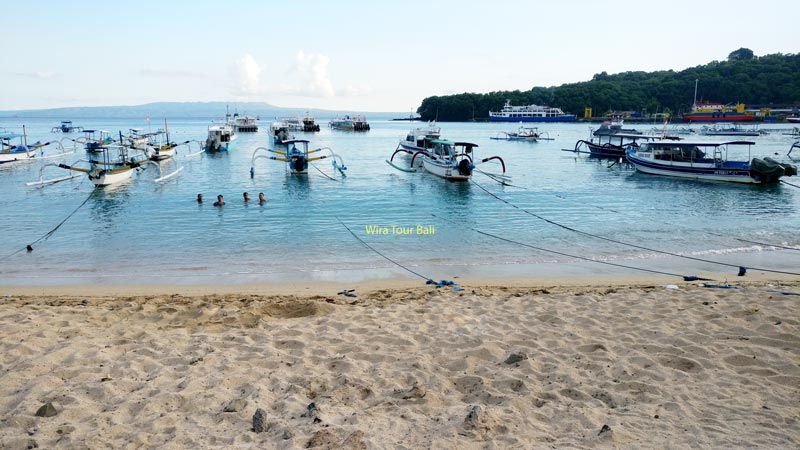 Gateway to the Isles: Padang Bai, Bali's Premier Port
Nestled in the eastern reaches of Bali, within the Manggis district of the Karangasem Regency, lies the coastal village of Padang Bai. Framed by undulating hills and the pristine Padang Bai beach, this port is scenically situated in a sheltered bay, offering more than just a point of departure.
Padang Bai Harbour stands as a bustling conduit for both goods and voyagers. It is the foremost maritime crossroads from Bali to the verdant island of Lombok and the nearby Gili archipelago—encompassing the tranquil havens of Gili Meno, Gili Air, and the ever-popular Gili Trawangan.
Travellers seeking the serene beauty of Lombok or the vibrant allure of the Gilis will find ferries and high-speed boats readily departing from Padang Bai. With services operating daily, the journey across the cerulean waters is as reliable as picturesque.
For comprehensive tips on making the most of your island adventure, read our Gili Trawangan Travel Guide.
Exploring Padang Bai: A Gateway to Bali's Marine Splendours
Nestled on Bali's eastern seaboard, Padang Bai is more than a bustling port; it's a coastal gem brimming with inviting white-sand beaches, cosy accommodations, and delectable eateries.
Travellers, particularly from abroad, are often drawn to the village's two pristine beaches: the tranquil Blue Lagoon Beach and the secluded Bias Tugel Beach. Beyond sun-soaked relaxation, Padang Bai emerges as a premier spot for aquatic adventures, offering some of the finest snorkelling and scuba diving experiences in Bali.
To plan your journey and find the best routes to these idyllic beaches, have a glance at Padang Bai on Google Maps.
---
Navigating to Padang Bai Port: Your Essential Travel Guide
Reaching Padang Bai Port from Ngurah Rai Airport typically takes about an hour and a half, covering a distance of 55 kilometres. If you're venturing from Seminyak, the journey extends slightly to one hour and forty minutes. So, what's the most convenient mode of transport to Padang Bai?
1. Metered Taxis:
Upon landing at Ngurah Rai Airport, a metered taxi presents a swift option to Padang Bai. It's advisable to agree on a fare before departure; bypassing the meter often results in a fixed charge of around 600,000 IDR per vehicle.
2. Shuttle Services:
Perama Shuttle Bus is the sole shuttle operator to Padang Bai, requiring a reservation at least two days in advance. Pick-up services from your location may incur additional charges. Shuttle departures are available from Kuta Beach, Ubud, Sanur, Lovina, and Candidasa.
3. Car Rental with Driver:
For door-to-port convenience, consider pre-booking a car rental with a driver through various online platforms. It's best to arrange this at least two days before your intended travel to ensure availability.
4. Fast Boat to Gili Trawangan Shuttle Services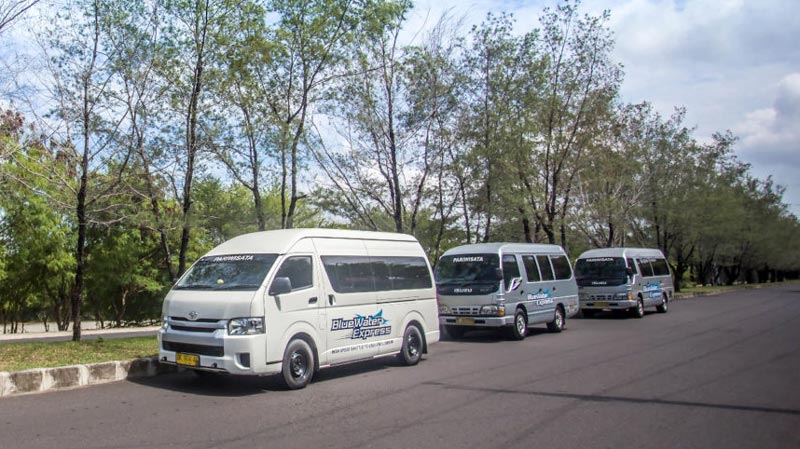 Planning a trip to Gili Trawangan or other nearby Isles? Opt for a fast boat service, which includes hotel-to-port transport within the ticket price, offering a seamless transfer.
Companies like Gili Getaway and Bluewater Express are recommended. A typical fare for a one-way journey is 925,000 IDR per person, including a hotel shuttle and boat passage. For competitive rates, purchasing a fast boat ticket through a travel agent rather than directly from the provider is suggested.
Read more for an in-depth guide on reaching Gili Trawangan from Bali, including tips and service comparisons. Also, equip yourself with insider knowledge from our traveller's guide about the best things to do in Gili Trawangan and make the most of your trip.
Essential Amenities at Padang Bai Port
A stroll is required to access the local amenities upon disembarking at Padang Bai Port in Karangasem. The port area is well-equipped with facilities to cater to your immediate needs.
Banking Services:
Conveniently, the port vicinity hosts four ATMs for your banking needs. Adjacent to the Padang Bai police station and the Perama shuttle bus office, you'll find a BRI Bank ATM beside its branch office, a BNI Bank ATM, and two Mandiri Bank ATMs—one near the police station and the other along the coastal road that runs between the ferry and fast boat terminals.
Dining Options:
A plethora of eateries ranging from full-service restaurants to quaint food stalls ensures you're never far from a satisfying meal.
Accommodation Choices:
Various lodgings are at your service, with options extending from modest inns to upscale bungalows. Prices vary, from an affordable 250,000 IDR to over 1 million IDR, catering to various budgets and preferences.
For further information on local accommodation and seaside delights, consider exploring "Amuk Bay Beach Karangasem Bali."
Navigating from Padang Bai to Nusa Penida: Your Questions Answered
For those planning a journey to Nusa Penida from Bali, particularly with a vehicle, the Padang Bai port is the usual point of departure via ferry. Conversely, travellers without a vehicle often prefer the crossing from Sanur Beach or Kusamba Beach.
If you're staying in East Bali, say in Candidasa close to Tenganan Village, and wish to venture to Nusa Penida, the route from Padang Bai might be less direct as this port is typically the choice for voyages to Gili Trawangan or Lombok.
How to travel to Nusa Penida Island from Padang Bai Port?
From Padang Bai to Nusa Penida, ferry travel is your sole option.
–
How far is Nusa Penida Island From Padang Bai?
The direct sea route covers approximately 50 km.
–
How long does the Ferry Ride from Padang Bai Harbor to Nusa Penida Island?
The ferry journey is about an hour long.
–
How much does A ferry ticket from Padang Bai Harbor to Nusa Penida?
Ferry ticket prices vary, especially if you're boarding with a vehicle. For the latest schedule and fare details, consult the Ferry timetable and pricing here (Indonesian Language).
–
Find Here, "Trip Guide to the Nusa Penida Island From Bali" >>>