Welcome to Gunung Payung Beach, a hidden gem in Kutuh Village, Bali, promising an unforgettable nature adventure. Set among towering cliffs, this beach boasts fine white sand and crystal blue waters. It is the perfect spot to unwind, whether snorkelling or surfing. This Gunung Payung Beach guide will reveal all you need to know about this Bali treasure, and you can enjoy the mesmerising sunsets and explore the local natural wealth. We will guide you through every corner of this beach, offering practical tips, accommodation recommendations, gastronomic delights, and the best activities to enrich your holiday experience at Gunung Payung Beach.
Traveler Insights – Gunung Payung Beach Guide
Angga, a sun worshipper, shares his memories: "My visit to Gunung Payung Beach was truly captivating. The comprehensive facilities include toilets, food stalls, and a spacious parking area. The shuttle bus service makes beach access a breeze. It's the perfect place to relax while watching a spectacular sunset."
Efrain Apriwanto Rerung, a lover of tranquillity, recounts: "Walking on its white sands was a magical experience. The peaceful beach offers an atmosphere unlike any other in South Bali. With adequate basic facilities and a shuttle bus, you can enjoy surfing, canoeing, or simply the view. Gunung Payung Beach is a must-visit destination." Read more traveller experiences here.
Located in Kutuh, South Kuta, Gunung Payung Beach is a sanctuary for those seeking peace. Surrounded by high cliffs and adorned with white sand and calm waters, the beach offers stunning sea views with easy access. Explore other hidden gems in Bali.
For families seeking a similarly serene beach experience, Mengiat Beach Nusa Dua is an ideal family beach destination in Bali.
The Charm of Natural Beauty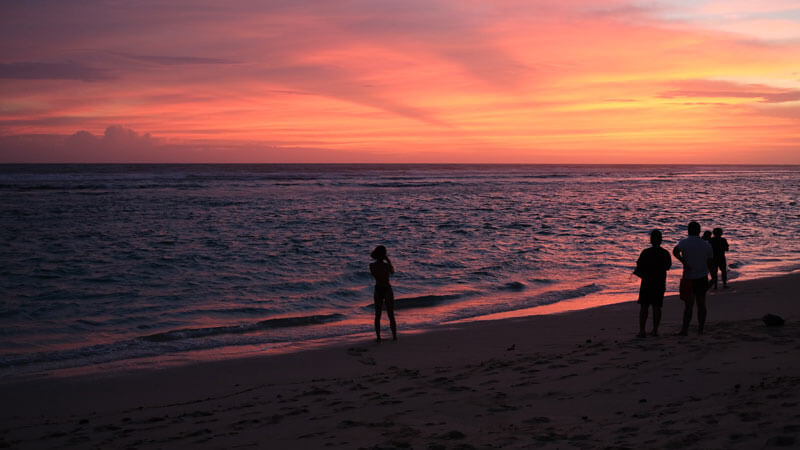 This beach is renowned for its natural beauty. The soft white sand, the clear blue sea, and the dramatic cliffs make it the perfect backdrop for photography. Do not miss the chance to capture the enchanting sunset or the exciting paragliding activities. Moreover, you can explore more about the natural beauty of Bali.
For those looking to venture further, not far from here, Melasti Beach Ungasan captivates visitors with its stunning beauty, rivalling that of Pandawa Beach.
Accessibility and Facilities:
Easy Access: Gunung Payung Beach is accessible to everyone via stairs or shuttle service, including families with children or older people. For more beach options suitable for children and families, check out our comprehensive list that makes planning your family vacation a breeze.
Comfortable Amenities: Comfortable seating, snack stalls, and clean toilet facilities are available to enhance the comfort of visitors.
Similar to the accessible and well-facilitated Gunung Payung Beach, Geger Beach Bali also offers a comfortable and enjoyable experience. Learn more in our ultimate guide for exploring Nusa Dua Beach.
Essential Activities at Gunung Payung Beach
Gunung Payung Beach offers a variety of exciting activities:
Snorkelling and Surfing: Discover Bali's marine riches with snorkelling or enjoy its perfect waves for surfing. Learn more about the best snorkelling spots in Bali.
Photography: The beach offers many photogenic spots, especially during sunset.
And for those seeking a more hidden beauty, Green Bowl Beach offers an unforgettable charm, nestled behind the hills of Bali.
Photography Tips at Gunung Payung Beach
For photography enthusiasts, here are some tips to capture the best moments:
Best Time: The Golden Hour is the ideal time to capture the perfect light.
Unique Perspectives: The high cliffs and sea reflections add a unique perspective to your photos.
Photography Techniques: Use a small aperture setting for sharp results. A tripod can help with long-exposure shots.
Composition: Apply the rule of thirds for balance, and let the shoreline or cliffs guide your eye.
Human Story: Capture the interaction between humans and nature to add a story to your photos.
Every photo you take at Gunung Payung Beach is a unique story. Share your experience with #GunungPayungBeach and #WiraTourBali.
Read beach photography tips from the experts.
The Thrill of Activities at Gunung Payung Beach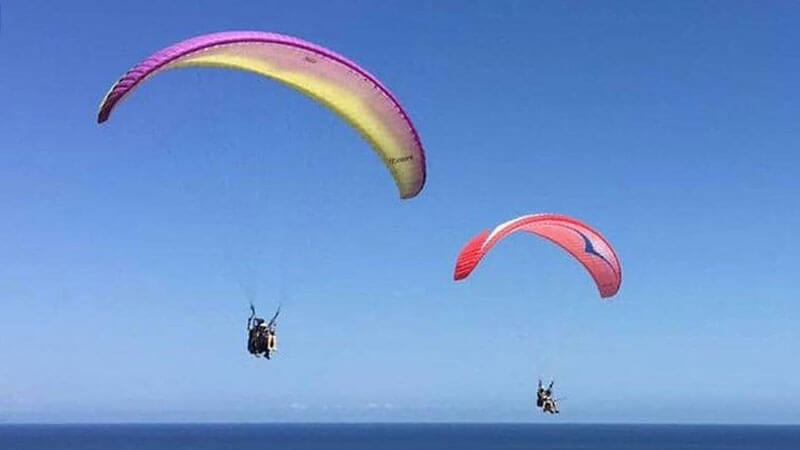 Gunung Payung Beach, with its stunning beauty, also offers a variety of activities at friendly rates. This is what makes Gunung Payung Beach the perfect destination for every adventurer:
Affordable Entrance Fee: With an entry fee of only IDR 4,000 for residents and IDR 8,000 for foreigners, Gunung Payung Beach is open to all.
Mat Rental: For only IDR 20,000, enjoy the comfort of lounging on a mat while taking in the beach panorama.
Canoe Rental: Explore the tranquil beach by canoe for just IDR 50,000 per hour, an ideal experience for water adventure enthusiasts.
Paragliding Views: Add colour to your adventure by watching or participating in Bali paragliding, soaring across the beach sky, offering a new perspective on the beauty of Gunung Payung Beach.
For a unique experience nearby, consider a Bali Camel Ride at Sawangan Beach near Nusa Dua Hilton Resorts.
Guide of Easy Access to Gunung Payung Beach
Located in Kutuh, South Kuta, Bali, Gunung Payung Beach offers easy access that makes it the perfect destination to find serenity:
Transportation Options: The beach is easily accessible by private car or rental vehicle. For added convenience, you can rent a car with a driver.
Spacious Parking: The beach features a large parking area, charging IDR 2,000 per motorcycle, making it easy for those bringing their vehicle.
Alternative Path to the Beach: Two attractive options to reach the beach: walk down the stairs or ride a motorbike through the steep and scenic road.
Shuttle Bus: A shuttle bus assistance for IDR 15,000 per person (one-way), including a 300 ml bottle of mineral water, is recommended due to the long and steep path.
Motorcycles and Online Transportation: Alternatively, use a motorcycle for a more adventurous sensation, or choose online transportation like Gojek or Grab if you're staying nearby.
Highlights at Gunung Payung Beach
Enhancing Visitor Comfort
Gunung Payung Beach, known for its stunning beauty, prioritizes visitor comfort with its thoughtful amenities:
Convenient Facilities: Find small stalls for snacks and drinks and well-maintained toilets for your convenience.
Natural Retreats: Unique to Gunung Payung, explore natural caves providing shaded relaxation spots.
Commitment to Environmental Preservation
The beach stands out for its environmental conservation efforts:
Sustainable Practices: Emphasis on responsible waste disposal and reducing single-use plastics.
Ecosystem Protection: The beach safeguards its flora and fauna, promoting respect and non-disturbance by visitors.
Exploring the Charm and Adventure at Gunung Payung Beach
Gunung Payung Beach, with its captivating waves and clear waters, offers a series of mesmerising activities for every visitor. Here are the main adventures you can explore:
Surfing: Whether you're a newbie or a skilled surfer, the waves at Gunung Payung Beach are ready to provide an unforgettable challenge. Important note: There is no on-site surfboard rental service, so bring your equipment.
Snorkelling: The crystal waters of the beach offer a stunning snorkelling experience. Enjoy the richness of the underwater life that will adorn your adventure.
Swimming and Sunbathing: Gunung Payung Beach is also perfect for those seeking tranquillity. Swim in the calm sea waters or bask in the warm sunshine, all while enjoying the soothing beach scenery.
We have the perfect guide for you if you want to explore more adventures beyond Gunung Payung Beach. Check out our article on 'Exploring 20 Outdoor Adventure Activities in Bali' for inspiration on exciting activities you can do on the island of the gods.
Safety Guidelines for a Secure and Enjoyable Experience
Your safety is our priority while you enjoy the beauty of Gunung Payung Beach. Here are some safety tips you should keep in mind:
Wave Caution: Especially for visitors arriving in the morning, be aware that the waves can be more fierce. Always check weather and wave conditions before diving in.
Monkey Interactions: The parking area of the beach is known for the presence of clever monkeys. They may look adorable but can become aggressive and daring in snatching belongings. So, make sure to keep a close watch on your items.
Safety Equipment Use: When snorkelling or diving, wear safety gear such as life jackets and snorkel masks for a safer experience.
Swimming in Designated Areas: Ensure you swim in areas designated as safe by the beach management. Avoid swimming in unknown areas or too far from the shore.
Swimming Together: Swimming or engaging in other water activities in groups or with friends is always safer.
Beware of Ocean Currents: Particularly for those who are not very experienced swimmers, be cautious of strong ocean currents.
Recommended Visiting Time: To avoid potential dangers from morning waves and unwanted interactions with monkeys, the best time to visit is around 3 PM.
Adhering to these swimming and snorkelling safety tips will make your visit to Gunung Payung Beach enjoyable and safe.
Accommodation and Culinary: Comfort and Delicacy Around Gunung Payung Beach
Explore the wide range of accommodations and culinary options around Gunung Payung Beach to complete your holiday experience.
Accommodation: Comfort in Every Choice
Luxury Hotels: For example, The Ritz-Carlton, Bali, offers extraordinary comfort with facilities such as a spa and swimming pool, along with a breathtaking sea view. This option is suitable for those seeking luxury.
Homestays: Lala Homestay is the right choice for a warmer atmosphere and more budget-friendly options. Experiencing closeness to nature and local culture provides an authentic holiday vibe.
Culinary: Flavors That Stir the Appetite
International and Local Restaurants: Explore various culinary options at Roosterfish Beach Club, from fresh seafood to typical Balinese dishes.
Local Stalls: To taste the authenticity of Bali, Waroeng Bu Oka is the perfect choice. Serving dishes like Butter Fried Chicken and Rica Rica Chicken, this stall offers a culinary experience that blends with the local culture.
Budget-Friendly Tips
A vacation to Gunung Payung Beach doesn't have to break the bank. Here are some tips to save costs without reducing the joy:
Visiting Off-Peak: Visit the beach during off-peak seasons to enjoy a quieter atmosphere and more affordable prices.
Bringing Your Food: Bring your picnic food to save on costs. This also allows you to dine while enjoying the beautiful beach scenery.
Find out more budget-friendly travel tips in Bali here.
Discover Nearby Attractions Around Gunung Payung Beach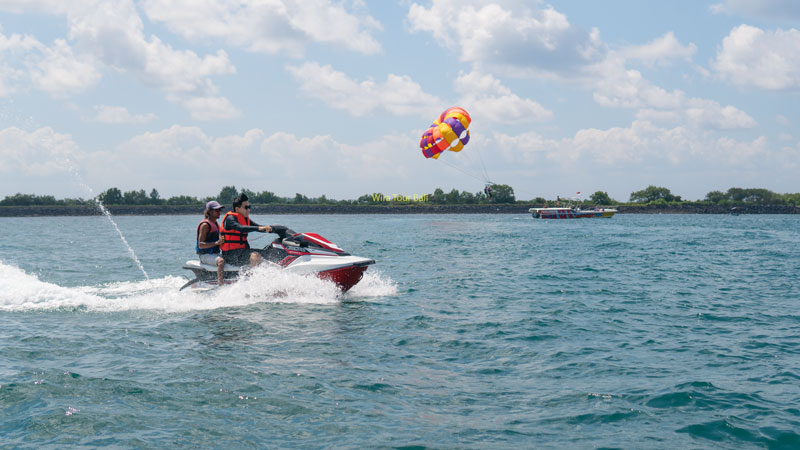 While Gunung Payung Beach is a destination in itself, its vicinity to other Balinese attractions adds to its allure:
These nearby destinations offer diverse experiences, enhancing your visit to Gunung Payung Beach with Bali's rich cultural and natural tapestry.
Exploring Beyond Gunung Payung:
If you're curious to discover more of Bali's stunning beaches like Balangan Beach, we have all the information you need – from its location to its allure. This hidden gem, nestled in the serene landscapes of Bali, offers a captivating blend of natural beauty and local charm. Whether you're seeking a tranquil retreat or an adventurous outing, Balangan Beach promises an experience that will linger in your memories. Join us as we unveil the secrets of this enchanting destination, guiding you through its scenic spots and highlighting what makes it a must-visit for every traveller.
Conclusion and Invitation to Share Your Experience
Gunung Payung Beach offers not only natural beauty but also an unforgettable experience. Share your story and join the community of travellers who appreciate the beauty of Bali.
Share Your Story: If you have visited Gunung Payung Beach, tell us about your experience. Were you mesmerised by the sunset, or did you find a fantastic photo spot? We want to hear it!
Share on Social Media: Use #GunungPayungBeach and #WiraTourBali to share your experiences and inspire more people to enjoy the wonders of Bali.
After exploring the enchanting Gunung Payung Beach, why not discover the magic of Kelingking Beach in Nusa Penida for another unforgettable adventure?