Bali, known as the island of the Gods, is more than just a fascinating destination – it's the hotspot for young adventurers seeking thrills, cultural connection, and 'gram-worthy moments. Whether fresh out of college, stepping into your professional life, or just looking for that perfect youthful escape, here are 25 unforgettable activities in Bali for Young Adults that will fill your Instagram feed with envy and your heart with unforgettable memories. From 'Thrilling Things to Do' to 'Remarkable Fun Activities,' Bali offers an array of exciting adventures for young and spirited travellers. Whether exploring the 'Tegalalang Rice Terraces' or diving into 'Nusa Penida's Underwater Magic,' these can't-miss activities will make your Bali trip unforgettable.
Baca artikel ini dalam Bahasa Indonesia, 25 Aktivitas Liburan Seru di Bali Terbaik: Panduan Lengkap untuk Wisatawan.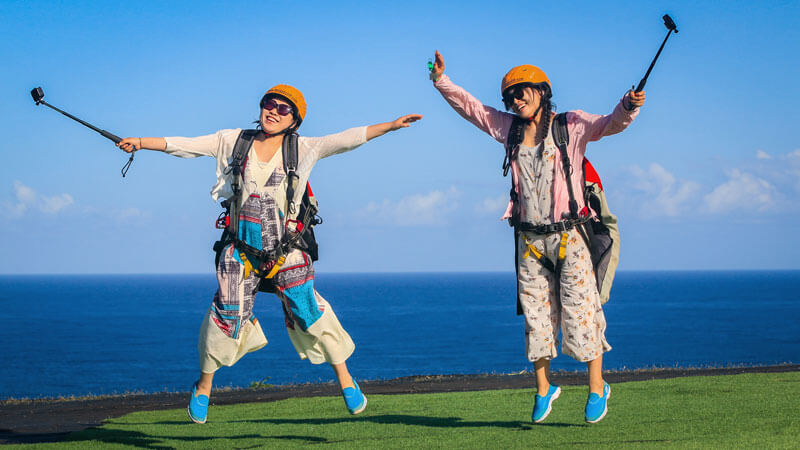 Note: All locations in this guide are accessible via Google Maps. Consequently, you can find the Google Maps link in each section for convenience.
1. Snap, Trek, and Enjoy: Unforgettable Activities in Bali Tegalalang Rice Terraces for Young Adults.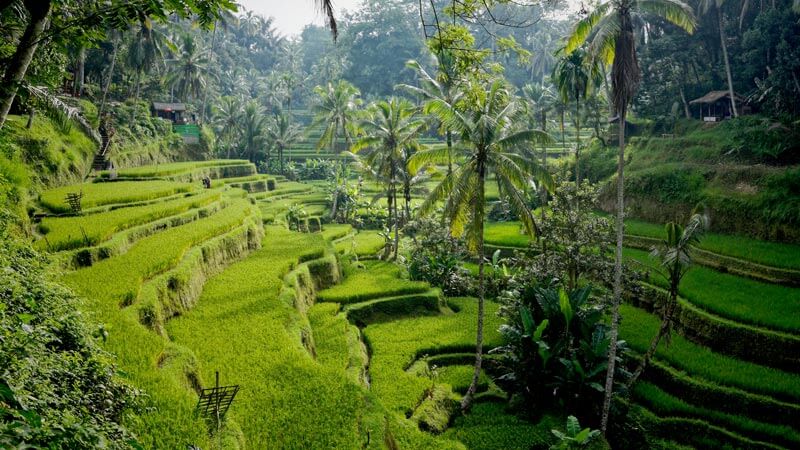 Want to witness Bali's green symphony of nature in an incredible way? Get your cameras ready and explore the stunning Tegallalang Rice Terraces. Moreover, feel the youthful vibe as you trek, snap, and share your adventure. Instagram alert: Capture that serene sunrise!
Additional Details: Experiencing Fun Activities at Tegalalang Terraces in Bali
2. Uluwatu Kecak Dance: A Cultural Feast with Amazing Sunsets – Unforgettable Activities in Bali for Young Adults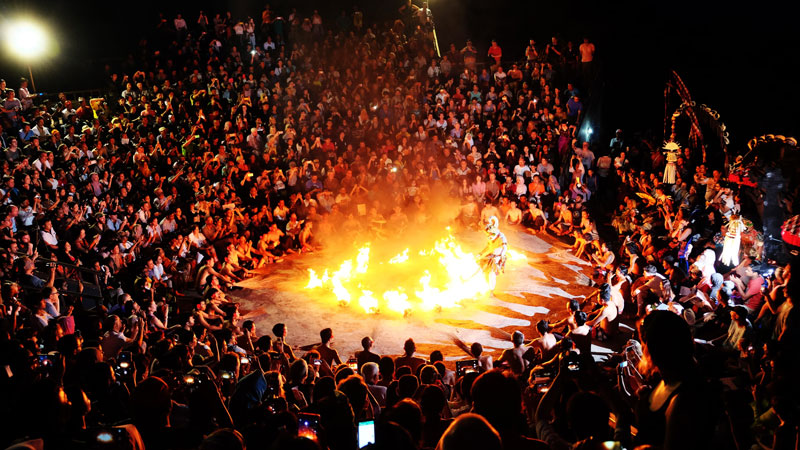 Furthermore, if you are looking to witness the rich Balinese culture, the Uluwatu Temple offers the unique Kecak Dance. Watch the Balinese culture come alive at Uluwatu Temple with the unique Kecak Dance. Therefore, don't miss this epic cultural feast, perfect for young enthusiasts looking for a fantastic sunset photo op. Furthermore, the Uluwatu Kecak Dance is one of those 'Exciting Adventures in Bali for Young Travelers' that you wouldn't want to miss.
A Guide to Uluwatu Kecak Dance: One of the Must-Do Fun Activities in Bali
Duration: ~1 hour (Kecak dance from ~18.00 to 19.00)
Location: Google Maps
Best Months: April-Oct (clear skies)
Extra Tips: Arrive early; dress modestly; book tickets online!
Review: TripAdvisor.
3. Campuhan Ridge Walk: Fun and Leisure Activities in Bali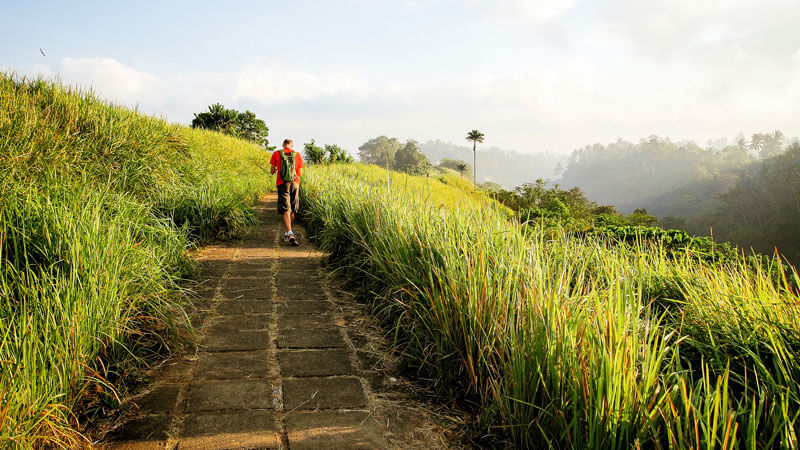 Want something free, fresh, fun and cheap things to do in Bali? Join the young crowd at Campuhan Ridge Walk. Consequently, with your comfy shoes on, enjoy nature's beauty in a relaxed stroll or energizing jog.
Making the Most of Campuhan Ridge Walk: A Cheap and Fun Activity in Bali
Duration: 1-2 hours.
Location: Google Maps.
Best Time: Early morning/late afternoon.
Local tip: Wear comfy shoes and stay hydrated.
Review: TripAdvisor.
4. Nusa Penida's Underwater Magic: Dive into Instagram-worthy Scenes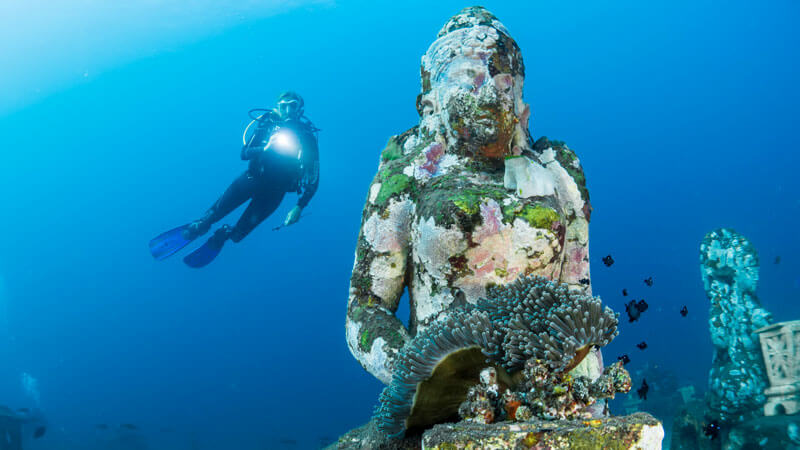 Become a mermaid or a merman for a day! Dive into Nusa Penida's, one of the best diving spots in Bali for aquatic wonderland, explore vivid coral reefs, and swim with majestic manta rays. Also, get that GoPro ready!
What to Know Before Diving in Nusa Penida
Cost: IDR 600,000 – IDR 1,200,000 (varies by package).
Duration: 2-4 hours or multi-day.
Location: Google Maps.
Best Time: May-Oct (manta rays year-round).
Extra Tips: Open to beginners; follow safety guidelines.
5. Local Warung Culinary Tour: Savor Authentic Bali on a Plate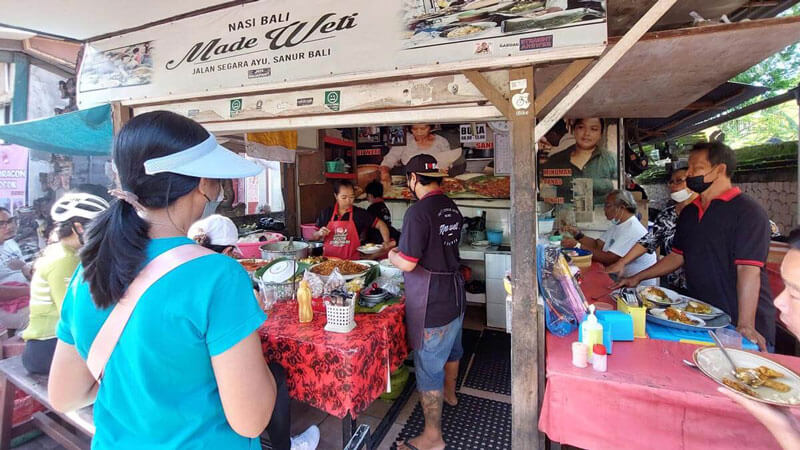 Next, on unforgettable activities in Bali for young adults. Food-loving young adventurers, this is for you! Embark on a culinary journey through local Warung eateries and indulge in traditional dishes, uncovering the authentic taste of Bali. Indeed, it is ideal for food enthusiasts and cultural explorers. Be bold with your taste buds!
From Warung to Home Kitchen: Exploring Culinary Fun Activities in Bali
6. Meet Fascinating Creatures at Bali Zoo: A Wild Day Out with Friends – Unforgettable Activities in Bali for Young Adults
Want an Instagram-worthy moment with some wild creatures? Bali Zoo is where you'll find tigers, birds, and everything. It also is one of my favourite things to do with kids and family in Bali. Bring your squad and snap those unforgettable selfies! Also, don't forget to tag #WiraTourWildAdventure.
Planning Your Visit: Entrance Fees and Timing Essentials
Cost: Bali Zoo entrance fee (book online for discounts!).
Duration: 3-4 hours (perfect for Insta stories).
Best Time to Visit: Morning or evening for more fabulous selfies.
Get There: Grab a scooter or car rental.
Location: Google Maps.
Review: Bali Zoo TripAdvisor.
7. Extraordinary Adventures in Bali: Unleash the Thrill with ATV Riding in Ubud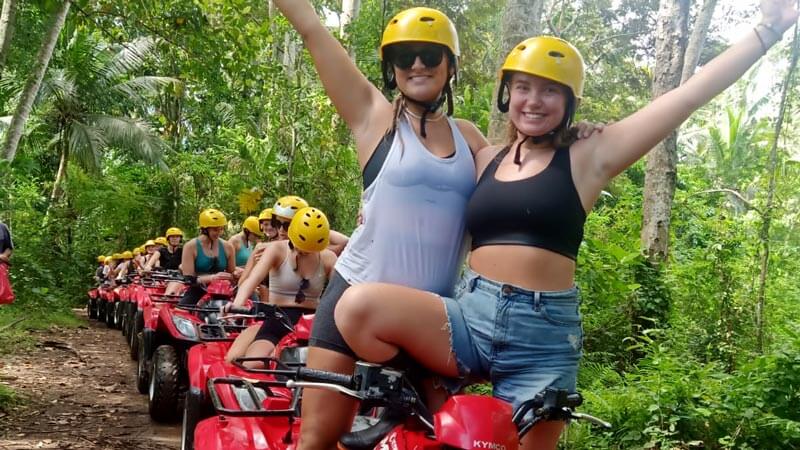 Furthermore, unleash the Adventure with ATV Riding in Ubud: Feel the thrill of one of the most unique adventure activities in Bali! Explore Ubud's stunning landscapes on an ATV. Above all, it is great for adventure seekers. Suitable for all levels.
Plan Your Ubud ATV Adventure For Fun Activities in Bali
Cost: Ubud ATV Ride Price.
Duration: 1-2 hours of pure fun.
Best season to Visit: Dry Season (April – October) for maximum thrill.
Get There: Taxi or motorbike.
Location: Google Maps
Extra Tips: Safety gear is suitable for beginners and experienced riders.
8. Indulge in a Romantic Dinner at Jimbaran Beach: #DateGoals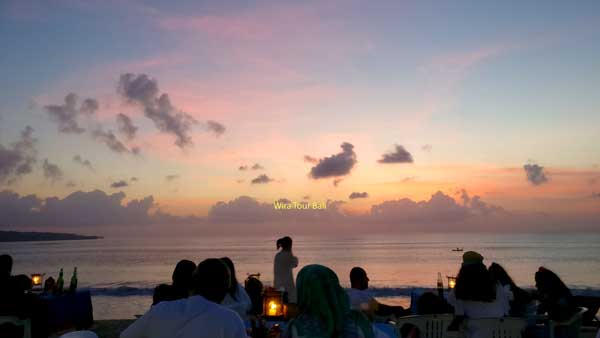 Fancy a swoon-worthy date night? Capture the sunset, enjoy fresh seafood, and cosy up at Jimbaran Beach. It's love at first bite!
Your Guide to a Dreamy Dinner: Leisurely Pleasures in Bali
Cost: Depends on the menu, from IDR 300,000 to IDR 600,000 per couple.
Duration: 2-3 magical hours.
How to Get There: Taxi, motorbike, for romantic ride share.
Find it on Google Maps.
9. Step Back in Time with Cultural Tourism in Penglipuran Village: Explore Bali's Tradition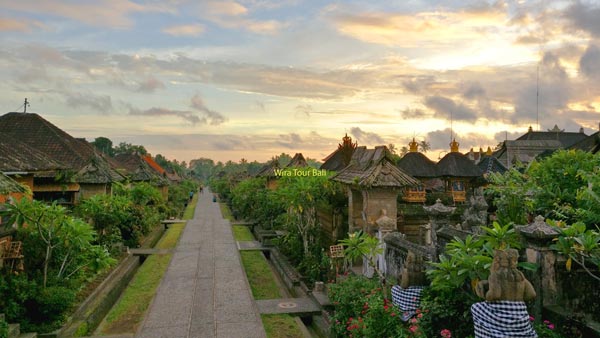 Penglipuran Village lets you explore Bali's rich history, chill life, and hidden gems. Also, perfect for culture vultures and influencers aiming for those unique shots.
Plan Your Visit to Penglipuran Village
10. Have a Happy Day at Bali Bird Park: A Flappy Good Time for Bird Lovers
Feeling a bit feathery? Bali Bird Park is your go-to destination. Enjoy the symphony of 1,000 birds and wander around lush gardens.
Plan Your Visit: Essential Tips for a Perfect Fun Activities at Bali Bird Park
11. Sunrise Trekking on Mount Batur: A Memorable Experience for Young Explorers in Bali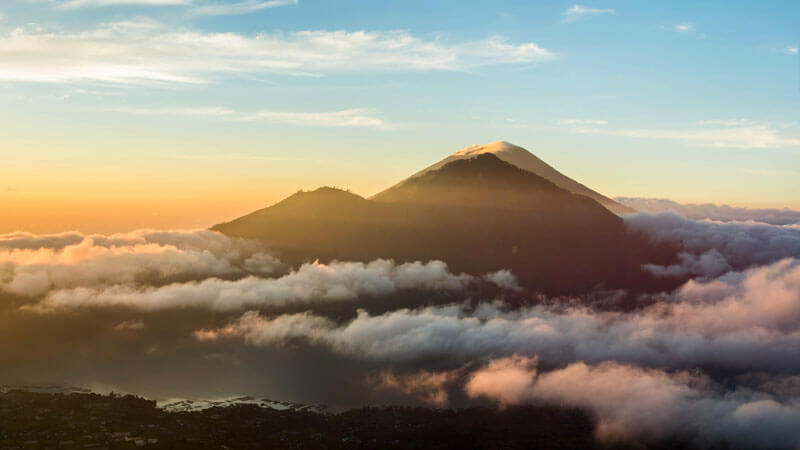 Next, on unforgettable activities in Bali for young adults. Get ready for an adrenaline-filled hike to the summit of Mount Batur! With the first rays of dawn, witness a magical sunrise over Batur Lake. Young adventurers, this is your chance to connect with Bali's breathtaking landscapes.
Ready to Join the Adventure? Here's What You Need:
12. Interact with Elephants in Taro Village Ubud: Exciting Family Adventures in Bali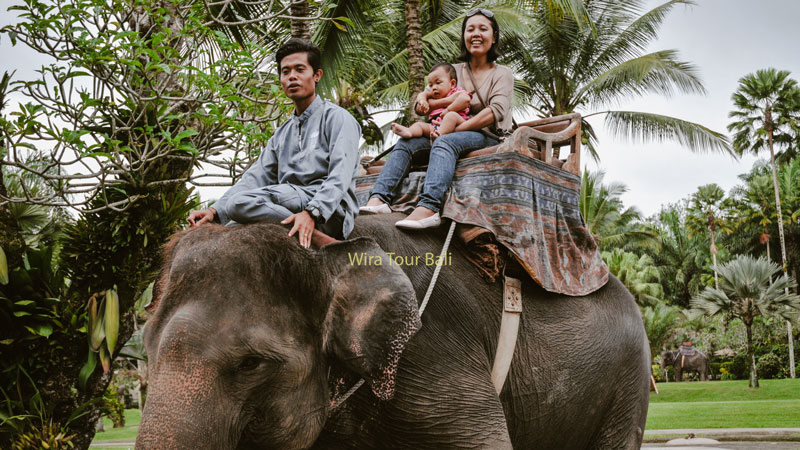 Dive into the enchanting world of elephants in Taro Village Ubud for an educational and heartfelt family experience. Engage with these gentle giants, understanding their intelligence and role in nature while enjoying feeding and bathing them.
Plan Your Visit: From Costs to Cameras, All You Need to Know
13. Paragliding Adventure on Bali's Cliffs: Sky-High Thrills for the Youth!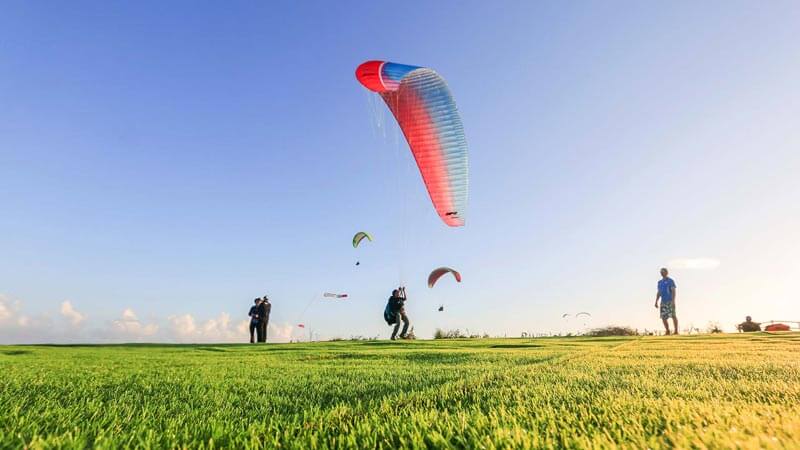 Ever dreamed of flying? Experience the rush of soaring over Bali's breathtaking cliffs and endless ocean. Consequently, perfect for thrill-seekers, paragliding adventure offers a bird's-eye view of paradise.
Ready to Soar? Here's Your Sky Guide:
Cost: IDR 750,000 – IDR 900,000, depending on the operator.
Duration: 10-15 unforgettable minutes
Best Time to Visit: May to October
Getting There: Via taxi or motorbike to Riug Paragliding or Timbis Paragliding.
Extra Tips: Instructors are available for beginners; carry a camera!
Young Explorer's Review: Riug Paragliding TripAdvisor.
14. Feel the Rush on the Telaga Waja River: Ultimate Rafting Experience – Unforgettable Activities in Bali for Young Adults
Grab your friends and navigate the rapids of the Telaga Waja River! Ideal for young adults seeking adventure, this whitewater rafting experience connects you with Bali's lush landscapes and wild waters.
Gear Up for the Splash: Essential Rafting Info:
15. Jet Ski on Tanjung Benoa's Waves: Unleash Your Inner Speedster!
Love speed and water? Young adults, unleash your wild side on the waves of Tanjung Benoa. From racing friends to jumping waves, jet skiing is pure unscripted fun! Also, embrace the beauty of Bali's marine life as you speed across the waves of Tanjung Benoa on a jet ski.
Make a Splash: Your Ultimate Jet Ski Guide:
16. Parasailing Adventure in Tanjung Benoa: Sky's the Limit, Young Adventurers!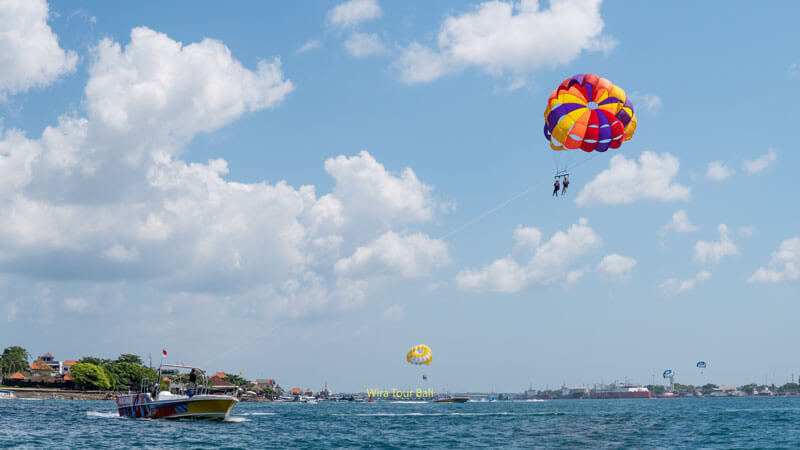 Feeling adventurous? Soar Above Bali's Waters! Tanjung Benoa Beach, one of the best places to visit in Bali for water sports, invites you to embark on an awe-inspiring parasailing adventure. Soar above the picturesque coastline and immerse yourself in the thrill and breathtaking views.
Consequently, it's a unique, accessible experience to witness Bali's coastal splendour from the skies. Also, share your sky-high memories with #WiraTourFlyHigh and inspire your friends to plunge.
Planning Your Aerial Adventure: Costs, Duration, and Tips for an Unforgettable Parasailing Experience
17. Fly High Like Iron Man: Be the Superhero You Are with Flyboarding in Bali!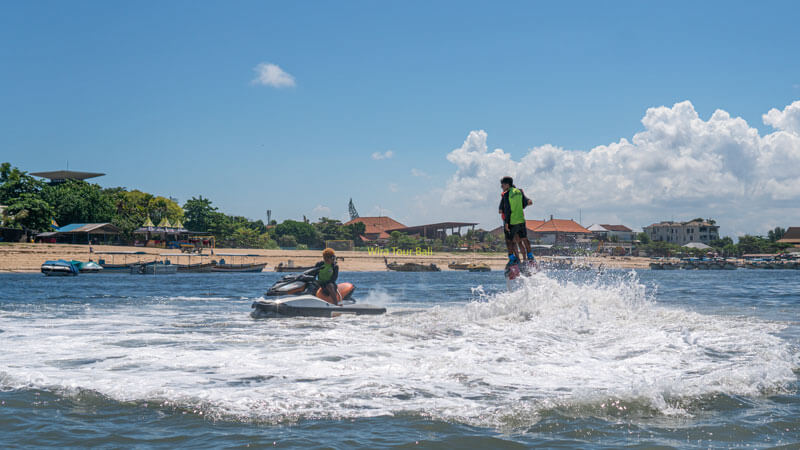 Why just swim when you can fly? Unleash your inner superhero with Bali's Flyboarding adventure! Experience the electrifying sensation of flight as you control your journey with your feet, soaring above the water. Moreover, perfect for thrill-seekers, this unique experience is ready to delight. Also, capture the moment and share your experience using #WiraTourFlyboard. Ready, set, lift-off!
Prepare for Takeoff: Cost, Duration, and Best Time to Flyboard in Bali
18. Night Safari Bali: Jungle Thrills & Entertaining Excursions with Friends, After Dark!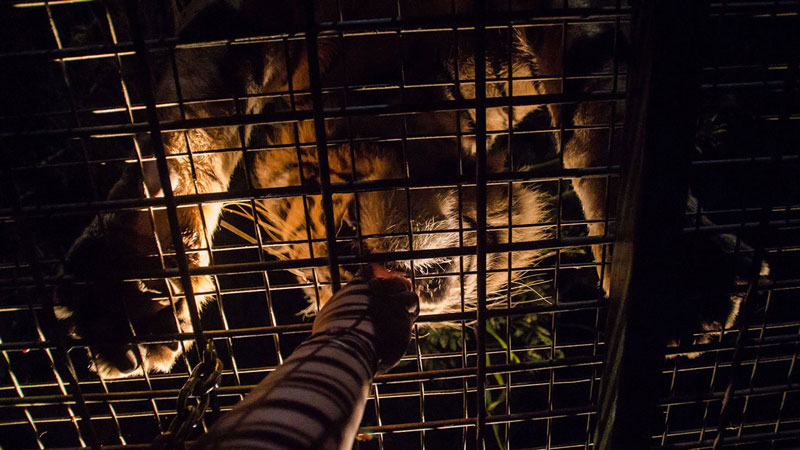 Jungle Thrills and Fascinating Wildlife Await! Embark on one of the most unforgettable adventure activities in Bali, a nocturnal journey in the jungle, where you'll witness wildlife in their natural habitat. Experience the jungle like never before; see nocturnal animals active in a perfect blend of thrill and education.
Plan Your Night Safari Adventure: Costs, Timings, and Essential Tips
Planning your trip to Bali? Don't miss out on the perfect weather! Find out when is the best time to visit Bali for your interests. Whether you're a beach lover or a culture enthusiast, there's a season for you.
19. Horse Riding on Saba Beach: Unleash Your Inner Explorer!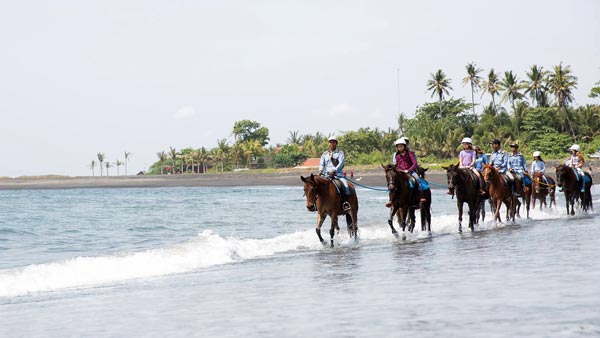 Embrace freedom and adventure as you enjoy horse riding on the pristine Saba Beach, feeling the ocean breeze as you gallop along the shore.
Saddle Up for Adventure and Fun Activities in Bali
Cost: IDR 225,000 – IDR 550,000 (packages available).
Duration: 30 minutes to 1.5 hours.
Location: Saba Beach Horse Riding Google Maps.
Best Time: Morning or evening.
How to Get There: Scooter, private car.
20. Bali Swings: Dare to Swing Above the Jungle? Challenge Accepted!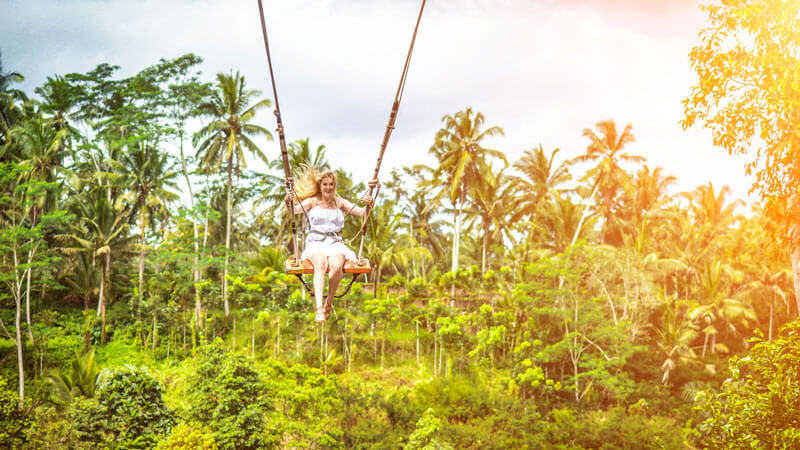 Experience the exhilaration of swinging high above the lush jungle canopy in Bali. From breathtaking views to the thrill of flying through the air, the Bali Swings offer a one-of-a-kind experience for thrill-seekers and nature lovers alike.
Soaring Above the Trees: Unique Fun Activities in Bali for Thrill-Seekers
Cost: IDR 300,000 – IDR 370,000 (various packages).
Duration: 30 minutes to 1 hour.
Location: Ubud's Bali Swings.
Best Time: Morning or evening during the dry season (April to October).
Extra Tips: Comfortable clothing, secure loose items.
21. Ride in Style on a Camel at Sawangan or Kelan Beach!
Looking for a different kind of beach ride? Ride camels along the stunning Sawangan or Kelan Beach Camel Ride and enjoy breathtaking coastal views. Consequently, a unique, peaceful way to explore Bali's shoreline, ideal for a serene beach experience. Also, snap pics, share with friends and relish the coastal views. Perfect for those Instagram-worthy shots!
Embark on a Camel Safari: Fun Activities in Bali for Young Explorers
Cost: IDR 120,000 – IDR 310,000 per person.
Duration: 15 minutes to 1 hour.
How to Get There: By taxi or motorbike from Kuta or Nusa Dua.
Location: Google Maps, Sawangan Nusa Dua & Kelan Beach.
Tips: Wear comfortable clothing, and bring a camera for fantastic photo opportunities!
22. Unleash the Adventurer in You: Sekumpul Waterfall Rainbow Chase!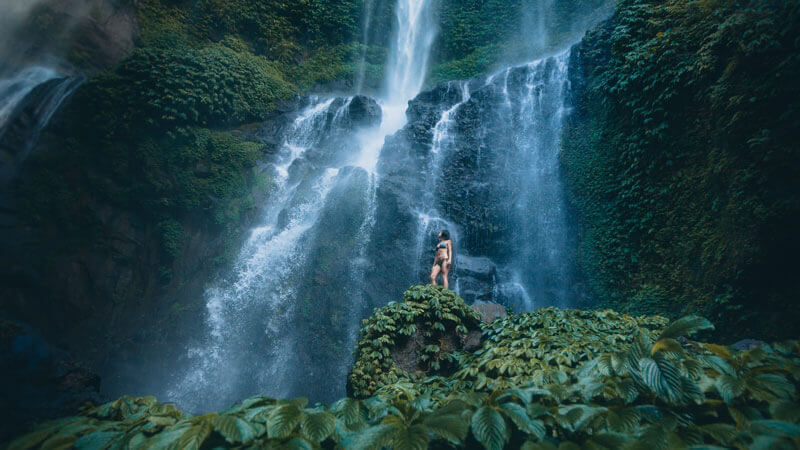 Ready for an adventure of a lifetime? Trek to Sekumpul Waterfall, witnessing dazzling rainbows amidst cascading waters. It is an adventurer's dream, perfect for photographers, nature enthusiasts, and those seeking Bali's hidden gems.
Chasing Rainbows at Sekumpul: Ultimate Guide for Young Adventurers
Cost: Medium Trek IDR 150,000, Long Trek IDR 250,000.
Duration: 3-4 hours.
Location: Google Maps. It's best in the morning, wet season.
Tips: Wear comfy hiking shoes, bring a camera, and consider a local guide.
Need to know how to get around? Check our Holiday Transportation Guide in Bali to explore like a local, whether by taxi, car rental, or shuttle.
23. Uncover Diamond Beach: Bali's Instagrammable Paradise!
Want a photo spot to make your friends envy? Head to Diamond Beach! Explore untouched beauty with pristine white sands, crystal-clear waters, and striking cliffs. Escape crowded spots; perfect for photographers and those seeking tranquillity.
Unveil the Gem of Bali: Diamond Beach Essentials and Exploration Tips
Entrance Fee: IDR 25,000.
Duration: Half or full day.
Location: Diamond Beach Google Maps, best in the dry season.
Tips: Arrive early and explore nearby attractions like Rumah Pohon (Tree House).
24. Dive into Fun with Lembongan Reef Cruise Bali Hai Adventure!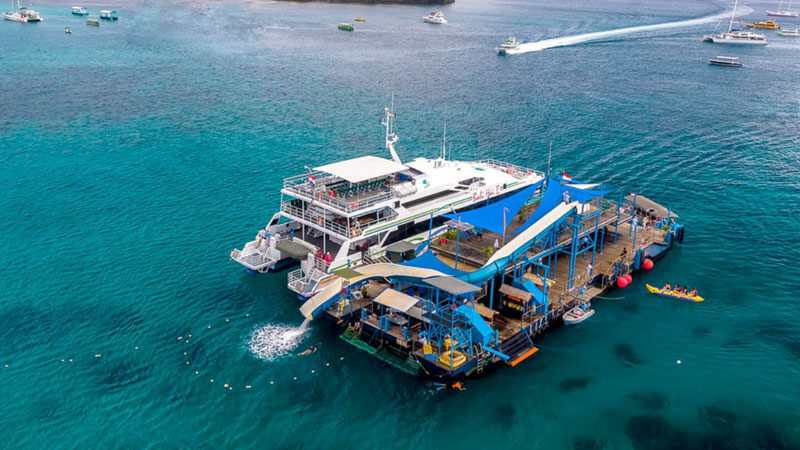 A day of discovery with various water activities amidst vibrant coral reefs. Explore the underwater paradise Lembongan Reef Cruise by Bali Hai, perfect for families and young enthusiasts. Make a splash and share your underwater snaps.
Navigate Lembongan's Coral Reefs: Young Explorer's Day Out
Cost: IDR 1,280,000 – IDR 1,850,000. Book online for the Lembongan Reef Cruise.
Duration: Full day, approximately 9 hours.
Location: Benoa Harbour, best from April to October.
Tips: Pack swimwear, sunscreen, underwater camera!
25. Party Like Never Before Club-Hopping in Seminyak!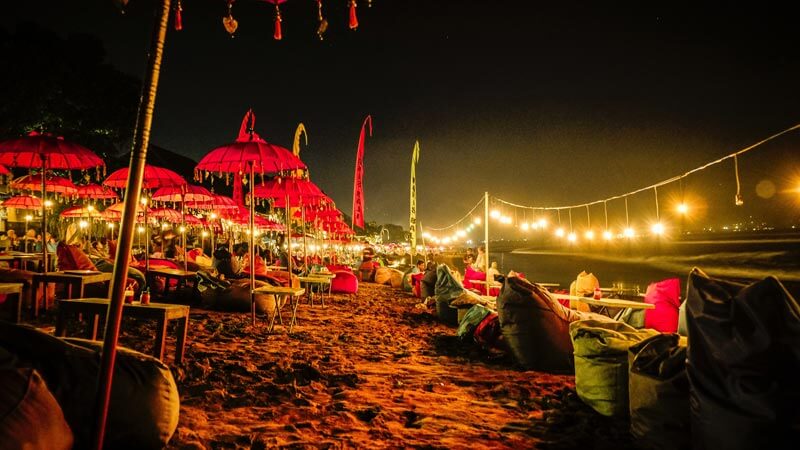 Finally, the last one on on unforgettable activities in Bali for young adults. Dance the night away in Seminyak's vibrant nightlife. Experience pulsating energy top DJ performances; perfect for party enthusiasts and social butterflies.
Seminyak's Ultimate Party Guide for Young Adults
Cost: About IDR 100,000 – IDR 300,000.
Duration: The whole night, from 22:00.
Location: Seminyak's District Google Maps.
Tips: Dress smart-casual, and bring your ID for age verification.
Seminyak's vibrant nightlife and upscale dining are not to be missed. Explore more things to do in Seminyak here.
Conclusion – Ultimate Fun in Paradise: 25 Unforgettable Activities in Bali for Young Adults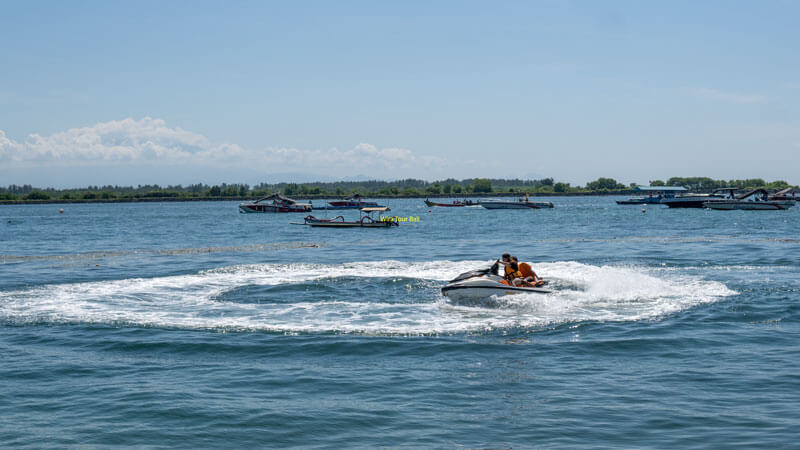 Hey Adventurers! With its rich culture and extraordinary landscapes, Bali promises 'Unique Experiences for Young and Spirited Travelers.' From the thrill of ATV Riding to the peaceful sunrise at Mount Batur, these 'Can't-Miss Activities' await you on the 'Island of the Gods.
Here's why you should hit Bali ASAP:
Unforgettable Nightlife: Party till dawn at Bali's top clubs. The island's nightlife is perfect for a blast!
Epic Marine Sports: Jet-skiing, parasailing, or scuba diving, Bali's marine sports will satisfy your adrenaline cravings.
Discover Magical Waterfalls: Trek to Bali's hidden waterfalls, chill, and unwind.
These attractions capture the energetic vibe of young adults seeking thrilling experiences. Whether dancing, water sports, or waterfall exploring, there's something for every young explorer in Bali!
Your Voice Matters! Share your Bali dreams. Want to swim with MantaRay or rave in a forest? Tell us below.
Bali's more than sunsets and temples. It's about making stories, tasting local food, meeting new friends, and thrilling "YES" moments. And hey, you'll get those Insta-worthy pictures too!
Remember this post about Bali Adventures for young adults and the Bali travel guide for youth. Bookmark and share it with your travel gang using #WiraTourBaliAdventures.
Ready to pack your bags and jump into the island's thrills? Bali's waiting; it's never dull here.
So, grab your passport, tag your squad, and make those Bali dreams real. Adventure starts now!