Bali island, specifically in Southeast Asia, is recognized as the most favored vacation destination for honeymooners and family getaways. The reason is Bali offers a range of exciting holiday activities, countless choices of tourist attractions, and a multitude of accommodations available, and locating places to eat for visitors is uncomplicated. One holiday activity tourists prefer is driving a jet ski in the middle of the sea, particularly on the Tanjung Benoa and Sanur beaches. Are you on holiday in Bali interested in trying out a jet ski but have never ridden one or are a novice rider? This page details 10 jet ski safety tips in Tanjung Benoa Beach, Bali. However, I will not discuss a guide on how to operate a Jet Ski vehicle.
Bahasa Indonesia, 10 Tips Aman dan Nyaman Berkendara Jet Ski di Bali untuk Pemula.
Benefits of Tanjung Benoa as a Jet Ski and Water Sports Location in Bali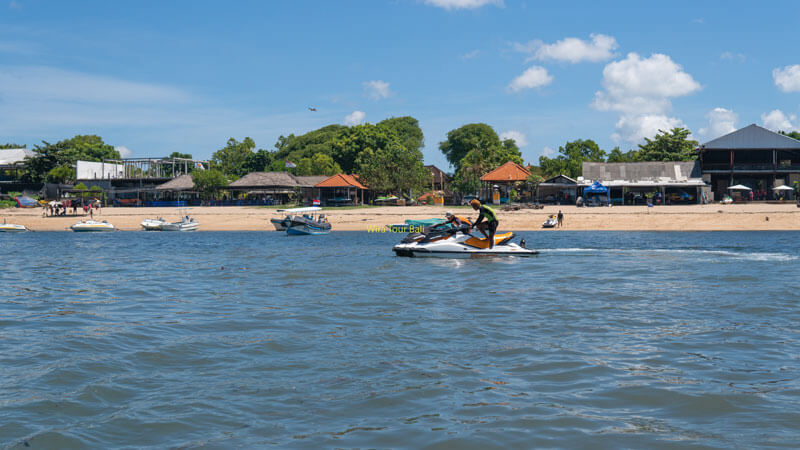 Tanjung Benoa tourist attractions are located north of Nusa Dua, Bali. The Tanjung Benoa area has become a favorite spot for jet ski rental activities and other marine tourism sports. Several aspects make Tanjung Benoa the top choice for water sports activities in Bali, one of which is jet skiing:
Serene Sea Waters: Tanjung Benoa Beach has clear waters and is not too deep, making it appropriate for various Bali water sports activities, including jet ski driving. With calm waters, novice riders can handle more comfortably and securely when riding a jet ski.
Good Infrastructure: Tanjung Benoa boasts excellent tourism infrastructure with the availability of many quality water sports operators. Thus, it's an ideal location for travelers seeking the experience of safely riding a jet ski in the middle of the sea.
Strategic Location: Tanjung Benoa is in the tourist area of southern Bali. As such, this beach is near several popular traveler attractions in Bali, such as Nusa Dua, Ungasan, Kuta, Legian, and Jimbaran Beach. This proximity to other attractions makes it more manageable for sightseers to reach the location from where they are staying to try diverse Bali water sports activities.
Beautiful Scenery: Tanjung Benoa Beach offers white sand and low waves with a beautiful stretch of coastline. This lets jet ski riders appreciate the stunning view while cruising above the water's surface.
Wide Selection of Marine Tourism Activities: Besides jet skiing, Tanjung Benoa also offers a comprehensive selection of other Bali marine water sports, such as banana boats, parasailing adventures, flyboarding, sea walkers, and snorkeling. This makes the Tanjung Benoa traveler spot a hub for marine tourism activities on the island of Bali.
Combining these five aspects makes Tanjung Benoa a famous and popular site for Bali water sports activities, including jet ski rental rides. Apart from Tanjung Benoa, you can rent jet skis on Sanur Beach in Bali.
10 Bali Jet Ski Safety Tips For Beginners: Ensuring a Secure and Comfortable Adventure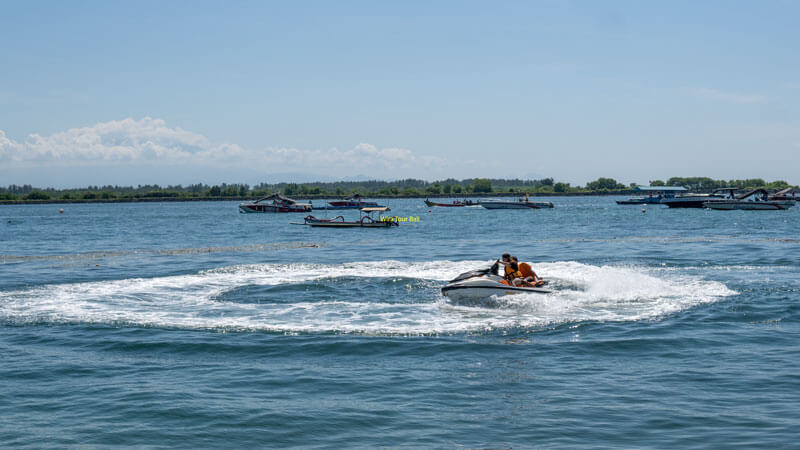 Here are some guidelines and tips for safely driving a jet ski in the middle of the Bali Sea. This guidance is intended for beginner riders or those who have never ridden a jet ski in the middle of the sea.
1. Choose a Trusted Jet Ski Rental Service Provider:
Before you book a jet ski riding activity in Bali, please select a service provider and travel agency in Bali that is authorized and has official permits. You'll receive quality, well-maintained jet ski equipment and experienced instructors by choosing the right travel agency and water sports company in Bali.
Avoid being tempted by jet ski rental prices in Tanjung Benoa Bali, which are incredibly cheap, below the rates authorized travel agents provide. If a lower price lures you, you might not acquire well-maintained jet ski gear, and the jet ski ride duration might not correspond to the initial deal.
2. Listen Carefully to the Safety Briefing From the Instructor:
Before riding a jet ski, the instructor will give you a safety briefing. This briefing covers how to operate a jet ski, signs of danger, and safety steps to follow. It's essential to pay close awareness to your guide's instructions.
3. Wear a Life Jacket: The Most Important Jet Ski Safety Tips
Regardless of how well you can swim, remember continuously wear a life jacket during the jet ski ride. Therefore, it assures that if you slip from the jet ski, you'll float on the water's surface. Making it more manageable for the guide to find you fast.
4. Don't Hire a Jet Ski Without an Instructor:
For those who have never ridden a jet ski, renting one attended by a guide is safer. Even if you're used to riding a motorcycle, operating a jet ski requires a period of familiarisation. Once you are comfortable controlling a jet ski, you can consider renting one in Tanjung Benoa without an instructor.
5. Maintain Your Distance From Other Riders:
Maintain a secure space of at least 50 meters from other riders while riding. Suddenly stopping a jet ski requires special skills to carry out dangerous maneuvers. You can prevent collisions by maintaining your distance from other riders or boats.
6. Follow the Guide's Instructions: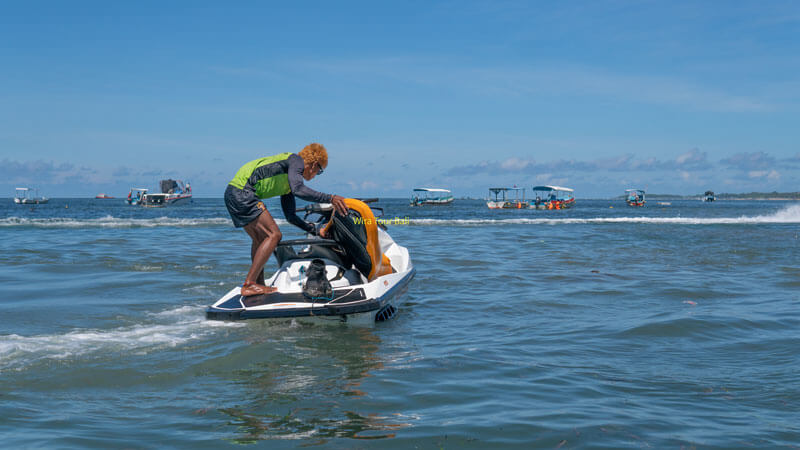 Always adhere to the instructions of your jet ski guide, whether it's regarding routes, speed limits, or restricted riding areas. This ensures you stay safe and comfortable while enjoying the adventure of riding a jet ski.
7. Don't Exceed Your Limits:
Although driving a jet ski in the middle of the sea is excellent enjoyment, remember not to get carried away and go beyond your ability to handle the jet ski.
Stay within the safe speed limits advised by the guide.
Avoid trying maneuvers if you're unsure you can execute them safely.
8. Monitor Weather Conditions Before Departing:
It's a good idea to check the Bali weather conditions before heading to the activity location to ride a jet ski. Try to pick a sunny day with a low gust of wind. Acceptable weather conditions offer a comfortable and safe jet ski riding experience.
9. Book Online and Avoid Walk-In Booking: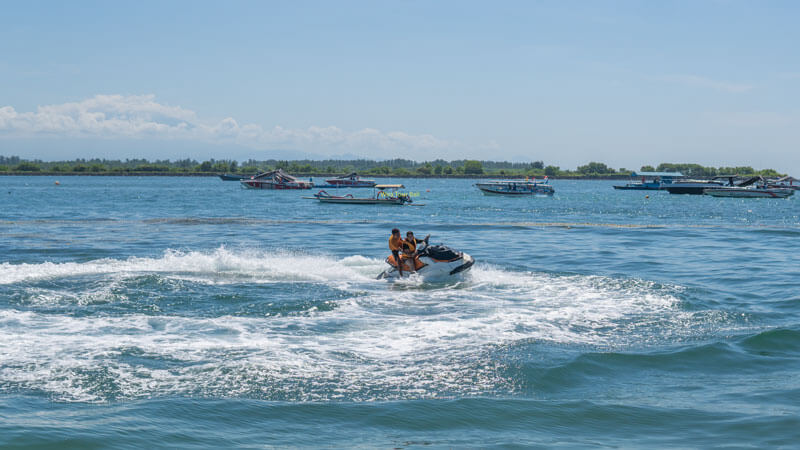 To avoid surprises with the published prices for jet ski rental at Tanjung Benoa Beach, booking your jet ski rental online with a trusted Bali water sports travel agency is a good idea. The online cost of riding a jet ski on Tanjung Benoa Beach is generally much lower than the published price on-site.
Also, consider booking the Tanjung Benoa Water Sports package. These packages usually include 3 activities, one of which is jet skiing. By booking a package, you'll get a lower rate for Tanjung Benoa water sports activities.
10. Don't Operate a Jet Ski Under the Influence of Alcohol:
Never ride a jet ski under the influence of alcohol, as it reduces alertness and coordination. This is very dangerous both for you and other riders.
Related holiday guide articles: Bali Diving Tips for Beginners.
Conclusion: 10 Jet Ski Safety Tips in Bali for Beginners
Riding a jet ski in Bali will be a wonderful holiday experience. Especially for sightseers who have never tried a jet ski. Following the tips for safely riding a jet ski in Bali listed above, you can enjoy the thrill while maintaining your safety and comfort.
Suppose you are interested in other Bali water sports activities. You may also want to try the Bali River Rafting and read 10 Safety Tips When Bali Rafting Adventure. This popular water activity is another exciting way to enjoy the natural beauty of Bali and the thrill of navigating through rushing Telaga Waja river currents.