Holidays in Bali are synonymous with vacationing on white-sand beaches and visiting the Balinese Hindu Temple. While on vacation on the white sand beach, there are travellers who want to enjoy the beach scenery, and there are also those who do water sports activities. Several favourite water sports activities are carried out during holidays in Bali, like surfing, swimming, flying with parasailing, and driving a jet ski. Especially on this page, you will find information about the jet ski Bali without an instructor at Sanur Beach Bali.
Bahasa Indonesia, "Harga Rental Jet Ski Di Pantai Sanur Bali Tanpa Instruktur" >>>
Detailed information about the jet ski Bali without an instructor at Sanur Beach Bali that you will find such as;
Watersport Activity In Bali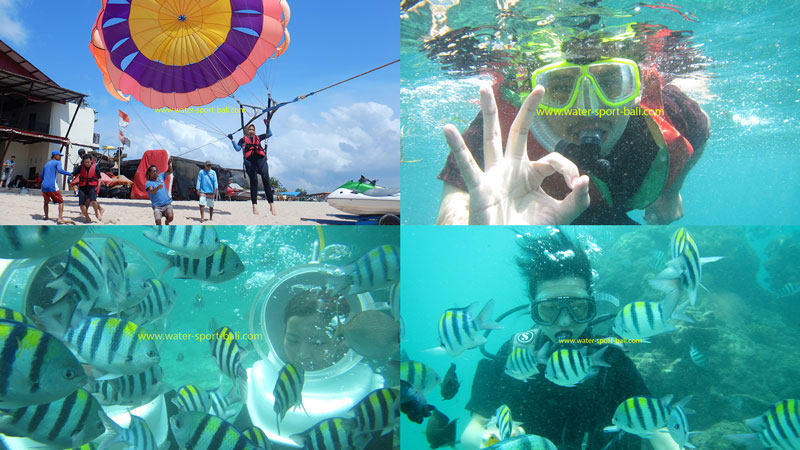 As a holiday destination, Bali Island offers many Bali attractions and fun vacation activities. One of the tourist activities in Bali that travellers favour while on vacation to Bali is the Bali water sports activities.
Bali has three watersport categories when inspected from the Bali water sports location. Namely Bali watersports on the lake, water sports on the river such as Bali white water rafting, and Bali marine watersports activities.
Read Here a List Of 8 Kids-Friendly Bali Water Sports Activities.
Bali Marine Watersports Activities
For watersports Bali activities in the sea for beginners, two tourist attractions in Bali are very popular and favoured by tourists, such as:
Tanjung Benoa Beach, Bali.
Bali Sanur Beach.
At the two water sports locations in Bali above, tourists can find rides such as; parasailing, jet skiing, banana boating, snorkelling, and scuba diving. Please click the link for games selection and Tanjung Benoa beach water sports prices! Because this page will provide information about jet ski hire in Sanur Bali with no instructor.
Read More The Best Bali Water Sports Location.
Sanur Beach Bali Attractions
Sanur Bali is one of the tourist areas in Bali, famous for being tranquil and offering child-friendly white sand beaches. The location of Sanur Beach is on the east side of the south Bali area. Therefore, Sanur Beach is one of the great places in Bali if you want to see the sunrise.
If you love surfing, then Sanur Beach is not suitable for you. You won't see high waves at Sanur Beach; instead, you will find calm seawater. However, if you enjoy a relaxing beach holiday with your family and your kids, Sanur Beach Bali is the perfect choice for your Bali attractions.
Jet Ski Ride In Sanur Beach Bali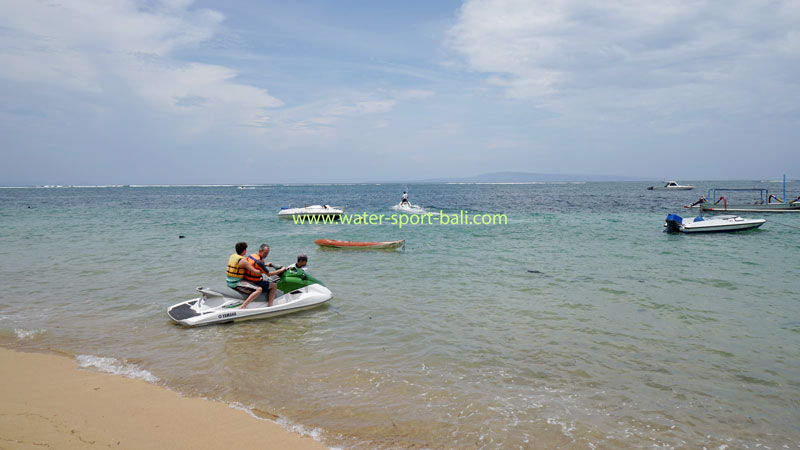 European tourists prefer jet ski rides on Sanur Beach. European tourists want to drive a jet ski without an instructor sitting behind the jet ski. Also, Sanur jet ski rides are attractive because Sanur Beach offers quieter sea traffic.
Because of these advantages, the rental price for a jet ski ride in Sanur Beach, Bali, is more expensive. Of course, if you compare it with the jet ski ride price on the Tanjung Benoa beach, Bali.
By renting and driving your jet ski on Sanur Beach, you will feel freedom when driving a jet ski. Also, you determine the direction of the steering and the jet ski speed.
Find Here the 8 Best Water Sports Activities In Bali For Fun & Unforgettable Family Holiday.
How To Drive a Jet Ski Sanur Beach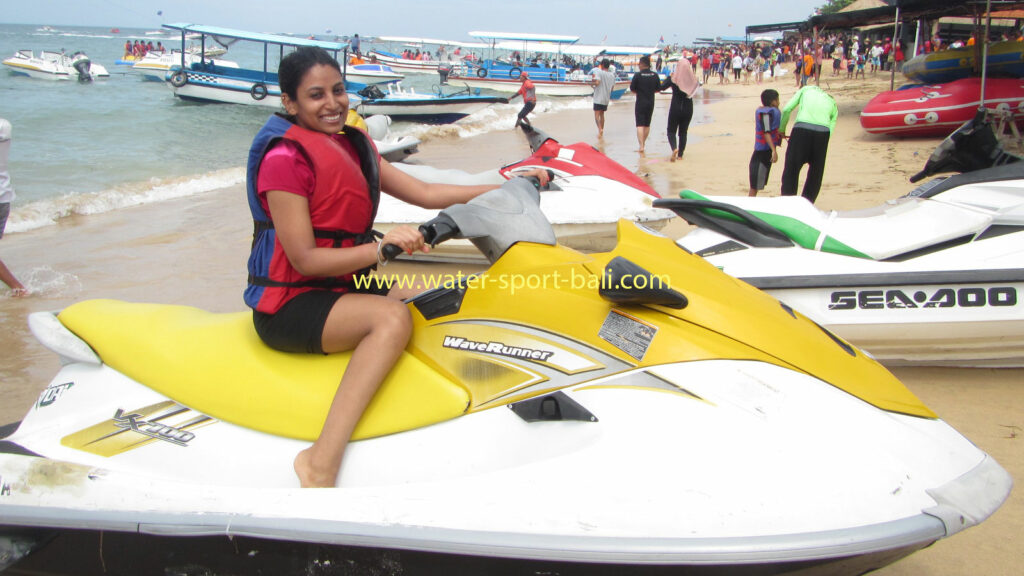 Regarding how to drive a jet ski in Sanur Beach Bali, the officer will notify you on how to operate a jet ski before you take the ride. However, it's good to know some information about running a jet ski if it's this your first time riding a jet ski.
Maybe you imagine that driving a jet ski is no different from riding a motorcycle. These are true if you already have experience riding a jet ski. However, for those who have never driven a jet ski, you will go a jet ski on the surface of the seawater, not on land. So, it's good to know little information about tips on how to drive a jet ski.
Read here 10 Attractions in Sanur Bali Make It Suitable for Family Vacation Spot.
Tips for Driving Jet Ski Hire Sanur Beach Bali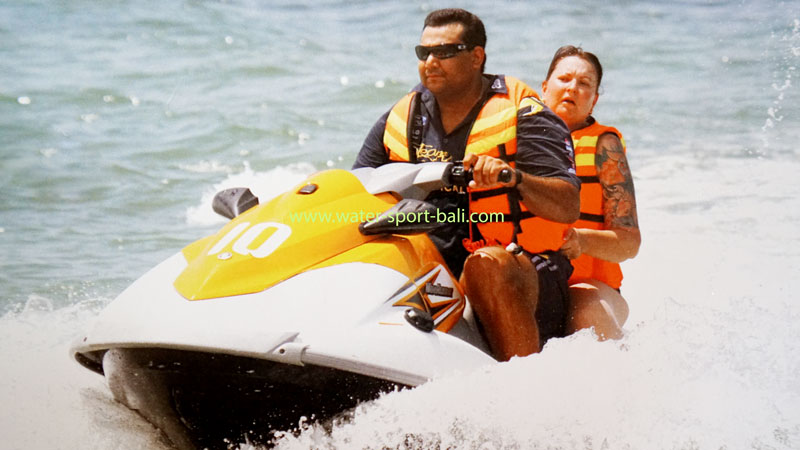 In the beginning, it is the same as riding a motorcycle. Then, place your hands on the handlebars and your feet on the footrest. You find the most comfortable sitting position on a jet ski.
Turn on the jet ski engine, and the instructor usually aids in starting the jet ski engine.
The throttle pedal on a jet ski resembles the front brake. Once you feel comfortable, slowly press the throttle pedal on the handlebar of the jet ski. Remember not to go fast.
Drive the jet ski about 200 meters from the Sanur beach shore. If you do not feel comprehended while driving a jet ski, always be close to the coastline.
Once you feel comfortable and see no sea traffic, you can gradually increase the jet ski speed until you find the most appropriate one.
Before cornering, lower the jet ski speed and lean your body toward the direction you want to bend. Also, if there is a passenger, ask the passenger to lean toward the corner when cornering.
You must know that jet skiing requires stable acceleration when cornering; if the speed is not steady, the jet ski tends to capsize. Remember to keep the pace and body balanced to avoid the jet skis you drive overturning.
Search Here, "Bali Sanur Beach Parasailing Price" >>>
Address & Map Location Of Jet Ski Hire Sanur Bali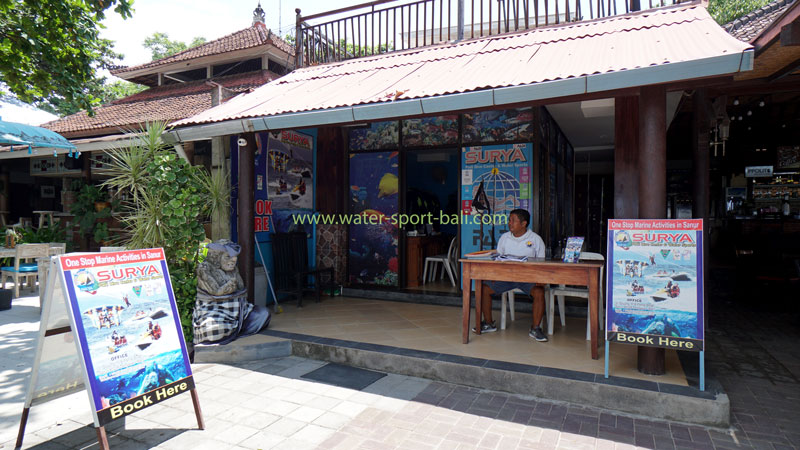 The address of jet ski rentals on Sanur Beach Bali is Jalan Duyung No.10B, Sanur Beach. While the provider for jet ski Sanur Beach is called Bali Surya Dive Center.
To create accessibility for finding the location of jet ski rentals on Sanur Beach Bali, please use Google Maps by clicking the link below! If you are in Sanur Bali now, you only have to search on Google with the keyword water sports near me.
Location Surya PADI Dive Center & Watersport Google Maps.
How To Get The Location Of Jet Ski Sanur Beach
There are several alternatives to get to the location of jet ski rentals on Sanur Beach; here are the choices.
Drive a private vehicle, whether it's a motorcycle or a car.
Get a meter taxi, motorbike taxi, or online taxi.
Book a hotel shuttle service provided by the jet ski operator. The shuttle price is excluded from the rental price of a jet ski at Sanur Beach.
From Seminyak Beach, Legian Beach, and Kuta Beach in Bali to Sanur Beach, you will take 40 minutes ride. From Ubud monkey forest to Sanur Beach will take a 1-hour drive.
Highlights of Sanur Bali Jet Ski Rides
The activity of riding a jet ski on the beach of Sanur Bali will give you an exciting and fun holiday experience.
Jet ski rental prices on Sanur Beach without an instructor are very affordable.
Tourists can ride a jet ski alone without being accompanied by an instructor with sea traffic that is not too crowded.
Free cancellation of reservations if customers cancel at least one day in advance.
Making reservations and cancellations is easy without waiting long because it will be directly served by our booking department, not chat with the machine.
Jet Ski Bali Without An Instructor Price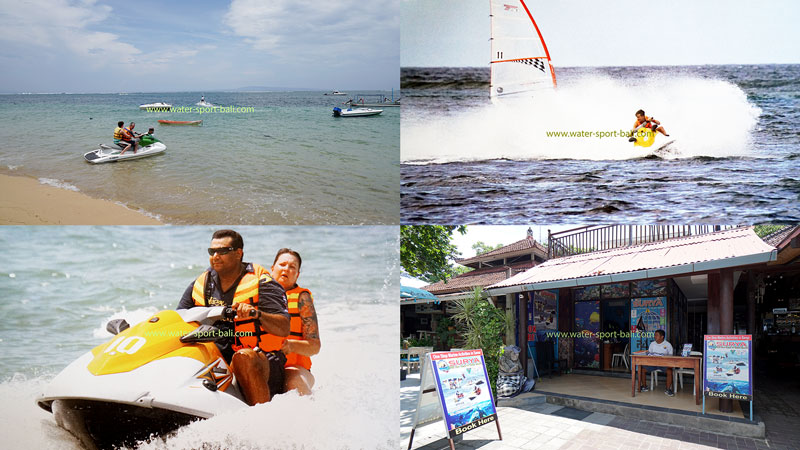 Are you interested in trying to drive a jet ski without an instructor on Sanur Beach in Bali? If so, you will ask how much the ticket price is for operating a jet ski in Sanur, Bali. The following are the jet ski rental prices in Sanur Bali operator Bali Surya Dive Center.
| Publish Price | Our Online Price |
| --- | --- |
| IDR 473,000/person | IDR 400,000/person |
Jet Ski Bali Without An Instructor Price Description
Publish for watersports in Bali is the rental price of a jet ski ride on Sanur beach, which you will get if you book directly with Bali Surya Dive Center Sanur.
Online jet ski rental rates on this page are only valid if you place an online order with Wira Water Sports Bali.
The rental and driving of a jet ski duration are 15 minutes, calculated when participants depart from the beach.
The minimum age of participants is ten years.
The maximum age of participants is 50 years.
When driving a jet ski, participants are not accompanied by an instructor. Also, participants can ask if they want to be accompanied by an instructor while driving a jet ski.
Bali Surya Dive Center Sanur operates Bali jet ski rentals without an instructor on this page.
The rental price of a jet ski at Sanur Beach listed on the table is for one person.
Sanur jet ski rental prices include the use of life jackets, and participants are required to wear life jackets while driving a jet ski.
Participant insurance is included in the Sanur jet ski rental price.
Bali Surya Dive Center Sanur provides insurance for participants.
Jet ski rental rates for adults and children are the same.
Before participants ride a jet ski alone, participants will receive a briefing on the jet ski ride allow area and how to operate the jet ski.
There are restaurant facilities, toilets, shower rooms, a large vehicle parking area, and changing rooms.
Find Here, "Ocean Walker Tour Bali Sanur Beach Prices" >>>
Must Bring Items
Sunglasses.
Sunblock.
Hat.
Swimsuit.
Change of clothes.
Bring a plastic bag to wrap wet clothes.
Also, remember to bring towels, soap, and shampoo.
Booking
For orders, a minimum of one day in advance. The goal is that we can tell you the best time to go jet skiing.
The Sanur Beach area often experiences low tide. To avoid cancelling your jet ski due to low tide, booking a Sanur jet ski ride one day in advance is good. For reservations, you can contact our booking service at;
WhatsApp Call & Chat: +62 813 3956 3400.
WhatsApp Chat Only: +62 822 4714 8222.
Email: info@water-sports-bali.com
You also can fill out the booking form below.
Booking Form
Voucher Redemption
After you make payment and confirm your order, we will send the voucher to you via WhatsApp or email.
After that, you can see your voucher on WhatsApp or your email.
If you utilize private transportation or without the shuttle service, you must come to Surya PADI Dive Center & Water Sports.
When you arrive at the Surya PADI Dive Center & Water Sports, you only need to show your voucher via smartphone to the reception staff.
Sanur Jetski Rental Terms & Conditions
There is no minimum order for booking a jet ski ride on Sanur Beach.
Furthermore, Sanur jet ski reservations cannot be rescheduled if you change the schedule on the same day as the activity date.
Cancellation of Sanur jet ski activity booking on the day of action will be subject to a 100% cancellation fee.
Cancellation of Sanur jet ski activity one day before the activity date and before 15:00; then, we will refund your payment 100%.
Refunds of payment due to participant cancellation do not include bank transfers and service fees.
To cancel a confirmed order, you can contact our customer service department.