As a tourist destination in Indonesia, Bali Island has many holiday activities. Tourism activities in Bali that are in high demand by tourists are marine tourism activities, better known as Bali water sports. One of the most prominent Bali water sports activities is parasailing. On the island of Bali, three areas provide a parasailing ride. Namely, Tanjung Benoa Beach, Nusa Penida Island and Sanur Beach in Bali. Especially on this page, we will inform you further detailed information about Sanur Beach parasailing.
Bahasa Indonesia, Parasailing Pantai Sanur Bali Harga Murah.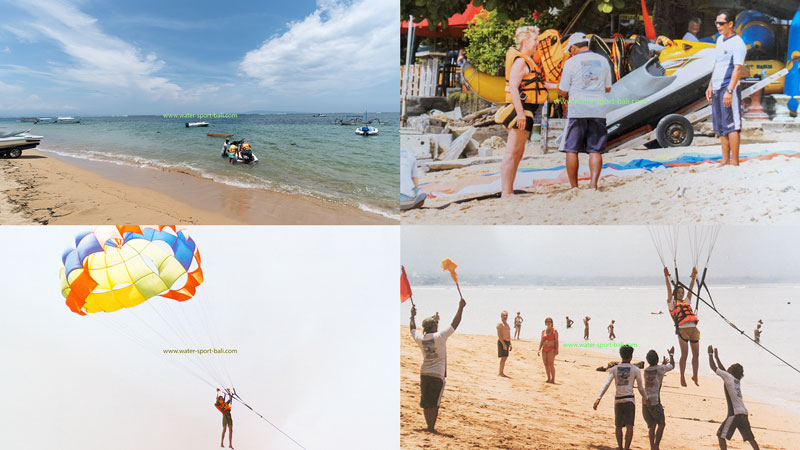 Information about the Sanur beach parasailing that you will find on this page such as;
What Is A Parasailing Game?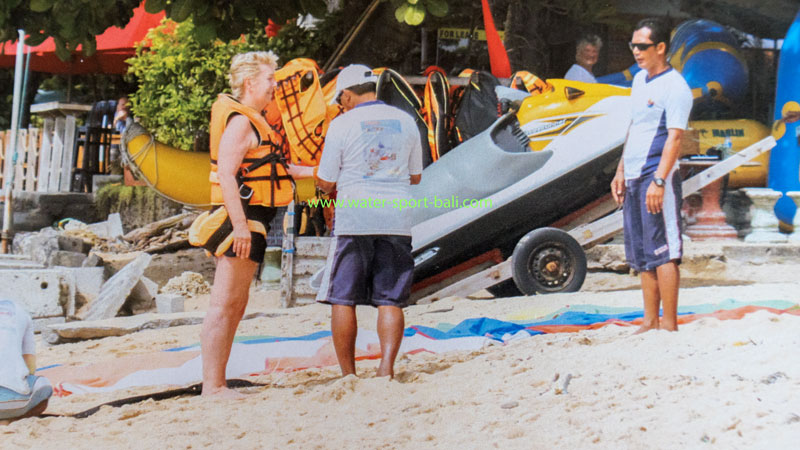 Furthermore, for those who have never seen parasailing games, the chances are that you will ask! What is a Parasailing game?
Parasailing is a recreational activity that allows participants to fly using a parachute. For a parasailing parachute to be able to fly, the parachute is tied to the vehicle; then, the car will pull the rope that can make the parasailing parachute fly.
If Parasailing is carried out on land, it is usually pulled by a car. A motorized boat will draw the parasailing rope if the parasailing game occurs at sea. Most parasailing rides happen in the ocean, especially on the island of Bali.
Read More, 5 Things You Necessitate To Understand About Parasailing Bali Marine Recreation.
Types of Parasailing Games in Bali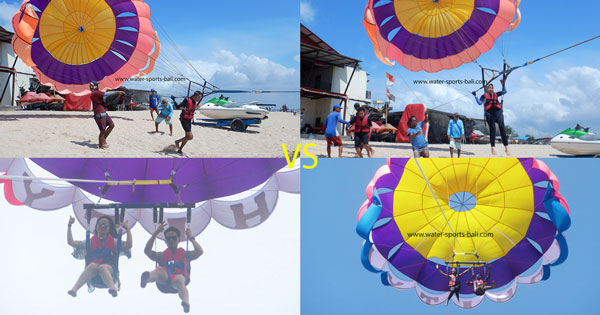 The Bali parasailing ride is all done in the middle of the sea and uses the speed boat to pull the parasailing parachute. If the speed boat has a powerful engine, then the speed boat will be able to attract two or three people to fly in one Parasailing.
Bali has two types of parasailing games and parasailing types based on the number of participants who can fly in 1 parachute.
A. Single Parasailing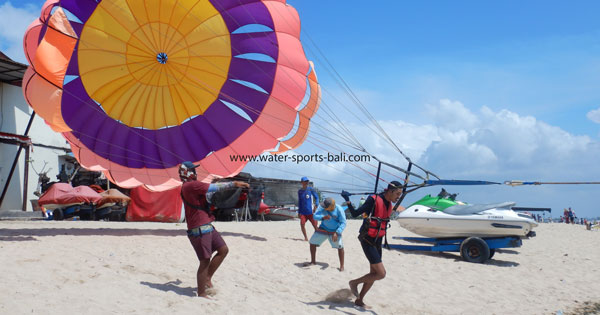 For single Parasailing, the ride can only fly 1 participant in 1 parachute because single parasailing pull by a small boat, and the chute size is also tiny. During the single parasailing ride, participants will fly from the seashore and land on the beach sand.
Single parasailing depends on the wind direction because the landing location is on the beach sand. Also, if the wind direction does not lead to a landing spot, the single parasailing operator in Bali will cancel the activity.
B. Tandem or Parasailing Adventures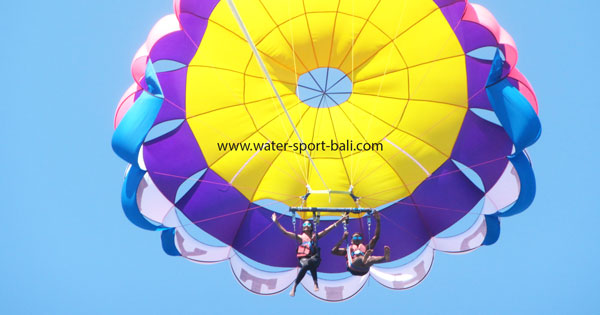 Tandem parasailing activities can fly two – three participants in one parasailing chute. Because it can fly many people in one parachute, tandem parasailing will use a large speed boat.
The chute size is also significantly more prominent than the single parasailing chute. During Bali tandem parasailing rides, participants will fly from the boat deck and land on the boat deck.
Tandem parasailing is not available in all vacation destinations in Bali; for now only available at Tanjung Benoa Beach and Nusa Penida. For your information, Tandem parasailing in Tanjung Benoa beaches is better known as Bali parasailing adventure.
If you need more details about the difference between a single parasailing and a parasailing adventure, please click the link below!
What are the differences between single Parasailing and a parasailing adventure in Bali?
Locations Choice For Parasailing Rides in Bali
Not all beach attraction in Bali provides parasailing rides. Currently only available in three locations which are;
Tanjung Benoa Beach, Bali.
Sanur Beach Bali.
Nusa Penida Island.
On Tanjung Benoa beach, there is only tandem parasailing, while the single is no longer available. While on Sanur Bali beach, there are only single Parasailing and a Bali jet ski ride without an instructor.
The difference of Sanur Parasailing with Tanjung Benoa Parasailing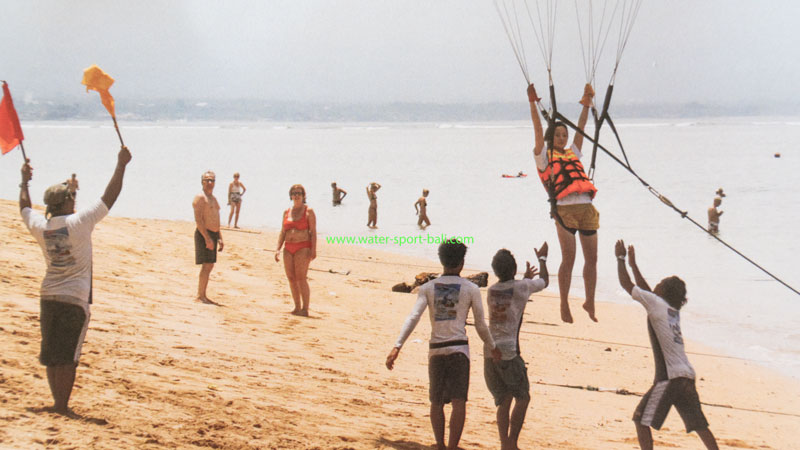 Is there a difference between the parasailing adventure rides on Tanjung Benoa Beach and Sanur Beach in Bali?
Parasailing adventure in Tanjung Benoa can fly 2 participants at the same time. At the same time, single parasailing in Sanur is only for 1 person.
The beach view is also different between Sanur and Tanjung Benoa.
There is also a difference in the price of the parasailing game. The price for a parasailing adventure in Tanjung Benoa is higher than the ticket price for parasailing on Sanur Beach in Bali.
Parasailing in Tanjung Benoa prefer by Asian tourists, such as from Indonesia, India, the Philippines, Singapore, Taiwan, China, and Hong Kong, whereas European tourists prefer parasailing games on Sanur Beach.
In general, tourists try parasailing in Sanur because they want to drive a jet ski in the middle of the sea alone without the instructor sitting behind the participants.
Sanur Beach Parasailing Price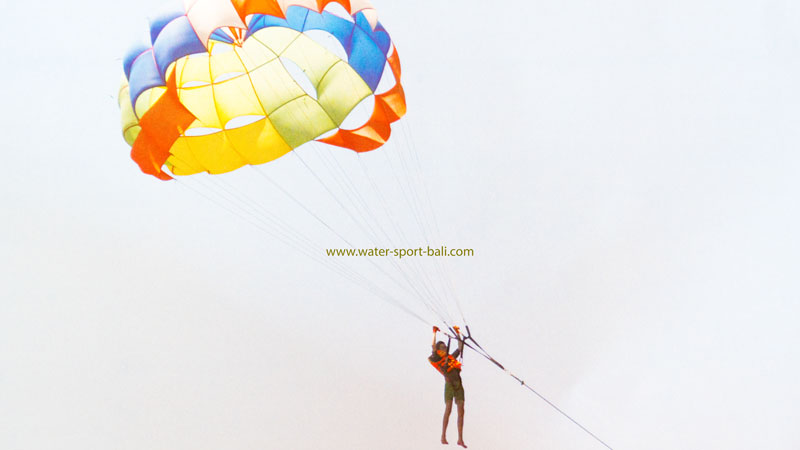 What about you? Are you interested in trying parasailing on Sanur Beach in Bali? If so, the chances are that you will ask about Sanur's parasailing prices, how to order, and the location of parasailing activities on Sanur Beach Bali. The following is detailed information on the parasailing game in Sanur, Bali.
| Publish Price | Our Price |
| --- | --- |
| IDR 338,000/person | IDR 250,000/person |
Description of Bali Sanur Beach Parasailing Ticket Prices
The duration of parasailing is 1 round, around 3 – 4 minutes.
The company providing parasailing activities is Surya Padi Dive Center & Water Sports.
The type of Parasailing vehicle is a single parasailing for one participant, and two participants cannot fly simultaneously.
Parasailing ride ticket prices in the table above are for one participant.
The minimum age of participants is 10 years, and the maximum is 50 years.
The Sanur Bali parasailing prices on this page are only valid when booking through our site (Wira Water Sports Bali).
Published ticket prices apply when ordering parasailing directly at the Surya Padi Dive Center & Water Sports location (walk-in booking).
The prices listed in the table are valid until December 31, 2023.
Shuttle services are not included in the Sanur parasailing prices. If you want the rate of water sports in Bali, including a free shuttle, please reserve the Bali Tanjung Benoa Water Sports Package.
Parasailing Ticket Prices Included
Parasailing prices include insurance, taxes, and service fees.
Surya Padi Dive Center & Water Sports, a parasailing operator, provides insurance for participants.
Life jackets are available at the activity location.
Sanur Parasailing Ticket Prices Not Included
The shuttle service is not included in the Sanur parasailing ticket price.
Does not include the participant's expenses.
Photo and video services of participants during the activity are not included in the price of Sanur Water Sports.
Cancellation Policy For Sanur Beach Parasailing
During bad weather, the single parasailing ride on Sanur Beach, Bali, is canceled. Severe weather includes wind direction, low tide, high tide, and thunderstorms.
Furthermore, lousy weather in Bali can occur anytime and is beyond our control.
Cancellation of Sanur's Parasailing by Water sports operators due to bad weather, the parasailing payment was refunded to the customer.
Also, weather conditions can cause parasailing activities cancellation without prior notice to customers.
If the customer carries out parasailing cancellation for any reason on the same date of booking activities, whereas there is no climate issue, then the customer will be charged a 100% cancellation fee.
Search Here Ocean Walker Sanur Price – Free Shuttle.
Booking Sanur Beach Parasailing
For complete details and booking of Sanur Beach Parasailing, please get in touch with us by:
Email: info@water-sports-bali.com.
WhatsApp Call & Chat: +62 813 3956 3400.
WhatsApp Chat Only: +62 822 4714 8222.
Office Telephone: +62 366 5581096.
You also can fill out the booking form below.
Booking Form