Discover Tanjung Benoa Beach, a tranquil gem in Bali's southeastern corner, offering tourists a unique blend of golden sands and a serene ambience. Often overshadowed by nearby Nusa Dua, the Peninsula is your ideal hideaway for peace, water sports and pristine beauty. Don't skip this beach while crafting your perfect Bali holiday itinerary; it's a must-visit! View the location on Google Maps.
Untuk pembaca yang lebih memilih dalam Bahasa Indonesia, klik di sini untuk terjemahan lengkap artikel ini. Which translates to: For readers who prefer in Bahasa Indonesia, click here for the full translation of this article.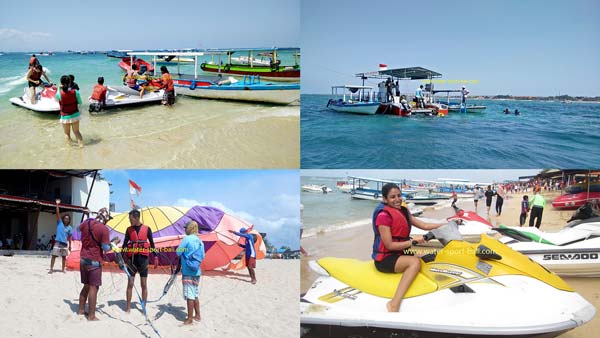 Seamless Transportation: How to Reach Tanjung Benoa Beach Effortlessly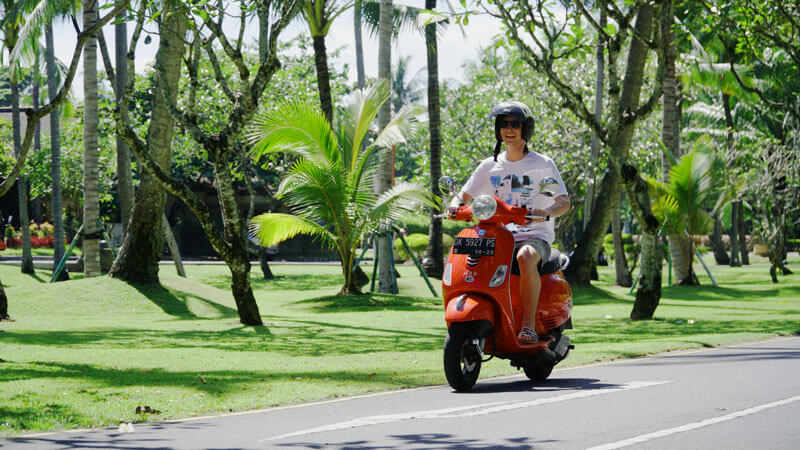 Above all, getting here is a breeze, only a 35-minute drive from Bali's Ngurah Rai International Airport.
Here are your top three transportation options in Bali, each catering to different travel needs:
Taximeter: The quickest way; fares typically range between IDR 150,000–200,000 for a one-way trip from the airport.
Private Car Hire: For a bespoke experience, opt for a private car with a driver at approximately IDR 700,000 for a 12-hour hire, allowing you to explore the area and its vicinity at leisure.
Scooter Hire: Adventurous travellers can rent scooters from various vendors for the day, offering the ultimate freedom to roam.
Accessibility & Convenience: Know Before You Go
Although Tanjung Benoa Beach is generally not wheelchair-friendly, some areas may offer accessibility. It's wise to inquire ahead of time. Parking is ample and typically free, adding extra convenience to your visit.
What Sets Tanjung Benoa Beach Apart: An Authentic Balinese Retreat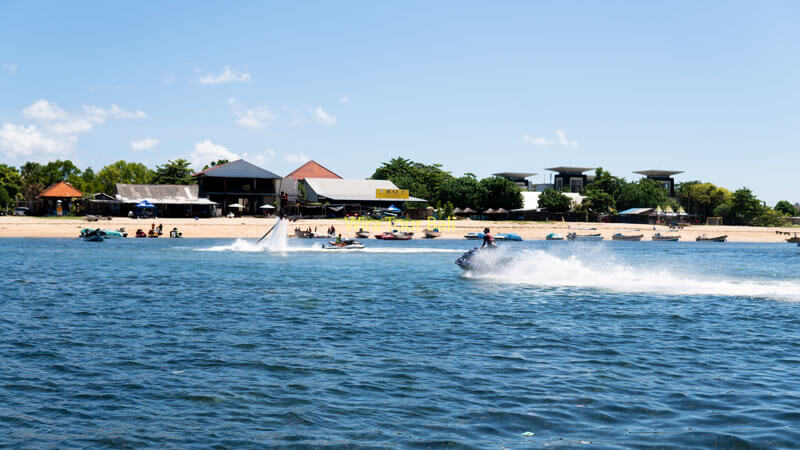 Escape the crowd and discover the authentic, tranquil allure of Tanjung Benoa Beach. This unique stretch of golden sands and calm Bali waters offers natural beauty and marine water sports adventures.
Quick Guide to Amenities
Basic Facilities:
Restrooms: Conveniently located on each water sports operator.
Showers: Strategically placed for a post-swim rinse at water sports providers.
Food & Retail:
Restaurants: From traditional Balinese to international dishes, satisfy your palate.
Shops: Artisanal and convenient items, a few steps from the beach.
Rentals & Leisure:
Loungers & Umbrellas: Rentals start at just IDR 50,000.
Water Sports Gear: Choose from accredited providers for peace of mind, such as jet ski rental.
Budgeting Your Day: Get More, Spend Less
To clarify, the entrance to Tanjung Benoa Beach is free, allowing you to allocate funds for fun experiences. You also can read how to budget your Bali trip for further details.
Average Expenses:
Meals: Expect to spend between IDR 100,000 and IDR 200,000 per person at beachside eateries.
Activities: Water sports costs range from IDR 300,000 for jet skiing to IDR 275,000 for an uplifting parasailing adventure. Note this price applies if you book with Wira Water Sports. Choose a water sports package for a free shuttle and an affordable rate.
Your Adventure Hub: Watersports Beach Activities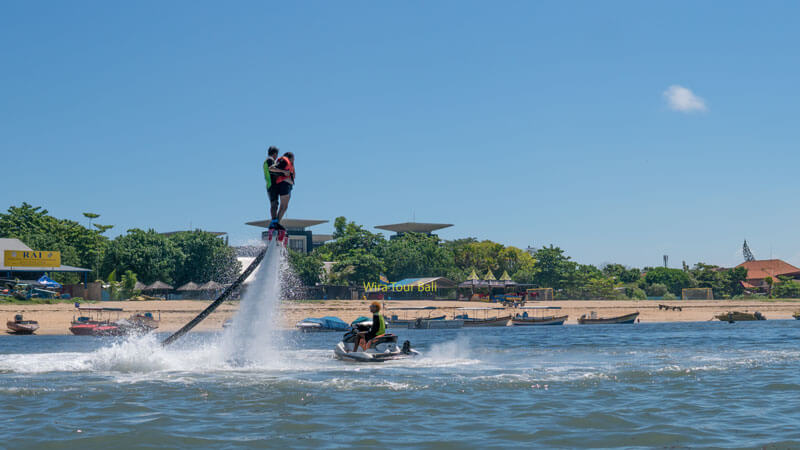 On the other hand, don't just sunbathe; elevate your Bali holiday by engaging in exhilarating water adventures. Whether you're on a family holiday, a friendly outing, or a romantic escape, Tanjung Benoa Beach has something for everyone.
For the Thrill-Seekers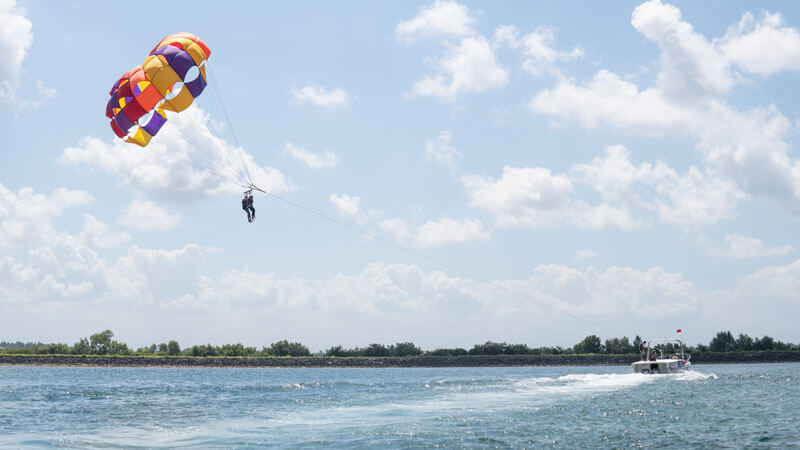 Jet-skiing: If adrenaline is your second name, the peninsula area is your playground.
Parasailing: Soar high and take in unparalleled views of the Peninsula.
Family, Couple & Group Entertainment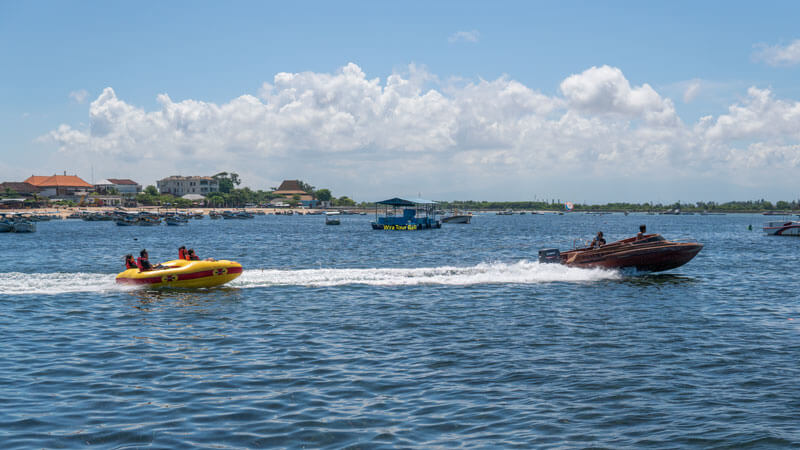 Insider Tip: Avoid low-price water sports activities offered by street vendors.
Safety First: The Essentials
To ensure a safe and pleasant visit, here are some specific tips you'll need:
Tides & Currents: Mostly gentle, but use the weather sites for real-time updates.
Lifeguards: None on duty, but Tanjung Benoa Beach water sports come with guides for added safety.
Insurance: Choose a plan covering adventure activities.
Medical Support: The Nusa Dua Emergency Clinic is a 20-minute drive from the beach area in emergencies.
Culinary Delights at Tanjung Benoa Beach: Don't Miss Out!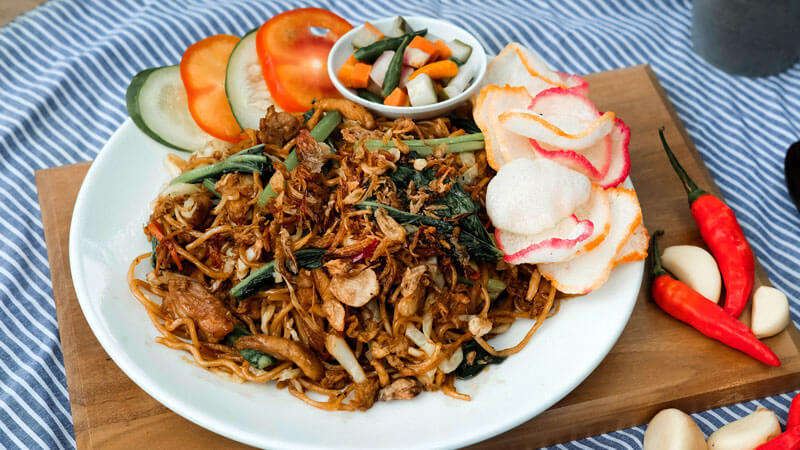 When you're done riding the waves and soaking up the sun, Tanjung Benoa Beach has covered your tastebuds. Here's what you shouldn't miss:
Must-Try Delights
Mie Goreng: This classic Balinese noodle dish is a foodie's dream come true.
Fresh Coconut: Cool off with this tropical refreshment, freshly cracked open just for you.
Where to Eat
Warungs: Look no further than these quaint, family-run eateries near the beach for authentic Balinese cuisine.
Beachside Cafés: Enjoy panoramic sea views while dining on a mix of local and international fare.
Best Time to Visit Tanjung Benoa Beach: Make the Most of Your Trip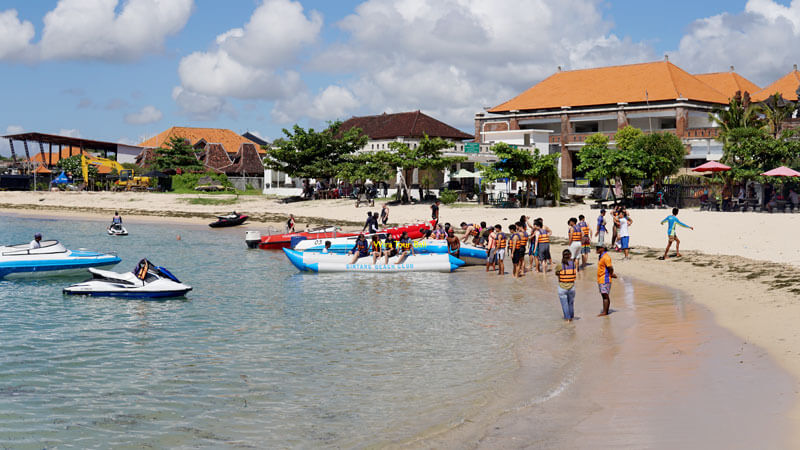 Peak vs Off-Peak
Peak Season: June to August offer sunny skies, but expect the beach to be bustling.
Shoulder Seasons: May and September give you the best of both worlds: great weather and fewer tourists.
Seasonal Insights
Weather: Typically dry from April to October and wet from November to March.
Local Events: Plan around the Melasti Ceremony in March to avoid crowds but soak in some Bali culture.
Are you keen on watersports? Therefore, aim to arrive by 09:00 AM; you'll dodge the midday heat and enjoy fewer crowds. Whether you aim for solitude or a lively vibe, this information helps you time your visit right.
Must-See Nearby Attractions: Don't Miss These Spots
While the primary focus is your blissful time on Tanjung Benoa Beach, some nearby attractions are worth your time.
Water Blow: Feel the ocean's might at this captivating natural blowhole, offering an awe-inspiring display of water erupting from the ocean's depths.
Uluwatu Temple: About 55 minutes away, this cliff-top temple is a spiritual and visual spectacle. The panoramic ocean views and a Kecak fire & dance show to add a divine touch to your beach escape.
Consequently, taking a short detour to these south Bali attractions will enrich your Benoa Peninsula Beach experience without straying too far.
Sample One-Day Bali Itinerary: Your Perfect Day at Tanjung Benoa Beach
Morning (8:00 – 12:00)
| Time | Activity | Tips |
| --- | --- | --- |
| 8:00 | Arrive at the beach. | Enjoy the empty sands and serene waters. |
| 9:00 | Opt for a water sport: jet-skiing or parasailing. | Choose operators that rank on Google's first page for quality assurance. |
Lunch (12:00 – 14:00)
| Time | Activity | Must-try |
| --- | --- | --- |
| Noon | Head to a beachside eatery. | Mie Goreng is a classic Balinese noodle dish. |
Afternoon (14:00 – 18:00)
| Time | Activity | |
| --- | --- | --- |
| 14:00 | Leisure time: sunbathe or read. | |
| 16:00 | Explore nearby shops for souvenirs. | |
Packing Tips: Essentials for Your Tanjung Benoa Beach Visit
Sunscreen: Opt for a water-resistant, broad-spectrum SPF 50+ sunscreen to safeguard against UVA and UVB rays.
Beach Footwear: Flip-flops for casual strolling, water shoes if you plan on any water sports.
Reusable Water Bottle: Keep hydrated; refill stations are available.
Camera/Smartphone: Capture your memories, but consider a waterproof case if you're hitting the water.
Local Currency: For small purchases and tips, carry some IDR.
These are your must-haves for a hassle-free experience.
Essential Emergency Contacts for Tanjung Benoa Beach Visitors
Above all, don't let unexpected issues mar your trip. Keep this list of emergency contacts handy.
Local Police: 110.
Ambulance: 118
Fire Department: 113
Nusa Dua Emergency Clinic: (0361) 772118 (a 20-minute drive from the beach)
Australian Consulate: +62 361 200 100 (for Australian nationals)
U.S. Consulate: +62 361 233 605 (for U.S. nationals)
Bookmark these numbers and keep your trip both enjoyable and safe.
FAQs
Is the beach family-friendly?
Activities like banana boat rides, turtle island tours, and a calmer atmosphere make it a hit with families.
–
Is there Wi-Fi available?
Some beachside cafes offer free Wi-Fi; however, you can count on a mobile signal everywhere.
–
Is the beach crowded?
It gets busier during peak season (June-August) but is generally less crowded than Kuta beaches.
–
Is snorkelling or scuba diving available?
Yes, several operators offer underwater adventures for beginners, but booking in advance is advisable.
–
Are credit cards widely accepted and ATMs readily available?
Many places accept credit cards. There are a few ATMs near the beach areas, but it's wise to withdraw cash beforehand.
–
Concluding Thoughts: Essential Info for Tanjung Benoa Beach
Ready for a Bali beach experience that's off the beaten path? Tanjung Benoa Beach is your spot. It's scenic and offers activities ranging from water sports to authentic Balinese cuisine. The beach is easily accessible, has no entry fees, and provides basic amenities like restrooms and food stalls.
Timing your trip? Shoulder seasons (May and September) offer good weather and fewer crowds. As for packing, essentials include sunscreen, flip-flops, and local currency for small expenses. Remember to note down essential emergency contacts just to be on the safe side.
Your Next Steps: Don't Miss Out on Tanjung Benoa Beach!
Ready to trade in the ordinary for something extraordinary? Tanjung Benoa Beach offers a perfect mix of serene landscapes and exciting activities, all wrapped in authentic Balinese charm.
Book your water sports Tanjung Benoa now to secure your spot in this unique paradise. And hey, if this guide helped you, why not share it? Your next great adventure awaits—make it to Tanjung Benoa Beach.