One of Bali's white sand beaches that many vacationists visit while on Bali is Tanjung Benoa beach Bali. How about you? Are you also currently planning a vacation to Tanjung Benoa beach, Nusa Dua Bali? If so, then it's a good idea to continue reading this page.
Bahasa Indonesia, "Panduan Liburan Ke Pantai Tanjung Benoa" >>>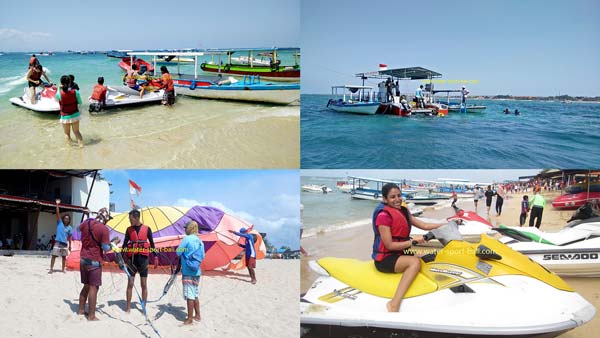 Tanjung Benoa Beach Bali, have you ever heard about it? For those who have been to Bali on holiday more than once, for sure you know about this famous Bali white sand beach. It does not matter you already know about Tanjung Benoa beach or not! This page will give you more knowledge about Tanjung Benoa beach, Nusa Dua Bali, such as;
White sand beach attraction in Bali.
A brief history of Tanjung Benoa.
Tanjung Benoa tourist attraction.
The beauty of the Tanjung Benoa beach in Bali.
Things to do in Tanjung Benoa Beach.
The best location for Bali water sports activities.
Tanjung Benoa watersport game Selection.
Water sports prices in Tanjung Benoa.
Affordable price watersport Tanjung Benoa.
The best way to book Tanjung Benoa watersport.
The beach location.
How to get to the location.
Tanjung Benoa beach open until what time?
Tanjung Benoa beach Bali entrance fee.
White Sand Beach Attraction In Bali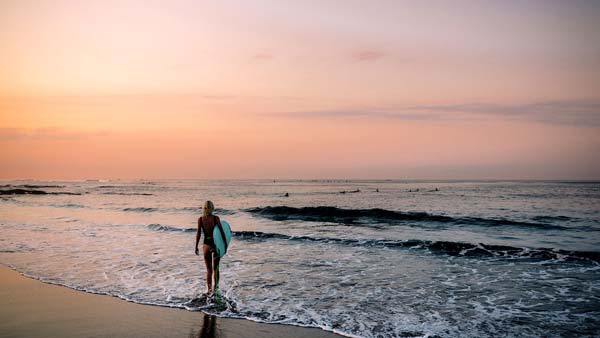 Bali island has the highest number of visits from tourists for a vacation compared to other islands in Indonesia. Both domestic tourists and international travelers. Many things make tourists make the island of Bali the best tourist destination in Indonesia. One of them is the Bali beach attraction.
Bali island is surrounded by the ocean, making almost all areas on the edge of the island of Bali, there are beaches. Either a beach with white sand or a beach that has black sand.
Of course, most of the tourists like vacations to white sand beach attractions in Bali. The reason is that the beach sand is not too hot during the day, compared to black sand beaches.
The island of Bali offers many choices of white sand beach attractions. Such as Pandawa Beach, Nusa Dua Beach, Melasti Beach, Legian Beach, Kuta Beach, Jimbaran Beach.
One of the Bali beach attractions that tourists visit is the Tanjung Benoa beach, located in the Tanjung Benoa area, Nusa Dua Bali.
Find Here, "Snorkeling Activities In Tanjung Benoa" >>>
A Brief History of Tanjung Benoa
Tanjung Benoa Bali's, before developing into a coastal tourist area it was once a fishing village. Because it is a fishing village, most of the residents around the Tanjung Benoa beach have their livelihood as fishermen.
It has significantly transformed into Bali's luxury resort area. Private villas with international standards, world-class restaurant, open area cafe, and of course, Bali marine water sports activities you will easily find on this beach.
With Tanjung Benoa becoming a popular Bali tourism area, most local people's livelihoods have changed. Whether as a hotel employee or making a marine tourism business or Tanjung Benoa Bali watersports.
If you are engaged in understanding more details about the history of Tanjung Benoa, please click the link!
Tanjung Benoa Tourist Attraction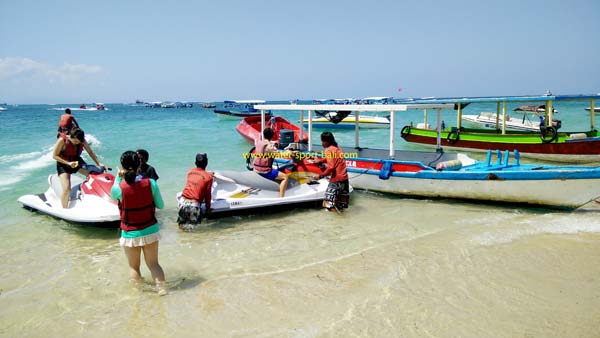 Bali is renowned for offering multiple choices of exciting tourist attractions for holidays. Of the many tourist attractions in Bali, why should you visit Tanjung Benoa Bali?
Although there are many exciting Bali attractions, each tourist destination on the island of Bali has its own charm and uniqueness. If you want to know about the attractiveness of each tourism area in Bali, please click the link below!
See, "The Attractiveness of Each Tourism Area In Bali" >>>.
The Beauty of Tanjung Benoa Beach Bali
The main attraction of Tanjung Benoa Bali is the beauty of Tanjung Benoa beach and its geographical location. The beauty of Tanjung Benoa beach in Bali is found on the white sand beach with a very long stretch of coastline. In addition, the cleanliness of the beach is very well maintained so that it is convenient for a vacation spot.
The Tanjung Benoa area is a peninsula area, so the Tanjung Benoa beach in Bali has two sides. One side of the beach faces west, and the other side faces east. Because it is located on a peninsula, the waves on the Tanjung Benoa beach in Nusa Dua are very calm.
Read More, "Best Time To Visit Bali" >>>
Things To Do In Tanjung Benoa Beach
Most of us, during a holiday in Bali, will look for some sense of adventure. This feeling of thrill and experience you can get on Tanjung Benoa beach. A fantastic white sand beach with a lot of Bali marine water sports activities going on. This is why Tanjung Benoa becomes well known as the Bali water sports center.
Tanjung Benoa is one of the best places for marine water activities that you can get in Bali. For those who love water sports activities, Tanjung Benoa Nusa Dua is the paradise seaside for you.
You will hear and see the sound of jet ski engines and girls screaming during the banana boat ride in Tanjung Benoa. Also, on the coast, you will find so many powerboats lined up neatly and waiting for their passengers who typically visit the turtle island.
Read More: "Tanjung Benoa Turtle Island – Best Things To Do In Bali For Families" >>>
Besides marine water sports activities, there are plenty of things to do in Tanjung Benoa Nusa Dua. Such as nightlife, shopping centers, SPA, and casual dining or fine dining.
If you are looking for water sports activities such as Bali white water rafting, please do not go to this beach. At Tanjung Benoa, you will not find a river rafting venture. The best white water river rafting in Bali is the Telaga Waja River and Ayung River rafting.
Find Here, "Top 5 Amazing Attraction Tanjung Benoa – What To See & Things To Do" >>>
Best Location for Bali Water Sports Activities
The Tanjung Benoa beach sea waves are very calm, and the average depth is 6 meters. Making Tanjung Benoa beach is very suitable for water sports activities for beginners.
You will find water sports companies from the north to the south end of the Tanjung Benoa beach in Nusa Dua. Provide water sports activities with many choices of rides.
Because Tanjung Benoa beach attractions are one of the best locations for water sports activities in Bali. Making Tanjung Benoa beach attractions are always crowded with tourist visits. Both Indonesian tourists and international tourists.
In addition to beginner water sport rides, Tanjung Benoa Bali also has other tourism facilities. Tanjung Benoa Bali's tourism facilities include accommodation, restaurants, food stalls, money changers, and many SPA.
For accommodation choices in Tanjung, there are five-star hotels or cheap hotels. One of the famous hotels in Tanjung Benoa is the Novotel Tanjung Benoa and Melia Benoa hotels.
See, "Affordable Halal Dining Places In Tanjung Benoa Bali" >>>
Watersport Game Selection
Then what kind of water sports are available in Tanjung Benoa Bali? Water sports available in Tanjung Benoa include Parasailing, Snorkeling, Parasailing Adventure, Seawalker, and many other choices of marine tourism games.
One of the family vacation activities in Tanjung Benoa that most tourists like while on vacation with children is a trip to the Bali turtle island with Glass Bottom Boat.
Read, "10 Favorite Water Sports By Indian Tourists While On Vacation in Bali" >>>
Water Sports Price List
I'm sure you will be interested in trying one of the marine sports in Tanjung Benoa Bali. But before you try the Tanjung Benoa watersport ride, it's a good idea to know the price of each Tanjung Benoa Watersport game.
Read, "List of Tanjung Benoa Watersport Prices" >>>
Affordable Price Watersport Tanjung Benoa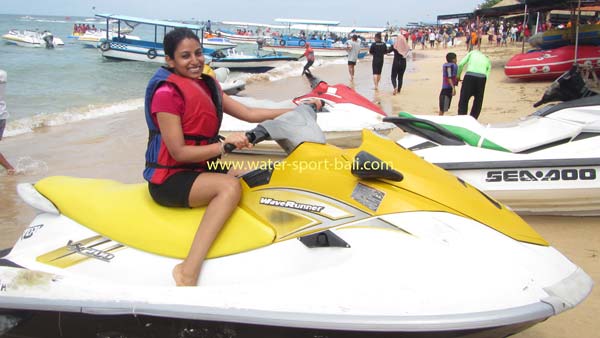 As I wrote above, along the Tanjung Benoa coastline, there are many Tanjung Benoa watersports providers. So the price competition for Tanjung Benoa watersports cannot be avoided.
When you comprehend the low price of watersports in Tanjung Benoa online, which is much cheaper than the market price, surely some people will be interested. Who doesn't like low prices?
Of course, everyone who does a business does not want to experience losses. Then how do you offer a cheap Tanjung Benoa watersport online so you don't lose?
For example, when you order an intro scuba diving Tanjung Benoa ride online. You get a low intro scuba diving price far from the online market price. However, when you are at the scuba dive location, you will be charged an additional fee.
Additional costs for diving clothes and expenses for diving guides. Without a scuba diving suit, you will not be able to do scuba dive. In the end, the total cost you spend for scuba diving is much more expensive than the initial price for intro scuba diving offered online.
Therefore, if you want to order Tanjung Benoa watersports online, ask what is included in the price of the Tanjung Benoa games offered. In addition, you must ask about the insurance for game participants, whether the watersport price includes insurance. For your information, the cost of insurance has a very significant effect on the price of watersport games in Tanjung Benoa Bali.
See, "Tanjung Benoa Scuba Diving Tips In Bali For Beginners" >>>
The Best Way to Book Tanjung Benoa Watersport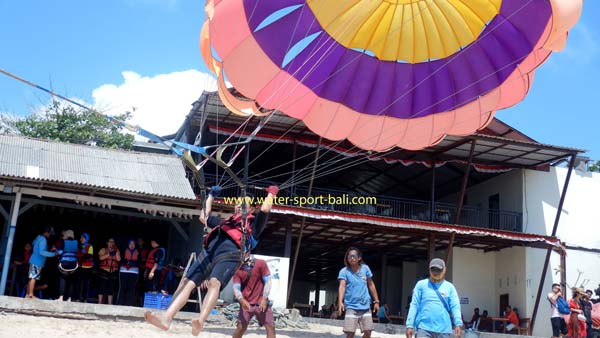 Then what is the best way to order a marine tourism game on the Tanjung Benoa, Nusa Dua Bali?
Don't be tempted by the meager price of watersport games in Tanjung Benoa.
Choose the Tanjung Benoa watersport package.
Look for a Tanjung Benoa Bali watersport company that offers pick-up and drop-off from your hotel or place of residence.
Ask what is included in the Tanjung Benoa Bali Watersports price.
Is life insurance included in the price of watersport games in Tanjung Benoa?
Order through a legal tour and travel agency in Bali.
Search for game providers in Tanjung Benoa Bali through the Google.com search engine by writing Bali watersports. Because the company is on page one of Google, invested a lot of money, and they don't want the company's image to be altered. Because their target is return customers.
Tanjung Benoa Beach Location
Tanjung Benoa beach is located in the southeast of Bali Island and very close to one of the most well-known tourism sites, Nusa Dua beach. From the Nusa Dua area, go to the north, then you will find the location of the Tanjung Benoa beach. Tanjung Benoa is also known as the Benoa peninsula; it stretches about 5 kilometers.
If you depart from the Kuta Bali tourism area, it will take approximately 60 minutes to travel. The distance from Kuta beach Bali to the tourist attractions of Tanjung Benoa is about 16 kilometers.
However, if you depart from Dreamland beach, heading to Tanjung Benoa beach will take 1 hour travel time with 23 kilometers distance.
Let's say you depart from Suluban Beach Uluwatu; getting to Tanjung Benoa beach will take a 1-hour drive with 25 kilometers distance.
To make it easier to locate the Tanjung Benoa white sand beach location, please use Google Maps by clicking the below link!
See Here, "Tanjung Benoa Beach On Google Map" >>>
How To Get There
Getting to Tanjung Benoa Beach is easy due to its location close to Bali International Airport. You only need 25 minutes driving by car, of course with minimum traffic on the road.
Taximeters are the standard way for people to get to Tanjung Benoa from their hotel. Let's say if you want to visit and walk around on the shoreline.
In different cases, if you want to stop by and look for a few minutes, then leave. Therefore, you might use the car rental in Bali with a driver. Using a driver's car rental in Bali, you can get a lower price rather than using taximeters.
Car rental services with a driver in Bali cost about IDR 700.000 / 12 hours. You will get an additional charge fee if you use more than 12 hours—overtime usage in 1 hour, usually 10 % of the car rental price.
Let say you want to join marine water sports activities in Tanjung Benoa Bali. Then you will not need to find transportation. Most Tanjung Benoa water sports operators provide free pick-up and return transfer services. Free shuttle applies if you book Tanjung Benoa water sports packages with a minimum booking, two people.
Tanjung Benoa Beach Open Until What Time?
If you mean the opening time of the beach, then Tanjung Benoa beach is open 24 hours. However, if you mean the Tanjung Benoa water sports provider's opening time, then the opening time is from 09:00 – 16:00.
While the best time to enjoy Tanjung Benoa water sports is in the morning, around 09:00. The reason is that to reduce the hot sun, and the sea waters have not been crowded.
Although the opening time for water sports providers in Tanjung Benoa is open until 16:00. However, you must be at the location of marine tourism activities before 12:00. Because maritime tourism activities require time for preparation.
Tanjung Benoa Beach Bali Entrance Fee
Most of you know, some tourist attractions on the island of Bali charge entrance fees to tourists. What about the Tanjung Benoa Bali tourism area? Is there an entrance fee? For now, there is no entrance fee to Tanjung Benoa Bali.
Search, "List of Entrance Ticket Prices for All Bali Tourist Attractions" >>>
That's all about information and vacation guides to Tanjung Benoa Bali. Hopefully, the information on this page will be helpful for you who want to have a vacation in Tanjung Benoa, Bali.