Tanjung Benoa Beach Bali, have you ever heard about it? For those who have been to Bali on holiday more than once, for sure you know about this famous Bali white sand beach. It does not matter you already know about Tanjung Benoa beach or not! This page will give you more knowledge about Tanjung Benoa beach, Nusa Dua Bali, such as the beach location, the best way to get to the area of the beach, and fun things to do.
White Sand Beach Location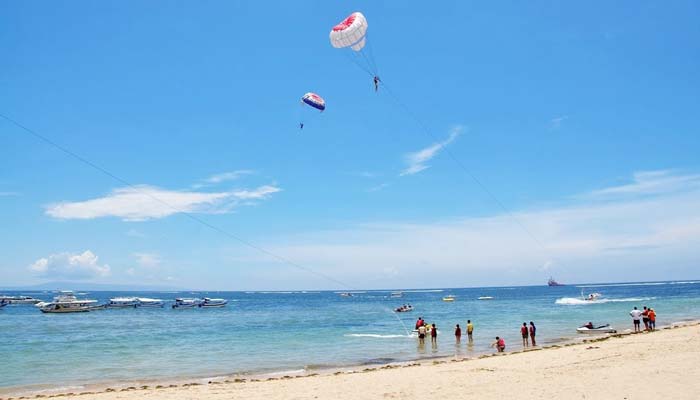 Tanjung Benoa beach is located in the southeast of Bali Island and very close to one of the most well know tourism site, which is Nusa Dua beach. From the Nusa Dua area, go to the north then you will find the location of the Tanjung Benoa beach. Tanjung Benoa is also known as the Benoa peninsula; it stretches about 5 kilometers.
Tanjung Benoa, before as a tourism site, it is one of a local fisherman village. It has significantly transformed into Bali's luxury resort area. Private villas with international standard, world-class restaurant, open area cafe, and of course, Bali marine water sports activities you will easily find on this beach. To make it easier to locate the Tanjung Benoa white sand beach location, please use the Tanjung Benoa Beach map below!
See Here, "Tanjung Benoa Beach On Google Map" >>>
How To Get There
To get to Tanjung Benoa Beach is easy, due to its location close to Bali International Airport. You only need 25 minutes driving by car, of course with minimum traffic on the road. Taximeters are the standard way for people to get to Tanjung Benoa from their hotel, let say if you want to visit and walk around on the shoreline.
In different cases, if you want to stop by and have a look for a few minutes, then leave. Therefore, you might use the car rental in Bali with a driver. Using the car rental in Bali with a driver, you can get a lower price rather than use taximeters.
Car rental services with a driver in Bali cost about IDR 600.000 / 10 hours. You will get an additional charge fee if you use more than 10 hours—overtime usage in 1 hour, usually 10 % of the car rental price.
Let say you want to join marine water sports activities in Tanjung Benoa Bali. Then you will not need to find transportation. Most of Tanjung Benoa water sports operator provide with free pick up and return transfer services if you book Tanjung Benoa water sports packages with a minimum booking, two people.
Find Here, "Top 5 Amazing Attraction Tanjung Benoa – What To See & Things To Do" >>>
Things To Do In Tanjung Benoa Beach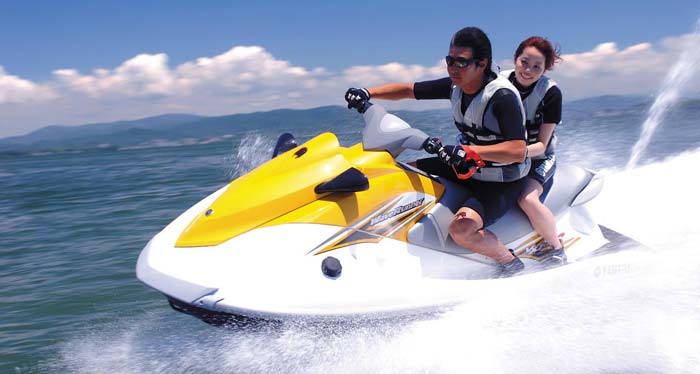 Most of us, during a holiday in Bali, will look for some sense of adventures. This feeling of thrill and experiences, you can get it in Tanjung Benoa beach. A fantastic white sand beach with a lot of Bali marine water sports activities going on. These are why Tanjung Benoa beach becomes well known as the Bali water sports center.
Tanjung Benoa beach is one of the best places for marine water activities that you can get in Bali. For those who love water sports activities, then Tanjung Benoa Nusa Dua is the paradise seaside for you.
You will hear and see the sound of jet ski engines and girls screaming during the banana boat ride in Tanjung Benoa (it is a speedboat, full the inflatable banana shape boat). Also, along with on the coast, you will find so many powerboats lined up neatly and wait for their passengers who typically visit the turtle island.
Read More: "Tanjung Benoa Turtle Island – Best Things To Do In Bali For Families" >>>
Tanjung Benoa Water Sport Center
Marine water sports activities, which is available in Tanjung Benoa, Nusa Dua – Bali such as:
You can find out more detail about Tanjung benoa water sports available on Tanjung Benoa Nusa Dua by clicking the below link!
Read More On "Tanjung Benoa Water Sports Activities Choices" >>>
Besides marine water sports activities, there are plenty of things to do in Tanjung Benoa Nusa Dua. Such as nightlife, shopping center, SPA, and casual dining or fine dining.
If you look for water sports activities such as Bali white water rafting, please do not go to this beach. At Tanjung Benoa, you will not find a river rafting venture. The best place to have white water river rafting in Bali is the Telaga Waja River and Ayung River rafting.