Discover Water Blow Nusa Dua, a hidden gem on Bali's southern coast. In this comprehensive guide, you'll find everything you need to know, from its unique features to ideal visiting hours and even precise directions. So, if Water Blow Nusa Dua is on your Bali family holiday itinerary, read on for essential tips and invaluable insider knowledge.
Baca artikel ini dalam Bahasa Indonesia.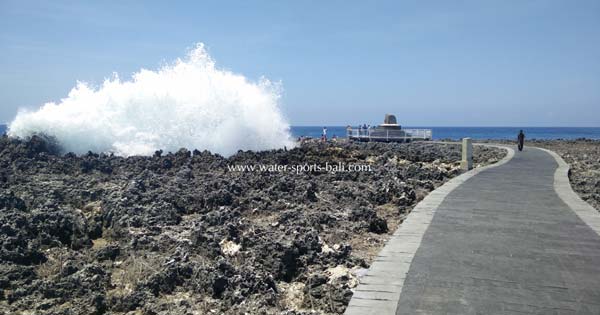 What Sets Water Blow Nusa Dua Apart: Unique Features and Ocean Views
This isn't your usual Bali hotspot. So what sets it apart? Stunning cliffs and ocean views you won't forget. Understand how to make the most pleasing of your travel here.
Witnessing the Power of Ocean Waves: Your Water Blow Nusa Dua Experience
See massive waves crash into high cliffs. Therefore, it is more than simply a fantastic picture; catching nature's force up close is possible.
Safety Measures: What's New for Visitors
Safety has gotten better here over time. New railings and paved paths mean easier and safer walks for visitors.
Authentic Visitor Insights: Water Blow Nusa Dua Reviews and Social Media Highlights
Hearing from those there gives a feel for what to expect.
"Great for photo fans!" – Preston, UK
"The water show is a crowd-pleaser." – Ebrahim, UK.
Social Talk
Check out #WaterBlowNusaDua on Instagram for awesome pics.
Navigating to Water Blow Nusa Dua: Directions and Transport Options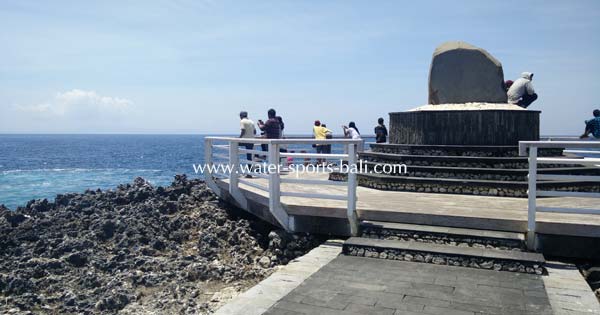 Firstly, let's talk about how to get there. Conveniently located near the Grand Hyatt, finding this attraction is easier than ever. To facilitate your trip, consider utilising Google Maps, and you can access it by clicking on this link.
Transportation Options to Water Blow from South Bali
Getting to Water Blow from central Denpasar is straightforward, but you should weigh your options carefully.
Ride-sharing apps like Gojek or Grab are convenient but might not be the most cost-effective if planning a round trip or additional stops. Instead, consider renting a car or scooter for more flexibility.
If you want a comprehensive transportation guide in Bali, check out our thorough article.
Know Before You Go: Distance, Operating Hours, and Optimal Visiting Times
Wondering when to visit or how far it is from places like Kuta? This section is for you.
Quick FAQ: Know the Essentials Before Your Trip
How far is Water Blow Nusa Dua from popular tourist spots like Kuta and Seminyak?
Base Point: Kuta Beach
Distance: Approximately 19 kilometres
Travel Time: About 40 minutes via Bali Mandara Toll Road
Does Bali Water Blow have specific opening hours?
Current Hours: 09:00 to 18:00 (Bali Time)
When is the best time to visit?
Family Visits: Late afternoon around 16:00 to avoid intense sun
General Tip: Early morning, around 09:00, if you have other southern Bali attractions in your itinerary
Best Seasons to Visit Water Blow Nusa Dua: Dry vs. Wet Months
Dry Season (April-October)
Speaking of timing, when is the best time to visit? Ideally, aim for the Dry season. This is the optimal period for visiting Water Blow, as the weather is mostly dry, allowing for uninterrupted wave-watching and photo sessions.
Moreover, the Dry season offers vibrant colours and crystal-clear skies, perfect for capturing stunning photographs.
Wet Season (November-March)
Though more challenging due to occasional rains and slippery conditions, Water Blow remains a worthwhile visit this season. The rain showers can add an aesthetic touch, and stronger winds may intensify the water-blow effect.
What to Expect: Your Arrival and Initial Experiences
Before reaching the main attraction, you'll traverse the expansive Garden of Hope, which is more than just a pathway. However, most visitors come to see the fury and beauty of the Nusa Dua's Natural water spectacle.
Activity Highlights: From Photography to Adventure Trails
Landscape Photography: The perfect spot for dramatic photos against coral cliffs and large waves.
Jogging/Walking: Footpaths around the area offer beautiful views.
Cycling: For adrenaline junkies, bringing a bike might be an option. Ensure it's suited for varied terrains.
If you're visiting with family, you might also be interested in "Favourite Holiday Activity in Nusa Dua & Tanjung Benoa Bali for Family and Kids".
From Garden of Hope, I continued walking east to find the entrance to Bali Water Blow.
Stepping Foot into the Water Blow Peninsula Gate
Upon arriving, what can you expect to see?
Well, a beautiful white stone gate emblazoned with the words 'Water Blow' will be the first thing that welcomes you.
Warnings for Visitors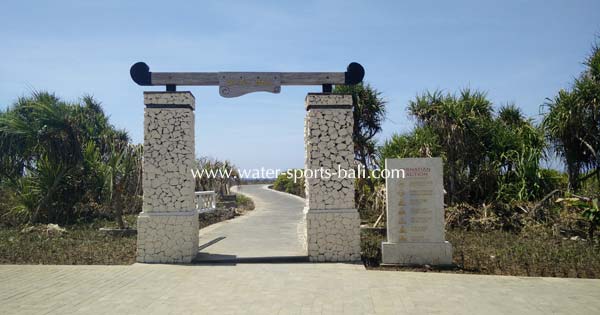 You'll find a gravestone beside the entrance gate with inscriptions warning visitors to take caution. Among the warnings are:
No Swimming Allowed.
Dangerous Waves.
High Tides.
Steep Cliffs.
Slippery Coral Reefs.
Sharp Corals.
Strong Currents.
The Unforgettable Natural Phenomenon of Water Blow Nusa Dua
The cliffside water explosion in Nusa Dua is a natural phenomenon at the edge of a cliff, unlike the sandy beaches commonly found in other parts of Nusa Dua.
Here, you'll witness coral cliffs acting as a natural fortress against the pounding waves from the Southern Indian Ocean. As a result, the obstructed waves surge upwards, creating a spectacular "water blow."
Meanwhile, Water Blow differs from famous beaches like Geger Beach and Samuh Beach. What distinguishes it from the rest of other Nusa Dua attractions? It offers a unique and dramatic experience.
If you visit between July and October, prepare for occasional sea spray—a rare spectacle in other locations. As this doesn't occur every minute, your patience will be rewarded when you witness these mesmerizing water spurts.
Staying Safe at Water Blow Nusa Dua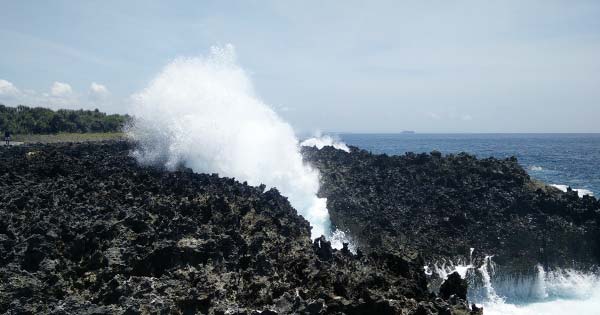 Water Blow Nusa Dua offers thrills but demands a focus on safety. This section covers essential footwear, emergency protocols, and a tailored first-aid kit for your visit.
Footwear to Trust:
Footwear is essential, too. Therefore, water-resistant hiking sandals or shoes with a good grip are advisable. Unfortunately, flip-flops just won't cut it, as you'll need to navigate cliffside paths and slippery coral.
First-Aid Essentials: Carry a Basic Kit Tailored for Water Blow
For a safe and enjoyable visit to Nusa Dua's natural water spectacle, consider carrying the following items in your first-aid kit:
Antiseptic Wipes: Ideal for cleaning coral cuts.
Sunscreen: Never underestimate the power of UV protection.
Hydrocortisone Cream: Useful for treating insect bites.
Band-Aids and Bandages: These are must-haves for minor injuries.
Oral Rehydration Salts and Pain Relievers: Stay prepared for dehydration and occasional aches.
Always remember, your safety is in your hands. These tips offer guidance but should not replace personal caution.
Ticket Information: Costs and Payment Modes
Most tourist attractions on Bali Island charge an entrance fee. What about Water Blow Nusa Dua?
When I last visited, there was no admission charge. However, as of January 18, 2022, visitors must pay an entrance fee to the cliffside water explosion in Nusa Dua.
Payment Methods and Price Categories
| Category | Entrance Fees |
| --- | --- |
| Adult | IDR 25.000 |
| Child | IDR 15.000 |
Entrance Ticket Price Updated on September 11 2023.
Tickets can be purchased with cash or QRIS, and parking fees are extra. If you or your photographer plan a pre-wedding photo session, contact the ITDC office for a professional photo location permit costing IDR 2,500,000. This rate is subject to change, so it's best to contact ITDC for more detailed information.
On-Site Facilities
Finally, regarding amenities, Water Blow Nusa Dua has the basics covered. You'll find essentials like toilets, small food stalls, and seating areas. Also, the Grand Hyatt Nusa Dua is conveniently located nearby for those seeking accommodation.
Concluding Remarks: What's Next on Your Bali Adventure
As you conclude your adventure in Nusa Dua, here are some final recommendations to make your trip memorable:
Explore Other Gems: Don't miss the Garden of Hope and Peninsula Island.
Mengiat Beach: Perfect for a more traditional Bali beach experience.
Swim Prepared: If Nusa Dua Beach is on your list, pack a swimsuit.
Family-Friendly: The ITDC area is ideal for family strolls and holidays.
Explore More: Quick Highlights of Nearby Nusa Dua Attractions
After marvelling at Water Blow, you might be interested in exploring what Nusa Dua offers. Here are some quick highlights:
For more insider recommendations and must-see places, check out our thorough guide on the top activities in Nusa Dua.
Summary & Key Takeaways: Get Ready for Water Blow Nusa Dua
The Nusa Dua Water Blow isn't just a beach; it's an awe-inspiring natural phenomenon where ocean waves collide against rugged cliffs. Also, according to many visitors, it's an ideal spot for photo ops and something you shouldn't miss.
Why Unique: A natural spectacle of oceanic power against coral cliffs.
Visitor Reviews: Largely seen as a must-visit, especially if you're keen on photography.
Getting There: It's located behind Grand Hyatt Nusa Dua. Use Google Maps to guide you.
Travel Options: Pick ride-sharing services or vehicle rentals based on your travel plans.
Best Time to Visit: The dry season is great for photos, while the wet season amps the water-blow effect. Aim for late afternoon or early morning.
Safety Measures: Be aware of high tides and sharp corals. Opt for sturdy footwear and carry first-aid supplies.
Entrance Fee: Fees are applicable as of January 18, 2022.
Facilities: Basic amenities like toilets and small food stalls are available.
Explore More: Don't limit your visit to Water Blow; explore nearby attractions like Geger Beach, Sawangan Beach, and Bali Collection Mall.
That sums it up! Whether you're a thrill-seeker, a photographer, or just looking for a unique natural wonder, this oceanic phenomenon in Nusa Dua is worth your time.
Your Turn to Experience Water Blow Nusa Dua
In summary, armed with this in-depth guide, you're better equipped to enjoy the cliffside water explosion in Nusa Dua trip to the fullest. What's your move now? Go experience this wonder of Bali for yourself!
Remember, if this guide has helped you, sharing is caring. Also, for more in-depth travel guides and tips on Bali attractions, just click here to get started!