I planned to write about Water Blow Nusa Dua Bali a long time ago. However, I always get busy schedules, which made me defer to writing about the Bali Water Blow in the Nusa Dua area as one of the best things to do in Nusa Dua.
Bahasa Indonesia: "Bali Water Blow Nusa Dua – Tempat Wisata Menarik & Gratis" >>>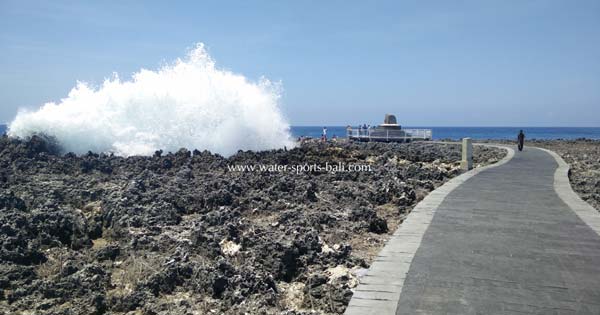 I desire to write a post about Water Blow Bali in Nusa Dua because it reminded me of my friend's question regarding Water Blow beach in Bali. The inquiry is, "Wayan do you know what is the best thing to do in Water Blow beach"?
The question was long ago when Water Blow Bali was not as famous as now. If it were famous as now, my friend wouldn't ask me this question.
Of course, this is the first time I have heard of a beach in Bali named Water Blow beach. Therefore, I asked back to my friend. Where are the beaches located? I had never heard of a beach called Water Blow in Bali. My friend answered; the blog post I read said the location was in the Nusa Dua area.
I then wonder, really, in Nusa Dua. In my mind! "I stayed in Nusa Dua for four years, and all the beaches I've visited. It makes me curious why I didn't know about Water Blow beach in Nusa Dua?" I told my friend, "I'll find out and get back to you."
Find Here, "10 Things Create Nusa Dua Bali Suitable For Family Holiday Spots" >>>
High Waves Hit a Big Rock Cliff
After searching some photos on Google with the keyword Water Blow Beach Bali, I saw pictures with high waves hitting a huge rock cliff. The images immediately made me think of when I went to college at STP Nusa Dua in 1998. "Wow, this cliff, where I had a hangout with friends when I was in college, and now it has a name".
In the photos I saw on the internet, I noticed an iron barrier and a well-made footpath that had been neatly laid out. During my day in college, to go to the cliff's edge, I need to step my foot on a sharp rock — also, no iron barrier around the area of the cliff as seen now.
My curiosity immediately arises; it reminds me of when I went to Nusa Dua college! So I took some days to schedule a visit to Nusa Dua.
The Location Of Water Blow Nusa Dua Bali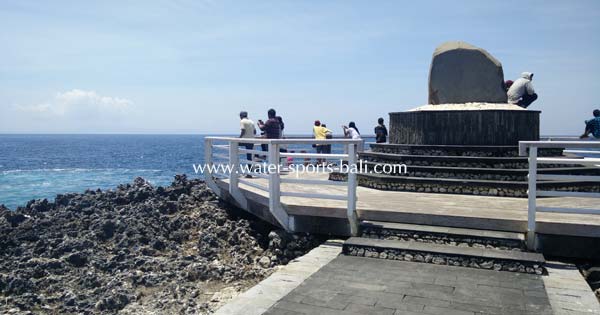 Finding the location of Water Blow Bali is easy for me because I know the Nusa Dua area well. There are not many changes in the road layout, only now it is neater. The Water Blow Nusa Dua Bali location is right behind the Grand Hyatt Nusa Dua Resort, near the Mengiat Beach Nusa Dua.
To make you more comfortable finding Water Blow Bali's location, please use Google Maps by clicking the link below.
See Here, "Water Blow Nusa Dua Google Map" >>>
Mileage, Opening Hours & Best Time to Visit
If you have never traveled to the ITDC Nusa Dua Bali, then there will be many questions that will arise in your mind. The issue such as;
How far is the Waterblow location from Kuta or Seminyak?
Are there opening hours in Waterblow Bali?
When is the best time to visit Water blow Peninsula?
What clothes should I wear when visiting Nusa Dua Water blow?
What is the distance to the Waterblow location from the tourist attractions of Kuta or Seminyak?
The area of Seminyak and Kuta tourist attractions is extensive. Therefore, I use the benchmark from Kuta beach Bali to Bali's Waterblow tourist attractions.

If you depart from Kuta Beach Bali, it will cover a distance of 19 kilometers, with an estimated travel time of 40 minutes. The travel time of 40 minutes is to use the Bali Mandara toll road.
Are there opening hours in Waterblow Bali?
Water Blow Nusa Dua previously had no opening hours, but now Water Blow Peninsula is open from 09:00 – 18:00.
When is the best time to visit?
Suppose you are on vacation with children and family. The best time to visit is in the afternoon, around 4:00 p.m., because the sunlight has decreased.

When visiting Nusa Dua Waterblow, you should see other tourist attractions in southern Bali on your Bali holiday itinerary. Then the best time to visit is in the morning, around 09:00.
What clothes should you wear when visiting Nusa Dua Water blow?
In my opinion, the clothing criteria for holidays in Bali is the temperature of the area you want to visit. The tourist attraction in southern Bali has an air temperature of around 33 degrees Celsius during the day. So casual clothes are highly recommended when on holiday to Nusa Dua Waterblow.

Search Here, "Tips & Guide on Holiday Clothing in Bali" >>>
Garden of Hope, Peninsula Island
Before finding the entrance to the Water blow on Nusa Bali, I entered the gate of Garden of Hope, Peninsula island. After you enter the Garden of hope, Peninsula island, you will find an area with a vast stretch field.
I see many tourists jogging, sightseeing, and cycling in the Garden of hope, Peninsula island area. Then I continued walking towards the east to find the entrance of Bali Waterblow.
Warning List For Visitors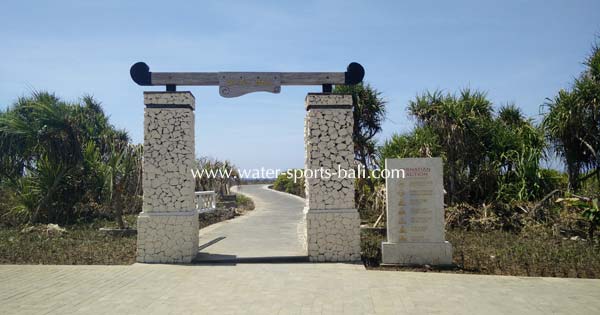 When I enter the Water Blow Nusa Dua area, there is a white stone gate. Also, above the gate, there is a wooden board inscribed Water Blow. Next to the entrance gate, visitors have a warning list to be careful when entering the water blow area. The alert list such as:
Do not swim.
Dangerous shore break.
High surf.
Sudden drop-off.
Slippery Rock.
Sharp coral.
High current.
After passing the main gate, I walk on the pathway till the end of the route. When I reach the end of the path, I see a cliff hit by the Indian Ocean wave. Because cliffs block the tide, the incoming waves crash on the rocks, and the Water splashes high upwards.
Find Here, "Top 4 Best White Sand Beach In Nusa Dua Bali" >>>
Understanding of Nusa Dua Water Blow
After passing through the water-blow Peninsula gate, I keep going along the walking path that is currently neatly arranged until I reach the end of the cliff. Water-blow tourist attractions in Bali are not beaches with a stretch of sand. For beach attractions near the Waterblow areas, such as Mengiat beach Nusa Dua and Samuh beach Nusa Dua.
So the notion of Water Blow Nusa Dua is not a beach in Nusa Dua. It is a rocky cliff hit by a massive wave from the south Indian ocean. Because cliffs block it, waves smash the rock and crush it upward.
Best Month To Visit Nusa Dua Water Blow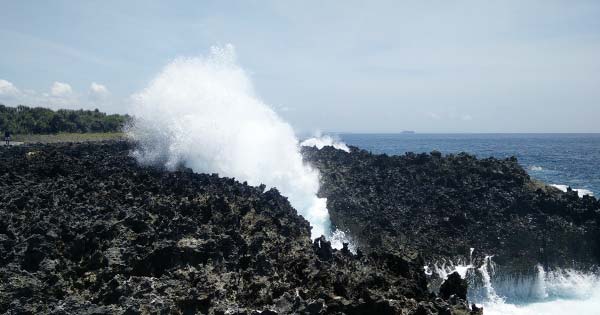 The best month to visit Water Blow Bali is around July till October. From July to October, there are sunny seasons in Bali, less chance of rain, and the water splash is high. However, prepare yourself!
The seawater splashes will make you get wet. When the moment of seawater arises, it is the primary interest point that makes people love to visit Water Blow Nusa Dua. Most of the water-blow Bali visitor is teenagers.
Read Here, What Is The Best Time To Go To Bali, In Term Of Budget & Weather?
Water Blow Bali Entrance Fee
Most tourist attractions on Bali island will charge visitors entrance fees. What about Bali Waterblow attractions? Is there an entrance fee?
There was no admission fee to enter Waterblow Nusa Dua Bali during my visit. Also, there is no Nusa Dua beach entrance fee. After my visit, I heard there is a trial for an entrance fee of Water Blow, Peninsula.
On January 18, 2022. Officially there is an admission fee to access the Water Blow Peninsula Nusa Dua area. Besides the entrance fee, you also need to pay a vehicle parking fee to access the Peninsula area. Below is the list of Water Blow Peninsula Nusa Dua entrance fees.
| Category | Entrance Fees |
| --- | --- |
| Adult | IDR 25.000 |
| Child | IDR 15.000 |
But do not try to do a pre-wedding photoshoot session at Water Blow Bali without the permission of the ITDC Nusa Dua. Therefore, if you are a professional photographer or cinematographer and want to do a photoshoot session at Water Blow, you should first report to the office of ITDC Nusa Dua.
Summary of Holidays to Nusa Dua Bali
Garden of hope, Peninsula island, and ITDC Bali area are parks and gardens that, for me, are very beautiful. Our family likes holidays in the Nusa Dua ITDC area.
We took a walk while viewing the park, took children to swim on the Mengiat beach Nusa Dua and relaxed in the Waterblow area while taking photos. Please remember to bring a swimsuit if you are interested in swimming on Mengiat beach or Geger beach Nusa Dua, Bali.
The activity of seeing the waves crashing into the rocky cliffs, which made the splash of seawater soar, made my children very excited to look closely. Splashes of Water flying as high as several meters are not the usual things my children see.
Therefore, the tourist attractions at ITDC Nusa Dua are perfect for a family vacation in Bali. Besides that, the area is not too crowded with tourist visits, so you can freely walk with your family.
Find Here, "10 Ideas That Execute Nusa Dua Bali Great For Family Holiday Destination" >>>
Other Things To See In Nusa Dua
Besides Bali Water Blow, the Nusa Dua area has plenty of places worth seeing on your holiday in Bali. Below is the list of attractive places as the best things to do in Nusa Dua Bali:
Geger beach Nusa Dua, the clean white sand beach stretches from the Grand Hyatt Nusa Dua to the ST Regis Nusa Dua hotel.
Sawangan beach.
The Bali Collection shopping mall.
Tanjung Benoa Beach is the best place for a marine water sports game in Bali.
Read More: "Nusa Dua VS Sanur – Which One To Choose As A Place To Stay In Bali" >>>