Bali attractions are identical to natural attractions, one of which is a white sand beach. Therefore, if you are currently planning a vacation to Bali, whether for a family vacation with children or honeymoon, then you want to visit a white sand beach in Bali which is good for swimming for children, suitable for honeymoon and less crowded. Then Geger beach Bali in Nusa Dua must be listed on your holiday itinerary in Bali.
Bahasa Indonesia, "Pantai Geger Nusa Dua The Hidden Paradise" >>>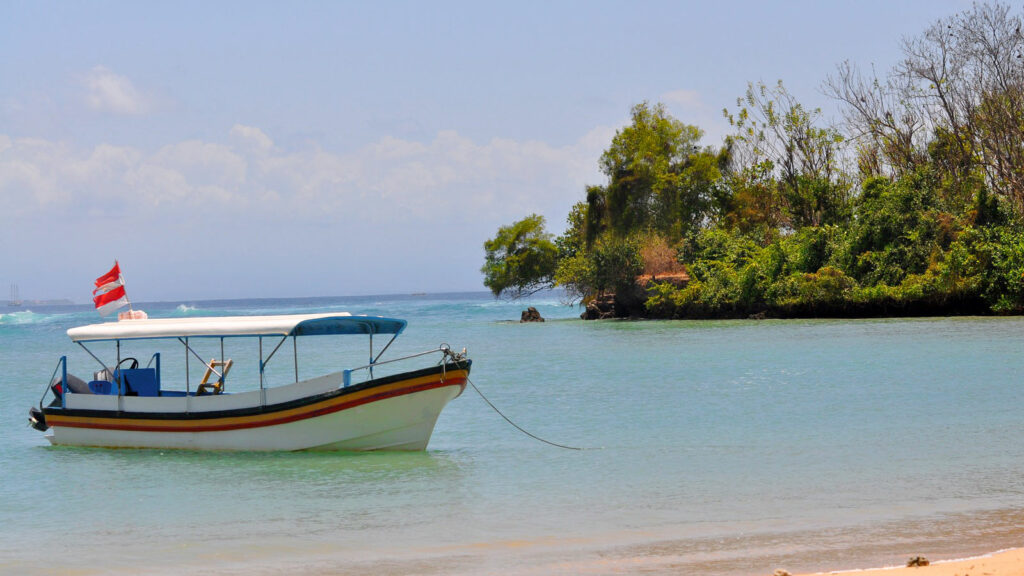 Are you interested in having a holiday to Geger Beach in Nusa Dua Bali? Before you decide to go on a holiday to Geger Beach Bali, please continue reading this page! Due to on this page, you will find information, guides and holiday tips to Geger beach Nusa Dua Bali. Information about Geger beach Nusa Dua that you will see such as;
General information about tourist attractions in Nusa Dua.
Nusa Dua white sand beach.
Geger Nusa Dua beach attraction.
Price of admission.
Geger beach Bali things to do.
The beach location with map.
Transportation choices for the best way of heading to the beach location.
Tourist attractions are adjacent to the beach.
Places to eat around or food stalls closest to the beach.
General Information on Nusa Dua Bali
Where is Nusa Dua Bali located? The Nusa Dua tourism area located in the southeastern part of Bali and situated adjacent to the tourist attractions of Tanjung Benoa Bali.
What is Nusa Dua famous for? One area in Bali famous worldwide as one of Bali luxuries place is ITDC Nusa Dua Bali tourist attractions. The Nusa Dua tourism area is synonymous with a five-star luxury resort area with beautiful white sand beach and managed by ITDC Nusa Dua. Besides the luxury hotel, Nusa Dua area also famous for the cleanliness of the white sand beach and great for kids to swim.
Some people say that Nusa Dua famous for Bali watersports, such as snorkeling, jet ski, scuba dive. However, if you want to find a complete selection of marine sports activities for a beginner at an affordable price, you need to go to Tanjung Benoa beach, which is 15 minutes from Nusa Dua.
See Here, "Best Site For Bali Water Sports Base On Your Qualifications & Budget" >>>
ITDC Nusa Dua Paradise Of Bali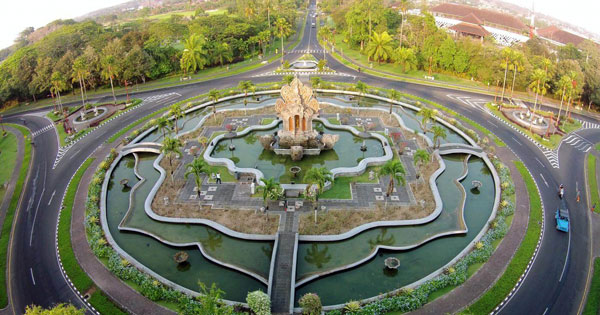 Accessing the ITDC Nusa Dua, it can only be through three main gates. Also, all visitors who will enter the entrance gate to the ITDC Nusa Dua area must pass a security check. So security is a priority in the Nusa Dua ITDC area.
When you enter the ITDC Nusa Dua area, you will see an elegant and well-maintained garden. Also, the sidewalk very well organized, so it is convenient to take a walk in the ITDC Nusa Dua area. Thanks to the excellent arrangement of the Nusa Dua area and resemble luxury resort, making the ITDC Nusa Dua area often referred to as Paradise of Bali. Because the ITDC Nusa Dua area very luxurious and security is prioritize, then Nusa Dua ITDC area commonly used as an international conference venue.
ITDC Tourism Supporting Facilities
In the ITDC Nusa Dua area, is also available a variety of tourism supporting facilities. Like the GOLF course, shopping centers, museums, restaurants, theater, and watersports activities. However, if you want to get a complete selection of watersports games in Bali, then you should visit the Tanjung Benoa beach Bali.
See here, "The Latest Bali Water Sports Tanjung Benoa Price List" >>>
With the convenience, security, and luxury, the Nusa Dua tourist area become famous for a honeymoon destination in Bali. Especially by honeymooner from Singapore, India, Hongkong, and United Emirate Arab. Five-star resorts in the ITDC Nusa Dua area, also provide kids club for their guests. Therefore, many family travelers who have a vacation with children, often choose Nusa Dua as their place to stay in Bali.
See Here, "10 Things to Make Nusa Dua Bali Suitable for Family Vacation Destination" >>>
White Sand Beach Attraction in Nusa Dua
Nusa Dua Bali tourist area, not only has one white sand beach, but there are four white sand beaches in Nusa Dua with different names. All beaches in Nusa Dua offer clean white sand beaches. Here is the white sand beaches in Nusa Dua, Bali.
Samuh Beach Nusa Dua Bali.
Geger Beach.
Sawangan Beach Nusa Dua Bali.
Especially on this page, I will address about Geger beach Nusa Dua. Regarding information on other beach attractions in Nusa Dua, please click the link below!
See here, "Top 4 Best White Sand Beach In Nusa Dua Bali" >>>
Geger Beach Bali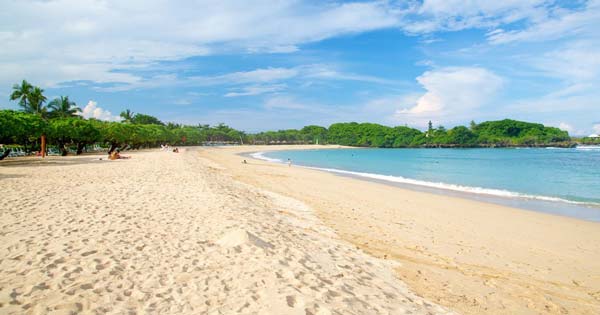 The name of Geger beach Bali has not widely known for tourists who have a vacation in Bali. However, if you have visited The Mulia resort Nusa Dua or ST Regis Bali, that means you have been to Geger beach Bali. For your information, travelers are more familiar with Nusa Dua beach instead of the Geger beach. Most of Geger beach areas are open to the public, especially in the northern part of the beach, which more visited by vacationists.
North Beach Side
In the northern part of Geger beach Bali you will find many chairs for sunbathing, and watersports equipment rental. Like snorkeling gear, scuba diving gear and surfboards. Most tourists who do not stay at one of the resorts on Geger beach Nusa Dua will head to the northern part of Geger beach.
South Beach Area The Hidden Paradise Of Bali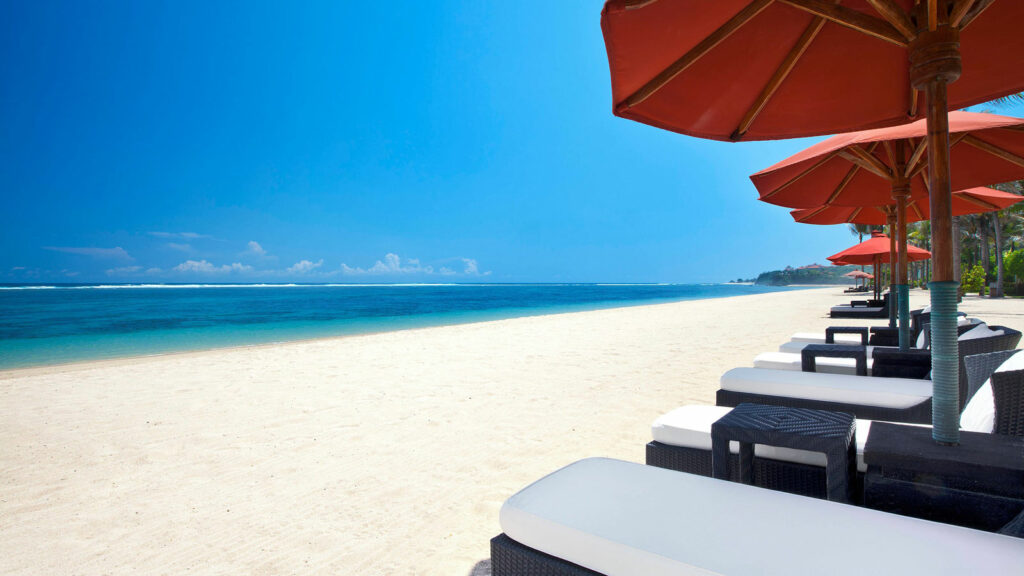 If you walk from the north side of the beach heading to the south side of Geger beach, then you will find two stunning luxury resorts. The two luxury resort is The St. Regis Bali Resort, and The Mulia Resort. Due to the cleanliness and the beauty of Geger beach Nusa Dua, combined with the beauty of the ITDC Nusa Dua area and on the beach side, there are luxury resorts. Then Geger beach Nusa Dua Bali gets the nickname as The Hidden Paradise Of Bali.
Fewer visitors are around on the southern coast of Geger Beach, and there is sundeck with umbrellas on the beach shoreline. Sundeck and umbrella, provided by the resort, for guests who stay in the resort. Hotel guests usually order drinks at the resort bar located on the beach area. Also, near the Bar area, there is a swimming pool for resort guests.
The hotel manages some of the Geger beachfront areas. Because the hotel maintains it, Geger Bali beach is spotless, and every day there will be cleaners who always clean the Geger beach Bali.
See Here, "The Best Time To Visit Bali With Children & Family" >>>
Beach Attraction
The attraction of Geger Beach in Nusa Dua lies in the beauty of the white sand beach, with fine sand texture. Also, the contour of a sloping beach, with a stretch of coastline along one kilometer. What I like most about Geger beach Nusa Dua is the cleanliness of the beach which always maintained.
Can you swim at Geger Beach Nusa Dua? Geger Beach in Nusa Dua sea wave very calm and has a shallow depth. Therefore, makes Geger beach Nusa Dua favored by tourists who have a vacation in Bali with children and tourists on their honeymoon. When you set foot on the beach sand, you will see many tourists who are sunbathing or swimming. Also, the number of tourist visits is not as busy as the Kuta beach Bali or the Pandawa Kutuh beach Bali.
Due to the beauty of the beach and the beach atmosphere is very calm, no wonder you will find many honeymooner couples at Geger beach Nusa Dua Bali. They usually sunbathe, swim or sit on the beach.
Read Here, "10 Best Places for Sunsets Scenery in Bali" >>>
Geger Beach Entrance Fee
Every Geger beach visitor who does not stay at one of the resorts located in the Geger beach Bali, required to pay an entrance fee. Then how much is the Geger beach entrance fee? Entry ticket prices for Geger beach Nusa Dua Bali are IDR 3,000 / person.
Geger Beach Bali Things To Do
If you are for the first time visiting Geger Beach in Nusa Dua, for sure, you will have this question, what is there to do in Geger beach Nusa Dua? There are many types of holiday activities that you can do while on vacation at Geger beach Nusa Dua. Like swimming, playing on beach sand, snorkeling and surfing.
Because the depth of the sea is very shallow and the sea waves are small, making Geger beach Bali very good for swimming with children. As for snorkeling and surfing activities, you have to rent a boat, because the snorkeling location and surfing location are around 200 meters from the beach shoreline.
In addition to water sports activities, such as swimming, snorkeling, scuba diving, or surfing, you can sit on the beach while enjoying the beautiful and very comfortable beach panorama. You are also able to rent a sundeck for IDR 50,000 and rent a towel for IDR 25,000. Around the beach area, there are many outdoor showers that you can use after playing on the beach sand. The warm sea water throughout the day also attracts local people who like fishing. Usually, in the late afternoon, many local people come to the beach.
Find Here, "8 Kids-Friendly Bali Water Sports ActivitiesWith Age Above 7 Years Old" >>>
Geger Beach Nusa Dua Location With Map
Where is Geger Beach Nusa Dua located? The Geger beach Bali are is secluded and far from the center of the crowd. Because Geger beach location is secluded, making many Indonesian vacationists choose other beach attractions in Bali as a holiday destination. However, if you want to find a calm white sand beach, safe for children to swim, then Geger beach Bali is the most suitable beach location for you to visit, besides Jimbaran beach Bali.
In terms of its location, Geger beach Nusa Dua is an area of Peminge Village, Sawangan. There are many roads access heading to Geger beach shoreline. However, my favorite is the road that leads to Fleet Bar & Cafe. To make it easier for you to find the Geger beach Nusa Dua location, please use the map below!
Distance from Bali Airport, Kuta Beach & Sanur Beach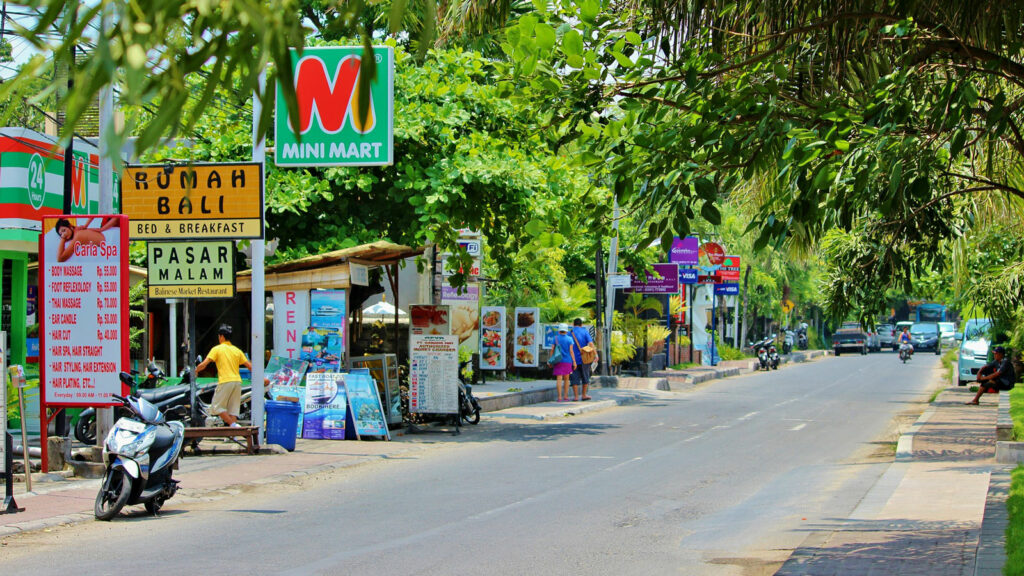 How far is Geger beach Nusa Dua from the airport? If you are coming from Ngurah Rai International Airport to Geger Beach Nusa Dua, will take 15-kilometer travel distance, with estimate travel time around 30 minutes.
How far is Geger beach Bali from Kuta beach? If you drive through the Bali Mandara Toll road from the Kuta beach area heading to Geger beach in Nusa Dua, then it will cover a distance of approximately 19 kilometers, with estimated travel time about 40 minutes.
How far from Sanur beach Bali to Geger Beach Bali? If you depart from the Sanur beach heading to Geger beach Nusa Dua, drive through the Bali Mandara Toll road. Then you will pass a travel distance approximately 21 kilometers with 35 minutes estimated travel time.
Read More, "Nusa Dua VS Sanur – Which One To Choose As A Place To Stay In Bali"
How far is Geger beach Nusa Dua from Ubud? Ubud Bali is a large area, so quite difficult to say the exact distance from Ubud to Nusa Dua. However, I can pick one Ubud attraction which is the Sacred Ubud Monkey Forest Sanctuary. From Ubud monkey forest to Geger beach Nusa Dua is around 45 kilometer with travel distance approximately 1 hour 30 minutes.
Read Here, "10 Things Make Sanur Bali Great for Family Holidays with Children" >>>
Transportation Choices
There are many transportation options for your holiday in Bali. Also, each visitor has its vacation transportation criteria. On this paragraph, I will share tips and guides on holiday transportation in Bali. Therefore, you can spend your transportation budget effectively based on what you need.
There are two choices of vacation transportation in Bali, namely a motorcycle or a car. Furthermore, if you want to ride a motorbike while on vacation in Bali, you can search for Bali motorbike rental recommendations through Google or you can use an online motorcycle taxi.
Car Transport
For transportation in the form of cars, there are taxis both online taxis such as Grab Taxi or taxi meters such as Blue Bird taxi. The other option for car transportation is a private car. So which one to choose between a taxi or a private vehicle?
If your hotel location in Nusa Dua area, then you only plan to visit Geger beach Bali and then return to your hotel. Then choose a taxi meter is the best vacation transportation options in Bali.
However, if your place of stay in the area of Ubud tourist attractions, Seminyak, Kuta, Jimbaran, Legian or Canggu, then after visiting Geger Beach Bali want a holiday to other tourist attractions in Bali. Then the best transportation choice is using a private car. Because of the long distance to Geger beach, you can save on transportation costs.
To find Bali rental car recommendation is very easy. You only need to find a car rental service in Bali through Google. If you do not want to drive a car and do not want to bother looking for a parking space, it is better for you to use car rental services in Bali with drivers include fuel.
Must Read, "Bali Holiday Transportation Guide & Tips" >>>
Bali Attractions Nearby Geger Beach Nusa Dua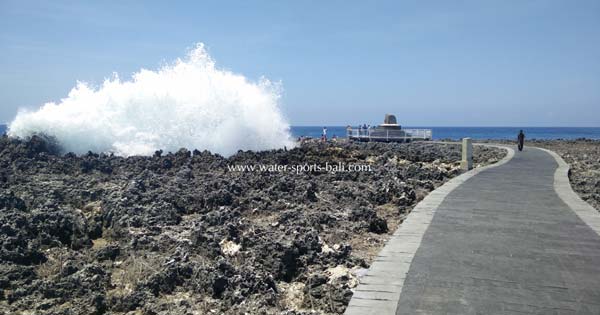 For Bali attractions with a location nearby Geger beach, I will share base on two categories. One Bali attractions in Nusa Dua and another one is a tourist spot outside the tourist area of Nusa Dua.
Nusa Dua Tourism Attraction
The following is a list of Nusa Dua tourism attraction, and unquestionably adjacent to Geger beach.
Sawangan Beach Nusa Dua, Bali camel ride location.
Garden of hope Peninsula island.
Samuh Beach.
Mengiat Nusa Dua Beach.
Bali Collection Shopping Mall.
Bali National Golf Club.
Nusa Dua Theater, the Devdan Show show location.
Nearby Places of Interest Around Nusa Dua
The area of Nusa Dua Bali tourist attractions is very strategic because it is close to other famous tourist attraction in southern Bali, such as;
Bukit Pandawa Golf & Country Club.
Tanjung Benoa Beach, Bali.
Gunung Payung Culture Park.
Gunung Payung Beach.
Jimbaran Beach.
Ungasan Green Bowl Beach.
Places To Eat On Geger Beach Nusa Dua
Around the beach, you will not found small food and beverage stand, as you will find on Kuta Beach Bali. However, you don't need to worry, because on Geger beach there are several cafes/restarurant. The Geger beach restaurants offer grill seafood, international cuisine, Italian specialties such as Pizza and Pasta, baked dishes. The Geger beach restaurants such as Kirana cafe and Fleer Bar & Cafe. Both Geger beachfront restaurants offer food prices around IDR 20,000 – IDR 45,000 / meal.
Search Here, "Halal Dining Spot in Tanjung Benoa Bali With Affordable Prices Love By Indian & Arab Travelers" >>>
Summary of Nusa Dua Geger Beach Bali
Geger Beach Nusa Dua is one of the white sand beaches that you must visit with your family, children or for your honeymoon in Bali. On the beach area, there are shower facilities, a place to eat, a toilet, a relatively large parking lot, a beach chair, and a lifeguard.
The cleanliness of the beach very well maintained. For me, Geger Beach is one of the cleanest beaches in Bali, and the sea water is apparent. Also, there is secure parking, access from the parking lot to the beach shoreline very close. Most travelers who like to visit Geger beach Bali are Australian, Japanese, Indonesian, Indian and local Balinese.
See here, "A 3-Day Travel Itinerary in Nusa Dua Bali With a Holiday Guide" >>>