This page is beneficial for you to read if you want to visit Bali's less crowded white sand beach. Also, if you are currently looking for the best beach destination in southern Bali, offering views of the sunset, compositions of the rocks, and white sand. Therefore, the white sand beach you should visit is Blue Point Beach Bali, known as Suluban beach Uluwatu Bali.
Want to read the Indonesian language, click here! Pantai Suluban Bali.
Suluban beach Uluwatu is one of the white sand beaches in southern Bali that is mandatory in your holiday itinerary to Bali. So, if you are excited about apprehending further detail about the Suluban beach Uluwatu attraction, please continue reading this page! Because on this page, you will find a holiday guide to Suluban beach Uluwatu Bali. Information that you will get, such as;
Bali tourism in general.
Bali beaches attraction.
Suluban beach / Blue Point Beach Uluwatu.
The Blue Point Beach Bali attraction.
Are the Bali Suluban beaches safe to swim and suitable for children's vacation spot?
Journey to the beach.
Beach scenery.
The meaning of Suluban.
A map accompanies the location of the beach.
Entrance fee.
The best way to get to the beach location.
Vacation tips to Blue Point Beach.
Main Attraction of Bali Tourism
Bali Island has always been a favorite destination for travelers seeking natural beauty, art, and culture. Whether you are vacationing with colleagues, relatives, or alone, you will be fascinated by the beauty and uniqueness of Bali tourism.
The main attraction of Bali tourism is because it has many exciting things to do and things to see. Suitable for tourists who vacation with a family with children or visitors who are on a honeymoon.
In addition to exciting tourist attractions, Bali also offers many choices for tourism activities. Bali activities popular among teenagers, children, and parents are Bali outdoor adventures. There are two main types of Bali outdoor adventures that get the most demand by travelers, and there are;
Bali marine sports activities on the Tanjung Benoa beach are popular with the name Tanjung Benoa watersport Bali.
As well as a white water rafting tour familiar with the term white water rafting Bali.
Search Here, "Latest Tanjung Benoa Beach Bali Water Sport Prices" >>>
Best Beaches In Bali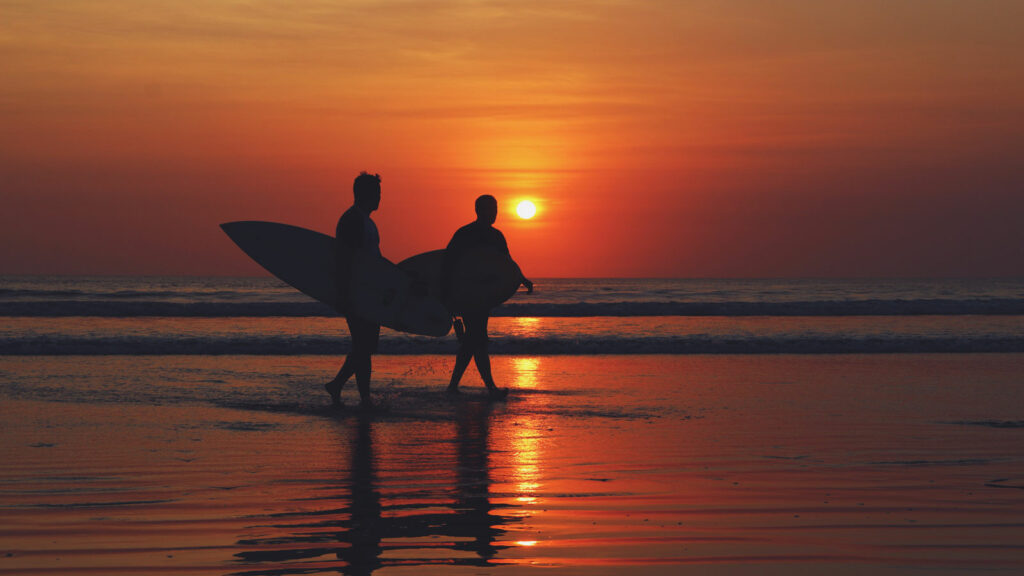 Then what about Bali beach attractions? One of the main reasons travelers have a vacation to Bali is because Bali has plenty of beautiful white-sand beaches. Then, what is the most excellent beach in Bali to visit? There are several white sand beach in Bali that is very popular among visitors. Like Kuta beach Bali, Pandawa beach, Melasti Beach Ungasan, Balalang Beach, and Bali Dreamland beach.
Read More, "10 Things Gain Kuta Bali Proper For A Family Vacation Destination" >>>
Kuta Beach, Melasti Beach, Pandawa Beach, Balangan Beach, and Dreamland Beach almost every day crowded with tourists, both domestic and international vacationists. The Bali beaches above offer white sand with a gentle slope. Also, perfect for viewing the sunset and an extensive beach area.
How about if you have been on vacation to Dreamland beach, Kuta Beach, or Pandawa Beach Bali. For sure, while on vacation to Bali, you want a holiday to a beach resort that has a different character from the famous beaches in Bali above.
The question now! Are there any other beaches in Bali that have distinct characters than Kuta Beach Bali and Dreamland Beach Uluwatu Bali?
Most repeat travelers will find alternative beach tourism in Bali. One of the beaches that love to visit by a repeat traveler is Suluban beach Uluwatu Bali. So please continue reading this page, and you will find a holiday guide to Suluban beach Uluwatu Bali.
Read Here, "All Things You Need to Know Before Vacationing to Bali's Dreamland Beach in Uluwatu" >>>
Suluban Beach Aka Blue Point Beach Uluwatu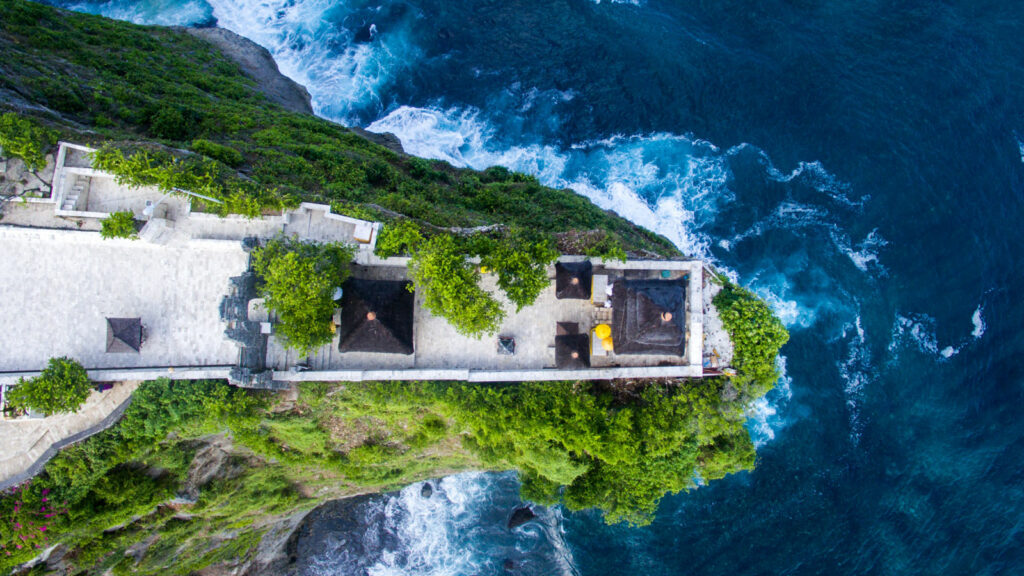 Uluwatu Bali is a tourist attraction known by travelers in Balinese Hindu temples called the Uluwatu temple Bali. The Uluwatu Temple Bali is located above the cliff. From the Uluwatu temple area, you can see the Indian Ocean view and one of the best spots to view the sunset in Bali.
Besides the Balinese Hindu temple, the Uluwatu area also offers plenty of white sand beach attractions. One of them is Suluban Beach Uluwatu. However, among Australian visitors, Suluban beach Uluwatu is better known as the Blue Point Beach Uluwatu.
Read More, "Top 10 Best Balinese Hindu Temples To Visit During Holiday" >>>
You must be wondering why the beach has many names? Are the beaches the same?
Between Suluban Beach and Blue Point Beach, Uluwatu is the same beach, the location is the same, and there is no difference. So the variation is on the names, not the beach.
The initial situation that makes the beach called the Blue Point beach, due to previous visitors who did not know the actual name of the beach. Because there is a hotel nearby the Suluban beach, Uluwatu called Blue Point hotel. So to make it easy to remember, the visitor called Suluban beach with the name Blue Point beach Uluwatu.
Find Here, "Top 10 Things To See In Uluwatu Bali" >>>
Suluban Beach Uluwatu Bali Attraction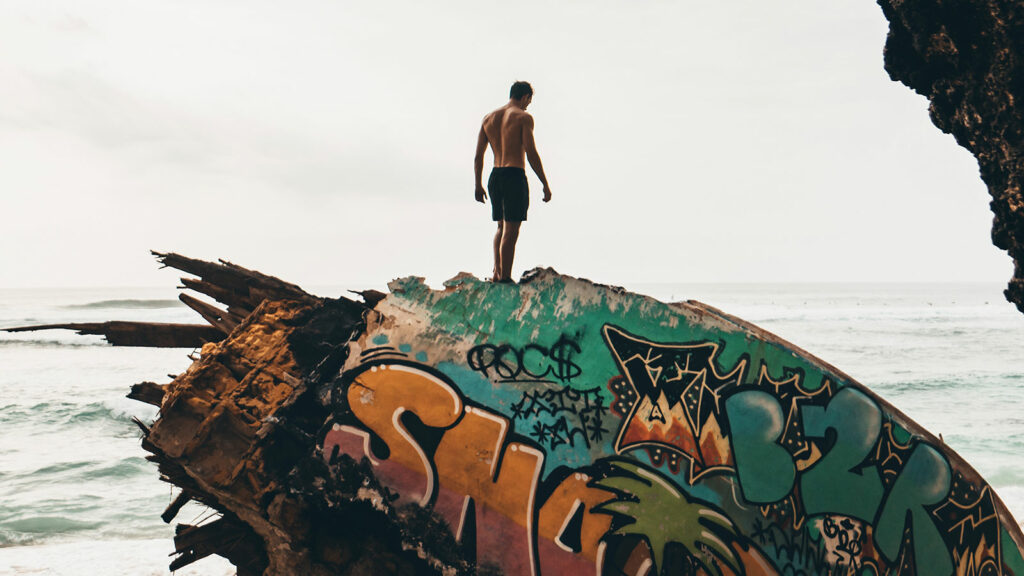 Suluban Beach in Uluwatu Bali, I can say as one of the unique beaches in Bali. The uniqueness of Blue Point Beach Bali is found in the beach's location, which is hidden.
The beach becomes hidden because it is covered with high coral cliffs.
Also, the uniqueness of Suluban Beach Uluwatu lies in the access to the beach area. Every visitor who wants to set foot in Suluban beach Uluwatu must go down the stairs. In addition to passing the stairs, visitors must pass through a towering natural rock gate.
Blue Point Beach is a beach with cliffs and large waves. So Blue Point beach Bali is more suitable for visitors who like to hang out by the beach or want to surf. Therefore, if you are visiting the Blue Point beach Uluwatu, you will see many surfers. Besides surfing, you can go swimming and sunbathing.
See Here, "Bali Nature Tourism – Vacation To Natural Attractions & Activities In Nature" >>>
Suluban Beach Uluwatu for Children's Holidays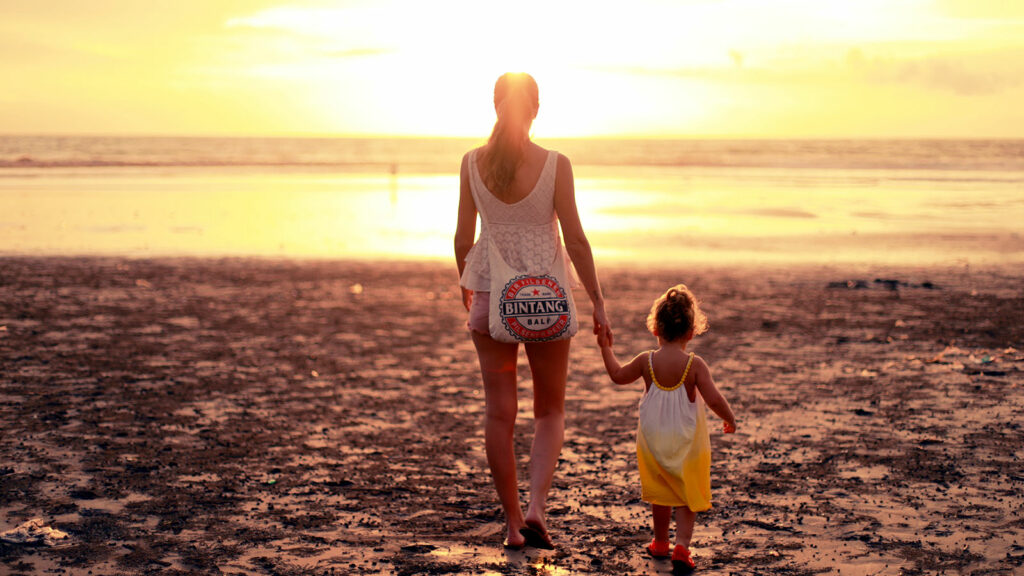 Are the Bali Suluban beaches safe to swim in and suitable for children's vacation spots?
Suluban Beach Uluwatu is more appropriate to be visited by teenagers, especially those who love surfing. For children under 12 years, it is not adequate. Because in Suluban Beach Uluwatu, there are many rocks, and sometimes the waves are pretty significant.
The following are white sand beaches in Bali suitable for children's holidays.
Also, Tanjung Benoa beach is the primary location for Bali water sports. Most kids love to try water sports in Bali. To get lower prices for Bali water sports activities, you should get Bali water sports packages.
Read More, "Best Time To Visit Bali With Children & Family" >>>
Journey to Suluban Beach Uluwatu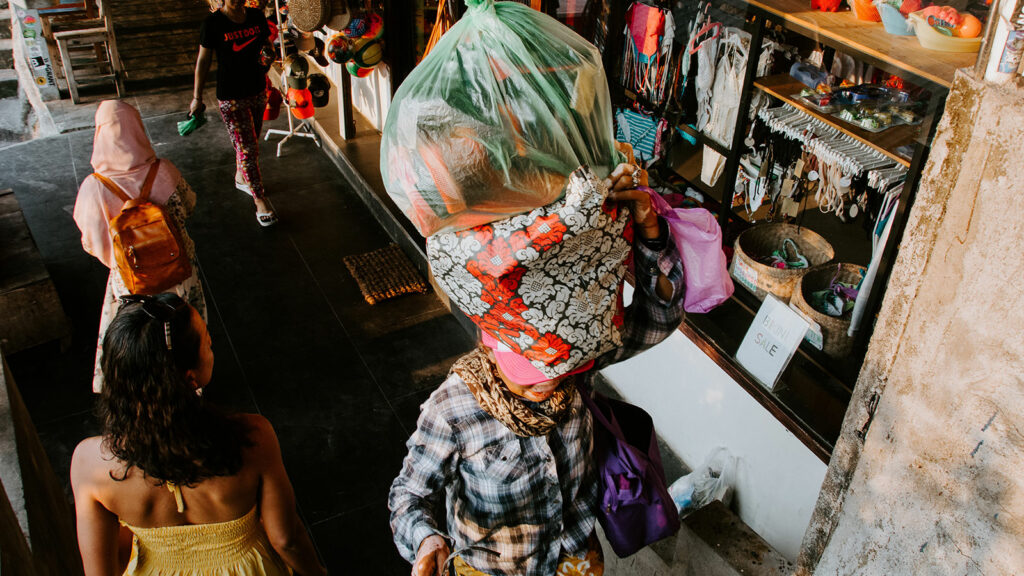 Visiting Suluban beach Uluwatu requires extra effort to reach the beach shoreline. You have to walk approximately 200 meters from the parking area and step down the stairs.
Also, when you are going down the stairs, you will see many cafes, stalls that offer food and beverages combined with the beauty of the Blue Point beach scene.
Above the cliffs are also provided with several beds with mattresses for visitors who want to relax and unwind after passing stairs.
After passing the stairs, about 50 meters, the visitors must pass through narrower and smaller stairs. Stairs are flanked by cliffs of white rock, sometimes having to queue to get past the stairs.
Read here, "Balian Beach Tabanan – Hidden Beach in the Southwest of Bali Island" >>>
Suluban Beach Sunset & Surrounding Scenery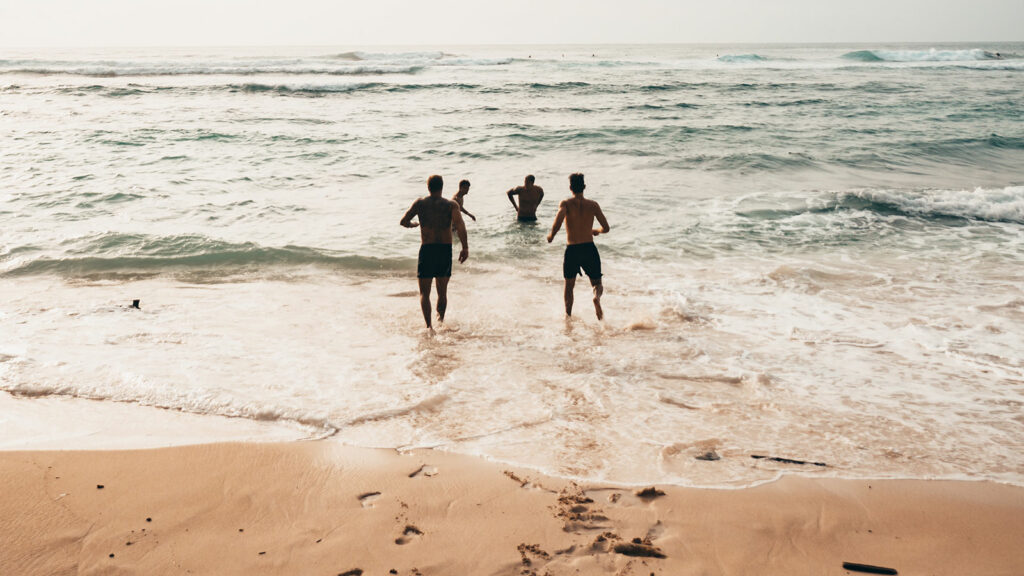 After you set foot in Suluban Beach Uluwatu, you will see a unique natural layout. Like, blue ocean views combine with beautiful natural scenery around it.
The view of seawater resembles two colors. The thickest part will be dark blue, the shallow part will be green, and the seafloor will be visible. Not only that, if you visit the Suluban beach in the late afternoon, you will be able to see the red sky sunset views that visitors much await.
If the seawater recedes, visitors will see a small pond on the edge of the beach. At the time of high tide, visitors will be able to see the pounding of the big waves that hit the side of the cliff. On the beach shore, there is a shipwreck, and the Suluban beach shipwreck nowadays becomes famous pictures on Instagram.
Read here, "The 10 Best Places to See Sunset In Bali" >>>
The Meaning of Suluban
The name of Suluban, called by local Balinese derived from the Bali language "Mesulub," which means walking past something on a human head.
The local community calls the beach a Suluban, of course; there is a reason. Because after you arrive at the beach and set foot on the white sand, you will see a road to the shoreline flanked by two pretty high cliffs. Coral cliffs look like aisles, and you have to pass through this corridor to reach the Suluban Beach Uluwatu shoreline.
Read More, Which is the nicest beach in Bali for a family vacation with kids?
Location of Suluban Beach Bali
Then where is Suluban Uluwatu beach located? Is there a map to make it easier to find the location of Suluban beach Uluwatu Bali?
Bluepoint beach Bali located, at Jalan Uluwatu, Pecatu, Kuta Selatan- Bali. To make it easier to find the Blue Point Beach Bali location, please use Google Maps by clicking the below link!
Find Here, "The Beach Location On Google Map" >>>
Interesting Spot Close To Beach
Blue Point Beach Bali is also located very close to the Uluwatu temple. The Uluwatu Temple Bali is very famous as a place of interest in Bali due to the temple's location above the cliff with a fantastic sunset view. Uluwatu temple is also well known as the best place to watch Balinese Kecak and Fire dance. From Suluban beach to Uluwatu temple, it takes 4 minutes drive.
Suppose you consider the location of the Blue Point Bali beach is far away. You want to find another alternative to a beach that has similar characteristics as Blue Point Beach Uluwatu. In that case, you can visit Balangan Beach Bali, which location is close to Jimbaran Bay.
Find Here, "Visitor Guide To Geger Beach Nusa Dua Bali" >>>
Entrance Ticket Fee
Is there an entrance fee to Suluban Beach Uluwatu?
Like most beaches in Bali, you don't need to pay an entrance fee to enter the beach area. However, you need to pay a parking fee of IDR 5,000 / for a motorbike and IDR 15,000 for a car.
Find Out, "Padang-Padang Beach Bali Entrance fee" >>>
The Best Way to Go to a Beach Location
The Suluban Beach Uluwatu location is far from Bali's center of tourist attractions, like Ubud, Legian, Seminyak, Jimbaran, or Kuta Bali. So finding public transportation heading to Blue Point beach Uluwatu is tough.
Suppose you want to visit the Blue Point Beach Uluwatu. In that case, the best transportation is to get Bali rental car with a driver or without a driver. If you like to ride a motorbike, renting a motorcycle is also the best way of transportation to Suluban Beach Uluwatu.
If you don't want to be complicated and want your tour to Suluban beach arranged without thinking about parking fees, meal costs, and entrance ticket fees, you can search for Bali tour package providers. Then ask the tour package provider to create a holiday itinerary by visiting the Blue Point Beach In Uluwatu.
Find Out, "Holiday Transportation Tips & Guide In Bali That You Should Know" >>>
Vacation Tips To Blue Point Beach
For information, the Uluwatu area of ??Bali is one of the habitats of long-tailed gray monkeys. Therefore, you will see long-tailed gray monkeys usually seen in the Uluwatu Temple area or at Ubud Monkey Forest. When you are at Blue Point Beach, you will also see some monkeys in the cliff area.
Therefore, please always care for your belongings such as glasses, earrings, and other valuables items. These monkeys tend to take your valuables if you are not guarding them while swimming at the beach.
In addition, there are several items that you must bring when visiting the beach so that you are comfortable while on Blue Point beach.
Wear a hat, because the sun is quite hot in the Uluwatu tourist area.
Use sunglasses.
Remember to carry sunblock to protect your skin from the sun.
Remember to bring mineral water and snacks, because you will be thirsty when going down or up the stairs.
When climbing and descending stairs, walk at a leisurely pace and take your time and avoid rushing.
If you want to swim, remember to bring a towel.
Read More, "Guide On Visiting Padang-Padang Beach Bali" >>>