Holidays to Bali are identical to vacations to white sand beach resorts. Also, each beach in Bali has a charm different from the others. Therefore, are you considering having a vacation in Bali and interested in visiting a clean white sand beach with calm waves? You should add Mengiat Beach Nusa Dua Bali to your holiday itinerary.
Bahasa Indonesia, "Pantai Mengiat Nusa Dua Bali Nyaman Untuk Liburan Keluarga" >>>
You will find information about Mengiat Beach Nusa Dua Bali on this article page. Information about the Mengiat beach Nusa Dua that you will find such as:
The Mengiat Beach Nusa Dua Bali is the main attraction.
A map accompanies the beach location.
Admission fee information.
Transportation options to the beach location.
Tourist attractions are adjacent to Mengiat beach Nusa Dua Bali.
Must Read, "Three Days Holiday Plan In Nusa Dua Bali With The Trip Guide" >>>
Mengiat Beach Nusa Dua Main Attractions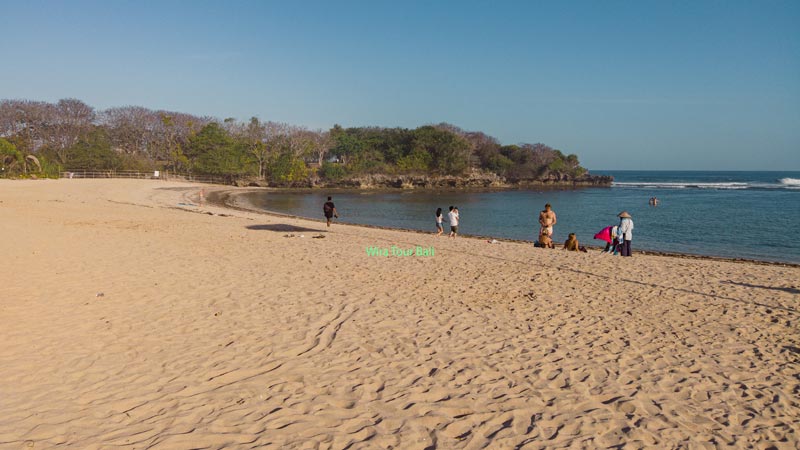 If Kuta beaches Bali, the main attraction lies on big waves suitable for surfing, and sunset views, while the Mengiat Nusa Dua beach offers different charms. The recognition of Mengiat beach Nusa Dua Bali is on the beach's cleanliness, suitable for seeing the sunrise, calm waves, and blue sea water, with refined grains and soft sand.
The Mengiat beach's cleanliness is very well maintained because along the coastline, there are five-star resorts. Like Grand Hyatt Bali, INAYA Putri Bali, and Ayodya Resort Bali. For sure, the five-star resort will maintain the beach's cleanliness. Therefore, the resort guests feel comfortable while playing on the beach. Visitors to Mengiat beach are not too crowded like Dreamland beach. Also, most visitors are foreign tourists who stay at one of the resorts in the Nusa Dua area.
Find Out, "Nusa Dua VS Sanur – Which One To Choose As A Place To Stay In Bali" >>>
The Best Beaches In Bali For Swimming With Family
In addition to the beach's cleanliness, the sea waves on the Mengiat beach are very calm, with shallow sea waters. Making Mengiat beach a perfect location for kids to swim although the beach waves are tranquil, children's supervision while playing on the beach is still needed. Therefore, if you find the best beaches in Bali for swimming with family, Nusa Dua beach is one of the beaches in Bali that you should visit.
The beach on the east side of Bali makes Mengiat beach more suitable as a place to see the sunrise, like Sanur beach Bali. Besides that, the white sand grains on the beach are very smooth, making it very comfortable to bring your children and family to play on the beach sand.
Read More, "10 Things That Make Nusa Dua Bali Suitable For Family Vacation Spots" >>>
Beach Location
Mengiat Beach Nusa Dua is generally referred to as Nusa Dua beach because its location is in the tourist area of Nusa Dua. Also, there are four amazing white sand beaches in the Nusa Dua tourism area.
The main path leads to the beach area from the ITDC Nusa Dua named Jalan Pantai Mengiat. You will pass a paved highway bordering the hotel area from the car parking lot to the beach. The white sand beach area of Mengiat stretches about 800 meters, and there are walkways for pedestrians; the path is also used for cycling paths.
To make it simpler to find the beach's location, please use the map below!
See Here, Mengiat Beach Nusa Dua Google Maps.
Entrance Fee & Visitor Facility
Are there entrance fees to Mengiat beach Nusa Dua? The answer, there is no entrance fee to the beach area. You are only required to pay the vehicle parking fee. For visitor facilities, Mengiat beach Nusa Dua offers the same visitor facilities as other beach facilities in Bali.
Along the coastline, you will find many places to eat, most of which are restaurants. For changing areas, if you want to swim, you can use the toilet available in the restaurant. Of course, ordering food or drinks at the restaurant will be more ethical.
Sunbed rentals with varying rental prices are also available. On average, the sunbed rental price is around IDR 100.000. Several places around the beach also offer surfboard rentals. I don't know how much the surfboard rental costs, because I can't surf.
Transportation Options Towards Mengiat Beach Nusa Dua
For holiday transportation in Bali, the best you can find is a private vehicle such as a motorbike or car. You are also able to get a taxi meter like Blue Bird Taxi. Getting a personal car in Bali is relatively easy! You only need to search on Google with the keyword Bali motorbike or car rental in Bali. If you want to use Bali car rental services, it's good to find a car rental with a driver in Bali because it's simpler.
There are benefits if you use car rental services with a driver in Bali. The who looking for a parking space for your vehicle is your driver so that you can get off the car at the entrance gate of the attraction. Also, the Nusa Dua location is very strategic because Nusa Dua is located close to many famous tourist attractions in southern Bali.
Read More, "The Best Way To Get Around In Bali In Term Of Holiday Transportation" >>>
Nearby Attractions
As I mentioned above, the location of the Nusa Dua tourism area is very strategic because it is close to many famous tourist attractions in the southern Bali region. Also, attractions in Nusa Dua are not only the Mengiat beach. Also, there are many exciting tourist attractions in Nusa Dua that you can visit.
Find Out On "Top 4 Best White Sand Beach In Nusa Dua Bali" >>>
Attractions inside ITDC Nusa Dua
Inside the ITDC Nusa Dua area, you find attractions as follows:
Bali Collection shopping center.
Nearby Attractions Outside The ITDC Region
Tanjung Benoa Beach is only 6 kilometers from the Nusa Dua ITDC location. In the Tanjung Benoa beach area, you can find many choices of water sports activities. Such as parasailing adventures, a banana boat ride, a jet ski, and a turtle island tour.
Sawangan Beach is only 6 kilometers from the ITDC Nusa Dua area. At Sawangan beach, an exciting vacation activity is Bali Camel Safari around the Sawangan beach area.
Pandawa beach, the distance from Nusa Dua, is only about 12 kilometers.
The Gunung Payung beach is only 12 kilometers from Nusa Dua.
GWK Bali tourist attractions. The distance between Garuda Wisnu Kencana Cultural Park from Nusa Dua is around 14 kilometers.
Dreamland Beach is only about 18 kilometers from Nusa Dua.
Jimbaran Beach is about 15 kilometers from Nusa Dua.