Are you currently planning to have a vacation to Bali, whether with family, children or with friends? If so, I am sure before you are in Bali, undoubtedly you will find information about holiday activities, as well as exciting sights in Bali to be visited. What if I suggest a vacation to the white sand beach of Dreamland in the south of Bali! To be able for you effortless getting information about Dreamland beach, please continue reading this page! Because on this page there is information about the location of Dreamland Bali. It also features a map of Dreamland Pecatu Bali's directions, attractions and entry fee price.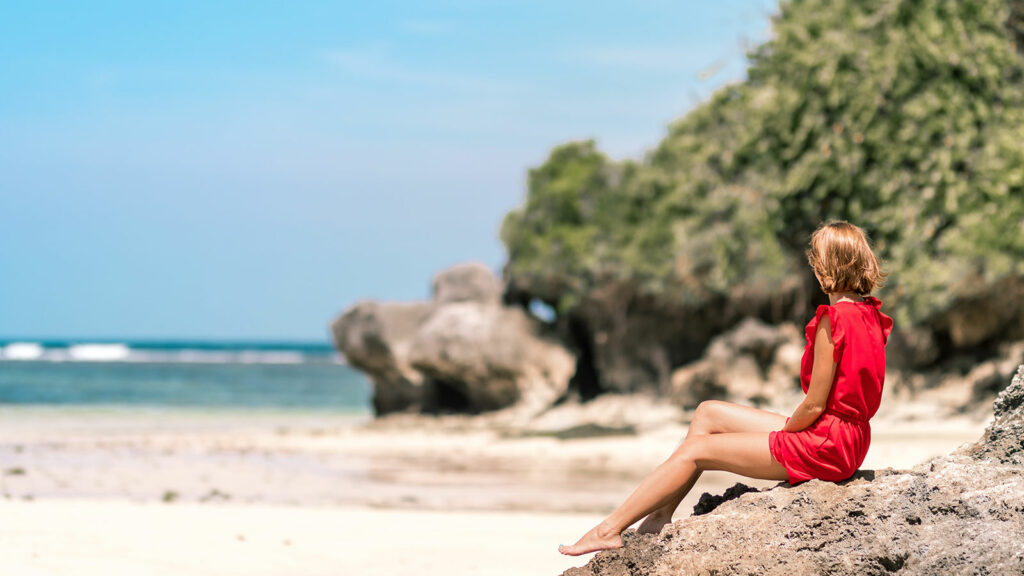 Bahasa Indonesia, "Lokasi Dreamland Bali, Daya Tarik Tempat Wisata Pantai Pasir Putih & Harga Tiket Masuk Terbaru" >>>
White Sands Beach Bali
The island of Bali as a vacation destination identical with white sand beach resorts. Also, Bali island has so many beach attractions that worth visiting, especially white sand beaches. Many tourists while on holiday to the island of Bali, feel their holiday in Bali would not be complete without a vacation to one of the white sand beaches in Bali. Well, how about you! Do you also feel the same! Having a holiday in Bali is not complete without visiting the white sand beach attractions? There are three white sand beaches in Bali that are very popular among tourists, and they are:
Dreamland Beach.
If you want to understand further details about Kuta beach and Pandawa beach Bali, please click the link above! However, if you desire to know about the location of Dreamland beach, the attraction and the admission cost to Dreamland beach, please continue reading this page!
Dreamland Beach Bali
If you are looking for the best beaches in Bali with white sand, then there is no doubt for me to recommend you to visit Dreamland Beach Bali. Dreamland Beach also knows as New Kuta Beach, offer extended 100 meters stretch of clean and soft white sand. The beach had reasonably large rocks around the coast and surrounded by towering cliffs, bright sunlight with blue sky and impressive blue ocean scenery facing the Indian Ocean with fantastic wave appropriate for surfing.
The beauty of New Kuta Beach matches with one of the most famous beaches in Bali, which is Kuta beach, Bali. New Kuta Beach Bali is one of the most favorite tourist destinations and gets many visits every day. If you are visiting the beach in late afternoon, if the weather is clear, you able to see a fantastic sunset view that offers a romantic environment suitable for honeymooners.
Location
The location of Dreamland Beach Bali located in the southwest of Bali island at Ungasan Village, Kuta district. Precisely in Bali Pecatu Graha complex. Also, the site of Dreamland/New Kuta Beach located closed by with Garuda Wisnu Kencana Cultural Park. The New Kuta Beach Bali, situated in a very remote area. Therefore, if you are first time having a holiday to New Kuta Beach Bali, to make it easier to find the location of Dreamland beach, you should use GPS or ask local people, after you pass the area of GWK Bali (Garuda Wisnu Kencana Cultural Park).
How to get to Dreamland Beach Bali? To get the location New Kuta Beach Bali, you need to enter the area of Pecatu Graha (Kuta Golf Links Resort). Pecatu Graha is a substantial luxurious complex with a hotel, villa, a water park (Dreamland Waterpark) and golf course (known as New Kuta Golf Course). Finally, to make it easier to get the locations of Dreamland Beach, you can use Google map.
Bali Attractions Near Dreamland Beach
The location of Dreamland Bali is very strategic due to its adjacent to many famous tourist attraction in Bali. Then what are the famous tourist attractions in Bali located adjacent to the beach Dreamland Bali?
From Bali International Airport, will take about 45 minutes driving.
Dreamland Waterpark rides suitable for family vacations, only 1,2 kilometers away from Dreamland beach.
Garuda Wisnu Kencana Cultural Park (GWK Bali), just 8 kilometers from Dreamland Beach.
Labuan Sait Beach or better known by the name of Padang Padang beach. The distance from Padang Padang beach only 11 kilometers from Dreamland beach.
It takes about 30 minutes driving if you are coming from Jimbaran beach Bali area.
Read More, "Top 10 Bali Attractions As A Places To Visit & Things To Do In Bali" >>>
The History Of The Dreamland Name
Most of you must be wonder why the beach called Dreamland? Even though now has its new name which is New Kuta beach. However, most people still recognize and called Dreamland Beach.
Before the beach changes like nowadays, there was a housing project, and tourism attraction project takes place around of the beach area. Local people who live in the area who was mostly residing has a farmer, expecting the tourism attraction project to finish. These way their hope, to changes their field from dry land to the land of dream. That is why the ground around the project area call dreamland.
Things To Do At Dreamland Beach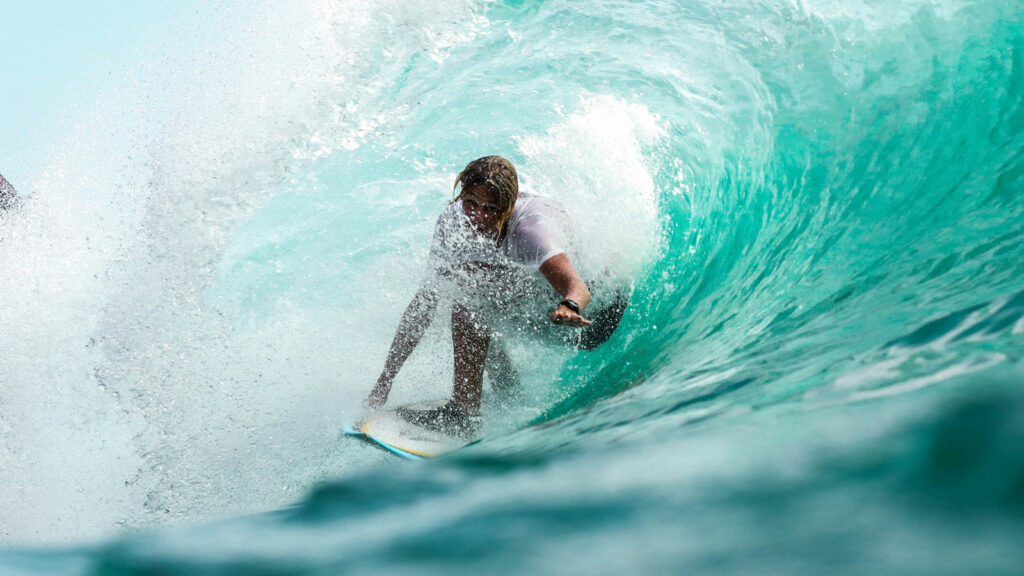 So the next questions are, what to do in Dreamland Bali beach? Because it is in a remote place, then the Dreamland beach is much cleaner than the Kuta beach. Dreamland Bali beach visitors, more foreign tourists than Indonesian tourists. Due to the beach waves are big enough, very suitable for surfing enthusiasts. Therefore, high waves attract many pro surfers or beginner surfer to have surfing. This beach is well-known among Surfer as one of the best beaches for surfing in Bali.
So, if you are not a surfer, this beach is perfect for sunbathing, swimming, or walk on the beach. For sunbathing, you can hire umbrella and sun deck that available most of the time along the coastline. So, if you look for drink and food, there are many cafes open on the beach.
Also, if you love to swim on a high wave and want to visit a clean white sand beach, then Dreamland Bali, is one of attraction in Bali you must visit during your holidays. Besides the big wave, the main appeal of Dreamland beach lies on the cleanliness of the beach. It gives the impression of comfort when you sit or lie down on the Dreamland beach Bali.
Read More, "10 Best Beach To See Sunset Scenery In Bali" >>>
Is It Good For Swimming?
Is it new Kuta Beach the best beach in Bali for swimming? The answer is not. High wave and big rock are required advance skill to swim on this beach. However, New Kuta Beach is one of the best beaches in Bali for relaxing, surfing and enjoy the sunset view. Also, if you are not a person who likes to swim at the beach, I recommend you not to this beach. Because the location of Dreamland Bali is very far away, and to return from this beach to other tourist sites, you will face severe road traffic congestion.
If you want to take your kids to swim on the beach while on holiday in Bali, then you should visit Jimbaran beach. Because the waves on Jimbaran beach Bali are calmer and suitable for children to swim.
Entrance Fee
To enter the location of Dreamland Bali, you not charged an entrance fee. However, you need to pay for car parking fee which is IDR 15,000 / one car. Car parking fee may change any time.
Read More On, "Balangan Beach Bali – Things To Do & Location" >>>
Video On YouTube
Bali Marine Activities For Beginner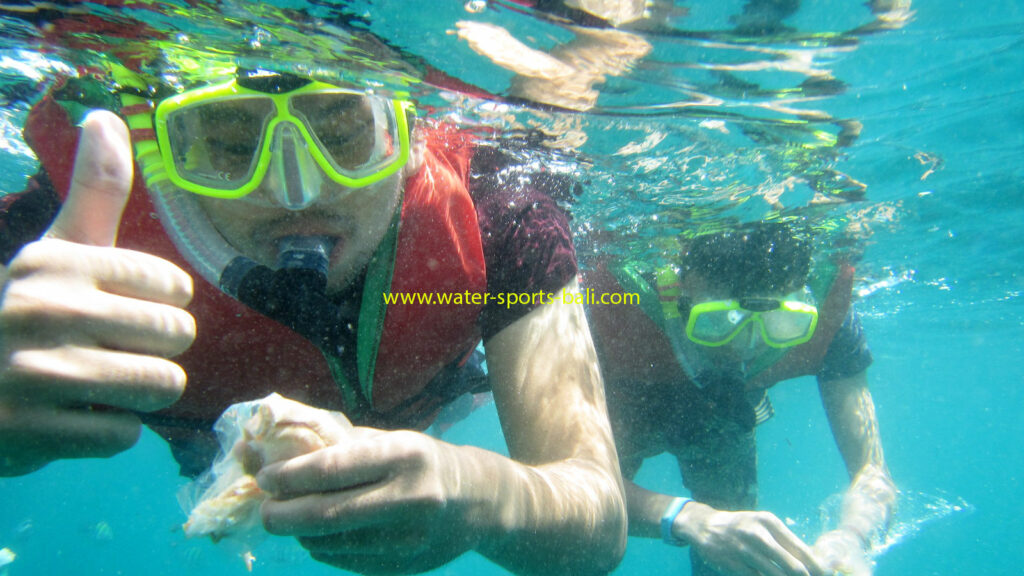 If you are looking for the best beach for marine water sports activities for beginner and non surfer, then Tanjung Benoa Beach the best for Bali water sports activities.
At Tanjung Benoa beach you can get marine water sports activities suitable for a beginner. Such as Parasailing, Seawalker, Snorkeling and many other types of Bali water sports. So, if you are on holiday with family and kids, Tanjung Benoa beach is one of the best beaches you should visit! Because it offers Bali, turtle island tour, suitable for family vacation.
Read More, "Tanjung Benoa Beach Bali Marine Activities Choices & Prices" >>>