Bali island offers plenty of things to see and fun things to do. In Bali, you can find many choices of white sand beaches, rice terrace scenery, volcano, waterfall, and Balinese Hindu temple attraction. However, for those of you who like taking photos with unique backgrounds and hang out in cool spots, I recommend visiting Big Garden Corner Sanur.
Bahasa Indonesia, "Tempat Wisata Keluarga Big Garden Corner Sanur" >>>
The author is not affiliated with the Big Garden Corner Bali. This article is purely from the author's experience when visiting this place. The main goal is to share information with those interested in seeing the Big Garden Corner Denpasar.
Before you decide to visit the Big Garden Corner Sanur, on this page, you will find a visitor guide to Big Garden Corner Sanur, such as;
Read More, "Guide On Best Time & Month To Visit Bali" >>>
So What is Big Garden Corner?
Big Garden Corner Denpasar is one of the tourist attractions in Denpasar Bali, which opened in June 2016. With the Big Garden Corner Sanur opening, Denpasar's list of exciting attractions is growing. However, Denpasar's number of tourist attractions is not as significant if you compare it to tourist attractions in southern Bali.
When you access the inner side of Big Garden Corner, you will find a unique garden outlined with numerous unique statues, tree houses, a kid playground, restaurants, and a swimming pool. You can find Borobudur replica statues, a dinosaur park, a butterfly park, treehouse, large stones, and many others. The visitor's primary goal in coming to Big Garden Corner is to take pictures, hang out, and have leisure time with their kids.
Read More, Is Sanur Beach Bali Worth Visiting?
Main Attractions of Big Garden Corner Sanur
The Big Garden Corner Sanur is a rock art gallery and sculpture garden. Still, the nuance is very different from other sculpture galleries. The attractions that you will be able to see are:
Lots of stone statues.
Replicas of statues and miniatures of Borobudur temple, which have a height of 5 meters.
Small treehouse.
The pathway is made of wood, with a tree trunk roof with a cross shape.
Plenty of places to relax with colorful cushions and chairs.
On the top of the walkway, there are colorful umbrellas.
Restaurant & children's playground.
Extensive vehicle parking lot.
Every Sunday, there will be a Pikachu doll walking around the park.
Find Here, Is Sanur Bali Good For Families Vacation?
1. Stone Sculpture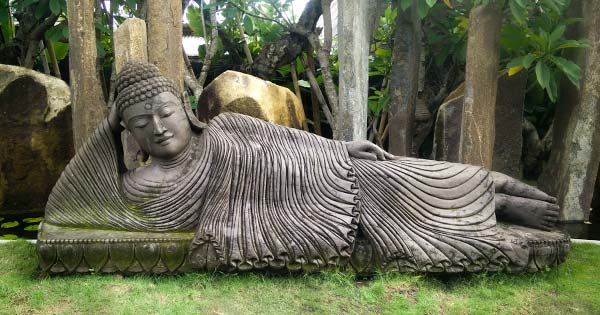 There are plenty of stone sculptures in this family playground, from minor to giant statues. I mostly saw large stone statues, especially Buddha statues.
The number of statues and rock art is vast, and almost all areas have stone sculptures. All stone crafts and sculptures at the Big Garden Corner Denpasar are traded and mainly exported. Therefore, most of this place's sculpture and stone art look new.
Find Here, "Jet Ski Ride At Sanur Beach Bali" >>>
2. Miniature of Borobudur Temple
Inside the garden is a miniature Borobudur temple with a height of 5 meters. Many visitors want to take pictures at the Borobudur miniature during my visit, and there is a small queue to get your turn.
If your visit with children, you should always supervise them, children. Avoid leaning on the reliefs, and don't allow your children to climb the statue. Most figures, carvings, and stone crafts on display are for sale and not permanently installed.
Find Here, "Banana Boat Ride At Sanur Beach Bali" >>>
3. Small Tree House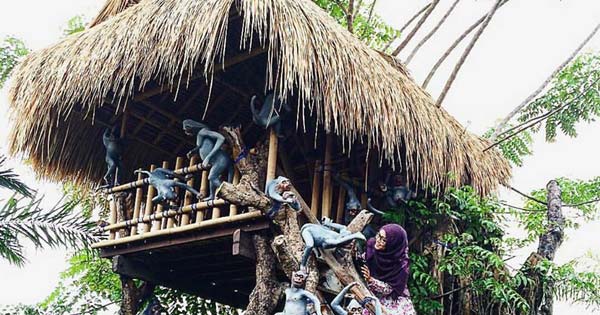 There is also a treehouse made of wood and bamboo with a thatched roof inside the garden area. The uniqueness of this treehouse, there is a monkey statue around the scope of the stairs and treehouse. If you want to see a giant treehouse, please visit the Tulamben tree house, Karangasem.
4. Tree Trunks With Cross Shapes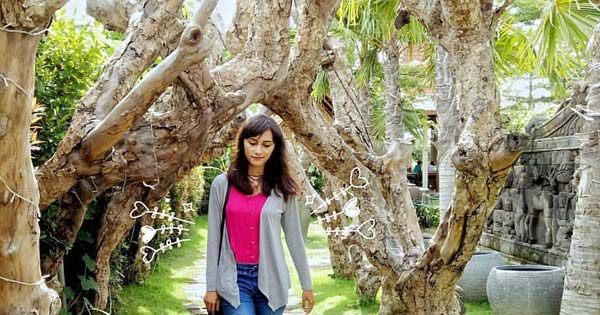 Of all the uniqueness and attraction of the Big Garden Corner Bali, in my view, the tree trunk with this cross shape is the most unique. The crossed tree trunk is scarce, and the price is very high.
Read More, Nusa Dua or Sanur For Families Holiday?
5. Colorful Hangout Spot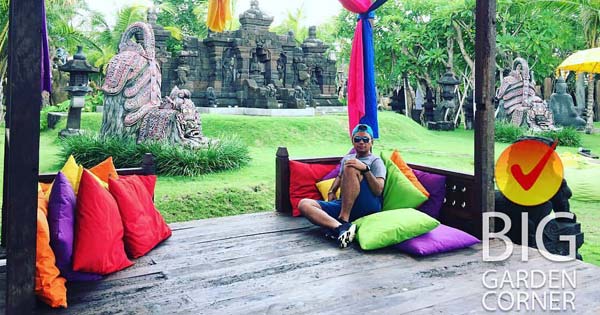 There are many places around the garden area to sit and relax, with colorful cushions and chairs. There is also a relaxing hangout spot in the garden area, with large umbrellas and wooden tables.
Find here, "Bali Submarine Tour" >>>
6. Colorful Umbrella Roof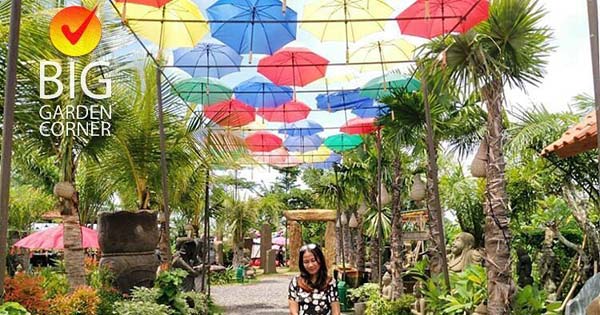 Apart from the miniature Borobudur temple, another place that is most interesting as a photo spot is on the path with a colorful umbrella roof.
If you plan for pre-wedding photos in Bali, you can use Big Garden Corner as a location for pre-wedding photos. However, there is a specific entrance fee for the pre-wedding photo session at Big Garden Corner.
Apart from being a place for pre-wedding photos with a unique background, you can also use Big Garden Corner Denpasar as a location for wedding receptions. For wedding receptions, this venue can accommodate 500 – 1,000 invitations.
Read here: "10 Best Locations for Prewedding Photo in Bali" >>>
7. Restaurant & Children's Playground
There is a restaurant providing western and Indonesian cuisines, such as fried rice, pizza, and burger. I was still full during my visit, so I only ordered one scoop of vanilla sorbet. Next to the restaurant, there is a children's play area; although the site is not too big, your kids will love this place.
See here: What To Do In Bali with kids?
8. Large Parking Area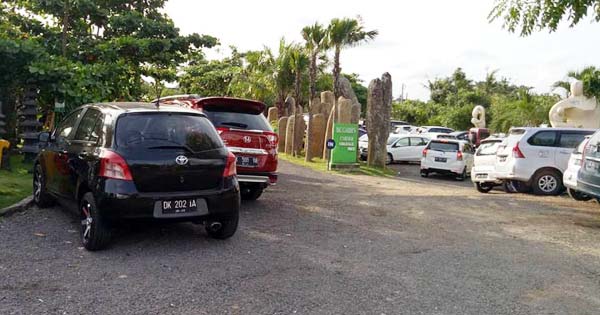 One of the criteria for a comfortable vacation spot is the availability of a large parking area. Big Garden Corner Bali has an extensive parking area. The vehicle parking area is also close to the entrance. Then how much is the vehicle parking fee? Is FREE!
9. Pikachu Day Out On Sunday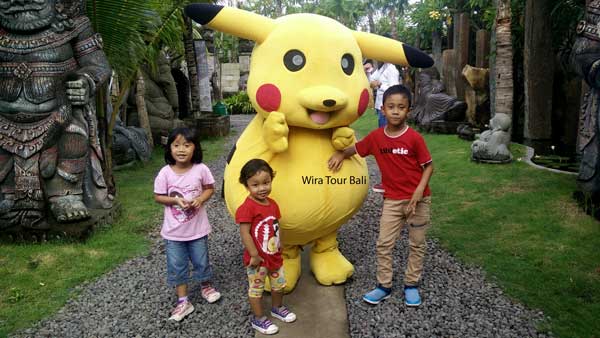 If you are on holiday in Bali with family and children and plan to visit the Big Garden Corner, you should choose to sense on Sunday. On Sundays, Pikachu walks around the garden area. You and your family can take pictures with the Pikachu as much as you want.
Location of Big Garden Corner Bali
After you know the attractions at the Big Garden Corner Denpasar, you will need to find the location and address of Big Garden Corner Bali. The address is Jalan By Pass Ngurah Rai, Kesiman, Denpasar, Bali. Furthermore, please use the Google map by clicking the link below!
Look, "Big Garden Corner Google Map" >>>
Distance and Travel Time
Suppose you depart from Melasti beach Ungasan heading to Big Garden Corner Sanur. In that case, you will need 60 minutes of travel with 32 kilometers.
Let's say you depart from Kuta beach and then head to Big Garden Corner Sanur; you will need 45 minutes of travel time with an 18-kilometer distance.
Transportation
The best way to get around in Bali is by private transport, either a scooter or car. You can easily find scooter rentals in Bali through Google. For car hire, you can also use Google to find car rental companies near your hotel.
A scooter rental price depends on the type of scooter you want to ride; on average is around IDR 100,000/per 24 hours. On average, for car hire with a driver, IDR 600,000/12 hours, including driver service and fuel.
Read More, "Guide On Visiting Suluban Beach Uluwatu" >>>
Opening Hours & Best Time to Visit Big Garden Corner Sanur
Meanwhile, the opening hours of Big Garden Corner are from 09:00 – 18:00 every day. Before the Pandemic, Big Garden Corner's opening hours are from 09:00 – 21:00. The opening period is quite long, from daytime to evening.
The majority of visitors will aim for photos when visiting Big Garden Corner. Therefore, the best time to visit is around 16:00 because the sunlight at 5:00 p.m. is already soft. With soft sunlight, it's easier for you to get natural photos, even with a smartphone camera. Most visitors typically spend up to 1.5 hours here.
If you are familiar with lighting photography, have at least two external flashlights and a DSLR camera.
See here, "Sea Walker Sanur Bali Package Prices" >>>
Big Garden Corner Sanur Entrance Fee
Then, to enter the Big Garden Corner Bali area, you will be charged an entrance fee. You can utilize the waterpark, playground, and recreation park area by paying an entrance ticket.
Furthermore, the entrance fee for the Big Garden Corner Sanur Bali is IDR 75,000 / per person. Then how much is the entrance fee for children? Meanwhile, the Big Garden Corner entrance fee for children is the same as for adults, IDR 75,000 / person. However, for children under one year, admission is free.
Look, "Bali Zoo Entrance Fee" >>>
Meanwhile, the entrance ticket is also a voucher for the restaurant; you can exchange it for mineral water or iced tea.
That's all about the Big Garden Corner. Furthermore, if you find this article interesting, please share it with your friends or family. I will be more enthusiastic about writing articles on other fascinating Bali attractions by sharing this article with friends or family via social media.
Furthermore, please write them down in the fields below if you have any questions, comments, or suggestions.