On this page, you will find about one of the Bali marine sports tours available at Tanjung Benoa beach Nusa Dua Bali. One of them is a rolling donut ride. Bali rolling donut activity, to those people who never try it, surely there will be a question in their mind. Therefore, on this page, you will get further detail information about rolling donut ride in Tanjung Benoa Bali such as;
Bali Water Sports Location For a Beginner.
Tanjung Benoa Beach Bali.
Type of marine recreation in Tanjung Benoa.
A rolling donut Bali prices.
Bali Beaches
The island of Bali as a tourist destination offers plenty of attraction choices, such as art culture attraction and natural appeal. The most famous natural attraction in Bali is the white sand beaches. There are many Bali beaches such as Kuta Beach, Sanur Beach, Legian Beach, and Tanjung Benoa beach.
Most visitors, when visiting Bali beaches, are looking for a sunset, relax on the beach, swimming and surfing. However, if you are not able to surf and want to try a marine activity, you must be wondering! Where can I join Bali maritime activity suitable for a beginner and first-timer?
Bali Water Sports Location For a Beginner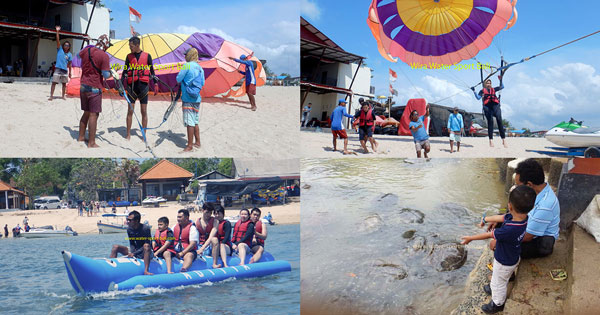 Even though Bali's island has plenty of white sand beaches, not all Bali beaches suitable as Bali water sports locations for a beginner, below are the white sand beaches in Bali ideal for beginner Bali water sports tours.
Tanjung Benoa beach.
Sanur Beach.
Nusa Penida Island.
Best Water Sports Tour Area In Bali
From all above Bali beaches, which one is the best place for Bali water sports tours suitable for a beginner? To answer which of the above Bali beaches is the best for water sports location for a beginner is dependent on your criteria. Due to each of the water sports tours location, offer its uniqueness.
What I can say, if you are looking for a water sports tour location in the south part of Bali, offer affordable prices. After a marine sports activity, you would like to have the tour to other Bali attractions in the southern part of Bali. Then the best location for a water sports tour is in Tanjung Benoa beach.
Tanjung Benoa Beach Marine Recreation
The Tanjung Benoa beach location is very strategic due to its location close to other famous Bali attraction, such as;
Nusa Dua attraction.
Pandawa Beach Bali.
The Tanjung Benoa beach offers clean white sand beaches. Also, the seawater conditions in Tanjung Benoa beach is calm. Therefore its perfect location for the Bali water sports tour for a beginner. Moreover, among travelers, Tanjung Benoa beach is known as the Bali water sports center.
For your information, on the shoreline of Tanjung Benoa beach, you will find plenty of water sports tour provider. Also, each water sports tour provider in Tanjung Benoa beach offers many marine activity choices at different prices. The Bali water sports activities available at Tanjung Benoa beach, well known by travelers as Tanjung Benoa aquatic sports activities. The type of Bali water sports tour available in Tanjung Benoa beach such as;
Single parasailing ride, accommodate 1 participant.
Flyboard game.
Bali parasailing adventure or known as Tandem Parasailing Bali, able to accommodate up to 3 people fly at once.
Rolling Donut ride Bali.
Read More: "Tanjung Benoa Marine Sports Activities Choices & Prices" >>>
Tanjung Benoa Rolling Donut Ride
While doughnut, a word that familiar to our ears. The shape is round, and in the middle, there is a hole. However, on this page, we do not write about doughnut as food but a rolling donut as a water sports activity in Bali. If you go to Tanjung Benoa Beach Bali, you see a new game called Bali rolling donut. These are not a set of eating donuts.
The Bali rolling donut ride, in Indonesian called Bali Rolling Donat! As an inflatable raft, which is looking like Doughnut. Above all, the boat can accommodate up to two or five people and pull by speedboats around the coast. The game is relatively new for Tanjung Benoa marine recreation, in addition to:
Rolling Donut Boat
Furthermore, rolling donut boat capacity varied by the number of passengers, it can be for two or four people. Therefore, the number of passengers on the right side and the left side of the boat should be the same. These to keep the balance when a speedboat pulls the inflatable raft. The distance between inflatable rafts to speedboat is about five meters. Also, one round of this game lasts about 15 minutes.
The tools used, such as inflatable rafts, speedboat, life jacket used by each passenger, and the guide must meet international standards. Due to the comfort and safety of riders are the top priority. Before the rolling donut Bali game begins, the guide will be happy to give directions. Such as, what to do on the boat, how to secure yourself, other safety procedures.
The guides well trained and experienced will be happy to accompany you on the beach while enjoying the beautiful coastal scenery during the day. It is fun when done with friends and family.
Bali Rolling Donut Tanjung Benoa Price
| Publish Rate | Our Rate |
| --- | --- |
| USD 40 / person | IDR 110.000 / person |

Note On Rolling Donut Bali Recreation
Rolling Donut Tanjung Benoa activity duration is 15 minutes.
The Tanjung Benoa water sports operator who provides rolling donut Bali is Aditya Tanjung Benoa Water Sports.
The price for rolling donut Bali on the above table is for one person.
The activity price includes insurance, service charge, and tax.
Participant's insurance provides by Aditya Tanjung Benoa Watersports Bali.
Participant Minimum age allows eight years old.
The maximum age allows 65 years old.
Life jacket provided.
Publish price will be applied if you book rolling donut activity on the water sports site (walk-in booking).
Our internet price only applies if you book through us.
Transportation excluded in the rolling donut ticket prices.
To get free pick up and return transfer services, you need to reserve three activities for one person with a minimum booking of two people. Alternatively, reserve two events for each with a minimum booking of three people.
Get marine water sports packages in Bali for cheaper rates with pick up and return transfer services.
Fun Outdoor Bali Activities
If you like rolling donut as your Bali activities, then you should consider Bali white water rafting. Rafting also uses inflatable rafts and has longer durations. Find out more about rafting in Bali by clicking the link.
Rolling Donut Ride In Tanjung Benoa Beach FAQ
From our experience in providing Tanjung Benoa water sports specific on Rolling Donut Ride, our customers will ask a few questions before making a booking. For example, below are the most frequent questions ask by our customers regarding Bali Rolling Donut.
How many people the maximum capacity for one Rolling Donut boat?
One rolling donut boat can accommodate a maximum of five people at once.
How long the duration of the Rolling Donut ride?
One ride will last around 15 minutes.
Can we book for two people, if the boat capacity is five people?
You can book for two people, and the participants sitting on the boat will be arranged to maintain the boat balance.
What is the smallest age for kids to join Rolling Donut ride?
The minimum age requirement to join Tanjung Benoa Rolling Donut ride is seven years old.
Life jacket usage for participants, is it included on the Bali rolling donut price?
Each participant must wear a life jacket during a rolling donut ride without additional charges for life jacket usage.