The Rolling Donut Water Sports is one of the marine tourism activities on Tanjung Benoa Beach, Bali. This water sport offers thrilling adventures that can heighten the joy of your family holiday in Bali. Are you curious about the Rolling Donut water sports activity price at Tanjung Benoa Beach, Bali? Keep reading! This article will provide comprehensive information about activity locations, game details, booking processes, and discount prices for the Rolling Donut Watersport on Tanjung Benoa Beach, Bali.
Bahasa Indonesia, Bali Rolling Donut Watersport: Aktivitas Petualangan Seru di Tanjung Benoa Harga Murah.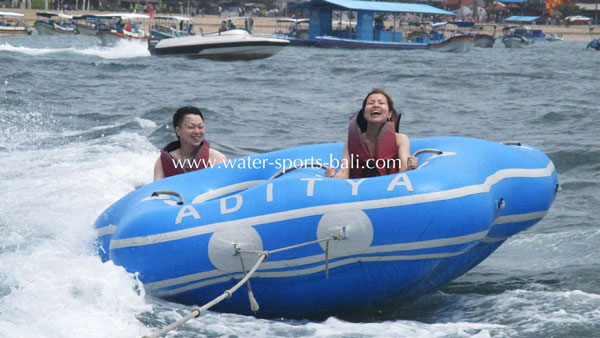 Introduction to Bali Rolling Donut Watersport Activities
The Bali Rolling Donut Watersport game may be unfamiliar to those who have never attempted it. Hence, for the uninitiated, this marine tourism activity can add fun, adventure, and excitement to your vacation in Bali.
A. Location of Rolling Donut Water Sports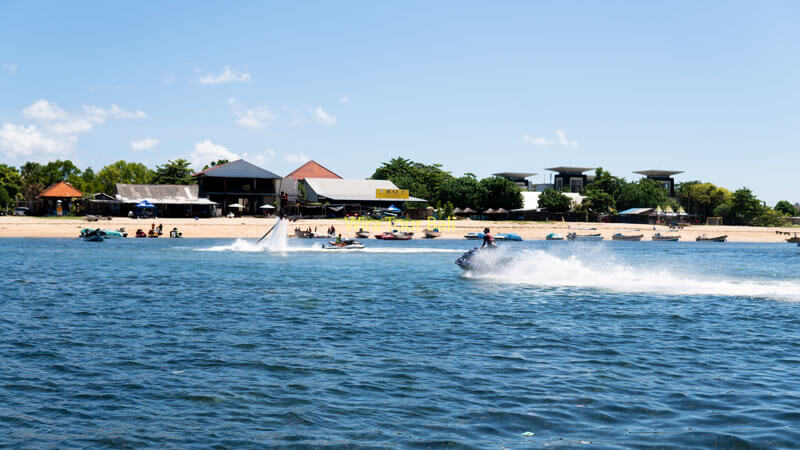 Several locations in Bali, namely Nusa Penida, Tanjung Benoa Beach, and Sanur Beach, offer Rolling Donut water sports activities. This article, however, focuses specifically on the inflatable donut ride water sports activities on Tanjung Benoa Beach. If you want to know the Rolling Donut Watersport discount price in Sanur, Bali, please click the link.
B. What is the Rolling Donut Watersport at Tanjung Benoa?
If you visit the Tanjung Benoa tourist destination, you will encounter the aquatic donut adventure. The Bali Rolling Donut Watersport is a popular water sport in Tanjung Benoa for Indian tourists. Participants ride a donut-shaped rubber boat during the activity. A speedboat pulls this rubber boat around the beach, providing an exciting adventure.
C. Why Choose Rolling Donuts at Tanjung Benoa for Family Holidays?
The Bali Rolling Donut offers a unique experience, unlike other adventure tourism activities in Bali. This marine tourism activity is suitable for family vacations, especially if you are vacationing in Bali with children over seven years old.
If you want to know the types of marine tourism games suitable for children over seven, please click the provided link.
The donut boat experience in Tanjung Benoa offers a fun and safe water play experience for the whole family. Besides this marine adventure, you can try other Tanjung Benoa water sports activities, such as Flying Fish Bali and Parasailing Adventures.
Bali Rolling Donut Watersport Activities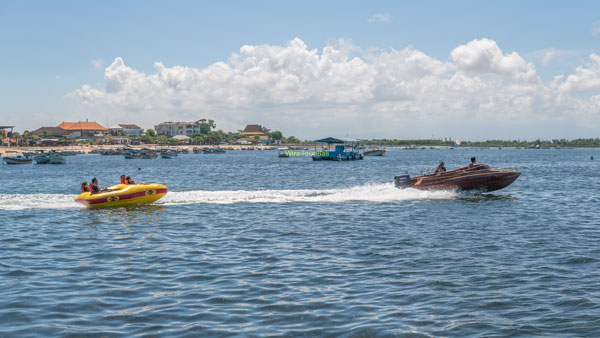 Furthermore, playing Rolling Donuts with friends or family will create an unforgettable holiday experience in Bali. Also, you can enjoy the beautiful panorama of Tanjung Benoa Beach.
Passenger Capacity and Safety in Rolling Donut Water Sports
The passenger capacity of one inflatable donut ride varies. Donut boat experiences are available for two, four, and five passengers. In addition, the positioning of passengers on the right and left sides of the craft must be the same to maintain balance when the speedboat pulls the donut boat.
Equipment for the Bali water-based donut ride, such as boats, speedboats, and life jackets, must meet safety standards. This is crucial because the comfort and safety of the Rolling Donut Watersport participants are top priorities.
Moreover, the distance between the speedboat and the rubber craft is approximately 10 meters. Passengers sit on the boat while holding the transverse rope. The aquatic donut adventure resembles riding a banana boat in Tanjung Benoa.
Seawater Conditions at Tanjung Benoa Beach for the Rolling Donut Watersport
Tanjung Benoa is famous for its tranquil sea waters. It is a perfect location for watersports such as the Rolling Donut, jet skiing, Bali Flyboard, and Glass Bottom Boat to Turtle Island.
Comfort and Safety Factors in Rolling Donut Watersport
Before starting the Rolling Donut watersport, the guide will provide the necessary instructions. These include conditions while on the boat and how to save yourself if you fall overboard, among others.
Experience During the Rolling Donut Water Sports Activities
You sit on an inflatable donut boat, then cruise on the surface of Tanjung Benoa's serene sea waters.
As you ride the Bali Rolling Donut watersport, you will experience the strong sea breeze.
An adrenaline-pumping sensation will engulf you when the speed of the boat pulling the inflatable donut increases.
All participants will grip the rope tightly when the inflatable donut starts veering right or left while slamming against the sea waves.
Besides the thrilling sensation, you also get to see Tanjung Benoa's sea panorama from a different perspective.
If you are unable to swim, there's no need to agonize! Every participant must wear a life jacket. Furthermore, a guide is on standby to help you back on the inflatable donut if you fall into the sea. So rest assured that it's safe!
Rolling Donut Water Sports Tanjung Benoa Beach YouTube
Price for the Tanjung Benoa Rolling Donut Watersport
| Published Prices | Our Prices |
| --- | --- |
| IDR 350,000 | IDR 125,000 |
Details of the Tanjung Benoa Rolling Donut Activity Pricing
The Rolling Donut watersport activity at Tanjung Benoa lasts for 15 minutes.
The discount price of the game in Bali for international visitors.
Moreover, the watersport price is valid until 31 December 2023.
The price for the rolling donut watersport is per person, with a minimum booking of 2 people.
The provider of the game is Aditya Watersport.
The discount price for our aquatic donut adventure is an online rate, available if you order through Wira Water Sports Bali.
The published price will apply if you order the Rolling Donut Watersport Bali at the activity location.
The minimum age for participants is 7 years, and the maximum for donut boat experience participants is 65.
Included in the Tanjung Benoa Bali Rolling Donut Watersport Price
The price of the Rolling Donut Watersport in Bali includes insurance, service fees, and taxes.
The insurance provider for participants in Bali water sports activities is Aditya Tanjung Benoa Watersport.
The watersport discount price covers using bathrooms, changing rooms, toilets, lockers, towels, guides, vehicle parking area, and all the equipment required during the activity, including a life jacket.
Excluded from the Bali Rolling Donut Water Sports Ticket Price
The discount price of the Bali Rolling Donut does not include photos and videos taken during the activities.
The donut boat experience does not include a shuttle service.
Tipping the staff of Tanjung Benoa Watersport is not obligatory and is not included in the discount price.
Additional expenses, such as food and drinks purchased at the activity location, incurred by participants do not factor into the price of the Bali water-based donut ride.
Ticket Ordering and Voucher Exchange Of Rolling Donut Watersport Tanjung Benoa
Here's how to order tickets and exchange vouchers if you wish to try the excitement of the Tanjung Benoa Rolling Donut activity with family or friends.
How to Order Tanjung Benoa Rolling Donut Watersport Tickets
You can book Bali rolling donut water sports tickets effortlessly and fast. Here's how to do it:
Contact us by telephone or WhatsApp at the following numbers: +62813 3956 3400 or +62822 4714 8222.
You can also call our office at +6236 6558 1096.
Send us an email at the address info@water-sports-bali.com.
Click the link here to fill out the Tanjung Benoa watersport order form. Or, you can directly click the WhatsApp button to talk to our reservation team.
Payment & Confirmation:
Participants are expected to fill in all data requirements before proceeding to payment.
We accept various payment methods: BCA or Mandiri bank transfer, PayPal, or Wise.
Our reservation staff will send a ticket order confirmation via email or WhatsApp upon successful payment.
Retain proof of this order as you must present it at the Tanjung Benoa water sport activity location.
We will provide the activity location's address and a Google Maps link for easy access to the Tanjung Benoa water sport activity location.
Voucher Exchange For Tanjung Benoa Rolling Donut Water Sports
Process Exchanging vouchers or confirming bookings is also straightforward. Here's how:
After receiving the order confirmation, come to the rolling donut location on Tanjung Benoa Beach on your activity date. Use Google Maps to find the Aditya Water Sports location.
Upon arriving at the activity location, show proof of your order to our Tanjung Benoa Aditya water sports location staff.
So, what are you waiting for? Order your tickets now and experience the joy of riding the Rolling Donut boat on your vacation in Bali!
List of Items to Bring
Bring a change of clothes for use after your water activity.
Shield your skin from the sunlight by applying sunscreen.
Bring a waterproof camera to capture exciting moments without damaging your camera or phone.
Carry cash for purchases, photos, videos, food, and drinks at the activity site.
Requirements To Get a Free Shuttle
To qualify for a free shuttle, customers must, at a minimum:
Order 3 Tanjung Benoa watersport games for one person. The minimum booking is for 2 people.
Order the Tanjung Benoa watersport package. The minimum booking is for 2 people.
Popular areas of south Bali that qualify for the free shuttle service include Tanjung Benoa, Nusa Dua, Sawangan, Kampial, Kutuh, Jimbaran, Ungasan, Kedonganan, Tuban, Mumbul, Kuta, and Legian.
Furthermore, if you're interested in exploring white sand shores and spectacular sunsets, please refer to our list of stunning beaches for sunset, a must-visit in Bali.
Rolling Donut Water Sports Cancellation & Game Exchange Policy
Bali Rolling Donut at Tanjung Benoa Beach provides a thrilling adventure, but there may be occasions when you need to cancel or switch activities. The policies for cancellation and exchange are as follows:
If high waves or strong winds cause the cancellation of the Bali water sports activity, the organizers will offer the option to either reschedule or refund.
If participants want to cancel, they must do so 48 hours before the scheduled Bali Rolling Donut watersport activity. Players are qualified for a full refund if the cancellation happens within this timeframe.
Cancellations created less than 24 hours before the Tanjung Benoa water sport activity will incur a 50% cancellation fee.
There will be no reimbursements for cancellations made on the day of the marine adventure or for participants failing to arrive at the water sports location.
Refunds do not cover bank transfers, PayPal, Wise, and administrative fees.
If you opt to exchange the Tanjung Benoa water sport activity, you can choose another marine adventure of the same or lower price value. If the selected activity is more expensive, participants will be asked to pay the difference in cost.
Frequently Asked Questions
When providing Bali Rolling Donut activities for tourists, we receive numerous inquiries before guests order their Bali water sports activities. The following are the most generally asked inquiries regarding the aquatic donut adventure on Tanjung Benoa Beach.
What is the capacity of a single boat?
A maximum of 5 people can participate together on one boat.
–
Is it possible to order for two people, even though the boat's maximum capacity is for 5 people?
Yes, the minimum order for the activity in Bali is 2 people. Seating will be arranged to maintain the boat's balance.
Above all, Bali Rolling Donut Watersport offers the whole family an entertaining and exciting adventure. So, what are you waiting for? Book your tickets now and experience the thrill of the Tanjung Benoa, Bali water sports activity!
Fun Outdoor Bali Activities
You should consider Bali river rafting if you like rolling donuts as your Bali activities. River rafting in Bali also uses inflatable rafts and has longer durations. Find out more about rafting in Bali by clicking the link.