Surrounded by warm tropical waters all year round, Bali Island is a prime destination for diverse water sports and adventure activities. Two excellent locations for beginners to dip their toes in these aquatic recreations are Sanur Beach where you can enjoy a Jet Ski ride without an instructor, and Tanjung Benoa Beach. And one of the most thrilling watersports in Bali we offer is the rolling donut watersport in Sanur, an adrenaline-pumping ride on inflatable tow tubes pulled by a speedboat. Riding on inflatable tow tubes pulled by a speedboat, it is the perfection of fun in the tropical paradise of Bali.
Bahasa Indonesia, Harga Rolling Donut Watersport Di Pantai Sanur Bali.
Experiencing Bali Diverse Marine Tourism Adventure Activities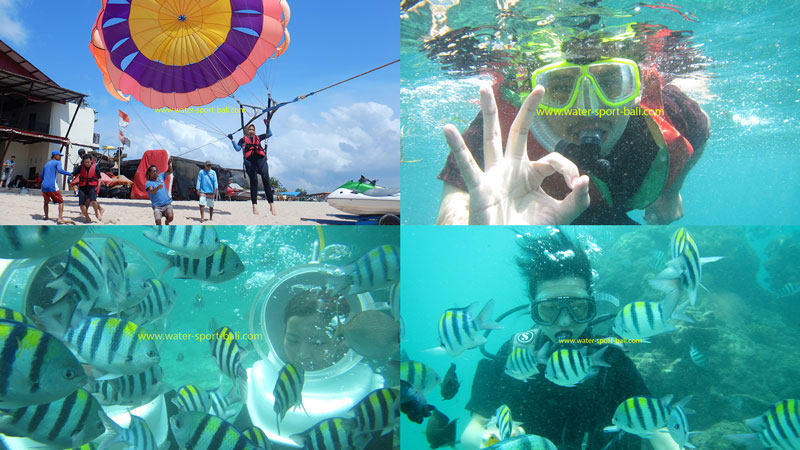 Bali's magnetic charm attracts visitors from far and wide, including countries like India, Singapore, the Philippines, Europe, and Australia. This is mainly due to Bali's enticing variety of tourist attractions and exhilarating holiday activities. Among these, water sports hold a special allure for many. If you're interested, take a look at the Bali Marine Walk Sanur Price.
These activities range from river rafting to lake-based games at the Bedugul Beratan Lake tourist area. However, Bali's beach or seawater sports tend to be the most popular including the Rolling Donut Sanur.
Bali Beach Resorts: The Epicenter of Marine Tourism Activities
Most beach resorts in Bali offer various marine tourism activities, with scuba diving and surfing being the most common. These activities, however, are typically suited for experienced participants.
What about those without a background in surfing or scuba diving? Can they still enjoy Bali water sports? The answer is yes. Several locations in Bali cater to beginners in marine tourism games, including:
Dive into the Rolling Donut Watersport in Sanur
Especially on this page! We will provide specific information about marine tourism activities on the Sanur coast with rolling donut boats ride. If you wish to acknowledge further aspects of the game choices and the price of water sports on Tanjung Benoa Beach, please click the link!
What Is The Bali Rolling Donut Watersport?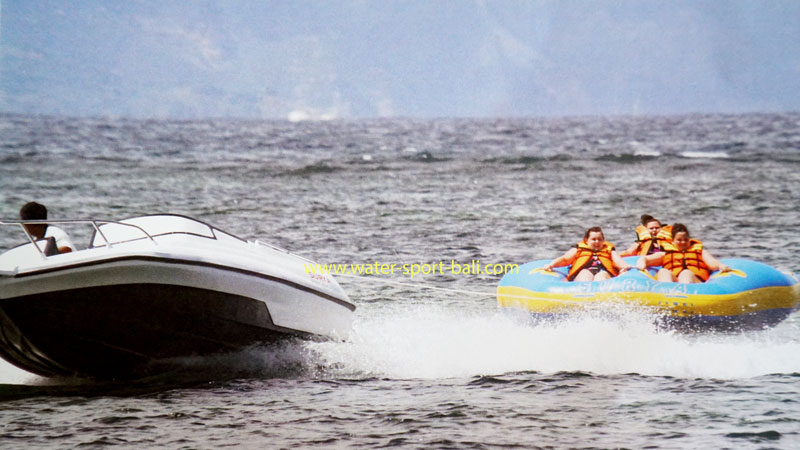 For first-time visitors to Bali or those unfamiliar with the rolling donut watersport, you might wonder what this activity entails. The rolling donut is a type of towable tube ride, similar to the boats used for Telaga Waja river rafting or banana boat rides in Tanjung Benoa Bali.
The tube is shaped like a donut, and during the ride, participants sway from side to side, hence the name "rolling donut." These exciting watersports rides are found at Tanjung Benoa Beach and Sanur Beach in Bali.
Where Can You Enjoy Rolling Donut Rides in Bali?
Furthermore, you can easily find Rolling Donut rides at Tanjung Benoa Beach and Sanur Beach in Bali. Therefore, if you're interested in the Rolling Donut Watersport Price In Tanjung Benoa Bali, kindly follow the given link! Also, if you want to join more than 2 Tanjung Benoa water sports, we recomend you to book the Bali water sports package.
The Attraction Of Donut Watersport Rides Bali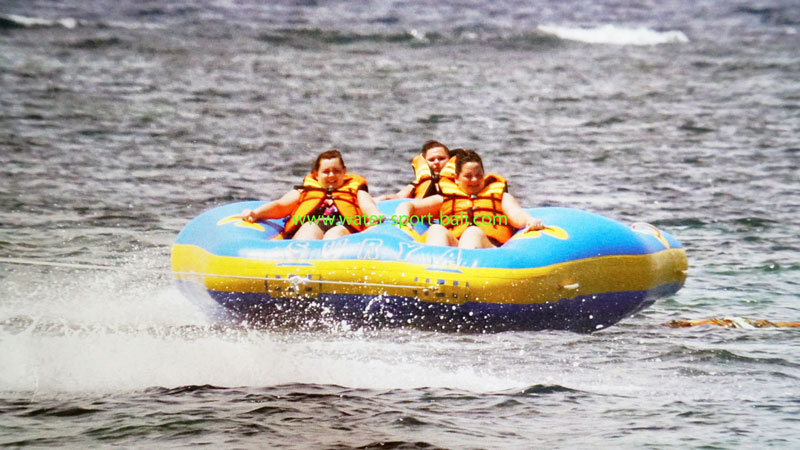 Getting Ready for the Rolling Donut Watersport Bali
Before diving into the Rolling Donut Watersport Bali adventure, players must put on a life jacket, provided by the water sports operator. The professional on-site staff assist participants as they board the inflatable towable tubes of the rolling donut.
Experience the Adventure Activities of Riding the Rolling Donut in Bali
The rolling donut towable tubes in Bali can usually accommodate up to five people at once. A speedboat, tethered to these tubes, drives the rolling donut into the sea. The faster the speedboat goes, the more exhilarating the ride becomes, making the rolling donut particularly popular among teens seeking an adrenaline rush. Besides rolling donuts, a banana boat ride at Sanur Beach is also favorite watersports activity among visitors.
The Unique Appeal of the Donut Watersport Rides in Bali
Above all, each rolling donut ride offers a unique blend of excitement, laughter, and the exhilaration of speed on the water. This combination makes these rides a must-try experience for any visitor to Bali.
Pricing and Booking Information for Rolling Donut Watersport Sanur
Rolling Donut Sanur Bali Price
| Publish Price | Online Price |
| --- | --- |
| IDR 338,000/person | IDR 235,000/person |
Details Regarding Rolling Donut Watersport Sanur Prices
The Rolling Donut Watersport in Sanur Beach requires at least two participants per order.
Each ride lasts approximately 15 minutes and can accommodate up to 5 participants on the towing tube.
Bali Surya Dive Center Sanur, located on Sanur Beach, provides watersport services.
Please note that the listed price for Sanur Beach Rolling Donut Watersports applies per participant.
Children with the lowest age of 10 and adults up to 50 can participate in the activity.
The above publish rates apply to bookings made directly at Bali Surya Dive Center Sanur. However, you can enjoy discounted online prices if you reserve your spot through Wira Water Sports Bali. These rates are valid until December 31, 2023.
Bali Watersports Sanur Beach Price Include
Prices for rolling donut rides in Sanur include insurance, service fees, and taxes.
Bali Surya Dive Center Sanur is the company that administers participant insurance.
Bali Surya Dive Center Sanur provides life jackets.
All equipment need it for the adventure activities in Bali.
Donut rolling participants can use changing room facilities, toilets, shower rooms, and towels.
Sanur Beach Watersports Bali Price Exclude
Shuttle transportation is excluded from the Sanur Rolling Donut price; please contact us if you want a shuttle service.
Photo and video during the adventure activities in Bali.
Personal expenses such as buying food and drink at the water sports location.
Also, the Bali Rolling Donut price does not include tips for the water sports staff.
Booking Rolling Donut Sanur
To get comprehensive details and to book your Rolling Donut Sanur ride, please reach us through any of the following means:
Email: info@water-sports-bali.com.
WhatsApp Call & Chat: +62 813 3956 3400.
WhatsApp Chat: +62 822 4714 8222.
Office Telephone: +62 366 5581096.
Alternatively, you can complete the booking form provided below.
Sanur Beach Watersports Bali Booking Form
Location of Rolling Donut Game on Sanur Beach
Furthermore, Wira Water Sports partners with Bali Surya Dive Center Sanur to bring you the Rolling Donut ride on Sanur Beach, Bali. Therefore, you'll need to present a voucher from Wira Water Sports Bali at the Bali Surya Dive Center Sanur to avail of the online prices. Also, please use the map below to make it easier to find the location of Bali Surya Dive Center Sanur.
Find Here Surya PADI Dive Center & Water Sport Google Maps.
Frequently Asked Questions About Rolling Donut Watersports Sanur Beach
Is Swimming Proficiency Required to Participate in Rolling Donut Watersport Sanur?
Participating in this aquatic activity does not require any swimming abilities. The Sanur Beach watersports operator ensure the safety of even non-swimmers by providing them with a life jacket.
–
What Safety Protocols Should Participants Follow During the Ride?
While on the rolling donut boat at Sanur Beach in Bali, it's imperative to maintain a firm grip on the provided handles. Participants might fall from the inflatable tube, typically when they do not hold on securely. However, such incidents are never intentional. Should anyone fall into the water, they will remain buoyant due to their life jacket until assistance arrives from an instructor.
–
Is There a Refund Policy in the Event of Severe Weather?
Yes, severe weather can indeed cause the cancellation of the rolling donut ride at Sanur Beach. If the Bali Surya Dive Center Sanur decides the weather conditions are unsafe, customers can reschedule or cancel for a full refund.
–
Can I Book Online for Rolling Donuts Through Wira Water Sports and Pay Upon Arrival at the Bali Surya Dive Center Sanur?
Sanur Watersports activities require advance online payment. Conversely, for Tanjung Benoa water sports, you can make payments directly at the venue.
–
What Proof of Payment Will Customers Receive After Paying Online for Rolling Donuts with Wira Water Sports Bali?
You'll receive a receipt for the money transfer upon successful online payment. We will send you a Sanur rolling donut voucher once we receive the payment. This can be sent via WhatsApp or email.
Are There Specific Conditions That Disqualify Individuals from Participating in Rolling Donuts on Sanur Beach in Bali?
Yes, certain conditions make individuals unsuitable for the Rolling Donut Sanur Bali experience. This includes individuals with a history of heart disorders, epilepsy, respiratory difficulties, back pain, and pregnant women.