Are you preparing for a holiday to Bali and planning to visit Sanur Bali attractions? Most likely, you answered yes! Because you found this page about the banana boat ride in Sanur Beach. Besides detailed information about the banana boat ride Sanur. On this page, you will also find information such as;
Bahasa Indonesia, "Harga Menaiki Banana Boat Di Pantai Sanur Bali" >>>
Bali Water Sports Holiday Activities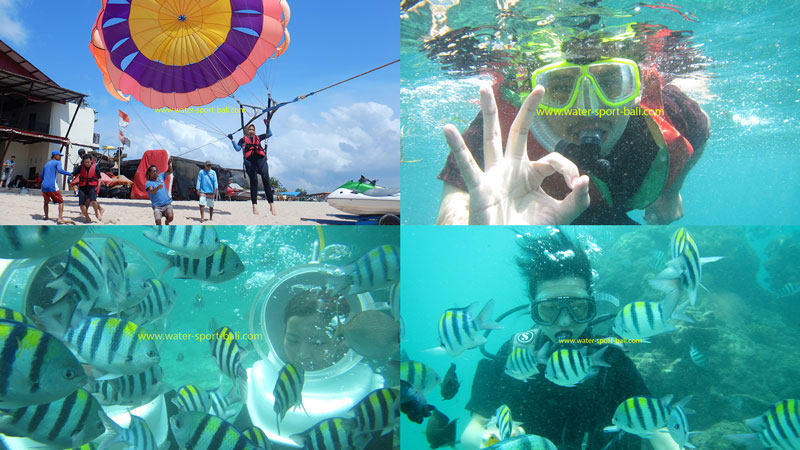 Furthermore, travelers who vacation in Bali not only visit Bali tourist attractions. Visitors also love outdoor activities, which are Bali water sports tour activities. Also, most watersports in Bali are suitable for beginners and children.
International tourists who love to join water sports in Bali mainly from India, the Philippines, Singapore, United Emirates Arab, Hongkong, European, and Malaysian. The reason is that the island of Bali offers many Bali water sports games.
When tourists travel to Bali, they will find many Bali watersports rides suitable for beginners. Such as Bali white water rafting, jet skiing, flying using parasailing, submarine tours in Amuk Bay, snorkeling, banana boat rides, and seawalker/marine walk.
See here Sanur Bali Marine Walk Ticket Prices.
Water Sports Location In Bali
The type of water sports in Bali is differentiated based on the location of the activity. River rafting activities will take the area on the river. Three river locations in Bali are used for Bali rafting activities, such;
Whereas marine water sports in Bali are available in many places like surfing activities, they can take place on Echo Beach Bali, Balangan Beach Bali, Kuta Beach Bali, and Padang Padang Beach.
While snorkeling and scuba diving activities are carried out in Nusa Penida, Amed beach, and Tulamben or Menjangan island in western Bali, however, specifically for beginners' Bali water sports tours, there are three locations.
Among the many choices of water sports games for tourism activities in Bali, banana boat rides are very popular among Indonesian, Indian, Singapore, and Philippine travelers. Especially Indonesian and Indian tourists who vacation with family and children in Bali.
See Here 10 Attractions in Sanur Tourism Sites for Family Holidays in Bali.
Bali Banana Boat Ride Attraction
The Banana Boat games are one of the main attractions of the Bali marine water sports tour because banana boat games do not require participants' expertise and allow children to participate, making the Bali banana boat ride loved by tourists.
Besides being suitable for family activities, the price of a banana boat ride in Bali is also relatively low compared to other Bali water sports tour prices.
Search Here List of Tanjung Benoa Watersport Bali Prices.
What kind of watersports game is a banana boat ride?
Most of you already know banana boat rides activity. However, if you don't know, here briefly explains banana boat games in Bali.
The Bali banana boat ride uses inflatable boats that resemble bananas. So a banana boat can float on the water's surface. Then, the banana boat is tied to a speed boat. When the speed boat is gaining speed, the banana boat will run. Therefore, the one who controls the direction and speed of the banana boat is the speed boat driver.
A banana boat ride in Bali can accommodate around six people. Banana boat participants will start boarding ships from the edge of the coastline. For the safety of participants, all participants boarding a banana boat must wear a life jacket provided by a banana boat game provider.
Read here the Price of the Bali Tanjung Benoa Watersports Package, Including a Free Shuttle.
Bali Banana Boat Ride Sanur Price
| Publish Price | Online Price |
| --- | --- |
| IDR 338,000/person | IDR 243,000/person |
Banana Boat Sanur Bali Description
The Bali banana boat game duration is 15 minutes.
The banana boat bali price on Sanur Beach shown in the table above is the price for 1 participant.
The minimum order for Sanur banana boat games is two people.
Bali Surya Dive Center Sanur is a banana boat operator.
The banana boat rides on Sanur Beach internet prices on this page are only valid if you order online through Wira Water Sports Bali.
The published price will immediately apply if you make a reservation with Bali Surya Dive Center Sanur.
The price of a banana boat ride on Sanur Beach includes insurance for participants.
Bali Surya Dive Center Sanur provides insurance coverage for participants.
Participants' age requirements are 10 – 50 years old.
The banana boat in Sanur Bali price includes a life jacket for participants to wear on a banana boat ride.
The cost of a banana boat ride in Sanur does not include a shuttle service.
Banana boat ride games are unsuitable for participants with back problems, heart problems, and pregnant women.
Must Read 8 Types of Bali Water Sports in Bali Friendly for Children with Ages Over 7 Years Old.
Banana Boat Ride Sanur Booking
To make Banana Boat Ride Sanur booking, please contact our reservation through WhatsApp by clicking the below button. You also can fill out the booking form below.
Booking Form
Sanur Water Sports Bali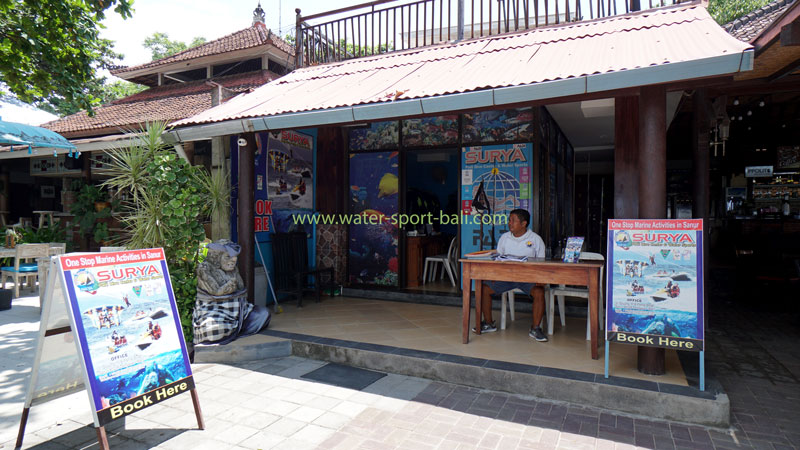 Wira Watersport Bali offers many choices of Sanur watersports tour activities. One of them is banana boat rides on Sanur Beach. The rates for a banana boat on Sanur Beach that we offer are the most competitive for your family and friends. So, enjoy your holiday in Bali by trying various water sports activities.
Trying out a banana boat ride on Sanur Beach while on holiday in Bali is a great way to break from your daily routine. Because riding a banana boat is very fun and safe.
See Here, Price of Driving a Jet Ski on Sanur Beach Bali Without Instructors.
Search Here, Cheap Price For Single Parasailing Sanur Bali.
The Difference Between Sanur VS Tanjung Benoa Banana Boat Ride
We often get questions about the differences between banana boat games on the Sanur coast and banana boat rides on Tanjung Benoa Beach. Due to the significant difference in banana boat prices in Sanur Bali with banana boat prices in Tanjung Benoa Bali.
When viewed from the side of the game, there is no difference between the banana boat on Sanur Beach and the banana boat on Tanjung Benoa Beach. The only difference is the comfort side.
Also, there is only one banana boat ride company on Sanur Beach, Bali Surya Dive Center Sanur. Therefore, the Sanur coast waters are quieter for Bali water sports activities.
Visitors who want comfort and a calmer atmosphere during the Bali water sports tour will choose a banana boat ride on the Sanur beach even though the banana boat ride price in Sanur is higher than the Tanjung Benoa banana boat ride price.
On the other hand, sightseers who want low Bali sports water prices will choose to reserve a banana boat game on Tanjung Benoa beach.
So basically, like you choose a hotel, some like to stay in five-star hotels, and some want to stay at cheap lodging.