Have you ever heard about the Bali sightseeing submarine tour? If yes, this page is about the Bali submarine cruise provided by Odyssey Submarine Bali. On this page, we inform you about how much the price is, how to make a booking, and where the submarine ride in Bali takes place.
Update, at this moment, the Odyssey Submarine Bali remains closed after the pandemic. We will revise this page if we get valid information about the Bali Odyssey Submarine reopening.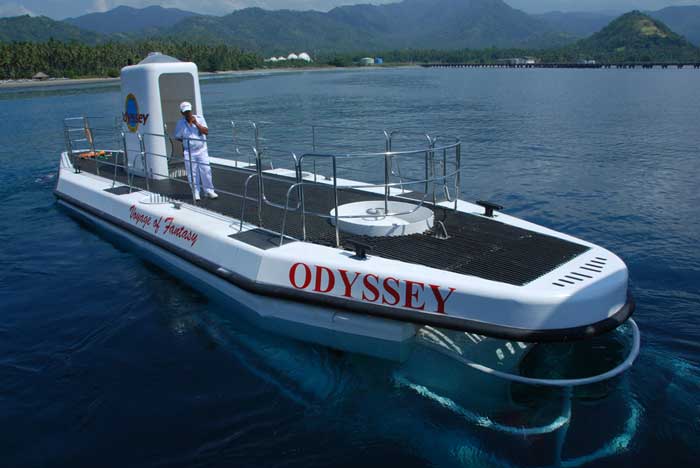 While joining the sightseeing submarine tour in Bali, you will be able to view the marvelous scenery of the underwater world of Amuk Bay, Bali, and your kids will love it. The island of Bali still doesn't have a large aquarium to see the underwater world. Travelers can see the natural underwater world live in Bali; therefore, it does not need an aquarium.
Amuk Bay Bali Location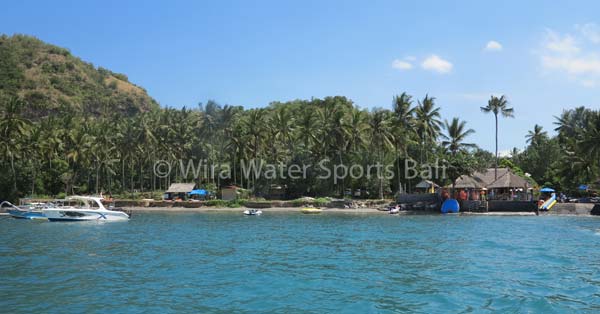 Furthermore, Odyssey Submarine Bali tours take place in the eastern part of Bali island. Moreover, the exact location is in Amuk Bay, Antiga village, Karangasem regency. While the distance from Sanur to get, Amuk Bay is about 75 kilometers. Therefore you need half hour drive to get to the location of the Amuk Bay submarine tour from Sanur.
Read More: "About Amuk Bay Karangasem On East Bali" >>>
The SUB-Specification

While for sightseeing, the submarine vessel only operates in two places:
One is in Maui, Hawaii-USA.
Moreover, the second one is in Bali.
Most noteworthy the submarine vessel creates by Victoria Machinery Depot Co. Ltd.
Also, the sightseeing submarine vessel weighs 72.6 tons, and the engine uses battery power. While the dimensionality of the submarine is 17 meters long, 4 meters wide, and 5.5 meters high, it can carry 3.500 kg of weight.
Consequently, the sightseeing submarine vessel is secure in a deepwater environment. Furthermore, the Sub can reach up to 35 meters of ocean depths. Also, can you imagine 35 meters underwater depth? Therefore, only professional and experienced scuba divers can reach 35-meter depth. Also, this scuba diver is equipped with high-quality international standard diving equipment. With 35 meters in depth, you will see the astonishing scenery of the underwater world, which you saw on television, but now live from your submarine windows.
Furthermore, the Odyssey submarine vessel can accommodate 36 passengers. Also, in the cabin of sightseeing submarine tours, seats on the left and right sides, facing the windows. While in the front section of the post, there are submarine skippers who operate the submarine vessel. Also, the Odyssey submarine cabin is fully air-conditioned. Therefore, you will not get hot inside the cabin, and your kids can freely view the beauty of underwater scenery.
Underwater Sightseeing Tours

Furthermore, Odyssey Submarine Bali is a sightseeing submarine tour. All ages can join the submarine tours. The submarine cabin is designed for safety and also with a comfortable atmosphere. Parents, adults, children, and even babies, can now enjoy the scenic beauty of Bali's underwater world, even though you are not an expert in diving.
The type of underwater scenery you will find, such as sea animals, coral reefs, and sea plants, can be seen clearly from the submarine's window. Also, the duration of the sightseeing submarine tour program is 45 minutes.
Before you enter the Sub, all passengers must be weighed. Your belonging also gets considered. This is for security reasons because the submarine has a maximum load of 3.500 kg.
Also, if you are a smoker, you will not be allowed to smoke in the cabin. Besides, all passengers are not allowed to eat and drink inside the submarine cabin. Before you enter the booth of the submarine, we recommend you go to the toilet. Due to this, there is no toilet on the Sub. Also, some of our customers wonder about the Sub's atmosphere. When we tried it, we found out the air inside the cabin is very light, making your children feel very convenient.
Things That You Might Need To Know: Turtle Island Bali.
Odyssey Submarine Bali Price
Therefore, below is the price for 12 – 70 years old.
| Packages | Rates |
| --- | --- |
| Submarine | USD 90 / Person |
| Submarine Family Package | USD 280 (2 adults + 2 children) |
Below is the price for 5 – 12 years old.
| Packages | Rate |
| --- | --- |
| Submarine | USD 60 / Person |
Price Includes:
Fully air conditioning transportation only for the area (Kuta, Jimbaran, Seminyak, Nusa Dua, Sanur, Denpasar, Ubud).
Welcome drink.
Duration 1 x dives with the Odyssey Submarine.
Barbecue buffet lunch.
Coffee/tea & drinking water.
Diving certificate.
Life insurance (Valid age till 70 years old).
Age restriction for Submarine participants: Children 5 – 12 years and adults up to 70 years.
Terms and Conditions Odyssey Submarine Bali
Also, a fuel surcharge is applied if oil prices rise.
Also, minimum booking of 2 adults.
Cancellation on the day of the reservation by participants; therefore, it charged a cancellation fee of 100% of the total payment.
No show on the day of the reservation by members. Consequently, there will be a cancellation fee of 100%.
Changes on the date of the Submarine Odyssey tour, therefore, should be notified two days in advance before your booking dates.
Also, there will be an additional charge if customers follow activities excluded in the packages that customer book.
Insurance covers a maximum of USD 100,000 / person by Odyssey Submarine Bali.
Family package (2 adults + 2 children), while children's age must be from 0 – 12 years old.
Booking Odyssey Submarine Bali
For complete details and booking of Odyssey Submarine Bali, please get in touch with us by:
Email: info@water-sport-bali.com
Phone: +62822-4714-8222 and +62 81 236 158 243 (WhatsApp Chat Only).
Office Telephone: +62 366 5581096.
Phone: +62813-3956-3400.
You also can fill out the booking form below.
Booking Form
Photo Gallery Amuk Bay Submarine Tour
Read More On White Water Rafting In Bali For Kids >>>>
So when you are in Bali and want to know about things to do for kids and family during Bali activities. Therefore, we recommend you to try Odyssey Submarine Bali water sport. Your children can securely see the underwater world's life by joining a submarine ride in Bali.
Finally, if you want to find out about the review from previous customers, who have tried Odyssey Submarine Bali tours, you can get them here, Tripadvisor Review.
Might You Looking For: "Bali Water Sports Package" >>>