"Dear travellers, please be advised that the Bali Submarine Cruise in Amuk Bay is currently closed, and as of now, the reopening date has not been determined. We apologize for any inconvenience and suggest checking back for updates on the status of this unique underwater experience."
Have you ever heard about the Bali sightseeing submarine tour? If yes, this page is about the Bali submarine cruise provided by Odyssey Submarine Bali. In addition, submarine tourism activities are very popular with children and are suitable for family vacations. On this page, we inform you about how much the price is, how to make a booking, and where the submarine ride in Bali takes place.
Bahasa Indonesia, Tiket Murah Wisata Kapal Selam Di Bali.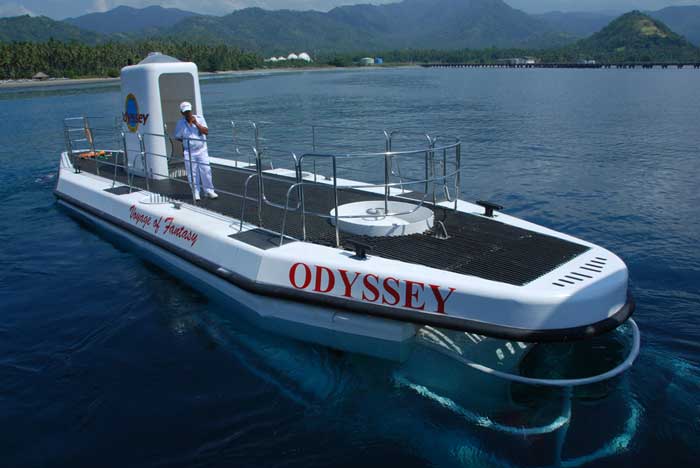 Adventure Tourism Activities
Furthermore, a vacation in Bali is not only about enjoying the white sand beach's gorgeous views, the countryside's natural atmosphere, and the mountain air but also getting to know the Balinese people's various customs and unique cultures.
While on holiday in Bali, you can also enjoy adventure tourism activities, such as;
Enjoy the beauty of the underwater landscape in East Bali by joining a submarine tour.
Tried Bali river rafting.
Odyssey Submarine Bali
Are there submarine tours for tourists in Bali? Yes, there is.
While joining the sightseeing submarine tour in Bali, you can view the marvellous scenery of the underwater world of Amuk Bay, Bali, and your kids will love it. The island of Bali still doesn't have a large aquarium where you can see the underwater world. Travelers can see the natural underwater world in Bali; therefore, it does not need an aquarium.
So when you are in Bali and want to know about things to do for kids and family during Bali activities, we recommend you try Odyssey Submarine Bali water sport. Your children can securely see the underwater world's life by joining a submarine ride in Bali.
Finally, if you want to learn about the reviews from previous customers who have tried Odyssey Submarine Bali tours, you can get them here: Tripadvisor Review.
Amuk Bay Karangasem Bali Location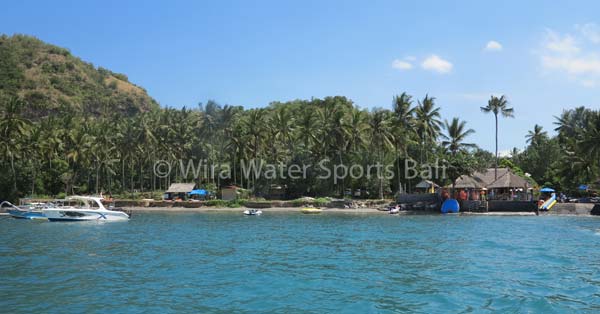 Furthermore, Odyssey Submarine Bali tours take place in the eastern part of Bali island. Moreover, the exact location is in Amuk Bay, Antiga village, Karangasem regency. To make it easier for you to locate the area of Amuk Bay Karangasem Bali, please use Google Maps by clicking the link below.
See Here, Odyssey Submarine Harbour Amuk Bay Google Maps.
Distance & Travel Time
If you depart from the central Ubud area, such as the Ubud Monkey Forest, heading to Amuk Bay will take 1 hour and 15 minutes with a distance of 38 kilometres.
If you depart from the Bali Safari & Marine Park area, heading to Amuk Bay Karangasem will take 36 minutes with a distance of 23 kilometres.
Let's say you leave from the Tanjung Benoa beach area heading to the Amuk Bay location; then you will need 1 hour 40 minutes with a 63-kilometre distance.
The distance from Sanur to Amuk Bay Karangasem is about 75 kilometres. Therefore, you need half an hour's drive from Sanur to get to the location of the Amuk Bay submarine tour.
Read More: "About Amuk Bay Karangasem On East Bali" >>>
The SUB-Specification

While for sightseeing, the submarine vessel only operates in two places:
One is in Maui, Hawaii-USA.
Moreover, the second one is in Bali.
Most noteworthy the submarine vessel created by Victoria Machinery Depot Co. Ltd.
Also, the sightseeing submarine vessel weighs 72.6 tons, and the engine uses battery power. While the dimensionality of the submarine is 17 meters long, 4 meters wide, and 5.5 meters high, it can carry 3.500 kg of weight.
Consequently, the sightseeing submarine vessel is secure in a deepwater environment. Furthermore, the Sub can reach up to 35 meters of ocean depths. Also, can you imagine a depth of 35 meters underwater? Therefore, only professional and experienced scuba divers can reach 35-meter depth. Also, this scuba diver is equipped with high-quality international standard diving equipment. With 35 meters in depth, you will see the astonishing scenery of the underwater world, which you saw on television but now live from your submarine windows.
Furthermore, the Odyssey submarine vessel can accommodate 36 passengers. Also, in the cabin for sightseeing submarine tours, the seats are on the left and right sides, facing the windows. While in the front section of the post, there are submarine skippers who operate the submarine vessel. Also, the Odyssey submarine cabin is fully air-conditioned. Therefore, you will not get hot inside the cabin, and your kids can freely view the beauty of underwater scenery.
Read More, Telaga Waja River Rafting.
Underwater Sightseeing Tours

Furthermore, Odyssey Submarine Bali is a sightseeing submarine tour. All ages can join the submarine tours. The submarine cabin is designed for safety and also a comfortable atmosphere. Parents, adults, children, and even babies can now enjoy the scenic beauty of Bali's underwater world, even though you are not an expert in diving.
The type of underwater scenery you will find, such as sea animals, coral reefs, and sea plants, can be seen clearly from the submarine's window. Also, the duration of the sightseeing submarine tour program is 45 minutes.
Before you enter the Sub, all passengers must be weighed. Your belonging also gets considered. This is for security reasons because the submarine has a maximum load of 3.500 kg.
Also, if you are a smoker, you will not be allowed to smoke in the cabin. Besides, no passengers can eat or drink inside the submarine cabin. Before you enter the submarine booth, we recommend you go to the toilet. Due to this, there is no toilet on the Sub. Also, some of our customers wonder about the Sub's atmosphere. When we tried it, we found out the air inside the cabin is very light, making your children feel very comfortable.
Things That You Might Need To Know: Turtle Island Bali.
Odyssey Submarine Bali Price
| Age Category | Bali Odyssey Submarine Ticket Prices |
| --- | --- |
| Adult (age 12 - 65 years) | Temporarily Closed |
| Child (age 3 - 12 years) | Temporarily Closed |
| Infant (age 0 - 2 years) | Temporarily Closed |
Odyssey Submarine Ticket Prices Included
1 x dive Bali Odyssey Submarine.
Each participant will receive a submarine diving certificate.
The maximum age of the participant is 65 years.
The ticket rates for the Odyssey Bali submarine tour listed in the table above are for one person.
Things Not Included During Bali Odyssey Submarine Tour
Bali Odyssey submarine ticket prices, do not include shuttle services for participants, so each party can arrive at the Amuk Bay location using private transportation.
In addition, photo activities carried out on the Bali Odyssey submarine deck are currently unavailable.
The buffet lunch is excluded from the Bali Odyssey submarine ticket price, and the buffet has yet to be opened on-site.
In addition, the price for the Bali Odyssey submarine family package is currently unavailable.
Then, Welcome drinks for participants have yet to be made available.
Furthermore, tea, mineral water, and coffee are unavailable on-site and not included in the submarine tour ticket price.
Furthermore, there is currently no insurance for participants in the Bali Odyssey Submarine activity.
We will make changes or update this page if there is a change in the description of submarine tourism activities.
Things You Should Bring During Bali Submarine Tour
Please carry extra replacement clothes. The chance of getting your clothes wet while boarding the boat from the beach is very high.
We recommend that you wear shorts and T-shirts during submarine tour activities.
Avoid using shoes because you must take off your shoes when you board the boat from the beach.
Use sunblock on your skin.
Always remember to bring a Camera.
Find Out, Seawalker Sanur Price.
Bali Odyssey Submarine Tour Dive Schedule
Meanwhile, the Bali Odyssey submarine diving activity is only available on certain days. Namely, on Wednesday and Saturday; other days have yet to be known.
In addition, there is only one dive per day with a dive time of 10:00. For comprehensive and definite information, don't hesitate to contact our customer service department.
Read More On White Water Rafting In Bali For Kids.
Booking Odyssey Submarine Bali
For complete details and booking of Odyssey Submarine Bali, please get in touch with us by:
Email: info@water-sports-bali.com
Phone Call: +62813 3956 3400 (WhatsApp Call & Chat).
Phone: +62822 4714 8222 (WhatsApp Chat Only).
Office Telephone: +62 366 5581096.
You also can fill out the booking form below.
Booking Form
Booking Process
The Odyssey submarine tour booking staff will reply to your reservation by notifying you of slot availability through WhatsApp or Email.
When the dive slot is available, you can book a Bali Submarine tour via email or WhatsApp.
After obtaining confirmation of your booking, our staff will send an invoice for the Bali Odyssey Submarine tour via email or WhatsApp.
Payment
To secure the Odyssey Submarine tour booking, customers must make full payment at least three days before the Bali Odyssey Submarine activity date.
In addition, it's a good idea to create a booking for the Bali Odyssey submarine tour one week in advance to be confident of getting a dive slot. The high season on the island of Bali occurs during the Christmas and New Year holidays, school holidays, and Eid holidays.
Read More, Bali Vacation In December.
Voucher Redemptions
After we acquire payment for the Bali Odyssey Submarine activity, our reservation will send a voucher to customers via WhatsApp or Email.
The voucher customers acquire doesn't require to be printed; you need to save it on your smartphone.
When you arrive at the Bali Odyssey submarine activity location, you must only display the voucher to the Odyssey Submarine reception staff on your smartphone.
Odyssey Submarine Amuk Bay Karangasem Terms & Conditions
The minimum order is one adult.
Booking cancellations on the day of the activity or customers not showing up on the day of the activity will incur a 100% cancellation fee.
Customers will be charged a cancellation fee of 50% of the total payment if the activity cancellation request is made one day before the activity date, before 18:00 (Bali Time). After 18:00 (Bali Time), the cancellation of the activity will be subject to a cancellation fee of 100% of the total payment.
Customers who want to postpone or change the activity date must notify us two days before the confirmed activity date.
Refunds exclude service fees, bank transfer fees, or PayPal fees.
Might You Looking For: "Bali Water Sports Package" >>>