Are you planning a honeymoon or vacation with children in Bali and design to invite your children to have a holiday on the white sand beach? If you answer yes, I recommend you have a vacation to one of the best Bali attractions for honeymoon, families, and kids, the Nusa Dua Beach Bali.
Bahasa Indonesia, "Objek Wisata Pantai Nusa Dua Bali" >>>
Of course, there are reasons; I encourage you to visit the Nusa Dua beach for a holiday in Bali with children or honeymoon. Furthermore, to find out the cause, please continue reading the Bali attractions article on this page! Because on the Bali Nusa Dua beach article page, you will find information about;
Nusa Dua tourism area general information.
Location map & transportation options.
Nusa Dua beach attractions.
Entrance fee to enter the Nusa Dua beach.
The name of the four white sand beaches in Nusa Dua Bali.
Nusa Dua Tourism General Information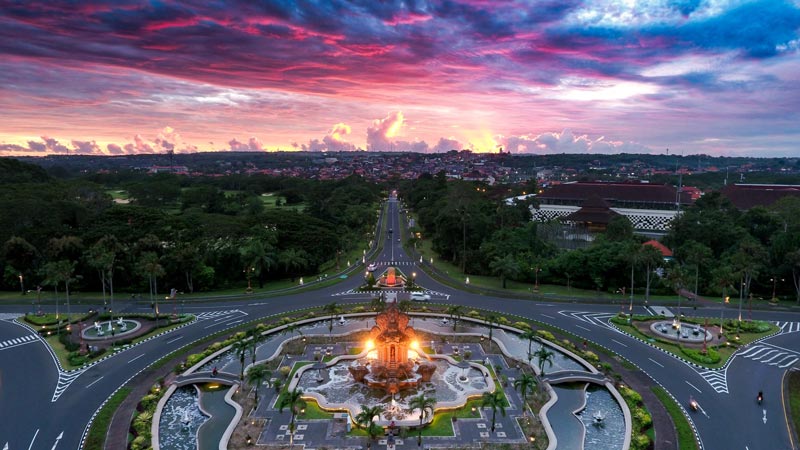 Nusa Dua is one of the luxury tourist attractions in Bali, which is located in the Bukit Peninsula region. You must be wondering, what is the Bali Bukit Peninsula? Bali Bukit Peninsula is an area on the southeastern tip of the island of Bali. The Bukit Peninsula is stretching from the Tanjung Benoa peninsula on the east side to the western region of Uluwatu cliff hill.
For your information, the tourist area of Nusa Dua commonly calls ITDC Nusa Dua (Indonesia Tourism Development Corporation). Due to Nusa Dua Bali, the tourist area is managed by ITDC Nusa Dua.
The cleanliness of Nusa Dua is well maintained. Therefore, if you want to stay at a five-star resort in Bali that offers beach views of pure white sand, then hotels in the Nusa Dua Bali are one of the best places to stay during your vacation in Bali.
The garden in the Nusa Dua area, many say, are the most beautiful gardens in Bali. When you enter the entrance gate of the Nusa Dua tourist attraction, you will not notice. That behind the garden, there are five-star international standard hotels, which employ thousands of employees. Apart from being a place to stay, hotels and resorts in Nusa Dua are often used as international and national scale conference venues.
Find Out, "Nusa Dua VS Sanur – Which One To Choose As A Place To Stay In Bali" >>>
Luxury Tourism Areas In Bali
Nusa Dua tourism area is one of the luxury tourism areas in Bali and is very well known to foreign countries. Various major International events that draw guests from multiple countries are always held in the ITDC Nusa Dua Bali. In the area of ITDC Nusa Dua, you only able to find a luxury resort that is grade as a five-star luxury hotel.
Besides luxury accommodation in ITDC Nusa Dua, there are also other facilities for visitors such as;
Bali National Golf Club.
If you are wondering about Shopping in Nusa Dua, there is a shopping center inside the area of ITDC. The shopping center is called Bali Collection Nusa Dua.
If you want to see an art performance, there is a place call Nusa Dua theater. Nusa Dua theater is the location of the Devdan Show show.
International Hospital is available, called BIMC Hospital Nusa Dua.
To enter the Nusa Dua ITDC area, visitors can access through three main gates. Also, all visitors who pass through the entrance gate will go through a security check.
Also, the Nusa Dua ITDC provides various supporting tourism facilities. Such as a large parking area, manicured park, a toilet, and coast guard officers.
How far is Nusa Dua from Kuta?
If you choose your place to stay at Kuta Bali, you must be wondering! How far is Nusa Dua from Kuta? If you are heading to the Nusa Dua tourism area from Kuta, Kuta Beach Bali. It will take around 40 minutes, with a travel distance of about 15 kilometers. If you want a faster route from Kuta beach to the Nusa Dua area, you need to use the Bali Mandara Toll Road. However, if you use the Bali Mandara Toll Road, there will be a toll cost of IDR 11,000 / 1 four-wheeled car.
Read More, "10 Points Earn Kuta Bali Fit For A Family Vacation Destination" >>>
How far is Nusa Dua from Ubud?
If you choose your place of stay in Ubud, you must wonder how far Nusa Dua is from Ubud? So, if you are heading to Nusa Dua from Ubud, the travel time slightly longer compare to Kuta beach. Due to the Ubud area is quite large, and each spot in Ubud will have a different travel distance to Nusa Dua; therefore, I choose a place in Ubud, which is the Ubud Monkey Forest.
From Ubud Monkey Forest to Nusa Dua will take 1 hour 30 minutes with a travel distance of around 41 kilometers. The location of Nusa Dua beach is adjacent to Ngurah Rai Airport, which is about 35 minutes to the south across the Jalan Ngurah Rai. To make it easier for you to find the location of the ITDC Nusa Dua Bali tourism area, please click this link for ITDC Nusa Dua Google Map!
Transportation Choices
Public transportation in Bali is only a taximeter or online taxis. Therefore, the best holiday transportation option in Bali is to use private vehicles. Private transport in Bali such as motorbikes or cars. If you are for the first time visiting Bali, how do I find a personal car in Bali?
Finding motorbike rental services or car rental services in Bali is very easy. However, my recommendation on the best way to find motorbike hire and car hire in Bali is using Google. Due to, on Google pages, you can easily find the best car rental and motorbike hire in Bali.
Is there an Uber in Bali? Previously there is an Uber Taxi in Bali. However, now Uber taxi has merged with Grab taxi. So Grab taxis are available in Bali. Grab cabs is like Uber Taxis; you need to download their app.
Car Rental Services With A Driver In Bali
My recommendation, if you are not familiar with Bali road or do not want to bother in finding a parking space. Then I suggest you book car rental services with a driver in Bali. Toyota Avanza car hires a driver in Bali with fuel costs around IDR 500,000 – 600,000 / 10 hours. You must be wondering if there are Grab taxis, why should I get a car hire with a driver in Bali?
Most of you who are having a holiday in Bali are on limited vacation days. Let's say four to five days in Bali. For sure, when you are in Bali will try to maximize your Bali holiday itinerary by visiting more than three or four places in one day. Car hire with a driver, the duration is based on hours, typically 10-12 hours with price IDR 500,000/10 hours. Therefore, you can visit three or four places in the one-day itinerary, and you can save your transportation budget.
Read Here, "Tips & Guide On How & The Best Way To Travel Around Bali" >>>
Nusa Dua Beach Attractions
Nusa Dua beach is adjacent to the Tanjung Benoa beach Bali, around 15 minutes drive heading north of Nusa Dua Bali. For your information, Tanjung Benoa beach is the best place for watersports in Bali for a beginner.
Also, Tanjung Benoa is known as the center of Bali water sports. Due to the Tanjung Benoa coastline, you can find plenty of types of marine sports games for a beginner. Such as parasailing, banana boat ride, jet-skiing, snorkeling, and other aquatic tourism activities. If you need to distinguish further detail about Tanjung Benoa water sports price and choice of events, please click the link below!
See here: "List of Games & Tanjung Benoa Water Sports Bali Prices" >>>
The Cleanest Beach In Bali
If you are wondering, are there any clean beaches in Bali? Yes, there are many, and one of the pristine beaches in Bali lies in ITDC Nusa Dua. I personal opinion and experience, I can say the Nusa Dua beach is the cleanest in Bali.
The Nusa Dua beach offers white sand, very calm seawater, shallow water, and very suitable for swimming. Almost every day, the Nusa Dua beach is crowded with visitors, especially in the afternoon. Therefore, the beach in Nusa Dua Bali is ideal for the children's vacation spots and honeymoon.
Luxury hotels that stand majestically built along the coastline, with rental rates per night, are pretty expensive. Most accommodation is five-star hotels with prices above one million rupiah and above.
The beach area in Nusa Dua is well maintained. These are the fact that each hotel is obliged to maintain the cleanliness of the beach. Beaches in Nusa Dua Bali are perfect for you to visit if you want a relaxed atmosphere. There are no casual merchants who sell their wares, masseurs, surfboard rentals, as you can see in the Kuta beach Bali.
Read here, "10 Things To Make Nusa Dua Suitable Places For Family Holidays In Bali" >>>
Nusa Dua Beach Entrance Fee
Most tourist attractions on the island of Bali charge entrance fees to visitors. Then what about the Nusa Dua tourism area, is there an entrance fee that visitors need to pay?
No entrance fee is charged to visitors to enter the Nusa Dua tourism area; therefore, the Nusa Dua beach is free entry. You are only required to pay for hourly car parking. However, there will be an additional fee if you want to watch the Devdan Show at the Nusa Dua theater and play golf at the Bali National Golf Club.
Find Here, "3 Days Bali Holiday Itinerary In Nusa Dua With Travel Guide" >>>
Top 4 Nusa Dua Beaches
Most tourists who vacation to the Nusa Dua beach assume that there is only one white sand beach in the Nusa Dua area. However, all the white sand beaches in Nusa Dua are more familiarly called The Nusa Dua beach by visitors. For your knowledge, there is four white sand beach in the Nusa Dua area with a different name.
Samuh Beach Nusa Dua.
Mengiat Beach Nusa Dua is the most popular and crowded beach with tourist visits.
Geger Beach Nusa Dua.
Sawangan Beach Nusa Dua.
Find Here, "Top Things To Do & To See In Nusa Dua Bali" >>>
1. Samuh Beach Nusa Dua
Furthermore, Samuh Beach is very well known as the best location to see the sunrise. Samuh beach location is on the east side of Bali. Local people call Samuh beach by the Segara Samuh. Can you swim at Samuh beach Nusa Dua? The Samuh beach is very suitable for children to swim because the waves are tiny, and the seawater is very shallow. Sometimes at low tide, there are not even waves. Therefore many parents allowing their children to play near the beach. At low tide, children can see the type of sea star trapped in the mud of sand.
However, if you want to swim in a massive stream, Samuh beach will not suit you. Also, if you're going to do surfing activities, you should choose another beach location in Bali. The position of waves ideal for surfing is around 200 meters from the Samuh beach shoreline. The area of Samuh beach is right behind the Westin Resort Nusa Dua hotel. To the left of Samuh beach in Nusa Dua, there is a small island called Nusa Darma. On this small island, visitors usually take a bicycle ride or walking activities.
Nusa Dua Snorkeling Spot
Five hundred meters from Samuh beach shoreline is one of the best snorkeling spots in Bali. The snorkeling location, which is at a depth of 11 meters above sea level, is Bali Underwater, Cultural Park. Most tourists who want to snorkel at the Bali Underwater Cultural Park location will depart from Tanjung Benoa beach by boat.
See here, "Samuh Beach Map Location on Google Map" >>>
2. Mengiat Beach Nusa Dua
If you are wondering about what makes Nusa Dua become a famous Bali attraction? The answer is the Mengiat beach. I can say Mengiat Beach Nusa Dua is one of the cleanest beaches in Bali. The sand is white with fine granules.
The cleanliness of Mengiat beach is very well maintained. Each hotel with access to the Mengiat Beach shoreline contributed to preserving the purity of the Mengiat beach shoreline. Most of the hotels that have a direct view of Mengiat beach are five-star hotels. So beach freshness is a priority to make their guest satisfy. One of the most popular resorts at Mengiat beach for a honeymoon is Grand Hyatt Bali.
To visit the Mengiat beach, you don't have to stay at one of the luxury resorts in Nusa Dua. Due to there are plenty of road access roads and parking lots heading to Mengiat Beach.
Small Beachside Cafe
On the Mengiat beach shoreline, there is a small beachside cafe called Yasa Segara cafe. Therefore, you can get a light snack and beverages while lying down on Mengiat beach. The Nusa Dua local community manages the Yasa Segara cafe. Also, The Yasa Cafe Segara provides a sundeck for their guest; however, you need to rent it. The rental price for a deck is IDR 50,000 for a day of usage. Besides providing food and beverage, the Yasa Segara Café also has a shower and a toilet.
Can you swim at Mengat beach Nusa Dua? The Mengiat Beach Nusa Dua flanked by two large rocks that shave like a small island. The two small islands are where the Nusa Dua name is perceived. Therefore, if you are querying, what Nusa Dua mean? Nusa means island, and Dua means two. Mengiat Beach is flanked by two small islands connected to the mainland of Bali. At one of the two small islands that flanked the Mengiat beach, there is famous tourist spot call water blow Nusa Dua Bali. It makes the sea wave low; therefore, Mengiat beach is the most recommended beach for children to swim in Bali.
Can you surf in Mengiat beach, Nusa Dua? If you want to surf at Nusa Dua, you have to hire a boat. You are then heading 500 meters from the Mengiat beach shoreline to get an appropriate wave for surfing.
See here, "Location Map of Mengiat Beach Nusa Dua Bali" >>>
3. Geger Beach Nusa Dua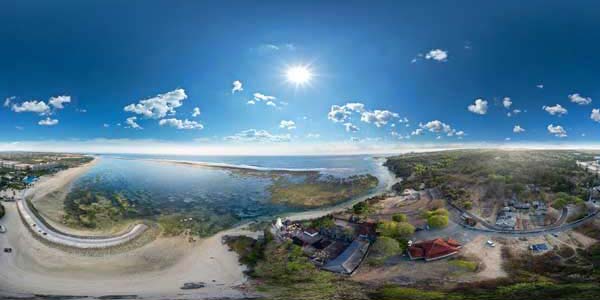 If you walk south along the Mengiat beach coastline, you will find the Geger beach Nusa Dua Bali. Besides walking on the Mengiat beach shoreline, you can also reach the Geger beach location through the pathway near The Mulia Hotel. You also can access the beach through the road heading to the Geger temple.
Geger Beach Nusa Dua is also as famous as Mengiat beach. Usually, the Geger beach is visited by an international traveler. Geger Beach Nusa Dua also offers clean white sand, calm seawater, and shallow depth. Therefore, Geger beach is one of the best beaches to swim in with your children.
If you want to go snorkeling, you should snorkel on the shore of Tanjung Benoa beach. Due to the Geger beach, the seafloor is only sand rather than coral. Also, at Geger beach shoreline, you able to find small cafes that sell food and drinks.
See here: "Geger Beach Map Location On Google Map" >>>
4. Sawangan Beach Nusa Dua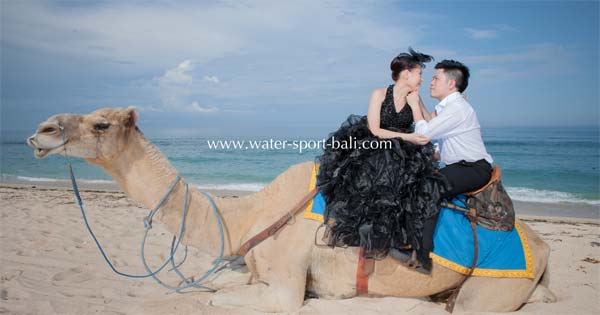 Sawangan beach sand is yellowish with gradient white and has a subtle sand texture. The Sawangan beach location is right behind the Hilton Resort Bali. Unlike the three Nusa Dua beaches above, Sawangan beach waves are more significant and challenging to swim.
Bali Camel Ride
Sawangan beach is well known as a location for the Bali camel ride. Therefore, if you want to have a camel ride in Bali, you should be heading to Sawangan beach Nusa Dua. Most vacationists who desire to ride camels in Sawangan beach Bali their aim is for taking pre-wedding photos. Usually, prospective bridal couples hire a pair of camels for a pre-wedding photoshoot.
When riding a camel, each participant will accompany by a camel guide. Camel guides are in charge of helping tourists ride the camels. Also, the guide directs the position of camels during the photo session.
See here: "Location Map of Sawangan Beach Nusa Dua Bali" >>>