Pecatu Bali area has some famous tourist destinations. For example, Uluwatu temple, Bingin Beach, Dreamland Waterpark, Suluban Beach, Dreamland Beach, Melasti Beach Ungasan, and Labuhan Sait Beach, well known as Padang Padang Beach. However, on this page, I will write regarding the Padang Padang Beach entrance fee as your reference before visiting Padang Padang Beach in Bali. Besides information about the admission price of Labuan Sait Beach, also on this page, you will find related information regarding Labuan Sait Beach, such as the best way to get to the location and point of interest.
Bahasa Indonesia, "Harga Tiket Masuk Pantai Labuan Sait" >>>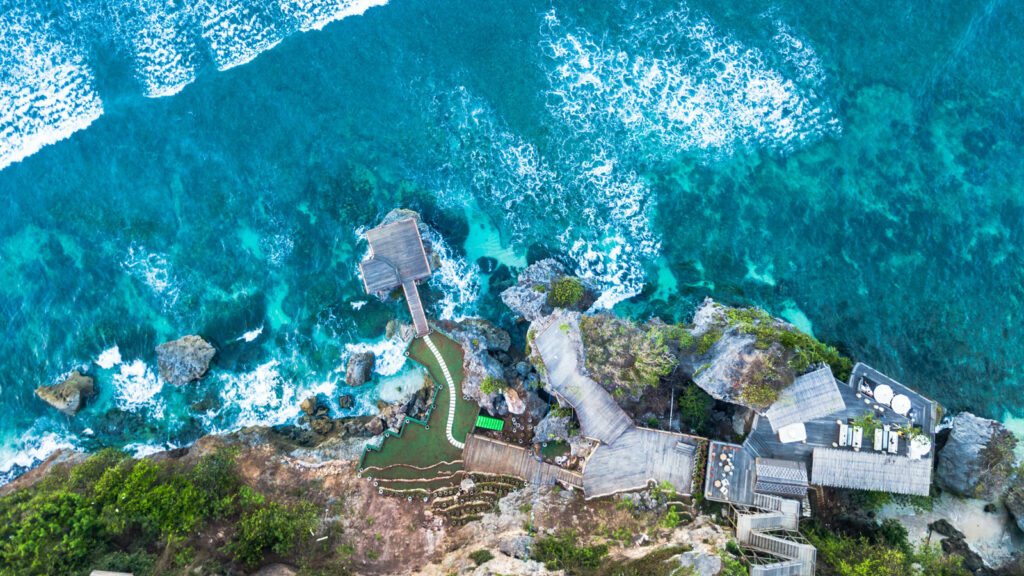 Labuan Sait Beach is the official name of the beach. However, tourists, including me, call the Labuhan Sait Beach with the name Padang Padang Beach. Therefore, if you want to visit Padang Padang beach, you will see the Labuhan Sait Beach Pecatu Bali. The beach has two names, but the beach location is in the same place, and there is no difference.
Padang Padang Beach Bali became famous since used as Eat Pray Love movie shooting location. Eat Pray Love movie starring the Hollywood actress Julia Roberts.
Pecatu Bali Tourism Region
The Pecatu Bali area location is at the southwest tip of Bali island. Due to the site of Pecatu situated in the southwestern part of the aisle. Make the beaches in the Pecatu region the best place to see the sunset in Bali. The white sand beaches in Pecatu are Bingin beach, Dreamland beach, and Labuan Sait Beach / Padang Padang.
For your information, the most famous tourist spot in the Pecatu area is the Uluwatu temple. Balinese call it as Pura Luhur Uluwatu. Uluwatu temple offers the best sunset views of the vast expanse of the Indian Ocean as seen from a height.
Therefore the best time to visit Uluwatu Temple is around 17:00. At the same time, before visiting the Uluwatu temple, most of the tourists will have a stop at one of the Pecatu beaches adjacent to the location of Uluwatu temple – Pecatu. One of the Pecatu beaches that travelers visit before visiting the Uluwatu temple is Labuan Sait Beach / Padang Padang beach.
Read Here: "Tanah Lot Temple Entrance Fee" >>>
Address & Location Map
The address of Padang Padang beach is at Jalan Labuan Sait No.73, Pecatu, South Kuta, Badung regency. To make it easier to find Padang Padang Beach Pecatu, please Google Map by clicking the below link!
See Here, "Padang Padang Beach Google Map" >>>
The Best Way To Get To Padang Padang Beach
The best way to visit Padang Padang Beach Pecatu is by using private transport, either a motorcycle or a car. There is no public transportation around Padang Padang beach, except for the taxi meter. Getting private vehicle service in Bali is effortless. Both motorbike rental service and Bali car rental service with driver and fuel.
Motorcycle/Scooter
If you are a single explorer or with friends, the best way to save on transportation expenses is to ride a scooter. The scooter rental price in Bali depends on the type of scooter you want to ride. Bali's standard motorbike rental cost is approximately IDR 100,000 / 24 hours without fuel.
In addition, finding scooter rental providers in Bali is also straightforward if you stay in the southern Bali tourist area. All you should do is utilize Google.
Bali Car Rental
If you are on vacation to Padang-Padang beach with your family, it is a good idea to use a car for convenience. In Bali, there are two types of car rental. Namely, self-drive rental cars and Bali rental a car with a driver. Finding a self-drive car rental in Bali is not an easy thing. However, finding car rental services with drivers in Bali is very easy.
The cost of a Bali car hire depends on the type of car you desire to use. For example, you want to use a Toyota Avanza. In that case, the Avanza rental price in Bali with a driver is around IDR 550,000 / 12 hour with fuel.
Suppose you are on a family vacation with more than 6 participants. In that case, it's a good idea to use the microbus Isuzu Elf for vacation transportation in Bali.
Bali Tour Packages
In addition to finding and arranging their vacation transportation, some tourists utilize Bali tour package services. Using Bali tour package services, you no longer need to set a vacation itinerary to Bali. Also, you are not looking for transportation, and entrance tickets to tourist attractions are included in the tour package.
Read More On, "Blue Point Suluban Beach Bali" >>>
Labuan Sait Beach Point Of Interest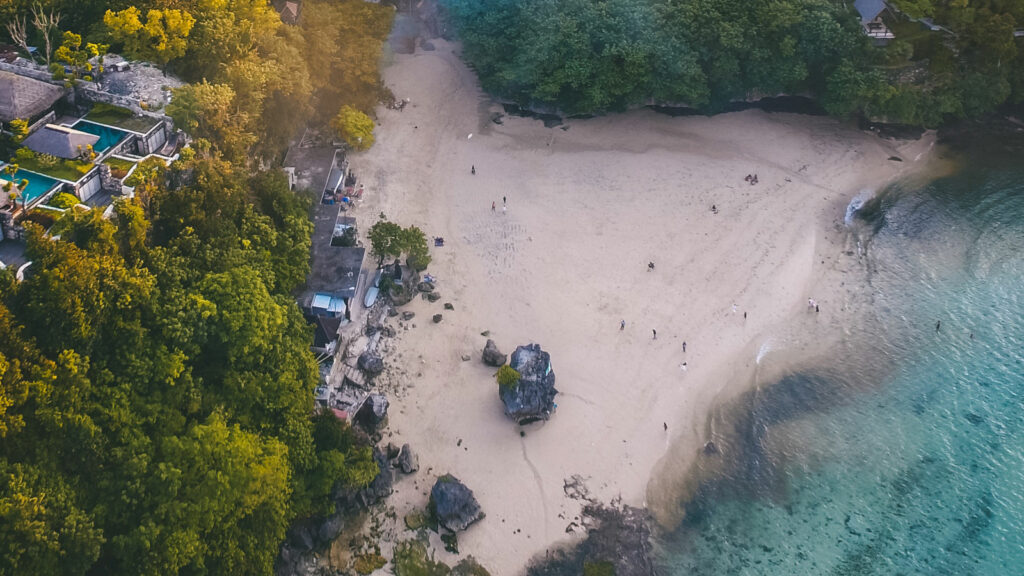 Padang Padang Beach Pecatu's location is laid under the cliff and is visible from the main road. Therefore, you should be ready to descend and climb stairs. There is only one pathway to the beach from the main road. Also, you will pass through a narrow cave with stairs to get to the beach. Only one adult comfortably crosses this small cave, and the other visitors have to queue to take turns going through the cave. If you do not like passing through a narrow space (claustrophobia), the beach is not suitable for visiting.
The Padang Padang beach coastline is less spacious than the Pandawa beach coast of Bali. Padang-Padang beach has white sand with sand and a slightly coarse texture. In the vicinity of the shoreline area, several large rocks and mostly stone are covered with moss from the beach shore. So it would help if you were careful when walking.
In the beach area, there are several stalls selling food and drink. When you want to bring your food and beverages, it is also okay. Also, an outdoor shower is available for you can use, and it's free. But remember to bring your towel. So how much is the Labuan Sait / Padang Padang Beach entrance fee?
Read More, "Balangan Beach Bali" >>>
Padang Padang Beach Entrance Fee Price
Next to the main road adjacent to the beach entrance gate is a large parking area and the Parking area designated for beach visitors and managed by the local communities for the guest's convenience. Motorcycle parking costs IDR 2,000 / for one bike and a car parking fee of IDR 5,000 / for one car.
Once you park the vehicle and move towards the beach entrance gate, you must pay an admission fee. The ticket price of Labuan Sait Beach differs between foreign travelers and Indonesian citizens. Below is the Padang Padang Beach Entrance Fee price list, which we updated on January 01, 2023.
| Adult | Child (3-10 Years Old) |
| --- | --- |
| IDR 15.000/person | IDR 10.000/person |
Read Further Details On: "Padang-Padang Beach Bali White Sand Beach Best For Surfing" >>>