To the north of the Jimbaran beach Bali, a white sand beach serves grilled seafood and is suitable for seeing the sunset view. The name of the beach is Kedonganan beach Bali. Suppose you want to find an alternative beach for vacation similar to Jimbaran beach but not as busy as Jimbaran beach. So it's a good idea to visit Kedonganan beach. I will write about the attractiveness of beach attractions, beach locations, and the Kedonganan Beach entrance fee on this page.
Bahasa Indonesia, "Harga Tiket Masuk Pantai Kedonganan Bali" >>>
Bali White Sand Beach Tourism
Vacation to Bali is synonymous with white sand beach attractions, and one of the famous white sand beaches on the island of Bali is Jimbaran beach and Sanur beach. The popularity of Jimbaran beach makes it almost every day, especially in the afternoon, is always crowded with tourist visits. Especially tourists who want to enjoy grilled seafood while watching the sunset.
For those of you who want an atmosphere like Jimbaran beach but don't like crowds, Kedonganan beach Bali is most suitable for you.
Find Here, "Visitor Guide To Melasti Beach Ungasan Bali" >>>
The Attraction of Kedonganan Beach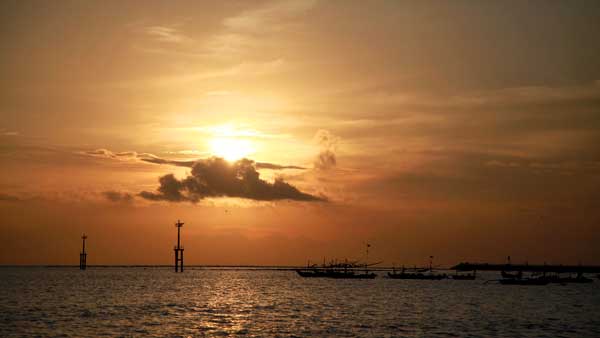 The attraction of Kedonganan beach is almost similar to Jimbaran beach, and Kelan beach is even the same. The white sand texture is the same as Kelan beach, perfect for viewing the sunset, and there is also a grilled seafood cafe at Kedonganan beach. However, the beach in Kedonganan is quieter than Jimbaran beach, and the price of grilled seafood is lower than the price of grilled seafood on Jimbaran beach.
Finding a place to stay on Kedonganan beach is also very easy, one of which is Jimbaran Bay Beach Resort, whose address is Jalan Pantai Kedonganan 888, Jimbaran Bay – Bali.
In addition, at Kedonganan beach every evening around 15:00, you will be able to see fishers starting to go to sea. The fishermen will return from fishing in the early hours of the morning. In the morning, the fish caught will be sold around the Kedonganan Fish Market.
See Here, "10 Ideas Delivers Jimbaran Bali The Most Reliable Area For A Family Hideaway" >>>.
Beach Location Map
The Kedonganan beach location is nearby the Jimbaran beach Bali.. You only need about 5 minutes walking to get to Kedonganan beach from Jimbaran beach Bali. To create more accessible for you to find the location of Kedonganan beach, please use the map below!
See Here, "Kedonganan Beach Google Map" >>>
To get to the location of Kedonganan beach, you only need to find Jalan Pasir Putih. At the end of the Jalan Pasir Putih, you will see a fishing boat. But before you enter the Kedonganan beach area, you have to pay for an entrance ticket at the end of Jalan Pasir Putih. Then how much is the entrance fee for Kedonganan beach?
Kedonganan Beach Entrance Fee
The price of admission to Kedonganan beach, Badung regency, Bali is free, and you only need to pay a vehicle parking fee. Therefore, the cost of access to the Kedonganan beach is not determined per person, like the price of the entrance ticket for the Bali Pandawa beach.
| Vehicle | Parking Fee |
| --- | --- |
| Car | IDR 5,000 |
| Scooter | IDR 2,000 |
Best Bali Attractions Near Kedonganan Beach
Kedonganan Beach, Badung regency, Bali, is one of the tourist attractions in Bali's southern section. Most of the tourists who have a vacation to Kedonganan Bali before visiting the beach will have a holiday at the following Bali attractions;
Garuda Wisnu Kencana culture park.
Search Here, "Garuda Wisnu Kencana Cultural Park Entrance Ticket Prices" >>>
The Garuda Wisnu Kencana culture park location is very close to the Kedonganan beach, and you only need 20 minutes to drive with a distance of 8 kilometers. Meanwhile, the distance between Kedonganan and the Uluwatu temple is about 16 kilometers.
Read More, "Visitors Guide To Kuta Beach Bali" >>>
Transportation Towards Kedonganan Beach
The Kedonganan beach location is in the tourist area of ??the southern part of Bali. Therefore, there are many transportation options available, both public transportation and private transportation.
Find Here, Is Bali easy to travel around?
Public Transport
If you stay in the Jimbaran area or the Kuta Bali tourist area, you can use public transportation. Available public transport such as taximeters, Gojek (motorcycle taxi), or Grab car.
Rent a Motorbike
Apart from using public transportation, you can also rent a motorbike. Finding motorbike rental services in the southern Bali area is very easy. The most straightforward approach is to utilize a search engine like Bing or Google.
The average motorbike rental price on the southern island of Bali is around IDR 80,000 with a duration of 24 hours without fuel.
Find Here, "Bali Water Sports Activities At Tanjung Benoa Beach" >>>.
Bali Car Rental
If you want comfort, you can look for car rental services in Bali. There are two car hire models in Bali, namely car rental without driver and Bali car rental with driver.
Suppose you want to have a vacation in Bali by visiting more than one Bali tourist spot in one day. Like visiting the Garuda Wisnu Kencana then going to the Kedonganan beach, Bali. So I suggest looking for a cheap car rental in Bali with a driver and fuel. The goal is to save on vacation transportation costs in Bali.
Read More, "Best Places To Visit At Night In Jimbaran Bali" >>>