The island of Bali has many beaches with white sand or black sand. However, the black sand beach in Bali did not get many visits because the sand is scorching in the daytime. Most of Bali's white sand beaches are in south Bali, such as Kuta, Legian, Jimbaran, Ungasan, and Uluwatu. Then how about East Bali? Is it east Bali offers white sand beaches? Are you looking for east Bali's best white sand beach, with less crowd, suitable for swimming, relaxing, or snorkeling? Then please visit Virgin Beach Karangasem.
Bahasa Indonesia, "Pantai Virgin Perasi Karangasem – Pantai Tersembunyi Di Bali Timur" >>>
White Sand Beaches In East Bali
Bali's best beach is not only Pandawa Beach, Kuta Beach, or Sanur Beach Bali. Some of the best beaches in Bali are located in the eastern part of the island, and one is Virgin Beach Bali.
Now day's, people call Pasir Putih Beach Bali plenty of names, such as; Virgin Beach Bali, Perasi Beach Karangasem, East Bali Hidden Beach, and Pasir Putih Beach Bali. Don't misunderstand with many names given, is only one beach.
Local native people call this beach "Pantai Perasi" due to road access to the beach going through Perasi village Karangasem regency. Also, if translated into English, Pantai Perasi means Perasi beach. Previously, Pantai Perasi was one of the hidden beaches in east Bali, with fewer visitors.
Also, formerly the beach is known as Pasir Putih Beach Bali, which means white sand beach Bali. Because there is no specific name for this beach and the locations are still hidden, only a few people know about it. However, social media exposure and new road access from Bugbug village to the beach shoreline make Virgin Beach no longer consider a hidden beach in east Bali.
Get Here, "Tirta Gangga Bali Water Palace Karangasem, Location & Entrance Fee" >>>
Virgin Beach Karangasem Location
Pasir Putih Beach shoreline stretches within two huge hills and is part of two different villages in Karangasem. On the west side is part of Bugbug village, and on the east is part of Perasi village. To get to the locations of Perasi Beach, you must drive about 23 minutes from Candidasa. The address is Jalan Raya Bukit Asah, Bugbug Village, Karangasem regency, Bali.
Currently, two roads are accessible to the location of Virgin Beach Karangasem. There are roads through the Bugbug village and other routes through the Perasi village Karangasem. Visitors from the west prefer to go through Bukit Asah in Bugbug village. Meanwhile, visitors from the east are closer through the Perasi village road access. The advantage is if you go through the Bukit Asah Bugbug village, the vehicle parking lot is very close to the shoreline.
If you need directions to find the location of Virgin Beach Bali, please utilize Google Maps by clicking the link below!
Look, "Virgin Beach Parking Lot Google Map, Bugbug Village Route" >>>
See "Parking Lot for Virgin Beach, Through Perasi Village, Google Map" >>>
Distance & Travel Time
A few Indonesian tourists still want to visit Virgin Beach Karangasem. Because the location is very far from famous tourist attractions in Bali. Such as Uluwatu Temple, Tegalalang Rice Terraces, Tanah Lot Temple, Melasti Beach Ungasan, Mengiat Beach Nusa Dua, and Ubud Monkey Forest.
For example, suppose you depart from the Kuta beach area. In that case, it will take 2 hours to reach the Virgin Beach beach location. If you leave from the tourist area of Central Ubud, such as Ubud Palace, it will take 1 hour 30 minutes to a distance of 55 kilometers.
The international Ngurah Rai airport will take 2 hours and 15 minutes to drive, and the distance is 72 kilometers. A pretty long journey.
The Virgin Beach Karangasem location will be very close to you if you stay in eastern Bali, such as the Amed Beach area, Candidasa, and Tulamben Beach.
If you come from Candidasa, you will pass Bugbug village; this means you are already close to the Virgin Beach Bali location. Also, if you get lost, stop by and ask local people there; they will be pleased to tell you where the site of Virgin Beach Karangasem is.
Read Here, "Bali Submarine Tour Review – My Experience On Board The Odyssey Sub" >>>
How To Get There
Like other areas, Bali has two transportation categories: public and private. Bali's public transport is widely available in the southern part of Bali. Such as Canggu, Seminyak, Kuta, Jimbaran, and Denpasar. General public transportation in Bali, such as taxi meters and online taxis.
Meanwhile, the best transportation for traveling on Bali island is private transport, either motorbike or car.
Motorcycle/Scooter
Many travelers who vacation in Bali with friends or partners choose to ride a motorbike. In addition, by riding a motorbike, they will save on vacation costs.
Finding scooter rental providers in Bali will be easy if you stay in the southern area of Bali. It would help if you searched using Google. Bali's average scooter rental price is around IDR 80,000 / 24 hours without fuel.
Rent Car Bali
On a family vacation, tourists will choose to get a car for vacation transportation in Bali. Finding self-drive car rental in Bali is very difficult because few car rental companies provide self-drive car rental.
Meanwhile, finding a car rental service in Bali with a driver is much easier. All you need to do to find a Bali car rental with a driver is only use Google.
The price of renting a car with a driver in Bali depends on the type of car you want to use. For example, the rental cost for Toyota Innova Reborn in Bali with a driver is IDR 800,000 / 12 hours with fuel. Meanwhile, the rental price for Microbus Toyota ELF with a driver includes IDR 900,000 / 12 hours, including fuel.
There are advantages to using a rented car with a driver in Bali. You don't need to wash the car or look for a parking space, and you can rest while traveling to tourist attractions.
East Bali Tour Package
Besides looking for a car rental for a vacation to East Bali, tourists also booked a Bali tour package. By ordering a tour package to east Bali, tourists no longer need to arrange several things. Such as a Bali holiday itinerary, arranged transportation, entrance tickets, and meal costs. All of these things are included in the price of a tour package to east Bali.
Read More, "Best Time To Visit Bali" >>>
Things To See At Virgin Beach Karangasem Bali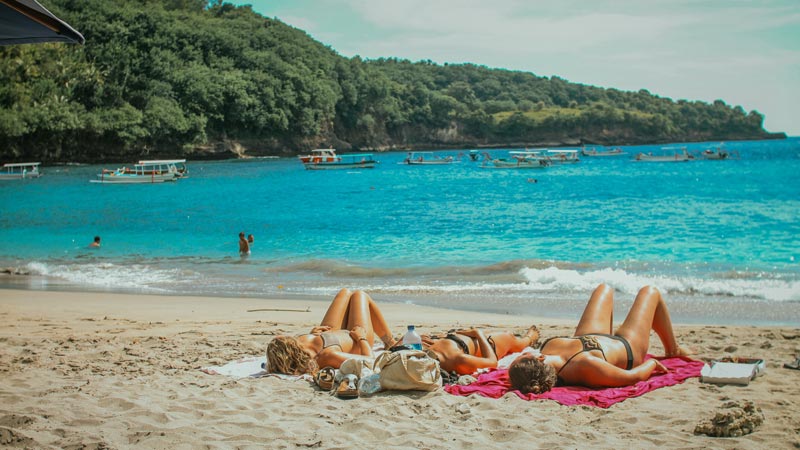 When you arrive at the Virgin Beach Karangasem, you will see a large vehicle parking lot. The car park offer space for a visitor to park their cars and visitor who ride a motorbike. In the car park, there are plenty of coconut trees. Also, you can see the beach coastline from the car park area. The sand color of Virgin Beach Bali is not as white as it calls. The sand tone is closer to yellow mixed with black sand.
You have to walk for 5 minutes to the beach from the parking area. If you come by motorcycle through Perasi Village, you can follow the walking pathway and park your scooters up the stairs.
Find Here, "Best Quiet Beaches In Bali" >>>
Small Cafe/Warung
There are plenty of small cafes/Warung on the Virgin Beach Karangasem shoreline. The cafes sell food, snack, and drink; food and drink prices are lower than in Kuta Beach Bali. The warung also offers a fishing trip and snorkeling tour.
In front of the cafe are many sun deck chairs with an umbrella that you can rent to sunbathe. The snorkel is also available for rental if you wish to do a snorkeling activity. Most travelers who visit this beach will have a massage by a local masseur, sunbathe, swim, and snorkel.
Besides the white sand beach and cafe, you will also see traditional fisherman boats on the Virgin Beach shoreline.
Also, visit Virgin Beach during the dry seasons in Bali, from April to October. You will find bright blue seawater suitable for swimming and snorkeling in your Bali activities.
Read More, Where Should I Stay In Bali For Snorkeling?
Things To Do At Virgin Beach
What can I do when visiting Virgin Beach Karangasem? Most Virgin Beach visitors lie on the sand beach or in the sundeck. Some visitor is swimming or doing snorkeling activity. Also, several visitors try the food in the small cafes. Grilled seafood, sandwiches, and fried rice are found on the warung. You can order a young coconut cooler, Bintang beer, and fresh beverage juices.
Find Here, "Things To Do In Tulamben For A Non-Diver & Tips To Get Around" >>>
Accommodation At Pasir Putih Beach Bali
It won't be easy if you would like to spend a night on the Virgin Beach Karangasem. No hotel, villa, or bungalow is available on the Virgin Beach Karangasem. The nearest location where you can find accommodations from Virgin Beach Karangasem is Candidasa.
Read More, "Green Bowl Beach Bali" >>>
Virgin Beach Bali Entrance Fee
We often question travelers who want to visit Virgin Beach Karangasem Bali, specifically about the entrance fees. Their inquiry is, is there an entry fee that a visitor to Virgin Beach Karangasem needs to pay? If there is one, how much is the Virgin Beach Karangasem Bali entrance fee?
At this moment, every visitor who would like to access the Virgin Beach shoreline must pay IDR 10,000/person for the entrance fee.
Find Here, "List Of Bali Attraction Entrance Fee" >>>
Summary Of Pasir Putih Beach Bali
If you are looking for a white sand beach in east Bali, it offers a clean beach, is less crowded, less polluted, and best for swimming or snorkeling. Virgin Beach Karangasem Bali is worth visiting. However, suppose you are staying in the south part of Bali, like Seminyak, and don't care about seeing a beach in east Bali. In that case, you should not visit Virgin Beach Bali.
Only a few domestic tourists would like to visit Virgin Beach in Karangasem. Due to the Virgin Beach, Karangasem locations are far away from the famous tourist spot in Bali. Such as Tanjung Benoa beach, Nusa Dua, Seminyak, Jimbaran, and Sanur. Also, it is not easy to find the place of Virgin Beach Bali if you come to Bali for the first time.
You can find the review of this beach on TripAdvisor on this link, Tripadvisor review. Virgin Beach Karangasem is one of east Bali's best white sand beaches. Often written in the travel guidebook and gets an excellent discussion on TripAdvisor as one of the attractions in Karangasem Regency.
Pasir Putih Beach Bali YouTube
Find Here, If You Are Wondering, Where Can I Watch The Sunset In Bali?