Nestled within Bali's expansive coastline lies a diverse selection of beaches, each exuding its distinct charm. While the sun-kissed beaches of South Bali, such as Kuta Beach and Suluban Beach Uluwatu, may garner much of the attention, the eastern region conceals an unspoiled treasure: Virgin Beach in Karangasem. A sanctuary for solitude-seekers, this awe-inspiring beach showcases a unique blend of yellow and black sands, offering a tranquil reprieve from Bali's bustling hotspots.
Artikel tersedia dalam Bahasa Indonesia, baca di sini!
Why Virgin Beach in East Bali Should Be Your Next Getaway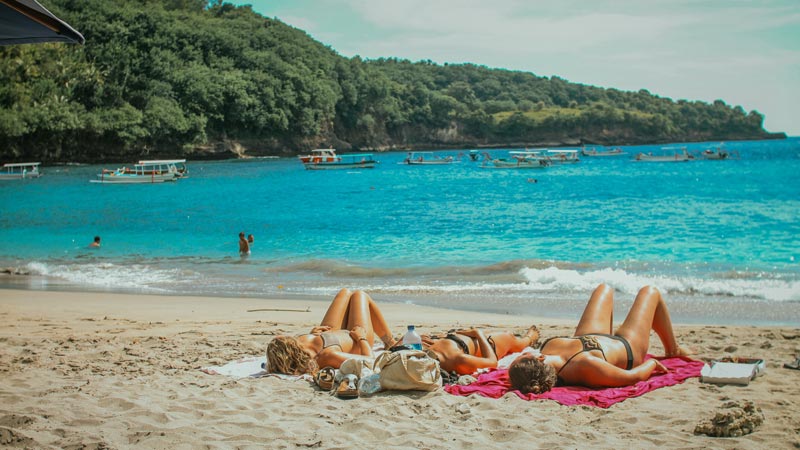 Tired of the tourist crowds in South Bali? Head east to Virgin Beach, a secluded paradise that offers more than just golden sands and clear waters. Here's why it's a must-visit.
Your Perfect Detour from the Crowds
Above all, just a short drive from Candidasa, Virgin Beach promises a break from the overcrowded tourist spots.
What sets it apart? The solitude. It's a serene hideaway where you can hear the waves without the background noise of chatter or music.
Not Just a Beach, An Experience
Furthermore, the journey to Virgin Beach is an Instagram-worthy experience in itself. You'll pass through rolling rice fields and get a glimpse of Goa Lawah temple—a must-see often missed. Therefore, consider renting a scooter or car hire with a private driver to make the most of your scenic ride there.
A Canvas of Natural Beauty
Meanwhile, Virgin Beach isn't just any beach; it's like stepping into a painting. Also, the unique blend of colourful sands and clear turquoise waters create an awe-inspiring setting that you won't just want to look at and you'll want to dive into.
For more serene getaways like Virgin Beach, check out our guide on 3 Hidden Beaches Around Padang Bai Port in Karangasem.
Adventure on a Budget
This is your go-to beach for affordable water sports. From snorkelling to scuba diving, the activities are as wallet-friendly as they are thrilling. Also, the beach's local stalls offer delectable Balinese snacks that won't break the bank.
You'll also love Bias Tugel Beach in Padangbai, Bali, if you enjoy budget-friendly beaches.
Navigating Virgin Beach Karangasem: What the Locals and Tourists Call It
Are you confused by the different names for Virgin Beach? You're not alone.
Locals know it as "Pantai Perasi," a term that could be useful when asking for directions. Tourists often call it "Pasir Putih Beach," celebrating its clean, white sands.
Why Knowing the Names Is Practical
Understanding these names isn't just a fun fact. It can help you navigate better and connect with both locals and tourists.
So whether you call it "Pantai Perasi" or "Pasir Putih," you're all set for an enriching experience in East Bali.
How to Get to Virgin Beach Karangasem: A Quick Guide
Getting to Virgin Beach is simple, whether you're coming from busy Kuta or peaceful Ubud. Here's what you need to know.
Estimated Travel Times:
From Kuta, Seminyak, or Denpasar: About 2.5 hours by car.
From Ubud: Roughly 2 hours by car.
Meanwhile, from Padang Bai Port is around 42 minutes by car.
If you're coming via Padang Bai Port, don't forget to read our In-Depth Look at Padang Bai Port in Karangasem, Bali, for essential tips.
Transport Tips:
By Motorcycle: An ideal choice for solo travellers or couples. Expect to pay between IDR 100,000 and IDR 250,000 per day, excluding fuel.
Car Rental with Private Driver: Great for families or groups, with rates starting at IDR 700,000.
By Taxi: Prices range from IDR 700,000 to IDR 1,200,000, depending on your starting point.
Quick Tip:
Use Google Maps for up-to-date traffic info and the most accurate directions, especially if you're unfamiliar with Bali's roads.
Your First Impressions Upon Arrival at Virgin Beach East Bali
Furthermore, as you approach Virgin Beach, the conveniently situated parking area is the first aspect that captures your attention—a subtle precursor to the untouched beauty. The coast is merely a short saunter away.
Briefing the Basics:
Parking here is plentiful, and the proximity to the shoreline ensures that offloading your beach essentials is effortlessly executed.
A brief, 5-minute jaunt along welcoming pedestrian pathways brings you to the shoreline.
The sand may not offer the stereotypical, pristine whiteness one might anticipate. However, its distinct blend of yellow and black grains delivers a unique, appealing character you'll soon appreciate.
Discover the Amenities and Activities at Virgin Beach: Your Quick Reference Guide
Virgin Beach isn't just a feast for the eyes; it offers an enticing array of amenities and activities that won't break the bank. Whether you're a foodie or an adventurer, here's what you need to know:
Dining Choices
Cuisine: Satisfy your palate with both Balinese delicacies and Western classics.
Price Range: Expect to spend between IDR 50,000 and IDR 100,000.
Budget-Friendly Beach Comforts
Sun Loungers: Unwind for just IDR 50,000 per day.
Foot Massage: IDR 50.000 for 30 minutes.
Snorkelling Gear: Priced at IDR 25,000 – IDR 50.000.
Fishing Excursions: Your angling adventure begins at IDR 200,000.
Taste the Local Scene
Warungs: Your go-to for genuine Balinese fare.
Beverages: Choose between refreshing coconut water and the popular Bintang beer.
Adventures and Leisure
Lounging: Make yourself at home on our plush sun loungers.
Swimming: Immerse yourself in crystalline, tranquil waters.
Snorkelling: Discover a world of colourful corals and fascinating marine life.
Boat Ride: Traverse the waters in traditional local boats.
Massage: Indulge in beachside pampering courtesy of local therapists.
When to Go and What Sets It Apart: Your Essential Guide to Virgin Beach East Bali
Optimal Timing
The idyllic months to explore Virgin Beach fall between April and October, constituting Bali's dry season. Expect azure skies, scant rainfall, and prime conditions for aquatic activities like swimming and snorkelling.
Unique Aesthetic
Virgin Beach defies the cliché of white sandy shores, flaunting a captivating blend of yellow and black sand that makes it distinctively its own.
Tradition Meets Scenery
One of the most charming features of Virgin Beach is the array of traditional fishing boats, or "jukung" as the locals call them.
Typically festooned in vibrant hues, these wooden crafts punctuate the coast, offering a slice of rustic beauty ideal for photo ops and immersing in Balinese culture.
Top Accommodation Picks Near Virgin Beach Karangasem
If you're contemplating stretching your Virgin Beach escapade over several days, fear not, for although there are no direct beachfront accommodations, many splendid choices lie a brief car journey away.
Nearby Lodging Choices:
Candidasa: A mere 23-minute drive from Virgin Beach, Candidasa offers lodgings to suit every wallet, from budget-friendly hostels to opulent resorts. Prices span from IDR 300,000 to IDR 2,000,000 per night.
Amed Beach: Roughly an hour's drive away, Amed Beach primarily features mid-tier hotels, perfect for those seeking comfort without the luxury price tag. Amed accommodation prices range from IDR 400,000 to IDR 1,200,000 per night.
Tulamben Beach: Approximately 75 minutes from Virgin Beach, Tulamben is a diver's haven. Tulamben accommodations range from IDR 300,000 to IDR 800,000 per night.
Quick Recommendations:
Seasonal Planning: Securing your bookings well in advance during tourist high seasons is advisable.
Transportation: Ensure that convenient transport options to Virgin Beach are available.
Amenities: Scan for non-negotiable amenities such as Wi-Fi or swimming pools to make your stay more enjoyable.
Note: In the area, consider extending your trip to explore Klungkung's must-see attractions.
Essential Expenditure at Virgin Beach East Bali – What to Allocate
| Mandatory Expenses | Description |
| --- | --- |
| Entrance Fee | A nominal IDR 10,000 per individual is required. |
| Parking | Free parking. |
Frequently Asked Questions and Pro Tips: Maximise Your Experience at Virgin Beach Karangasem
Let's be candid; even the most meticulously planned journeys can encounter setbacks. To give you the upper hand, here's a compilation of pro tips and answers to your most pressing questions that will make your Virgin Beach sojourn genuinely divine.
Quick Tips for the Intrepid Traveller:
Know it Locally: Refer to the beach as "Pantai Perasi" when seeking directions from residents.
Packing Wisdom: Minimal packing is sufficient for day-trippers based in Candidasa or Amed.
FAQs Informed by Reviews and Social Media Interactions
Ideal Visiting Time?
Opt for early or late afternoon slots for fewer people and better photo opportunities.
Child-Friendly Coast?
The tranquil waters render it perfect for family outings.
Public Sanitation Facilities?
Basic amenities exist; however, bringing your toiletries is prudent.
Mobile Connectivity?
Generally poor; always prudent to inform someone of your plans for the day.
General Beach Conduct?
Standard rules apply; respect local norms and maintain cleanliness.
Safety in the Water?
It is generally safe; however, adult supervision is required for children.
Shade Availability?
Sun loungers with parasols are accessible, but carrying sunblock is advisable.
The Last Word – Why Virgin Beach Karangasem is a Must-Visit on Your Bali Itinerary
Let's cut to the chase: Virgin Beach isn't merely a feast for the eyes; it offers a richer, more immersive Balinese experience.
Unique Selling Points:
Cultural Odyssey: Engage with locals and delve into Balinese traditions by dining at the beachside Warungs.
Affordable Thrills: Are you eager to snorkel depleting your wallet? You've found your haven.
Distinctive Aura: Virgin Beach captivates not just with its shores but also through its multi-nomenclature—Pasir Putih and Perasi Beach Karangasem—adding a layer of intrigue.
Outstanding reviews on platforms like TripAdvisor should quell any lingering uncertainties. This isn't merely a beach but an enriching escapade you won't want to forgo.
To round off your Karangasem adventure, visit the Tirta Gangga Water Palace.
Over to You – Discover Virgin Beach Karangasem for Yourself
Armed with this indispensable guide, you're set to create unforgettable moments at Virgin Beach. Have you already explored this concealed treasure? We're eager to hear your tales! Tag @WiraTourBali in your social media shares.
Found this guide invaluable? Explore our other articles like "The Best Snorkeling Spots in Bali" or "Exploring Bali Off the Beaten Path" to complete your dream Bali expedition.